Schiff inspires, candidates charm at California Democratic Convention; Buttigieg surges in Iowa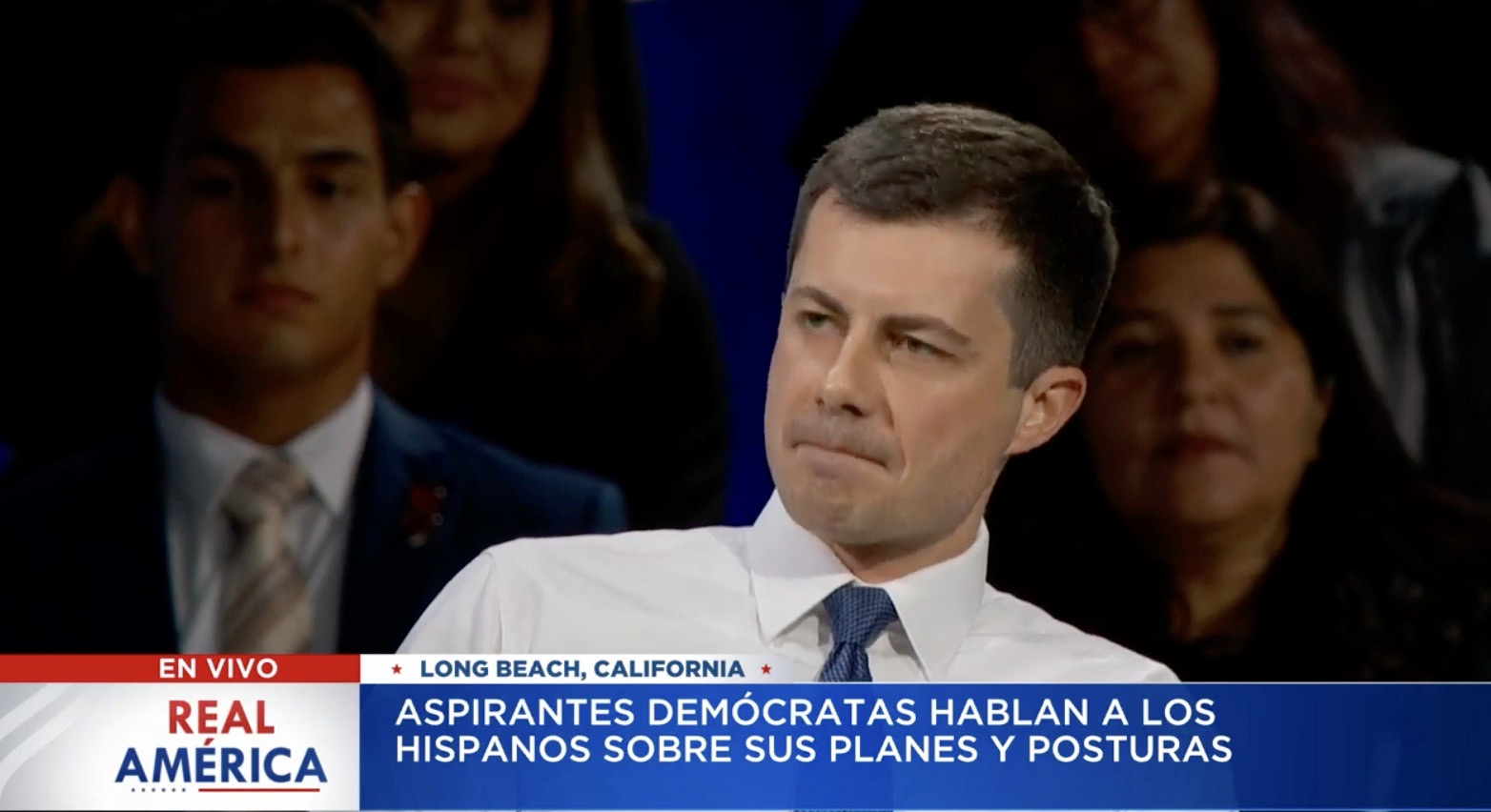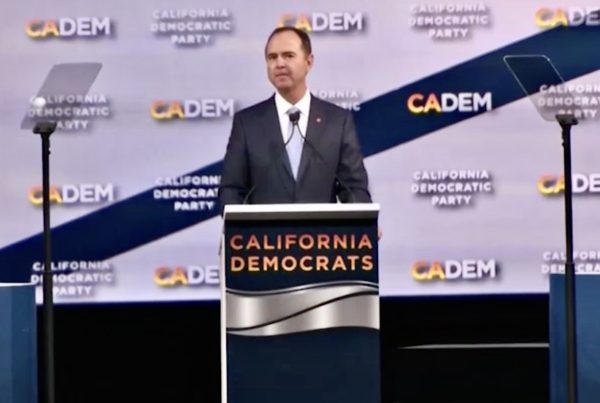 For several minutes on Saturday, the California Democratic universe stopped jousting for their favorite candidates and gave a rousing vote of confidence to Rep. Adam Schiff, who is steadily leading the House Intelligence Committee's historic impeachment inquiry into President Donald J. Trump.
Introduced by Rep. Alan Lowenthal as "our protector," Schiff opened his remarks to the three-day California Democratic Party (CDP) Endorsing Convention in Long Beach by acknowledging the one minute/20 seconds standing ovation.
"I feel like I should just stop there," Schiff said wryly in a strained voice. "You will forgive me if I'm a bit exhausted. It's been an eventful week."
Schiff has been sounding the alarm about the Trump presidency since before he became chair of the Intelligence Committee, recalling to the Los Angeles Blade the despondency he saw Election Night 2016 at the Los Angeles LGBT Center. "The reality of the next two years proved every bit as bad, in some ways worse, than what we feared," Schiff said Nov. 2018. "It really takes your breath away."
It's gotten worse, Schiff told convention delegates. "Our democracy is at risk, more so now than any time in my life," Schiff said.
"Two years ago, I stood before you and I urged you to resist and you did. But we are more than a resistance now – we are a majority. We are a majority in one House and we will become a majority in the other and we will send that charlatan in the White House back to the golden throne he came from," Schiff said.
"The most grave threat to the life and health of our democracy comes from within, from a president without ethical compass, without an understanding of or devotion to our Constitution and the beautiful series of checks and balances it established, setting ambition against ambition so no one branch of government could overwhelm another. And most importantly, so no despotism could take root," said Schiff.
"There is nothing more dangerous than an unethical president who believes he is above the law," said Schiff.
That has been a theme of presidential candidate California Sen. Kamala Harris who consistently says, "justice is on the ballot."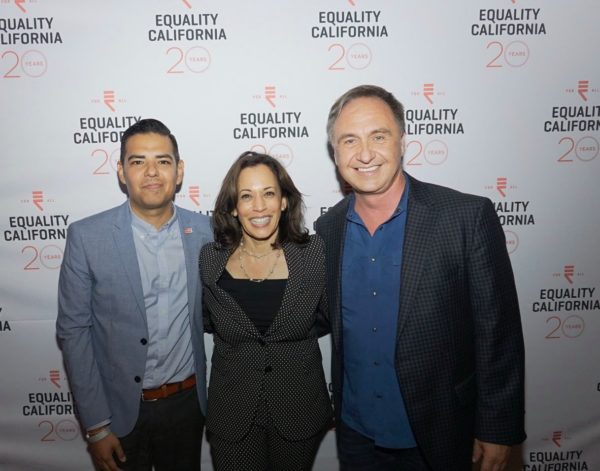 Out Long Beach Mayor Robert Garcia, Sen. Kamala Harris, Equality California Executive Director Rick Zbur (Photo courtesy Equality California) 
But Harris' campaign has been struggling of late — including a drop to 3% in the most recent Iowa poll that caused some buzz among longtime political consultants that she should drop out and save herself the embarrassment of losing in the early states and limping into her home state's Super Tuesday Primary. However, Harris and her campaign seemed energized at the convention, including an appearance Friday night at a "Dems, Drinks and Drag Queens" party sponsored by the LGBT Caucus and Equality California. "I don't know what you've been told, Kamala is strong and bold," Gov. Gavin Newsom told reporters he plans on campaigning for her in Iowa.
In fact, all the headlines about Harris' flagging campaign have caused something of a backlash, especially among black women who are angry that only Harris is being targeted and pressured to drop out among all the other lower-performing candidates. Harris has been endorsed by Higher Heights for America PAC, an organization "dedicated to electing more progressive Black women" that is holding several mobilization events for her in Atlanta, Georgia and Columbia, South Carolina following Wednesday night's Democratic debate. The Friday, Nov. 22 event features LGBTQ icon actress Sheryl Lee Ralph.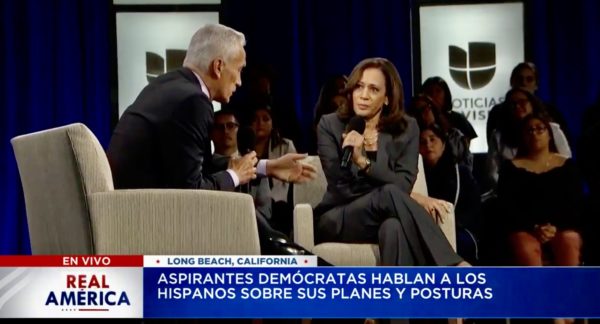 Harris was the first of eight presidential candidates to take the stage at the CDP/Univision forum Saturday afternoon, which was broadcast and live streamed in both English and Spanish.
Many Democrats were confused and angry  that former Vice President Joe Biden and Massachusetts Sen. Elizabeth Warren skipped the endorsing convention. Univision correspondent Jorge Ramos told the forum audience that their absence illustrated a broader problem with Democrats because "they know they're going to get about 70% of the Latino vote and they just take it for granted."
Taking the Latino vote for granted in California is especially unwise now since this year marks the 25th anniversary of the passage of Prop 187,  the Republican anti-immigration initiative that dramatically changed the California political landscape. Latino voters surged in response and the GOP started its steady decline — registering now as a third party behind No Party Preference among California's 20,328,636 registered voters, 44.1% of whom are Democrats. 
Turnout is another matter, according to PPIC. "Voter turnout continues to lag among nonwhite Californians," PPIC reported last August.  "Our surveys over the past year indicate that 45% of Latino adult citizens, 53% of Asian American adult citizens, and 57% of African American adult citizens are likely to vote, compared to 68% of non-Hispanic white adult citizens…. Latinos—California's largest racial/ethnic group—represent 35% of the adult population, but they account for only 19% of those most likely to vote. Asian Americans comprise 15% of the adult population and 13% of likely voters. The share of African American likely voters matches their representation in the adult population (6%)."
PPIC apparently does not consider California's LGBTQ population a demographic worth counting.
The need to reach and inspire Latino voters is considerable since California starts vote-by-mail on Feb. 3, for the March 3 Super Tuesday Primary, with nearly 500 delegates at stake. Feb. 3 is the same day as the Iowa Caucuses – and California Democrats have long helped phone bank, fund and advocate for their candidates in the Nevada Democratic Caucus, this year on Feb. 22.
In addition to the CDP/Univision forum, Harris, out South Bend, Indiana Mayor Pete Buttigieg, Vermont Sen. Bernie Sanders, former HUD Sec. Julian Castro and investor-philanthropist Tom Steyer participated in a 90-minute forum at Cal State Los Angeles on Sunday, which was sponsored by the Pat Brown Institute for Public Affairs at Cal State Los Angeles, the California Latino Legislative Caucus and the Coalition for Humane Immigrant Rights of Los Angeles (CHIRLA).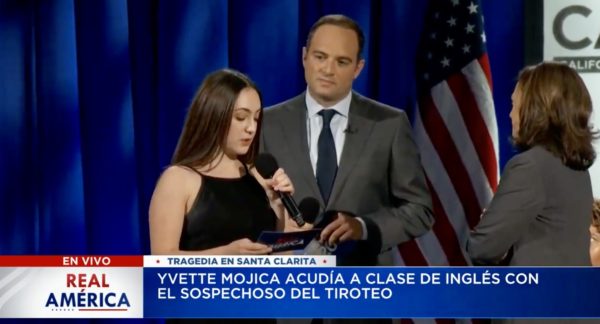 Univision smartly began their forum with a question from Yvette Mojica, a student at the Saugus High School in Santa Clarita, who wanted to know what Harris would do to help her feel safe about going back to school without being afraid of being shot.
Harris, who has herself experienced the sudden threat of violence, addressed the trauma that's now the norm among school children.
"I'm sick of what happened to you, to your classmates, I'm sick. I'm fed up with it and it's got to stop," said Harris, adding that even elementary students think shooter drills are "normal."
"And these tragedies keep happening, which tell them that they need to pay attention," Harris said. And "instead of opening their minds to the wonders of science and art and math, half their brains are worried about who's going to come bustin' through the door. It is traumatizing our children and it's got to stop."
Harris said that as president, she would take executive action if Congress didn't present her with a bill in her first 100 days.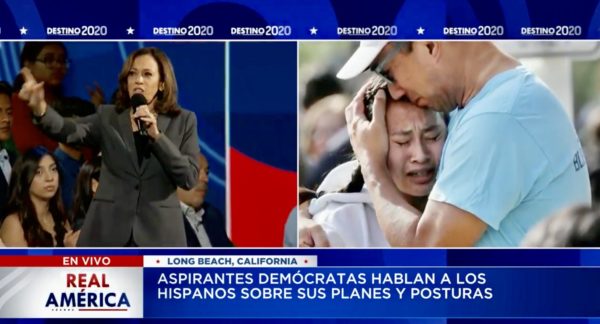 Harris segued from mass shootings to the trauma experienced by children afraid to come home to find their undocumented parents taken away by ICE.
And with that, Ramos asked the question that Joe Biden probably expected would be asked: "Can we have an honest conversation about Obama's legacy? Of course, he gave us Obamacare and DACA and the Paris Agreement. And of course, the country was going through a terrible economic situation, I agree with that. However, he deported more than three million people. Was that a mistake? Do you think President Obama made a mistake?"
Harris probably expected that question, too – but not framed in a way that would create a sound bite around the word "mistake."
She dodged and stalled. "I think that President Obama did many great things and is probably one of the greatest presidents we've ever had," Harris said as the audience applauded.
"I think many people agree with that but he deported three million people," Ramos said.
Harris shifted to how, as California attorney general, she disagreed with the policy and "informed California law enforcement that ICE detainers are not mandatory."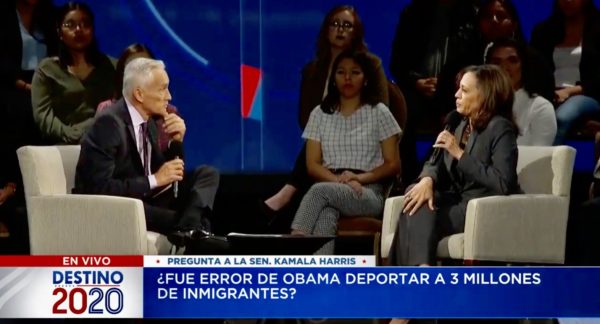 "So, do you think he made a mistake?" Ramos asked
"Because I was aware that there were people who were by ICE's own definition, non-criminals, that were being deported. That was wrong," Harris said. "I disagreed with it and that's why I issued that policy for the sheriffs and the district attorneys of California telling them that these were not mandatory."
That Harris had not used the word "mistake" was underscored when Ramos asked the same question of popular Bernie Sanders, who is the largest recipient of Latino contributions and drew crowds of young Latinos in LA – and Sanders answered quickly with a simple "yes."
Sanders then pivoted. "What I'm going to tell you is in fact what the American people want, and they want to stop this ugly demonization of the immigrant community and the racism that is coming from the White House," Sanders said against the larger backdrop of calls for the ouster of white nationalist/deportation mastermind Stephen Miller.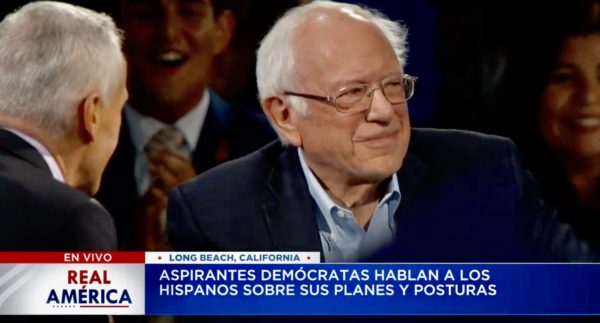 Sanders pledged to reestablish legal status for 1.8 million "Dreamers" on Day 1 of his presidency.
Harris, however, ended the day with the endorsement from the highly regarded, 10,000-member United Farm Workers. She had already been personally endorsed by civil rights icon Dolores Huerta, who co-founded UFW with Cesar Chavez and Gilbert Padilla.
Sanders, who emphasized that his health is good after his heart attack, came out of the convention with the endorsement of the California Young Democrats and the earlier endorsement of the powerful California Nurses Association, affiliated with the National Nurses United.
Meanwhile, during his time in LA, Sanders also endorsed the Rental Affordability Act, a ballot initiative by AIDS Healthcare Foundation on the Nov. 2020 ballot.
The biggest surprise of the convention was the news after his forum performance that Pete Buttigieg had surged to the lead in the Des Moines Iowa poll. He jumped to 25% in the new CNN/Des Moines Register/Mediacom poll of likely Iowa caucusgoers — a 16-point increase since the September CNN/DMR poll.
There was a three-way battle for second place with Elizabeth Warren registering 16%, and Joe Biden and Bernie Sanders coming in at 15%.Minnesota Sen. Amy Klobuchar jumped to 6%, while Harris, Steyer, New Jersey Sen. Cory Booker, Hawaii Rep. Tulsi Gabbard and businessman Andrew Yang all ranked at 3%.
Interestingly, former New York Mayor Michael Bloomberg — who has not officially entered the race — got 2%. In fact, Bloomberg created the other major surprise of the weekend by apologizing for his "stop-and-frisk" policing policy during an appearance at a black megachurch in Brooklyn on Sunday.  "I'm sorry that we didn't," Bloomberg said. "But I can't change history. However, today, I want you to know that I realize back then, I was wrong."
Adding another surprise on Monday — Bloomberg received the endorsement of Columbia, South Carolina Mayor Steve Benjamin.
"He's got what it takes and he's got the resources to take it to Trump," Benjamin told AP  in an interview. "I believe firmly that Mike Bloomberg can win. I think resources are going to matter."
Buttigieg was circumspect after hearing the polling news in Long Beach, saying they were "extremely encouraging." But, he added, "We have felt a lot of momentum on the ground."
To some pundits, Buttigieg's surge means Iowa voters are favoring a more centrist agenda, underscored by the new presidential ambitions of Bloomberg and former Massachusetts Gov. Deval Patrick, who attended the Long Beach convention, got a few nods and didn't get booed.
Last Friday, former President Barack Obama expressed concern to a clutch of wealthy liberal donors about more progressive Democratic candidates getting out over their skiis with "big structural" change proposals on health care and immigration issues.
"Even as we push the envelope and we are bold in our vision we also have to be rooted in reality," Obama said. "The average American doesn't think we have to completely tear down the system and remake it."
And Buttigieg fits right in that scenario during the Univision forum.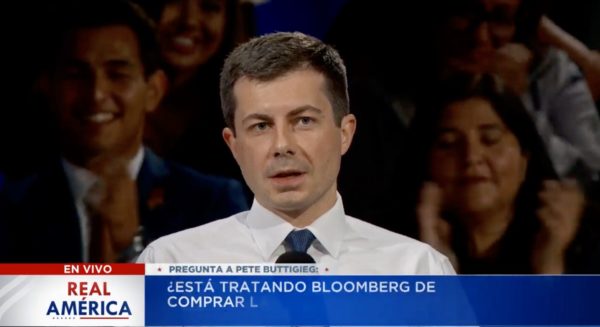 After a few pleasant exchange in Spanish — Buttigieg speaks seven languages — KMEX anchor  Leon Krauze asked him about Bloomberg and Patrick getting in the race. "Some seem to doubt whether the current group of candidates is strong enough to beat President Trump. Is it?
"First of all, I think every one of the candidates competing on the democratic side would make a monumentally better president than the one we have right now," Buttigieg said, adding that he thinks he's "the best person to go into that competition, but the job is for each of us to go out there and prove it."
Buttigieg said it was not his "place to characterize somebody else's plan," regarding Warren saying she wouldn't not push for Medicare-for-all until the third year of her presidency. But he still has concerns about commanding people leave their private plans.
"I would rather allow Americans to make the decision for themselves, so the idea of our plan, Medicare-for-all who want it, is we make it available for everybody, but we trust you to decide whether and when you want it," he said. "And my thinking is if this is the best plan for everybody, then everybody will choose it and it will become the single payer. If, on the other hand, there remains some Americans — I'm thinking, for example, about a lot of union members who negotiated good private plans who would prefer to keep their plan — I'm not going to command them to abandon that plan."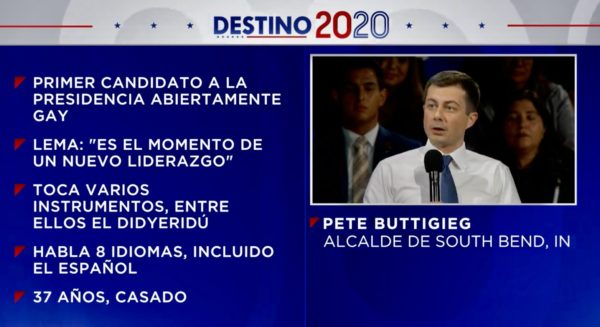 Buttigieg was also asked about Obama's apparent advocacy for centrism.
"Here's what I agree with is the idea that the role of activists is to move the country as far forward as possible and to tug the politicians forward," Buttigieg said. "That's different from the role of those seeking office and holding office who have to balance the concerns of different constituencies. But I also believe that being bold and having big ideas should not be measured by how many people you alienate. Because the things I'm proposing, for example, it's true that they're not as extreme as some of the others, but they would still make me the most progressive president of my lifetime."
Buttigieg said:
"The most important thing is to put forward the policies that we believe make the most sense. But also, I think this is very important — right now, there is an American majority ready to back us up, not only on issues like minimum wage and family leave where people have trusted Democrats for a long time, but in the areas where Democrats had been on defense in the past — guns, immigration, healthcare. We should do everything we can to hold that majority together, galvanize, not polarize it. And if we can do that, and I'm talking not just about how to win elections, but how to govern, if we can hold that majority together in a unifying way for a divided country, we have the opportunity to deliver the boldest, biggest changes that we have seen in longer than I had been alive."

Buttigieg said that, as a veteran, his foreign policy involving committing American troops to conflicts abroad would be "based on the need to save American lives, the knowledge that there is no reasonable alternative, and the network of alliances that helps save American lives and preserve American interests. All of those things have to go together."
The "real tragedy" of Trump's "betrayal in Syria is that what you had there was preventing endless war."
Buttigieg also addressed drug cartels killing Americans in Mexico, border security, the cost of caregiving, and, mass school shootings.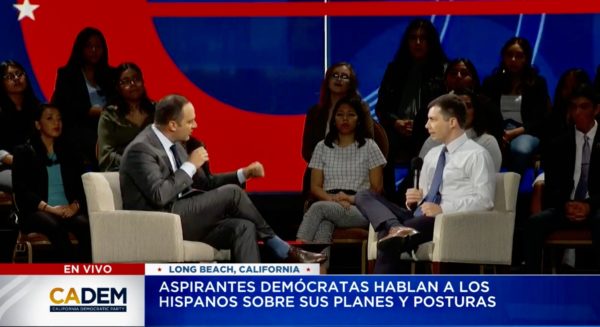 "Finally, Mayor, over the last ten years around 150 shootings have been committed by children, teenagers, minors, 17 and younger. How do we keep guns outside the access of children, at least children?" Krauze asked.
"This is something that has affected my community," Buttigieg said, referring to South Bend, not Pulse nightclub. "The darkest moments I think for most mayors are the moments when you find yourself consoling parents of children who have been killed or teenagers who have been killed in violence and often it is also teenagers perpetrating gun violence. It is why the time has come to insist that it is a matter of national security that we stop allowing the Second Amendment to be distorted into an excuse to do nothing whatsoever when it comes to common sense gun policy."
"The things I trained on in the military have no business being sold for profit in American communities," Buttigieg said. "They're weapons of war."
With 90% of Americans, including most gun owners, including most Republicans, supporting background checks and the red flag laws, why has Congress not acted?
"This is what tells us that our democracy is broken and that gerrymandering, money, and politics and the other distorting forces that make our democracy less democratic need to be confronted and need to be reformed to deal with this and every issue," Buttigieg said. "Everybody can have a water balloon, nobody can have a nuclear weapon. Anyone can have a slingshot, nobody can have a predator drone. So this is not some new constitutional idea we are asserting. It's just that we've got to decide where to draw the line and we need to draw the line tighter than we have so far."
Buttigieg was not asked if Obama made a mistake deporting 3 million people.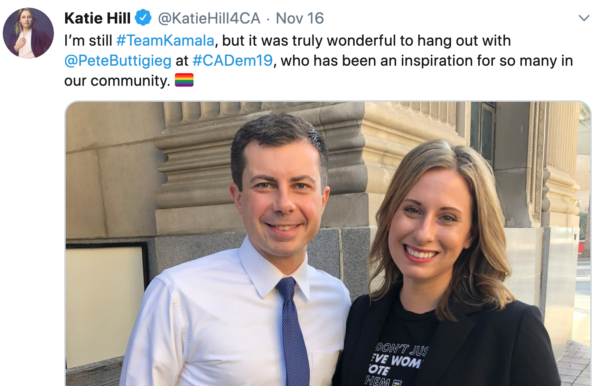 While Buttigieg may have charmed Democrats in Long Beach — including former Rep. Katie Hill who supports Harris but likes Buttigieg — he still has a major problem with black voters as illustrated by the NBC News headline on Sunday: "Pete Buttigieg is struggling with black voters — and not just because he's gay."
Janell Ross reported:
"ROCK HILL, S.C. — On a recent Sunday morning, Pete Buttigieg stood before rows of black churchgoers, a group he and the other Democratic 2020 candidates must win over for a reasonable chance of capturing their party's presidential nomination.

"I know what it is to look on the news and see your rights up for debate," he told the crowd gathered in the sanctuary of an African Methodist Episcopal events center in Rock Hill. "I also know what it is to find acceptance where you least expect it and to find compassion when you most need it."

As Buttigieg, the mayor of South Bend, Indiana, highlighted his personal knowledge of the marginalized American experience, and as he quoted verses from the books of Proverbs and Matthew, he did not overtly describe himself as gay or mention the husband he adores. He was trying to connect with a group of potential voters who, on the whole, have been skeptical of his candidacy."
"The true Pete Buttigieg test, the one he's unquestionably failing," Andra Gillespie, an Emory University political scientist, "has to do with the résumé and the issues."
"Buttigieg must contend with questions about his record on race, police accountability and crime reduction in South Bend, which came to the forefront after police there shot and killed a black man in June. The city's violent crime rate is double the average of comparably sized cities. And the number of shooting victims in the city has nearly doubled since 2018. Buttigieg was also criticized for firing the city's first black police chief, who viewed himself as working to expose and remove racist white officers, in 2012, the year Buttigieg took office. Buttigieg is widely perceived as not having handled the situation well," Ross reports.
That, and Biden scored 21 to 39 points ahead of Buttigieg in a series of South Carolina Democratic polls last October.
On Monday, two days before the MSNBC/Washington Post Democratic Primary debate, Buttigieg is in Atlanta with an appearance at Morehouse College where he will have the opportunity to explain the campaign screw up of putting the photo of a black woman and young boy on the cover of Buttigieg's Douglas Plan to combat racial inequality, which the candidates billed as a "comprehensive investment in the empowerment of black America" —only to discover the photo was a Kenyan woman portrayed in a stock photo.
"This is not ok or necessary," tweeted Rep. Ilhan Omar (D-Minn.), a Somali-born refugee.
The campaign apologized and said it was "selected while a contractor was running our site."
There are other issues dogging the campaign. But Buttigieg's "bold new plan to grow paths to opportunity for all Americans through more affordable college as well as through workforce development and training opportunities," announced Monday, plus his pledge to make a historic $50 billion commitment to HBCUs, may prompt young black voters to listen to his plans and not make the 37-year old candidate's mistakes emblematic of his character, his intellect or his ability to compete with others to defeat Trump.
The California Democratic Endorsing Convention ended with only a handful of state and federal seats pulled from the Consent Calendar for further consideration. There was no endorsement in CD 25 in the contest to replace former Rep. Katie Hill because there was not enough time under party rules to consider Assemblymember Christy Smith and her apparent likely Democratic opponent Cenk Uygur who Equality California and others have accused of using anti-LGBTQ, sexist, Islamophobic and anti-Semitic rhetoric in multiple videos posted on Twitter. This could be an expensive distraction from keeping the seats Democrats flipped in 2018 out of the hands of Republican Steve Knight who is fighting to get that seat back.
If Donald Trump isn't impeached and removed from office, 2020 could prove to be the most expensive year for elections in America history.
LAPD asking for public's help with murders of homeless persons
Anyone with information is urged to contact the Los Angeles Police Department's Robbery-Homicide Division, Homicide Special Section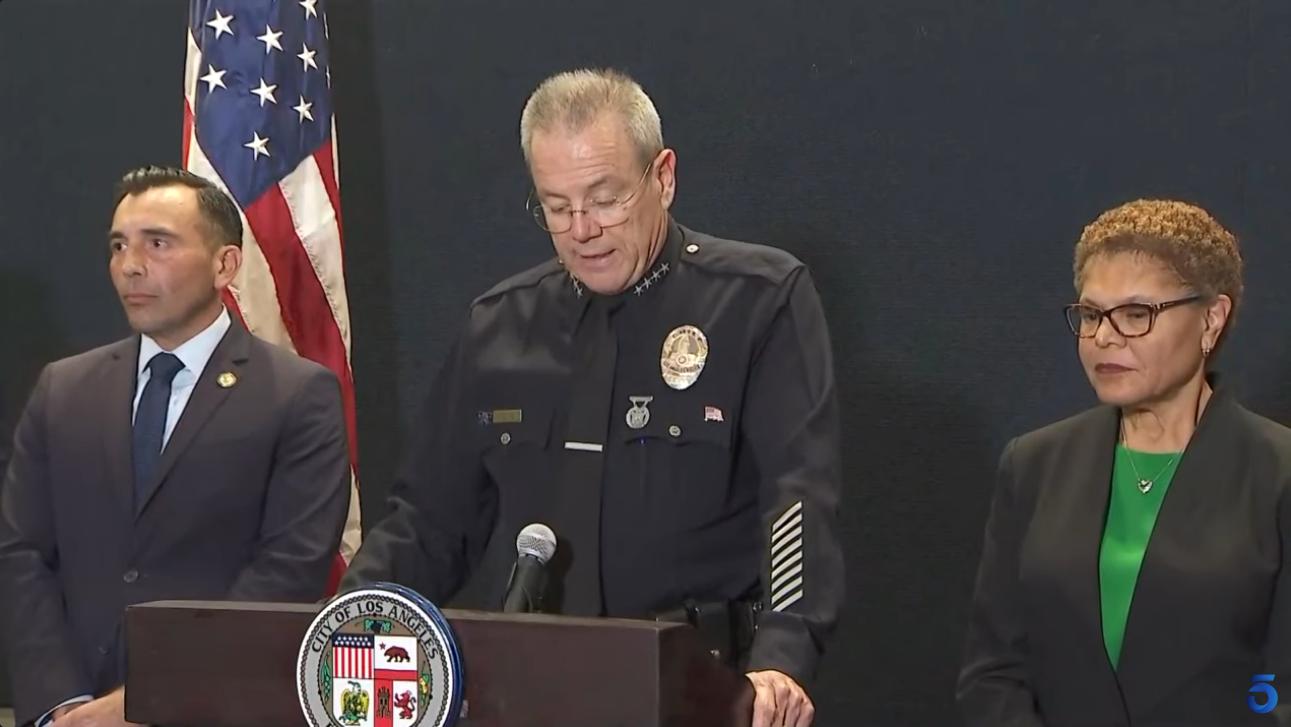 LOS ANGELES – Flanked by Los Angeles County District Attorney George Gascón, LA Mayor Mayor Karen Bass and Martin Estrada, the United States Attorney for the Central District of California, Los Angeles Chief of Police Michel Moore, held a news conference Friday where he announced that three homeless people had been fatally shot while they slept within the past week.
Moore added that authorities believe one suspect is responsible for all three murders.
Detectives from the LAPD's Robbery-Homicide Division are investigating three separate murders that occurred between November 26, 2023, and November 29, 2023. In each case, the victims were experiencing homelessness.
While some similarities have been identified, detectives are working to determine if these murders are related. A community alert bulletin has been issued to make the region's unhoused population and the community stakeholders aware of these recent murders.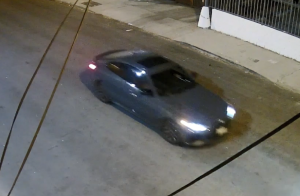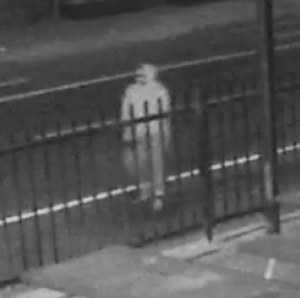 The suspect in these homicides is described only as male. The suspect was seen in a dark-colored sedan. It is unknown if he was alone or there were any additional suspects.
Police have spotted who they believe the shooter is on surveillance footage — Moore said they believe it's a man in a hoodie — and they also have images of the suspect's vehicle, though Moore would not describe it in an effort to avoid misinformation.
"People will see different types of cars, different types of models," he said. "I don't want someone to say 'You called this a Kia and it turns out to be a BMW or Mercedes," he said.
"A single individual approached each one and shot and killed each one as they slept," Moore said, though he avoided use of the term "serial killer."
"The Los Angeles Police Department is employing all available resources to bring justice to these murder victims. I am thankful for our City partners who are working with us closely to ensure the safety of this vulnerable population as we pursue the criminal investigation," said Moore.
"I want to be very clear about what we're facing today: This is a killer who is preying on the unhoused," Mayor Bass said, adding that homeless people should not sleep alone.
"As we always do in the face of a challenge or crisis, our region is mobilizing to respond to this issue. We will work tirelessly to find the individual responsible, arrest them, and hold them accountable. I have met with our partners at the Los Angeles Homeless Services Authority, Housing Authority of the City of Los Angeles, and the Los Angeles Housing Department and we are moving immediately to get the word out to our unhoused neighbors in housing networks. Our message to our unhoused community is clear – try not to be alone tonight. We will do all we can to make shelter and services available. To the many Angelenos who have friends or family who are unhoused, please let them know the danger that exists. We must stay safe. We will work diligently to bring those responsible to justice," the Mayor said.
"To the person responsible: We will find you, we will catch you and you will be held accountable," Bass said.
"I commend the LAPD for creating a dedicated task force to uncover the identity of a potential serial killer preying on the most vulnerable in our community. I've assigned our Major Crimes Division, Bureau of Victim Services and our Bureau of Investigation to assist with these efforts. Today, we demonstrate our collective resolve and stand united in our pursuit of justice, unwavering against the darkness that preys on the most defenseless among us," said LA District Attorney George Gascón.
Related:
Anyone with information is urged to contact the Los Angeles Police Department's Robbery-Homicide Division, Homicide Special Section, at (213) 486-6890. During non-business hours or on weekends, calls should be directed to 1-877-LAPD-24-7 (1-877-527-3247).
Anyone wishing to remain anonymous should call the LA Regional Crime Stoppers at 1-800-222-TIPS (800-222-8477) or go directly to www.lacrimestoppers.org.
Lastly, tipsters may also download the "P3 Tips" mobile application and select the LA Regional Crime Stoppers as their local program.