LA LGBTQ politicos react to Democratic debate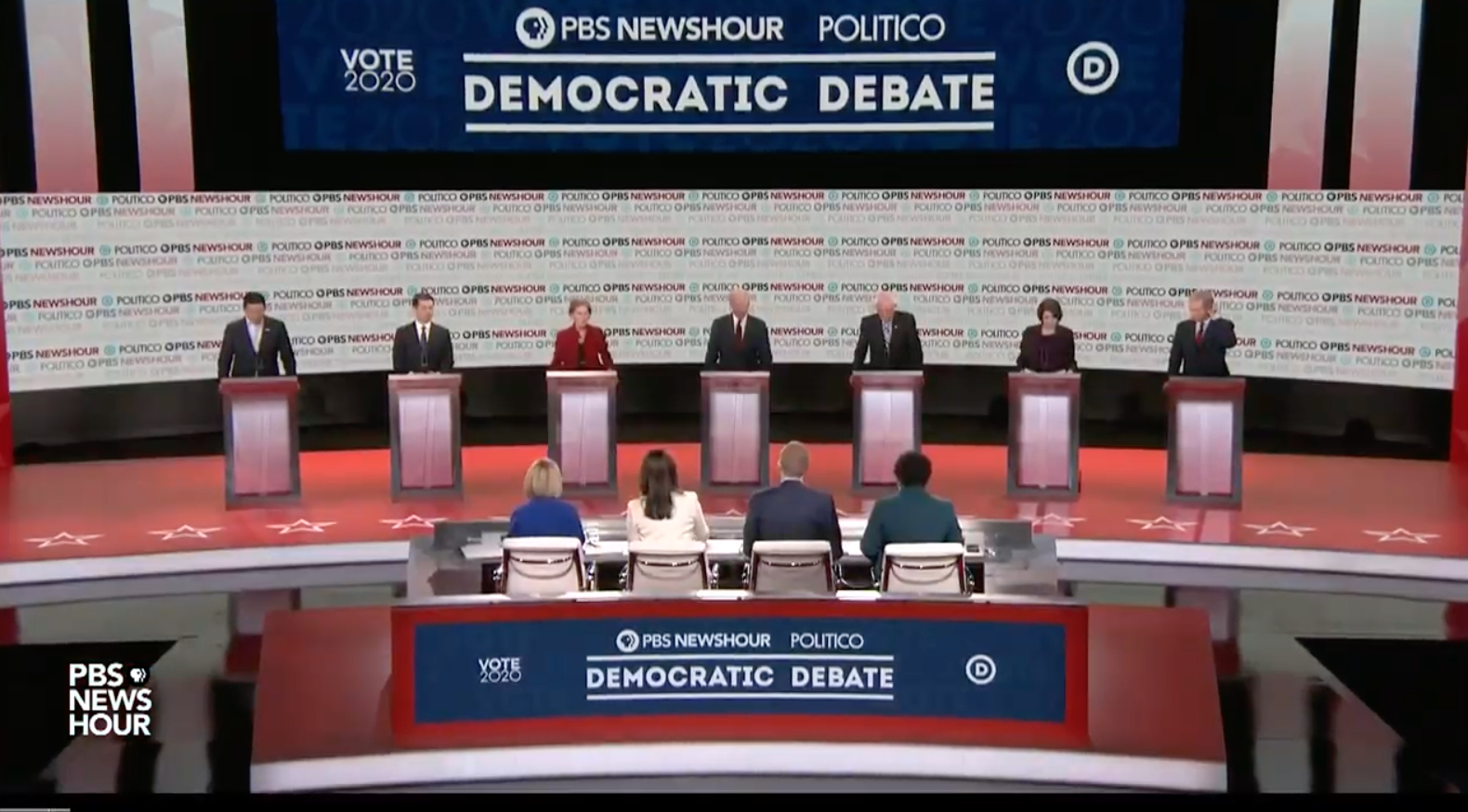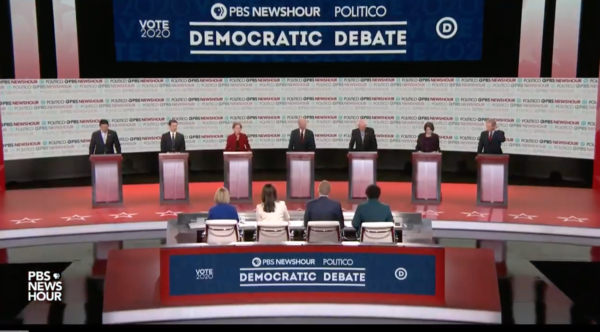 Local LGBT politicos reacted much as the rest of the country to the sixth and final Democratic presidential debate of the year at Loyola Marymount University on Dec. 19. The two most striking observations were the dearth of people of color candidates on the stage, given the diverse demographic strength of the Democratic Party, and that LGBTQ issues were finally raised as a party concern.
Most of the attention, however, was focused on the dramatic flareups as Sens. Elizabeth Warren and Amy Klobuchar attacked out South Bend, Indiana Mayor Pete Buttigieg, who is leading in Iowa, over fundraising transparency and his comparable lack of experience.
Local LGBTQ politicos are still assessing the field, but starting to hone in on top choices.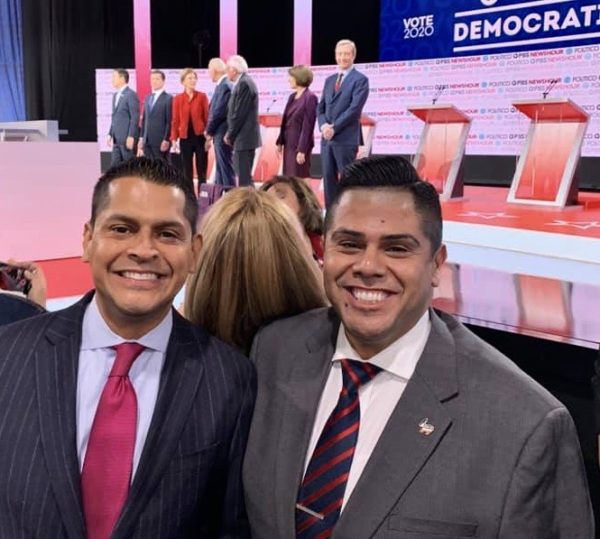 Assemblymember Miguel Santiago and LA County Democratic Party Chair Mark Gonzalez at the debate (Photo courtesy Gonzalez)
"California will play one of the most crucial roles in deciding the next president of the United States, and we were proud to welcome seven of our candidates to Loyola Marymount University here in Los Angeles," out LA County Democratic Party Chair Mark Gonzalez told the Los Angeles Blade. "As a proud gay, Latino Angeleno, it's great to see one of the most diverse fields in history crisscross the country. My only hope is that we will get a chance to see more of our black and brown leaders on future debate stages. We're just over 40 days away from the first votes cast, and as we've continued to see over the past few months, our candidates are ready to take on this president and present a strong case to the American people for Democratic leadership."
Determined to make a difference in the primary winnowing process, California moved its primary to Super Tuesday, March 3. Early vote-by-mail starts on Feb. 3, ironically the same day as the Iowa Caucuses. The last day to register to vote is Feb. 18 and the last day to request a Vote-By-Mail ballot is Feb. 25. This takes on even greater importance in light of billionaire former New York City Mayor Michael Bloomberg's decision to skip the early primary states and flood Super Tuesday states like California with ads. (See the Sec. of State website for more info at , where Sec. of State Alex Padilla also refutes recent reports about a widespread glitch with the Motor Voter program at the DMV changing voters' party affiliation.)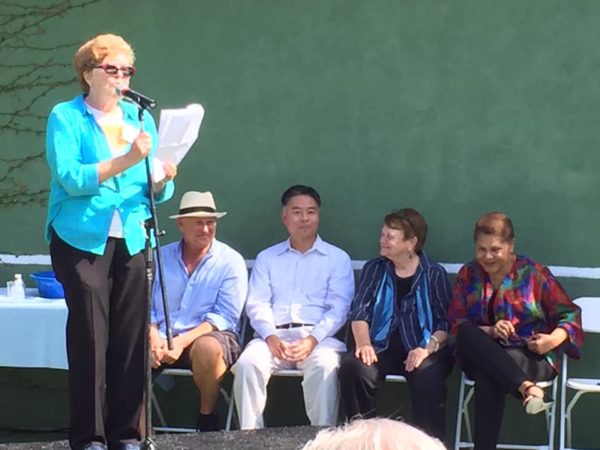 Photo: longtime activist/organizer Torie Osborn, a senior advisor to Supervisor Sheila Kuehl, addresses her "Resist and Rise" team at an event for Rep. Karen Bass' PAC Sea Change, with out LA City Councilmember Mike Bonin, Rep. Ted Lieu, Kuehl and Bass last Sept. (Photo by Linda Garnets)
"Perhaps it's the afterglow of democracy at work – the orange fascist is IMPEACHED! (thanks to our work building the Blue Wave last year), but I felt really positive about our Democratic field at the debate," Osborn told the Los Angeles Blade. "I really missed [Sen. Kamala] Harris, [former HUD Sec. Julian] Castro and [Sen. Cory] Booker but overall I like us! I really like us!"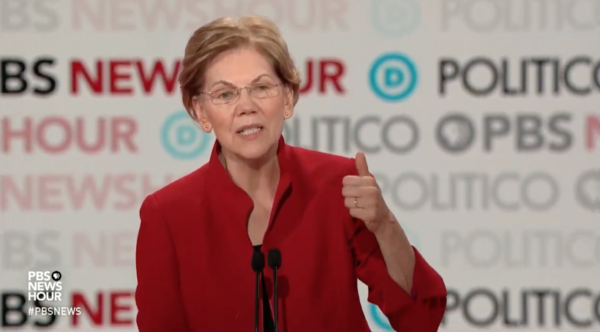 Recently, Osborn announced her endorsement of Warren. "I love, love, love her bold populism and authenticity – and laughed out loud at her line 'I'd also be the youngest women elected!' But I liked everyone. Even [former Vice President Joe] Biden is so damn nice, compared to the chaos and cruelty and corruption emanating from the White House. I'll work my ass for any of them. I believe we must have a woman and person of color on the ticket. But I'm dedicated to winning the Senate and Presidency next year."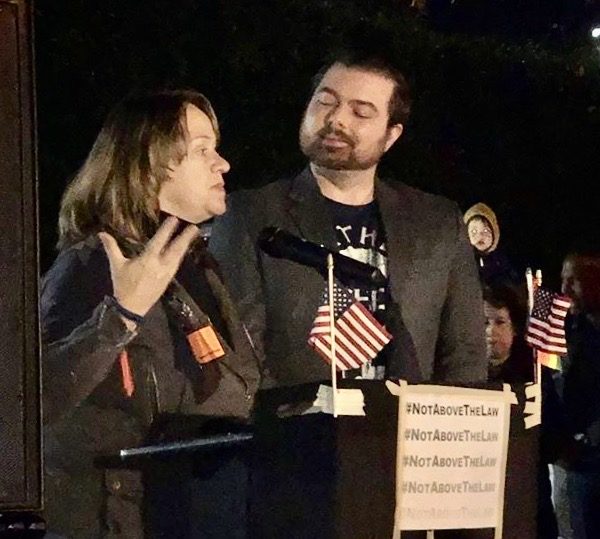 #NotAboveTheLaw organizers Karen Eyres and attorney Patrick Ryan Blood speak at the West Hollywood rally on the eve of President Trump's impeachment (photo courtesy Blood)
Entertainment attorney Patrick Ryan Blood, a huge #KHive Harris fan, thought Sen. Bernie Sanders sounded like a "broken record" but Biden "flexed his experience across the board, enjoyed a gaffe free night and showed us that he very much so is a candidate who on day 1 would be ready to assume the office of Presidency."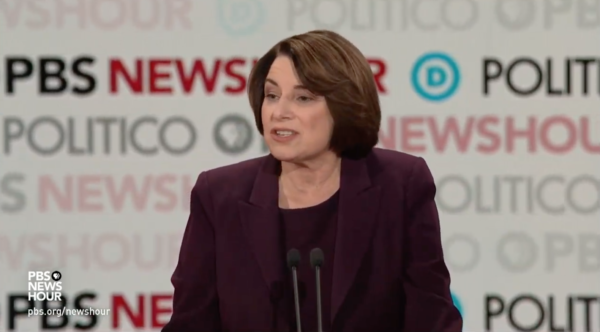 But Blood's heart is trending toward Klobuchar.  "It is fairly clear Amy Klobuchar won the night, easily. She made her policy, experience, and plan for America front and center, took aim at Trump being weak, and took aim at the inexperience of Pete Buttiegieg (which so many seem willing to overlook)," Blood told the Los Angeles Blade. "Pete has a weird way of escaping unharmed even when factual failures or shortcomings are illuminated. I am curious how the media will cover the exchanges with Warren and Klobuchar against Pete because if Kamala did the same it would have been the 'angry black woman' rhetoric."
Longtime gay politico Fred Karger, who made history as the first gay person to mount a serious run for president, seeking the Republican nomination in 2012, now supports fellow gay political pioneer, Pete Buttigieg.
"Sens. Warren and Klobuchar took some cheap shots at frontrunner Pete Buttigieg on the debate stage, but that's bound to happen when you're in the lead by double digits in both Iowa and New Hampshire," Karger told the Los Angeles Blade. "Pete deflected the hits well and went on to wow millions more Americans with his smart answers and closing statement on 'belonging.'"
Billionaire businessman Tom Steyer did better than many expected but still struggles with the albatross of appearing to buy his way onto the debate stage. High tech entrepreneur Andrew Yang also made points but failed to score. His best moment was when asked about the balance of men and women in politics. "If you get too many men, and leave us alone for a while," Yang said, "we kind of become morons."
Klobuchar gave a shout out to Gov. Gavin Newsom, who was sitting in the front row. But when asked in the spin room who he is going to endorse now that Harris has dropped out, Newsom demurred.
"The problem is legitimately, I have a lot of friends up there … so it's hard. Kamala Harris was easy for me," Politico reported Newsom as saying. "I just feel pretty good and proud that these are good choices the American people can look forward to have. And we're going to see how big a role we're going to play here in California."
Newsom also threw some shade at Warren in her use of the Hall Wines cave fundraiser against Buttigieg. "Billionaires in wine caves should not pick the next president of the United States," she said.
"There are literally hundreds of Democrats that have been in that same cave. Some of the most enlightened progressive voices in American politics today," Newsom said, according to AP reporter Kathleen Ronayne.
"Having dinner in a wine cave is so typical for us in Napa Valley," Hall Wines owner Kathryn Walt Hall told the San Francisco Chronicle, noting that the wine cave is open to the public.
Hall — President Bill Clinton's ambassador to Austria who was introduced to her real estate tycoon husband Craig Hall by the late Democratic Texas Gov. Ann Richards — said she has hosted numerous political and other fundraisers there, including for victims of the 2017 wildfires in Napa Valley.
"We think that Pete Buttigieg is just a great candidate, and we reached out to a wide cross-section of people in Napa Valley," Hall said, noting that about 200 guests attended with ticket prices at $500, $1,000 and $2,800.
On the one elitist detail that really stood out, the Chronicle reported: It's not quite true that Hall Wines has $900 bottles of Cabernet for sale, as has been widely reported. The winery does sell a $900 jeroboam — the equivalent of four standard bottles of wine — but its regular-size bottles range from $28 to $250."
Asked about the 1,500 Swarovski crystal chandelier, Hall laughed. "I don't know how many crystals it's got, but it has a lot and it's really beautiful," she said, "and it's wonderful because Swarovski comes from Austria, where I served."
The Warren vs Buttigieg "wine cave" spat didn't bother Osborn.
"I work daily against Trumpism," she said. "Every single day, I either organize door-knocking in the Antelope Valley or north Huntington Beach to hold those newly flipped House seats or I work for our March 22 $50 fundraiser with [shooting victim, former Rep] Gabby Giffords for [her husband] Mark Kelly to flip that Arizona Senate seat. From my perch they all look good."
Osborn is focused. "Remember activism is the antidote to rage and despair. We learned that from AIDS. We are warriors. All my lessons from the height of AIDS are put to use in this fight. My resistance group had over 100 at last meeting Dec 8," Osborn said. "Focus. Empower. Build a leadership team. Analysis. Action. Collaboration.  It works! We win in 2020 just like we won in 2018….We do our jobs: organize, organize, organize. Register and mobilize youth, people of color, LGBT folks, poor people. Get them to the polls. And we win."
Reminder: 101 closed through DTLA until 10pm Sunday
The closure began at 10 p.m. Saturday and will be completed by 10 p.m. Sunday, the Los Angeles Bureau of Engineering announced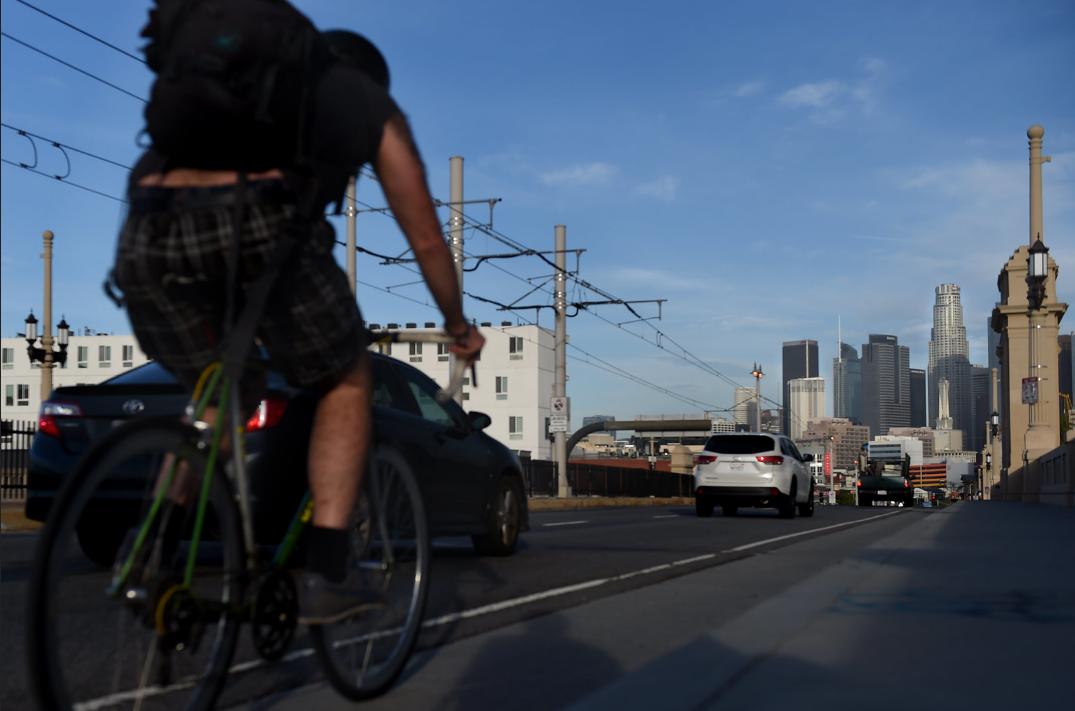 LOS ANGELES – (KTLA) Motorists are being reminded that the stretch of 101 through the downtown area of Los Angeles is shut down for road restoration and reconstruction work.
KTLA reported the closure began at 10 p.m. Saturday and will be completed by 10 p.m. Sunday, the Los Angeles Bureau of Engineering announced.
The 24-hour closure between State Route 60 and the 10 Freeway interchange is needed for the Sixth Street Viaduct Replacement Project, which aims to replace the original, seismically-deficient structure built in 1932, authorities said.
During the closure, the California Department of Transportation will also be doing slab replacement work along the same stretch of the 101 Freeway.
The closure will center around the east side of the viaduct construction site in Boyle Heights. While the stretch is closed, drivers headed west on State Route 60 from the Pomona area will not be able to access the 101, officials said.
Off-ramps and on-ramps in the area will also be closed during as road work gets underway.
Drivers who reach the closure will see signs directing them to a detour.
The new $588 million viaduct is expected to be completed in Summer of 2022, stretching between Boyle Heights and the Arts District.
Officials say it is the largest bridge project in the history of Los Angeles.
LA-DWP & Mayor Garcetti announce new outdoor watering restrictions
Sprinkler watering will be allowed Monday & Friday at odd-numbered addresses in the city, and even-numbered addresses on Thursday & Sunday

LOS ANGELES – In a press conference Tuesday Los Angeles Mayor Eric Garcetti and officials from the Los Angeles Department of Water and Power (LADWP) announced that outdoor watering in the city will be restricted to two days a week starting June 1.
The announcement comes as the Metropolitan Water District of Southern California declared an unprecedented water shortage emergency two weeks ago, imposing restrictions after MWD's board voted to adopt the emergency measures to "reduce non-essential water use" in certain areas. Cities and smaller water suppliers that get water from MWD are required to start restricting outdoor watering to one day a week, or to find other ways to cut usage to a new monthly allocation limit.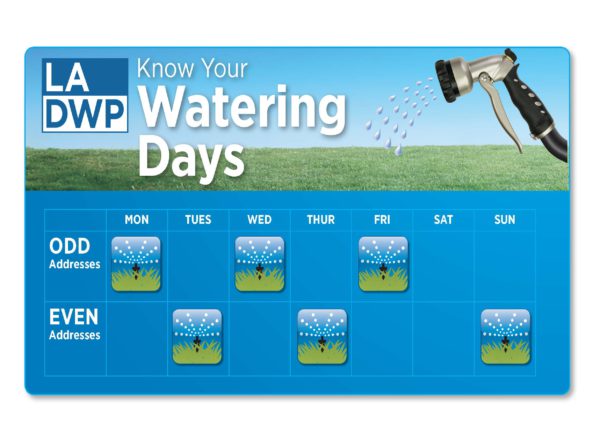 In Tuesday's press conference Mayor Garcetti said L.A.'s two-day limit was still more lenient than the one imposed by the Metropolitan Water District of Southern California, which has ordered many of its member agencies to restrict outdoor watering to once a week.
Sprinkler watering will be allowed on Monday and Friday at odd-numbered addresses in the city, and even-numbered addresses on Thursday and Sunday.
Hollywood residents angered over Sunset Blvd. homeless encampment
Many residents are frustrated over the increasing daily criminal activity that has plagued the area, including vehicle break-ins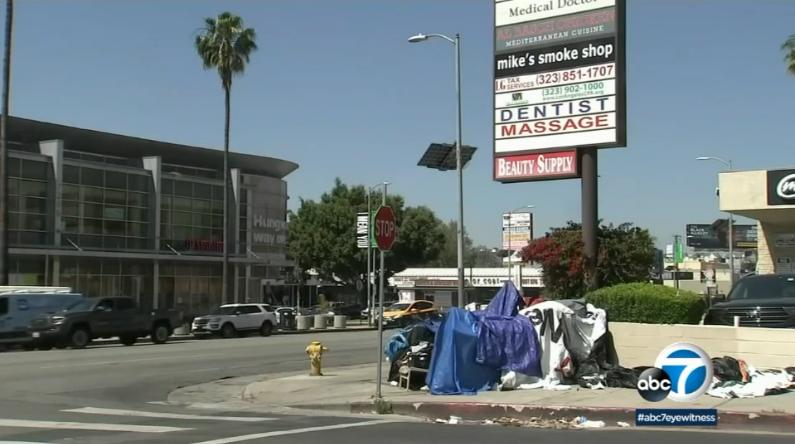 HOLLYWOOD – For those who live in the Hollywood neighborhood that surrounds the homeless encampment on Sunset Boulevard at Martel Avenue, the last seventeen months have been aggravating.
Many residents are frustrated over the increasing daily criminal activity that has plagued the area, including vehicle break-ins which at times has resulted in multiple break-ins on the same vehicles.
"We've had tons of break-ins. Our garage has been broken into five times. Cars are vandalized. Mail is stolen," local resident Lawrence S., who lives near the encampment, told KABC 7. "Our building, the building across the street, the building across the street that way — there's just rampant crime.
"I actually had my sister in-law come to visit for the first time and she parked across the street in broad daylight and within 30 seconds, someone from the homeless encampment was down swinging a club at her. The violence is escalating and we keep asking the City Council, what is it going to take? Do we need to wait till someone's murdered?"
The encampment is located at 7323 Sunset Blvd. and surrounds an AT&T building. It's located in L.A. City Councilwoman Nithya Raman's district who toured the encampment in 2021, joined by residents, including Terry S.
"She promised. She said that she would be adamantly enforcing ADA compliance. That she's looking into setting up a safe camping location for the campers. Never happened," Terry S. told KABC 7.
"In August, 41.18, an ordinance, passed and we were very hopeful because finally we thought that they would have some tools at their disposal," Lawrence S. said. "But the city councilwoman is only enforcing a part of that ordinance, which is the Care Plus Cleanup program. However, she's only doing it when she feels like enforcing it, which is three times in 17 months."
Residents say that the city's efforts to clean up and clear out the encampment only results in the homeless displaced for a couple of days sometimes less and then they return to reestablish the encampment. This past Thursday the city again clean and cleared the encampment.
While an KABC 7 camera and reporter Josh Haskell were working on the story homeless people were in the background reestablishing their presence across the street.
KABC 7 reached out to Councilwoman Nithya Raman whose office responded with a media statement:
"This encampment is a priority for our office, and our Homelessness Team has been consistently bringing services and working with the individuals living at this location. LAHSA outreach teams most recently identified seven people living here and together we worked to move three of them into shelter just yesterday as part of our Encampment-to-Home project, which has already moved 43 people in Hollywood indoors. Additionally, a cleanup took place at this location yesterday and we are working to move the remaining individuals into shelter as soon as beds become available. We are in continued communication with the residents in the neighborhood regarding the status of our progress as we move forward."
Residents upset with LA City Councilwoman Nithya Raman over Sunset Boulevard homeless encampment: