Local Hero Runningbear Ramirez: young, gifted and Native American
An inspiration and an emerging next generation leader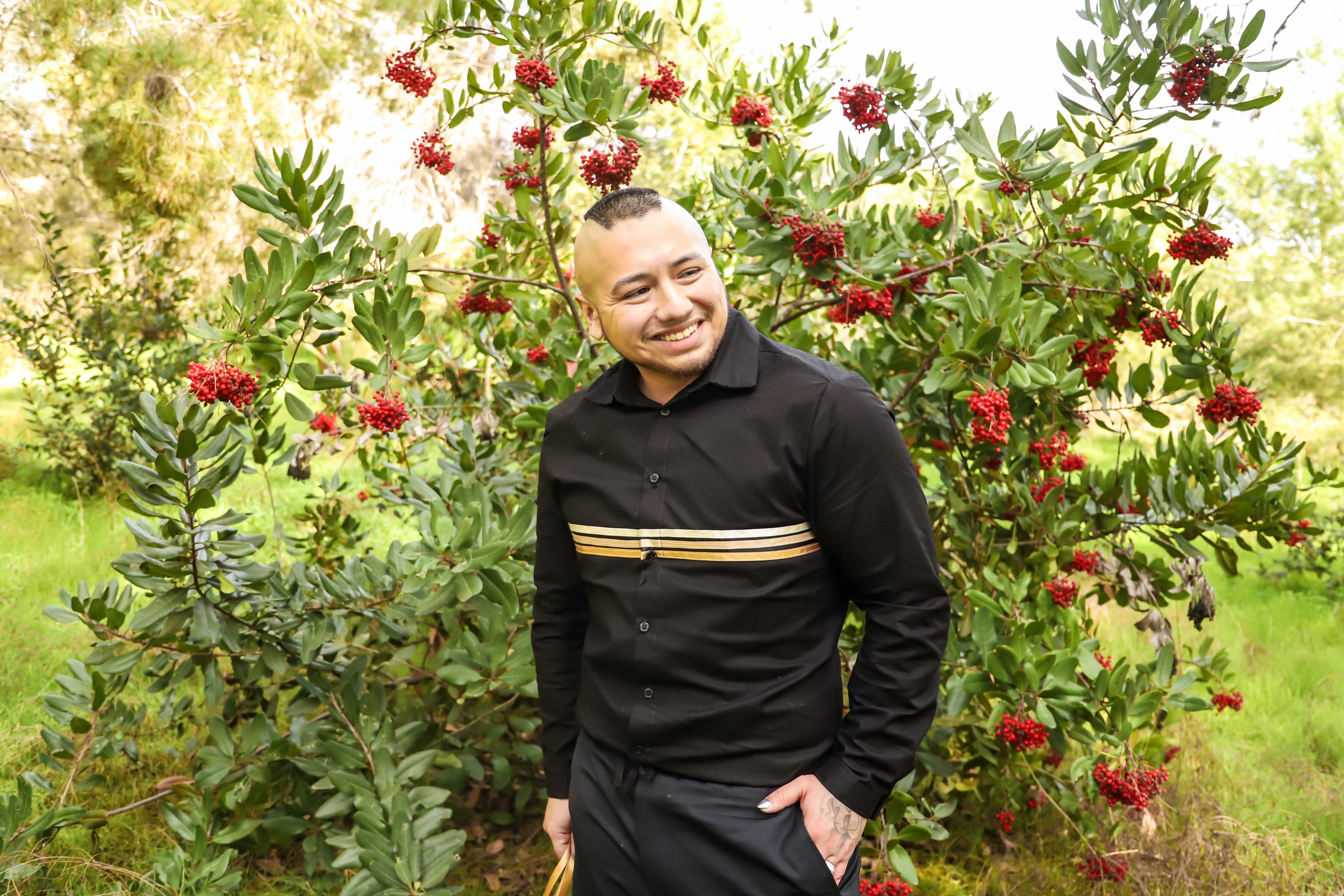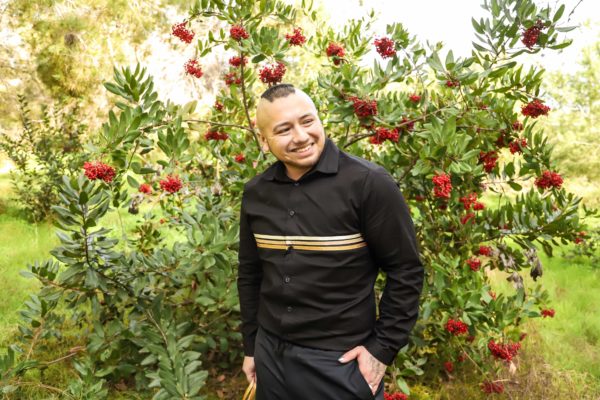 Humility is not a trait routinely associated with being a rich 30-year-old gay guy. But Runningbear Ramirez defies stereotypes, exuding a kind of humility born of ancient spiritual strength and sense of responsibility for a culture and community too long ignored and too often violated – while also representing the tribe best known for the popular San Manuel Band of Mission Indians casinos.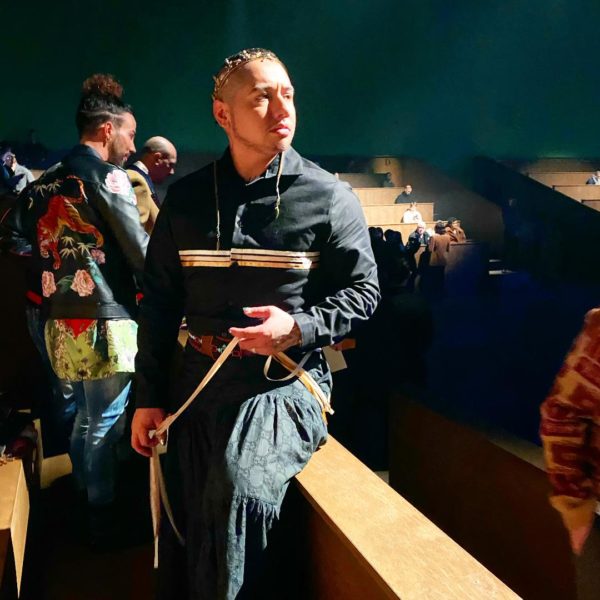 Runningbear Ramirez in Milan at Fashion Week. (Photo courtesy Runningbear)
His name, Runningbear, "means that I've been able to incorporate animal instinct and courage for myself to take care of things that need to be taken care of.  Whether it be family or business, I've always had that personality to take charge," Runningbear tells the Los Angeles Blade.
"The name was given to me as a child, but I decided to incorporate it into my normal day-to-day when I started to take on more responsibilities for the tribe," he says. "That was when I actually changed my name to Runningbear so that way I'll be able to live my life as who I was meant to be."
Everywhere symbols and signs reflect the culture and deep history of his tribe. "The people of the San Manuel reservation are the indigenous people of the San Bernardino highlands, passes, valleys, and mountains who the Spaniards collectively called the Serrano, a term meaning highlander," according to the San Manuel Band of Mission Indians website.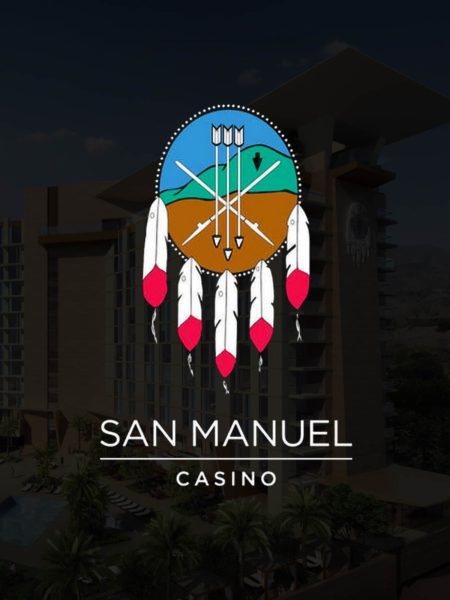 "Our people are the Yuhaaviatam people. The arrowhead (on the tribe logo) is actually on our mountain, our historical land. Where our reservation is," Runningbear says, "there is a granite arrowhead in the mountainside that's over 1,400 feet tall. Our family believes that was a spiritual territory and that's what that arrowhead represents on the side of the mountain….It's very personal to us."
Runningbear uses fashion and body art to display his culture, as well, including a huge tattoo on his chest.
"This is just me being able to portray my artistic side a little bit differently," he says with a slight chuckle. "It's a chief on the front of my chest with a female warrior. It's still not finished, yet. It hurt too much to finish at the time. It's supposed to show a whole family of different people to represent the past and the present, as well as the future — to know that it took your ancestors to get where you are today."
Runningbear's childhood also helped get him to where he is today. A child of divorce who stayed with his non-Native mother as a boy, he experienced poverty and discrimination.
"We didn't have much. Growing up with my mom, we were extremely poor. I can remember times when I'd have bugs crawling on me when I'm sleeping, because there was no window," he says.
But in the 1990s, the no-frills 24-hour San Manuel Indian Bingo and Casino was "an economic miracle for the tiny San Manuel tribe, which once scratched out an income raising apricots and lived in shacks and trailers on a dusty 648-acre reservation. Now, 40 landscaped houses dot the hillsides behind the casino's walls, and security officers on bicycles patrol newly paved roads," the New York Times reported in October 1998, noting the casino was part of California's $1.4 billion Indian gambling industry.
"Growing up, it was a little hard because I had cousins that would discriminate against me because I didn't grow up fully on the reservation," Runningbear says. "I didn't get some of the perks that they did. They grew up with money."
But in 1998, after San Manuel and about 40 other tribes installed slot machines, intense opposition from a coalition of Nevada casinos, unions and anti-gambling church groups claimed they violated the 1988 Federal Indian Gaming Regulatory Act and Gov. Pete Wilson threatened to shut down the casinos.
Runningbear's father, Ken Ramirez, then the 38-year-old vice-chair of the San Manuel tribe, led the fight for Proposition 5, the Tribal-State Gaming Compacts Initiative on the Nov. 3, 1998 ballot.
Among the opposition was Christian fundamentalist lobbying group Traditional Values Coalition, whose anti-LGBTQ leader Rev. Lou Sheldon objected to California tribes asserting they are sovereign nations. "I hate Las Vegas but am thrilled that they're helping us," Sheldon told the Washington Post in September 1998.
The opposition got ugly. "Lil' Petey Wilson," OC Weekly reported, "told a group of reporters on Oct. 22 that the lawyer who advised Indian tribes to put Proposition 5 on the November ballot 'ought to lose his scalp.'….We obtained a copy of da gov's next speech, where he warned tribal leaders to keep firewater out of their casinos, quit spending big wampum on Prop. 5, and remove slot machines or face having their tepees burned and squaws raped."
"This is our livelihood," Ramirez told the New York Times, which noted that he "grew up on the reservation when it held only a few families, with water too fetid to drink."
Ken Ramirez in a Nov. 2019 KTLA "visionary tribute" to him 
"Today, we are proud people. We're not living in Third World conditions on our reservations," Ramirez told the Washington Post. "It was our option to take it to a vote of the people. We have faith they'll stand behind us."
"Frankly, I think it's an incredible con game," Frank Schubert, leader of the "No on 5" campaign, told the New York Times. "We've had millions and millions in TV ads bombarding the state for months now about reservations getting electricity and being able to have linoleum on a dirt floor, when in fact it's a handful of tribes spending a fortune to keep a special deal."
The Prop 5 campaign cost over $68 million but won with 62.4% of voters.
Runningbear remembers the victory, "having dinner with governors and attending a lavish party at the Beverly Hills Hotel on the night of the vote. That was definitely the start of my own journey in influencing politics. My dad, to this day, is a big inspiration to me."
An incredible irony of the Prop 5 fight is that Frank Schubert — who would manage the anti-gay marriage Prop 8 in 2008 — lost to Ken Ramirez, an openly gay man in a same-sex relationship. Now Runningbear is married, too, to Frank Romano. They've been together for six years.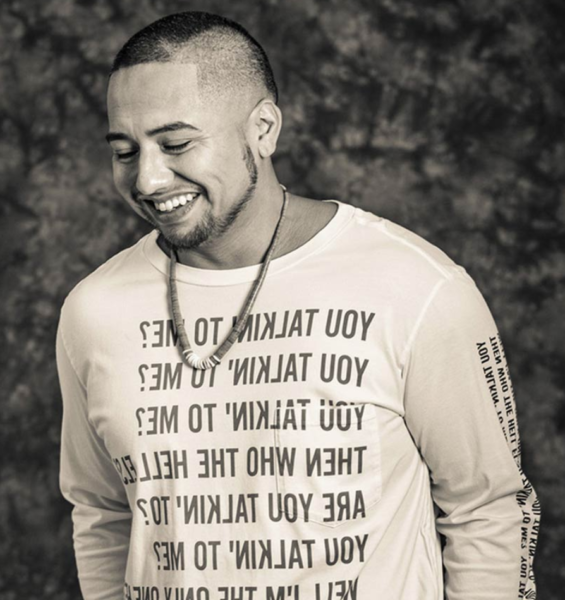 "I didn't have to really come out. They already knew about me," Runningbear says. "My parents never made me choose a man or a woman. I had grown up my whole life seeing my father with another man and my mother with a man. I had a stepfather for my mom and a stepfather for my dad. They all came together and raised us together, which they're still doing now. We still have very modern family views. We still hang out together. My family was always very open and appreciative of whatever, as long as I was happy."
A few years after the Prop 5 fight, at 13, Runningbear started his long activism with and commitment to the tribe. But he never forgot walking between the two worlds of poverty and money.
"For me, going through that really opened up my eyes to say, between the haves and the have-nots, I'd much rather be able to help people than to just sit back and collect a check," Runningbear says. "You have to be able to spread your wealth and your love. I think that growing up in that way, it really showed me a way to do that."
Now, he says, "I'm able to walk in both worlds, to speak with people and understand certain issues based on my perspective within the tribe, within the reservation." Even his cousins "appreciate that I am two-spirited," which he defines as "being able to walk in both worlds of feminine and masculine."
But it was serving on the Board of Indian Health Services at 23 when Runningbear had his "ah, ha" moment.
"I was able to see the plight of Native Americans — that really opened up my eyes," he says. "Wanting to get more into philanthropy was seeing other reservations and how they were doing, outside of the gaming industries. That really got me to think about starting this five-year pilot program I did with Project Angel Food to help the diabetic community in Los Angeles counties, providing healthy meals for Native Americans."
A friend introduced Runningbear to Project Angel Food a couple of years ago and he subsequently joined the board, inspired by a family member with HIV and a sister who last year recovered from cancer.
"I really wanted to learn more," Runningbear says. "I felt that if I could philanthropically get to know the way that the disease runs its course and how it affects people, and if I could help in that way, that's how I wanted to learn."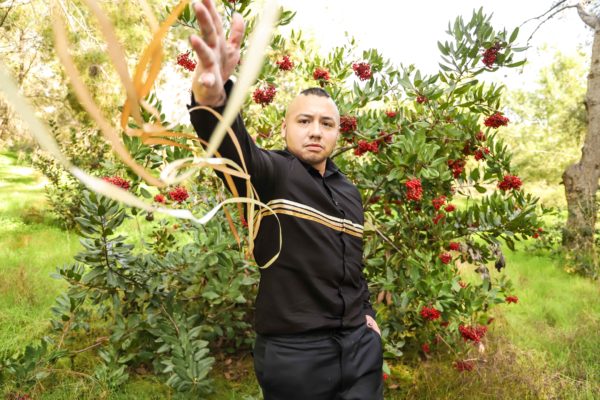 Runningbear Ramirez (Photo by Daniel Sliwa for the Los Angeles Blade)
Project Angel Food clients, he learned, were getting healthier on meals that are based on their personal needs. "I thought that would be a perfect opportunity to utilize my wealth and my knowledge of being on Indian Health Services to bring a pilot program to the forefront for Native Americans in our area," he says.
"I know that cancer is on the rise and being able to access healthy meals is a big problem on reservation. That's why we're trying to make sure that the research is done and recorded right, so we can hopefully take it bigger or national."
Runningbear Ramirez seems to smile broadly over the phone, humbly grateful for the recognition as the Los Angeles Blade's Local Hero honoree enabling him to share his story. "I feel like just because being gay and Native, we are a class of people who are sometimes looked down upon," Runningbear says. "You can still do good for other people and yourself."
Biopharma giant commits millions to address monkeypox
Gilead is giving GLAAD, the HRC, NBJC and NCLR $350,000 each – $1.4 million total – to fund public education efforts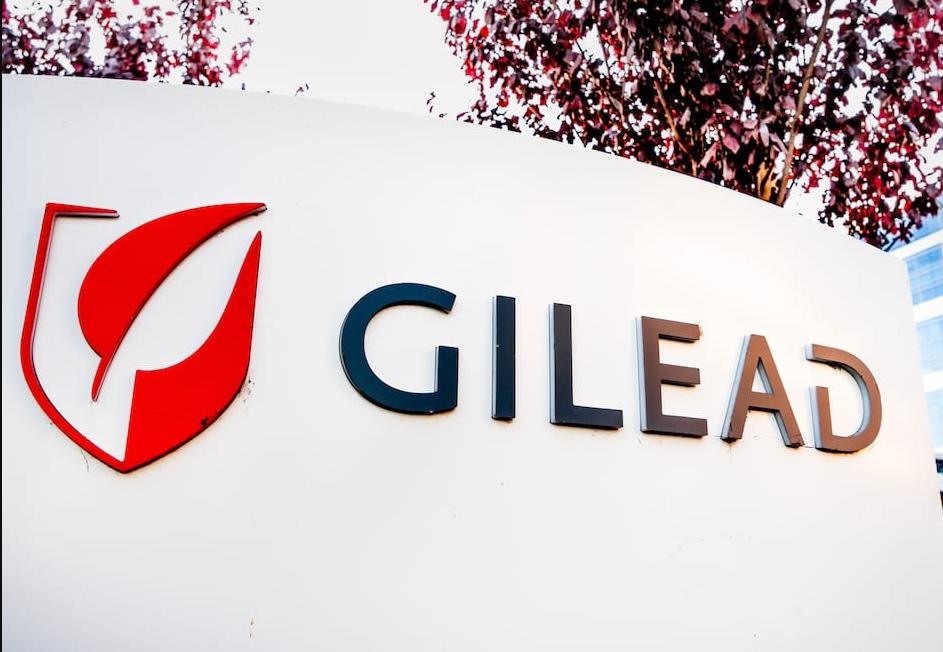 FOSTER CITY, Ca. – Gilead Sciences Inc., one of the largest biopharma companies in the world, will provide millions of dollars to address the ongoing monkeypox outbreak, including nearly $2 million for LGBTQ and human rights organizations. 
The Foster City, Calif.-based company announced Tuesday that it is committing up to $5 million to address monkeypox, nearly $2 million of which is reserved for LGBTQ and human rights organizations. Another $3 million will fund a global outbreak emergency grant program.
Gilead will partner with GLAAD, the Human Rights Campaign (HRC), National Black Justice Coalition (NBJC), National Center for Lesbian Rights (NCLR) and NMAC to address public education and policy surrounding monkeypox.
Monkeypox has become a growing threat, especially to gay and bisexual men, since the virus – which has historically only circulated in central and western Africa – started to spread globally. It officially reached the U.S. in May.
The U.S. Department of Health and Human Services officially declared the disease a public health emergency last week, freeing up emergency funding and improving the distribution of vaccines and treatments. The move came after criticism from LGBTQ advocates and health experts who said the Biden administration wasn't acting quickly enough.
Vaccines have remained scarce as the U.S. pushes near 9,000 confirmed cases, 94% of which occur in men who have sex with men, according to the U.S. Centers for Disease Control and Prevention.
The outbreak has also hit people living with HIV particularly hard. In an interview with the Los Angeles Blade, Korab Zuka, Gilead's vice president of public affairs, referenced a New England Journal of Medicine study that found 41% of 528 monkeypox infections diagnosed between April 27 and June 24 were in people living with HIV. Gilead is a leader in HIV treatments.
Gilead is giving GLAAD, the HRC, NBJC and NCLR $350,000 each – $1.4 million total – to fund public education efforts, according to Zuka. The money will be used to create a comprehensive communications campaign, including videos, graphics and other informational resources focused on vaccines, prevention and treatment.
"As we saw with HIV, COVID-19, and now [monkeypox], disinformation continues to challenge the LGBTQ+ community," Sarah Kate Ellis, president and CEO of GLAAD, said in a statement. She added: "When communities receive accurate, timely information, they are empowered to take appropriate action, leading to long-lasting, positive health outcomes."
The drugmaker awarded the NMAC, a nonprofit focused on health equity and racial justice to end the HIV epidemic in America, $500,000 to lead the public policy response, according to Zuka. The funding will help the organization inform public policy "to drive a more comprehensive, swift and coordinated community response," said a news release.
In a statement, the group's executive director, Paul Kawata, said the NMAC would use its "extensive contacts at the federal level" and "work with both the White House and Congress to provide the necessary resources to deal with this outbreak."
"Our top priorities will include making sure that vaccine access is equitable for all communities at risk and that any outreach plans will include ways to deal with vaccine hesitancy in a culturally competent way," he said.
The remaining funds will be used to create a global outbreak emergency fund, which will provide grants of up to $50,000 to Gilead's existing grantee organizations working in regions with active monkeypox outbreaks, according to officials. Zuka said the money would be distributed through an application process based on need.
CDC echoes World Health Organization: Monkeypox? Limit sex partners
"Folks should consider reducing multiple partners and anonymous new partners as one strategy to prevent exposure to monkeypox"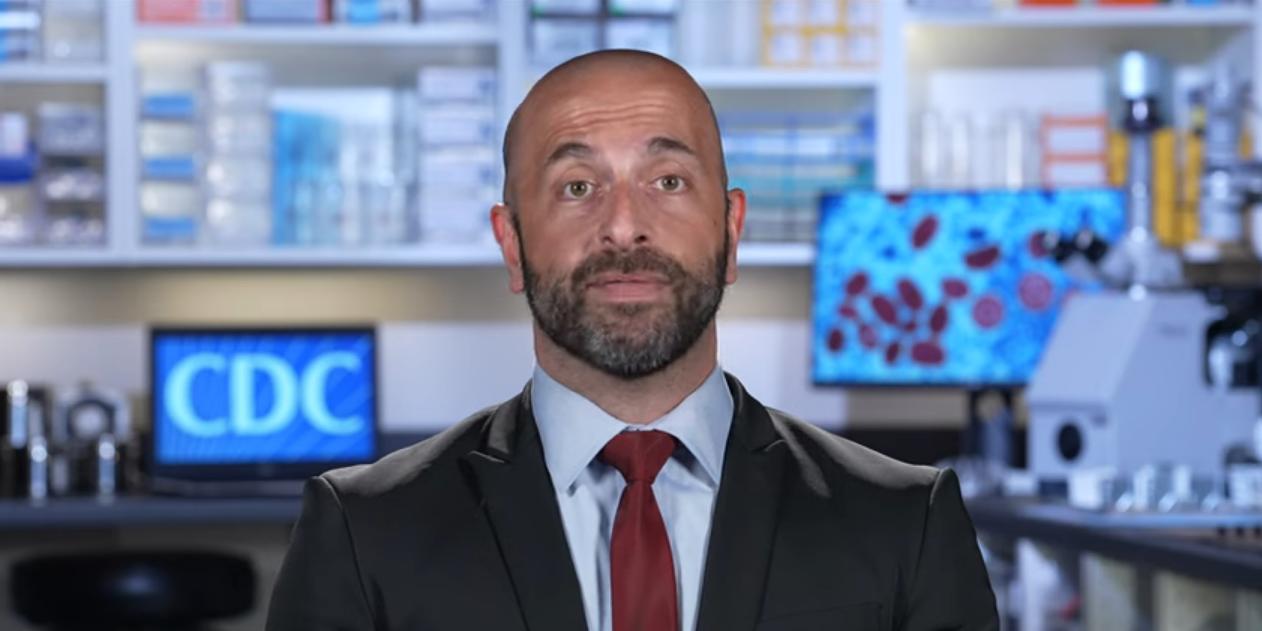 ATLANTA – The newly named Deputy director of the White House task force on monkeypox outlined the updated guidance CDC issued Friday regarding the need for men who have sex with men to limit their sexual partners.
Demetre Daskalakis told the Washington Blade's Chris Johnson during a press call answering the Blade's question about the World Health Organization's guidance issued a week ago calling for men who have sex with men to limit sexual partners:
"It mentions that folks should consider reducing multiple partners and anonymous new partners as one strategy to prevent exposure to monkeypox," Daskalakis said.
"So I think really, there's a broad range, and I think one of the things that's really important about the CDC guidance is it's designed to really meet people where they are and see what we can do to have individuals to create their own prevention plans, understanding that there's not one answer for preventing monkeypox, that it requires a lot of domains to really achieve the goal of preventing new infections."
Vaccinations for monkeypox are a key component of the CDC guidance, even though the limited availability has not kept up with the growing demand for the shots as the outbreak continues. Daskalakis conceded on the call there is "supply and demand mismatch" for vaccines, but maintained the Department of Health & Human Services announcement declaring monkeypox a public health crisis would be a tool to address the shortage.
A key concern among reporters on the call was the Biden administration not emphasizing the disease is almost exclusively at this point affecting gay and bisexual men, as well as concerns about stigma and misinformation about monkeypox.
Daskalakis, drawing on his experience as a medical expert during the HIV/AIDS crisis, emphasized stigma should play no part in messaging.
"I know from my own experience in public health and personally that stigma is actually what drives so much of infection and really creates false starts and false information that really gets people to go down paths that end up really vilifying people's lives and behavior," Daskalakis said. "And so, coming from the experience, both professionally and personally, it is my mission, to not allow stigma to be a part of this or any response that I work on."
The Biden Administration on Thursday officially declared monkeypox a public health emergency, a move that's aimed at freeing up emergency funding and improving distribution of vaccines and treatments.
"We are prepared to take our response to the next level in addressing this virus, and we urge every American to take monkeypox seriously and to take responsibility to help us tackle this virus," U.S. Health and Human Services Secretary Xavier Becerra told reporters during a Thursday news call conference briefing.
With the vaccination roll-out hampered by supply-chain issues, the CDC and other health experts are offering advice to keep the risk of exposure minimal. ABC News reported that as the number of cases continue to rise, "the most important thing you can do is know your risk level. Monkeypox is still rare and most people have a low risk. But if you are in a city where monkeypox is spreading, and in a community where it's spreading, you are at higher risk in this current phase of the outbreak."
Experts interviewed by ABC News provided the latest on how to stay safe. Alongside these suggestions, the experts reiterated that at this time, the risk of transmission to the general population is low. But they agreed everyone should be aware of current outbreak and take steps to reduce risk.
Be alert: Avoid close or skin-to-skin contact with those who may have the virus
Direct, close, skin-to-skin contact "is considered to be the main route of transmission, which can occur in a variety of ways. It can occur just by day-to-day contact with a case of monkeypox, in close proximity, or can occur through intimate contact, as well as during sexual contact," said Dr. Wafaa El-Sadr, a professor of epidemiology and medicine at Columbia University.
Don't share: Avoid sharing towels, clothing and bed linens
The virus can spread through contaminated objects including "clothing, bed sheets, towels, and other porous materials," says Dr. Anne Rimoin, professor of epidemiology at the University of California, Los Angeles.
While this form of transmission is not nearly as common as skin-to-skin contact, it is something to keep in mind when sharing items with others.
General hygiene: Wash hands with soap and water or use an alcohol-based hand sanitizer
"Hand hygiene is the most important thing, not just for monkeypox but for any infectious disease," says ABC News chief medical correspondent Dr. Jennifer Ashton.
Cover up: Being fully clothed may be safer, especially when encountering large crowds
To reduce the likelihood of skin-to-skin contact with someone who may be infected with the virus, wear clothing that covers your body.
The CDC says "festivals, events, and concerts where attendees are fully clothed and unlikely to share skin-to-skin contact are safer," when compared to similar events with minimal clothing and close contact says Dr. John Brownstein, an ABC News contributor and chief innovation officer at Boston Children's Hospital.
Disinfect: Wipe down surfaces that may be contaminated
Monkeypox is considered an orthopoxvirus, which are sensitive to many disinfectants, according to the CDC. They recommend disinfecting areas where someone with monkeypox has spent time, and for objects they may have used.
If eligible, get vaccinated: Reach out to a local health department
The CDC currently recommends that vaccines should be administered to those at risk of developing monkeypox. This includes those that have been exposed to monkeypox as well as people who are aware that one of their sexual partners in the past two weeks has been diagnosed or people with multiple sexual partners in the past two weeks living in an area with known monkeypox. People should stay up-to-date with their local health department to determine eligibility requirements.
Stay current: Be on the lookout for new information as it comes
As of Friday, August 5, The total confirmed monkeypox/orthopoxvirus cases in the United States was 7,510. The majority of cases were located:
Los Angeles County reported that its total of Monkeypox / Orthopox confirmed cases as of August 5, 2022 was 496.
Los Angeles County Public Health- Monkeypox Vaccine Eligibility Criteria for Los Angeles County:
Monkeypox vaccine is available to gay or bisexual men and transgender persons 18 years of age and older who:
Had multiple or anonymous sex partners in the last 14 days including engaging in survival and/or transactional sex (e.g., sex in exchange for shelter, food and other goods and needs)
Note: If you are immunocompromised (including if you have advanced or uncontrolled HIV), you may be at high risk for severe disease and will be prioritized for vaccination.
If you met the prior eligibility criteria you are still eligible for vaccination (i.e., you are a gay or bisexual man or a transgender person and you had gonorrhea or early syphilis in the past 12 months; or you are on HIV PrEP; or you had anonymous sex or sex with multiple partners within the past 21 days in a commercial sex venue or other venue).
Due to the limited number of vaccines, the pre-registration link for monkeypox vaccine has reached capacity and is currently paused. Please subscribe to our monkeypox newsletter on our monkeypox website to be notified when pre-registration may reopen. Those already registered will receive a text message from Public Health inviting them to be vaccinated over the next 1-2 days. Please do not call or show up at monkeypox vaccination clinics or public walk-up sites without a personal text message invitation from Public Health as this is required proof of verification.
If you have monkeypox symptoms or are currently under isolation for monkeypox, please do not attend the vaccination clinics or walk-up sites. If you think you have monkeypox please speak with a provider and get tested. If you do not have a provider, call 2-1-1 for assistance.
5 Things to Know about Monkeypox:
LGBTQ+ groups demand UK government 'get a grip' on monkeypox
"We need to see far better coordination, increased vaccine procurement & improved delivery to sexual health services to treat monkeypox"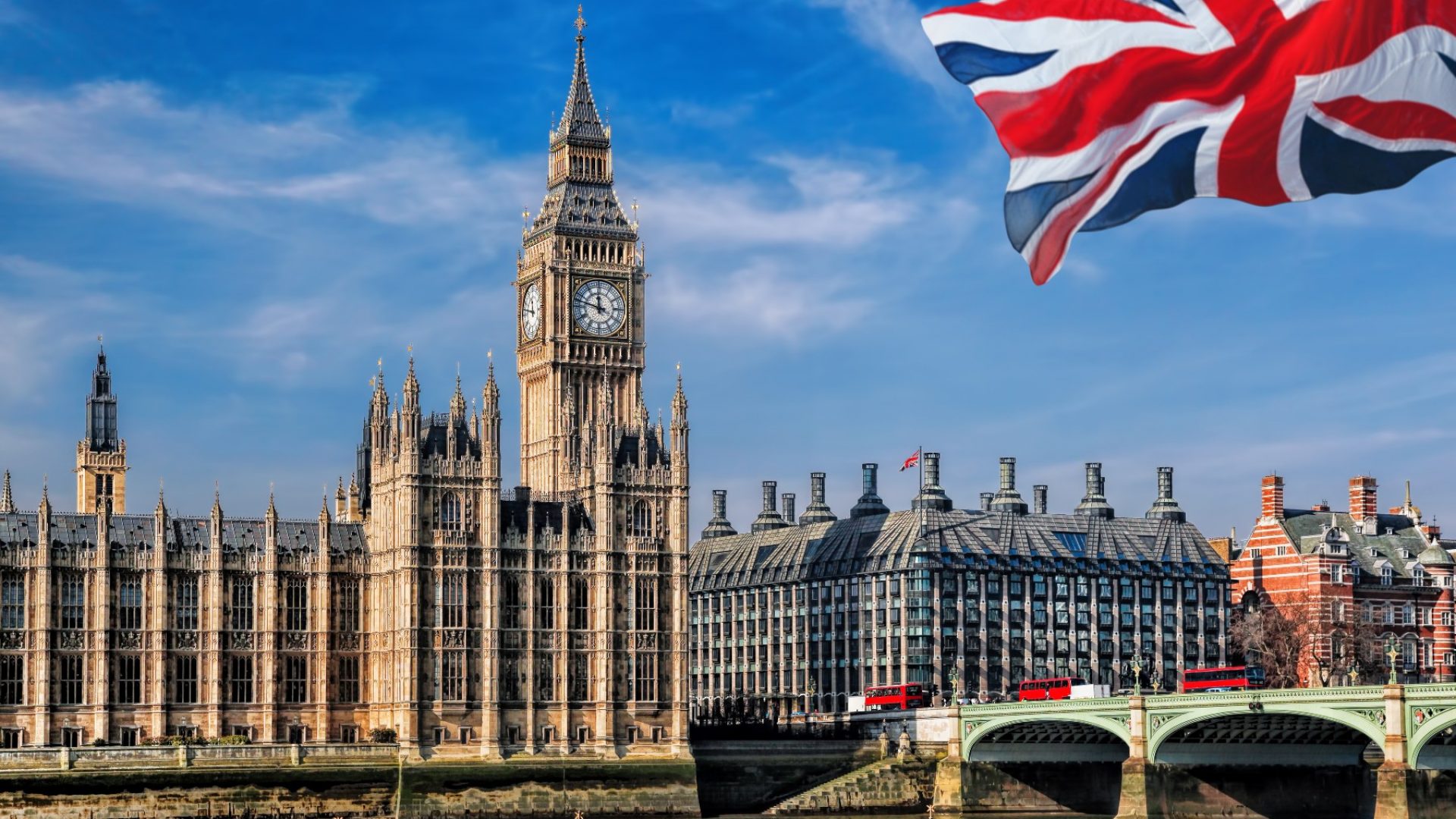 LONDON – In a joint letter to the United Kingdom's Secretary of State for Health, Steve Barclay MP on Thursday, LGBTQ+ groups for the UK's major political parties have united in a call for urgent action by the UK Government to address the rapidly rising number of monkeypox cases in the country and to stop the virus becoming endemic in the country.
This letter comes after the World Health Organization and the Biden White House both separately declared the monkeypox outbreak a public health emergency. According to the National Health Service, there are now more than 2,500 confirmed monkeypox cases in the UK.
Almost all of those cases are among gay and bisexual men which prompted the LGBTQ+ political groups to ask for better coordination and communication to gay and bisexual men, as well as more doses of vaccine to support the targeted vaccination program.
The letter was signed by the LGBTQ+ groups for the Conservatives, Labour, Liberal Democrats, Greens and Scottish National Party.
The sexual health charity the Terrence Huggins Trust (THT) which shared the letter with the media noted that British Sexual health experts, including THT and the British Association for Sexual Health and HIV (BASHH), have already warned the Department of Health, NHS England and UKHSA of the impact the monkeypox response is having on sexual health services delivery of HIV prevention, STI testing and contraception.
THT also pointed out that the sexual health experts also estimate that at least 250,000 vaccines are needed to give two doses to 125,000 people most at risk of exposure to monkeypox – but the UK Health Security Agency has procured just over half the amount.
"We are united as LGBT+ groups from across political parties in asking that the government treat the monkeypox outbreak as a public health emergency," the groups said in the letter.
"We cannot afford to allow monkeypox to become endemic in the UK. Luckily, we have the tools required to stop this outbreak and prevent further risk to health now. We ask that you do so urgently."
The head of policy for the Terrence Huggins Trust, Ceri Smith, in a media statement said: "We need urgent political action to get a grip on the UK's rapidly rising number of monkeypox cases. That's why we're grateful to the LGBT+ groups from the different political parties uniting to call for a public health response that's proportionate to the size of the problem while gay and bisexual men continue to make up the vast majority of cases.
"We need to see far better coordination, increased vaccine procurement, improved delivery and a cash injection to sexual health services to treat monkeypox that will also reverse the impact the outbreak is already having on STI testing and treatment, PrEP provision and contraception services."
"Many of our members are anxious about monkeypox. We've also heard from members who have queued for hours to get their first dose of the vaccine," the LGBTQ+ Conservatives said in the statement. "There is an urgent need for improved coordination, communication and an effort to increase access to doses to ensure that those who are most at risk from monkeypox are provided for and feel safe."
Matthew Lloyd, Co-chair of LGBT+ Labour, said: "We are very worried that while mass vaccination events are a great way of building confidence that vaccinations are happening they can be a driver of inequality, especially when there is an under supply of jabs. It is time to get improved systems and more purchasing of this much-needed vaccine."