Local Hero Runningbear Ramirez: young, gifted and Native American
An inspiration and an emerging next generation leader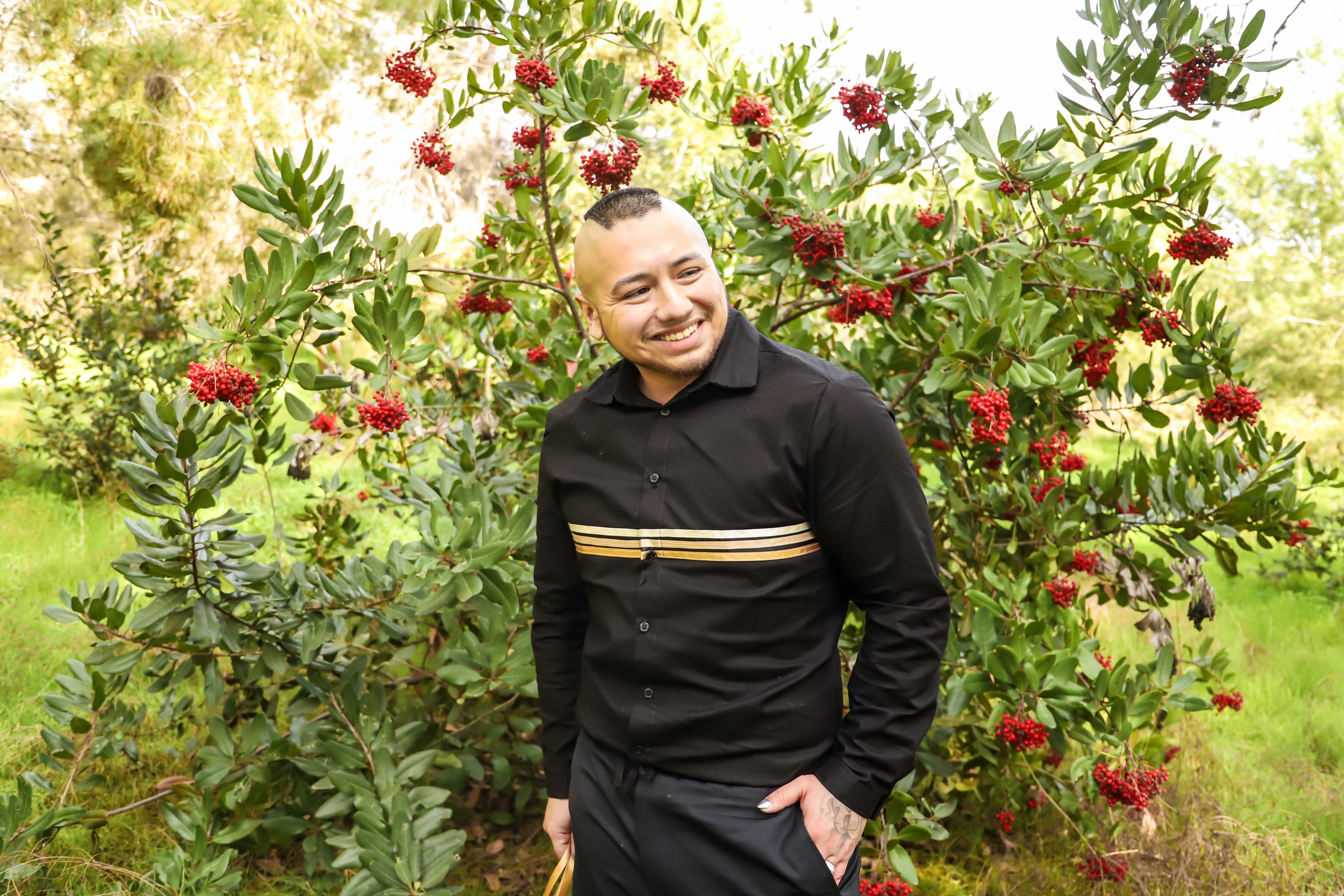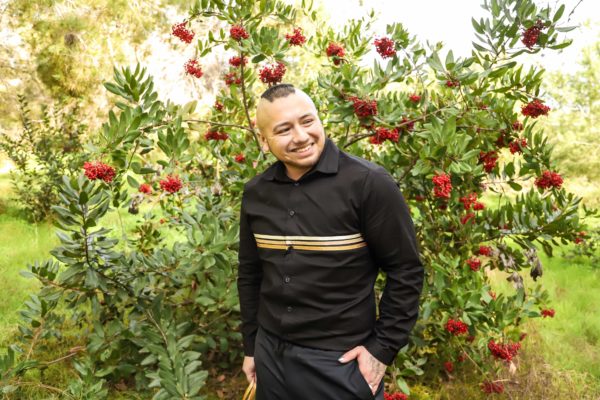 Humility is not a trait routinely associated with being a rich 30-year-old gay guy. But Runningbear Ramirez defies stereotypes, exuding a kind of humility born of ancient spiritual strength and sense of responsibility for a culture and community too long ignored and too often violated – while also representing the tribe best known for the popular San Manuel Band of Mission Indians casinos.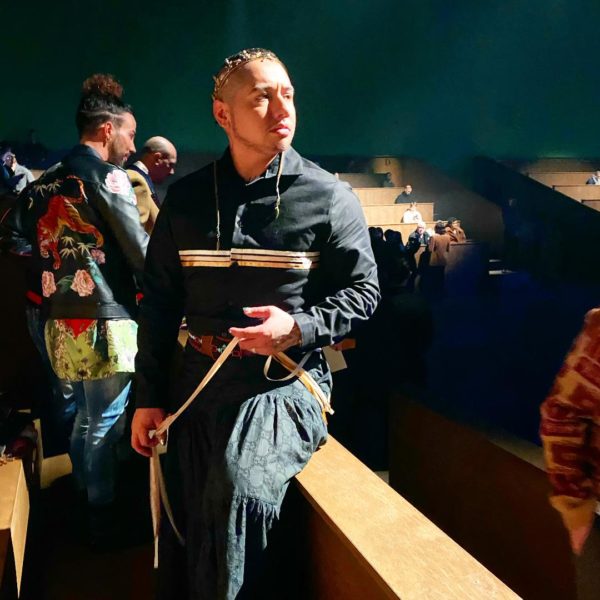 Runningbear Ramirez in Milan at Fashion Week. (Photo courtesy Runningbear)
His name, Runningbear, "means that I've been able to incorporate animal instinct and courage for myself to take care of things that need to be taken care of.  Whether it be family or business, I've always had that personality to take charge," Runningbear tells the Los Angeles Blade.
"The name was given to me as a child, but I decided to incorporate it into my normal day-to-day when I started to take on more responsibilities for the tribe," he says. "That was when I actually changed my name to Runningbear so that way I'll be able to live my life as who I was meant to be."
Everywhere symbols and signs reflect the culture and deep history of his tribe. "The people of the San Manuel reservation are the indigenous people of the San Bernardino highlands, passes, valleys, and mountains who the Spaniards collectively called the Serrano, a term meaning highlander," according to the San Manuel Band of Mission Indians website.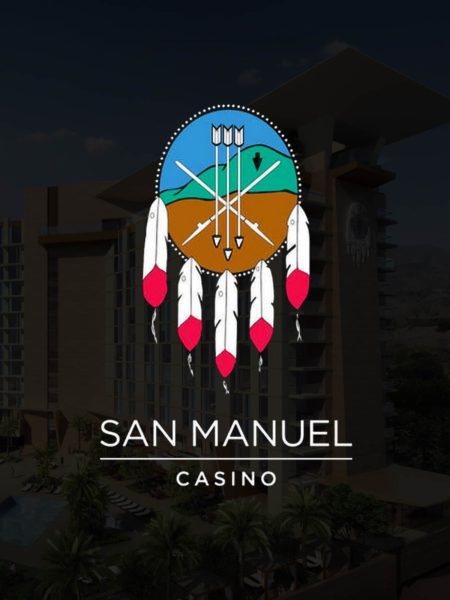 "Our people are the Yuhaaviatam people. The arrowhead (on the tribe logo) is actually on our mountain, our historical land. Where our reservation is," Runningbear says, "there is a granite arrowhead in the mountainside that's over 1,400 feet tall. Our family believes that was a spiritual territory and that's what that arrowhead represents on the side of the mountain….It's very personal to us."
Runningbear uses fashion and body art to display his culture, as well, including a huge tattoo on his chest.
"This is just me being able to portray my artistic side a little bit differently," he says with a slight chuckle. "It's a chief on the front of my chest with a female warrior. It's still not finished, yet. It hurt too much to finish at the time. It's supposed to show a whole family of different people to represent the past and the present, as well as the future — to know that it took your ancestors to get where you are today."
Runningbear's childhood also helped get him to where he is today. A child of divorce who stayed with his non-Native mother as a boy, he experienced poverty and discrimination.
"We didn't have much. Growing up with my mom, we were extremely poor. I can remember times when I'd have bugs crawling on me when I'm sleeping, because there was no window," he says.
But in the 1990s, the no-frills 24-hour San Manuel Indian Bingo and Casino was "an economic miracle for the tiny San Manuel tribe, which once scratched out an income raising apricots and lived in shacks and trailers on a dusty 648-acre reservation. Now, 40 landscaped houses dot the hillsides behind the casino's walls, and security officers on bicycles patrol newly paved roads," the New York Times reported in October 1998, noting the casino was part of California's $1.4 billion Indian gambling industry.
"Growing up, it was a little hard because I had cousins that would discriminate against me because I didn't grow up fully on the reservation," Runningbear says. "I didn't get some of the perks that they did. They grew up with money."
But in 1998, after San Manuel and about 40 other tribes installed slot machines, intense opposition from a coalition of Nevada casinos, unions and anti-gambling church groups claimed they violated the 1988 Federal Indian Gaming Regulatory Act and Gov. Pete Wilson threatened to shut down the casinos.
Runningbear's father, Ken Ramirez, then the 38-year-old vice-chair of the San Manuel tribe, led the fight for Proposition 5, the Tribal-State Gaming Compacts Initiative on the Nov. 3, 1998 ballot.
Among the opposition was Christian fundamentalist lobbying group Traditional Values Coalition, whose anti-LGBTQ leader Rev. Lou Sheldon objected to California tribes asserting they are sovereign nations. "I hate Las Vegas but am thrilled that they're helping us," Sheldon told the Washington Post in September 1998.
The opposition got ugly. "Lil' Petey Wilson," OC Weekly reported, "told a group of reporters on Oct. 22 that the lawyer who advised Indian tribes to put Proposition 5 on the November ballot 'ought to lose his scalp.'….We obtained a copy of da gov's next speech, where he warned tribal leaders to keep firewater out of their casinos, quit spending big wampum on Prop. 5, and remove slot machines or face having their tepees burned and squaws raped."
"This is our livelihood," Ramirez told the New York Times, which noted that he "grew up on the reservation when it held only a few families, with water too fetid to drink."
Ken Ramirez in a Nov. 2019 KTLA "visionary tribute" to him 
"Today, we are proud people. We're not living in Third World conditions on our reservations," Ramirez told the Washington Post. "It was our option to take it to a vote of the people. We have faith they'll stand behind us."
"Frankly, I think it's an incredible con game," Frank Schubert, leader of the "No on 5" campaign, told the New York Times. "We've had millions and millions in TV ads bombarding the state for months now about reservations getting electricity and being able to have linoleum on a dirt floor, when in fact it's a handful of tribes spending a fortune to keep a special deal."
The Prop 5 campaign cost over $68 million but won with 62.4% of voters.
Runningbear remembers the victory, "having dinner with governors and attending a lavish party at the Beverly Hills Hotel on the night of the vote. That was definitely the start of my own journey in influencing politics. My dad, to this day, is a big inspiration to me."
An incredible irony of the Prop 5 fight is that Frank Schubert — who would manage the anti-gay marriage Prop 8 in 2008 — lost to Ken Ramirez, an openly gay man in a same-sex relationship. Now Runningbear is married, too, to Frank Romano. They've been together for six years.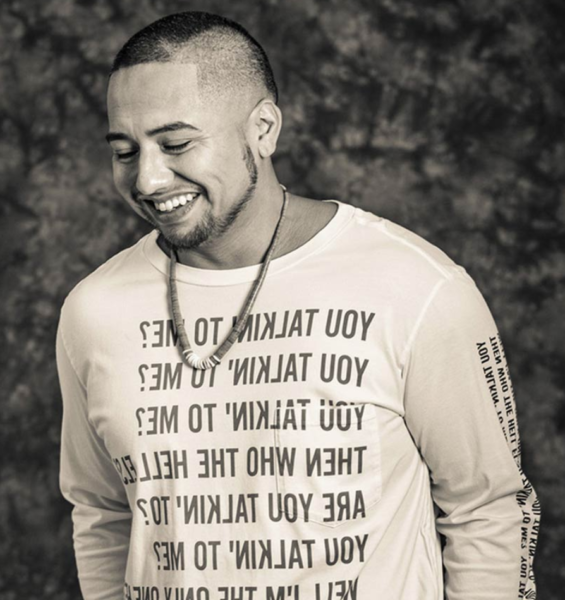 "I didn't have to really come out. They already knew about me," Runningbear says. "My parents never made me choose a man or a woman. I had grown up my whole life seeing my father with another man and my mother with a man. I had a stepfather for my mom and a stepfather for my dad. They all came together and raised us together, which they're still doing now. We still have very modern family views. We still hang out together. My family was always very open and appreciative of whatever, as long as I was happy."
A few years after the Prop 5 fight, at 13, Runningbear started his long activism with and commitment to the tribe. But he never forgot walking between the two worlds of poverty and money.
"For me, going through that really opened up my eyes to say, between the haves and the have-nots, I'd much rather be able to help people than to just sit back and collect a check," Runningbear says. "You have to be able to spread your wealth and your love. I think that growing up in that way, it really showed me a way to do that."
Now, he says, "I'm able to walk in both worlds, to speak with people and understand certain issues based on my perspective within the tribe, within the reservation." Even his cousins "appreciate that I am two-spirited," which he defines as "being able to walk in both worlds of feminine and masculine."
But it was serving on the Board of Indian Health Services at 23 when Runningbear had his "ah, ha" moment.
"I was able to see the plight of Native Americans — that really opened up my eyes," he says. "Wanting to get more into philanthropy was seeing other reservations and how they were doing, outside of the gaming industries. That really got me to think about starting this five-year pilot program I did with Project Angel Food to help the diabetic community in Los Angeles counties, providing healthy meals for Native Americans."
A friend introduced Runningbear to Project Angel Food a couple of years ago and he subsequently joined the board, inspired by a family member with HIV and a sister who last year recovered from cancer.
"I really wanted to learn more," Runningbear says. "I felt that if I could philanthropically get to know the way that the disease runs its course and how it affects people, and if I could help in that way, that's how I wanted to learn."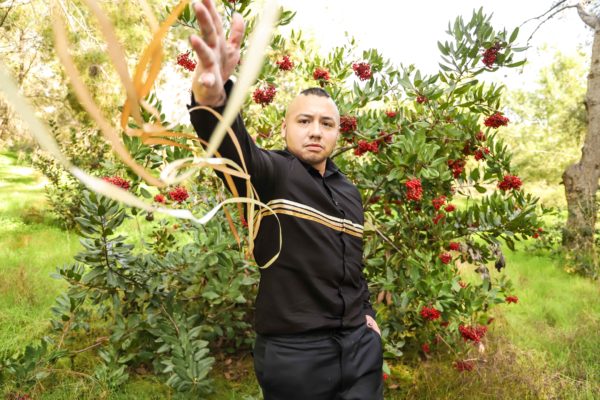 Runningbear Ramirez (Photo by Daniel Sliwa for the Los Angeles Blade)
Project Angel Food clients, he learned, were getting healthier on meals that are based on their personal needs. "I thought that would be a perfect opportunity to utilize my wealth and my knowledge of being on Indian Health Services to bring a pilot program to the forefront for Native Americans in our area," he says.
"I know that cancer is on the rise and being able to access healthy meals is a big problem on reservation. That's why we're trying to make sure that the research is done and recorded right, so we can hopefully take it bigger or national."
Runningbear Ramirez seems to smile broadly over the phone, humbly grateful for the recognition as the Los Angeles Blade's Local Hero honoree enabling him to share his story. "I feel like just because being gay and Native, we are a class of people who are sometimes looked down upon," Runningbear says. "You can still do good for other people and yourself."
GLAAD examines impact of HIV, COVID, & MPV in new report
A new GLAAD report is out. Invisible People: A Retrospective Report On The Impacts of COVID & HIV In The United States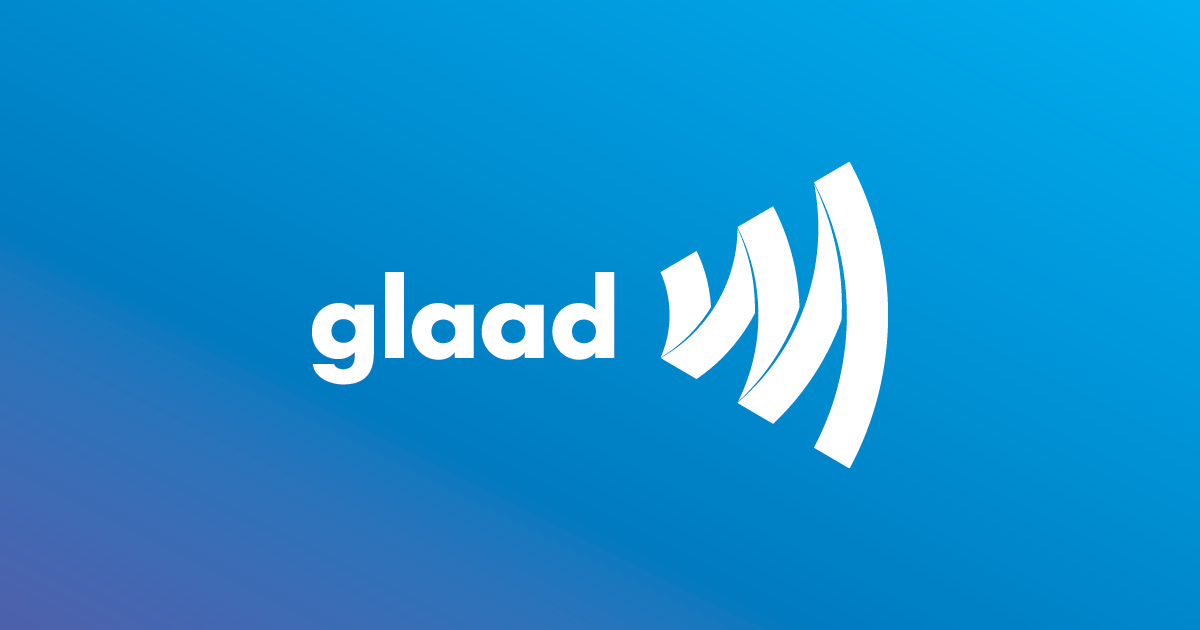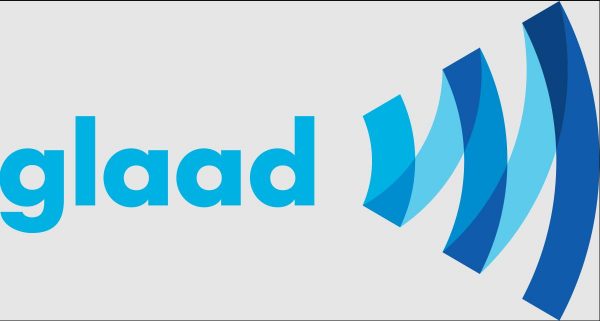 By Darian Aaron | NEW YORK – On October 6, in a TIME Magazine exclusive, GLAAD released "Invisible People," a first-of-its-kind report detailing the disruption caused by COVID-19 in the lives of people living with HIV. The 23-page report combines a comprehensive analysis of peer-reviewed scientific literature, qualitative interviews of people living with HIV, affected communities, and community-based organizations (CBOs) serving these populations. 
With research conducted by global market research company Ipsos and completed before the U.S. emergence of the monkeypox virus (MPV), GLAAD has included an MPV addendum to the report that elevates the disproportionate impact of MPV, HIV, and COVID-19 among Black Americans. Through data and first-person narratives, the report highlights the source of medical mistrust in Black communities, examines the lack of access to consistent healthcare during the pandemic, and most recently, inadequate access to the JYNNEOS MPV vaccine, despite the disproportionate occurrence of MPV among Black gay and bisexual men.
GLAAD President Sarah Kate Ellis draws a parallel between the devastating outcomes for LGBTQ people of color across the three major health crises.
"LGBTQ people and queer people of color are disproportionately affected in the pandemic, yet data collection didn't begin for months to help guide responses and resources, and our voices were vastly underreported across the media," Ellis says. "These are painful parallels to the early days of HIV/AIDS when GLAAD was formed to fight inaccuracy and invisibility."
As of October 12, the Centers for Disease Control and Prevention (CDC) has confirmed 27,022 MPV cases across the United States. A steady decline in new cases—a national seven-day moving average of 63 cases as of October 12—is attributed to vaccinations and behavioral changes among gay and bisexual men. However, data from the CDC confirms that while Black and Latino gay and bisexual men represent the overwhelming majority of MPV cases, white and Latino men have received their first dose of the vaccine at a much higher rate.
The inequity in vaccine distribution and the reality that unvaccinated people are 14 times more likely to acquire MPV has exacerbated racial healthcare disparities in Black communities that existed long before the current outbreak.
Is history repeating itself?
In a separate interview, pioneering HIV activist Phill Wilson, founder of The Black AIDS Institute, says the "parallels are scary" in the context of the U.S. response to the early HIV/AIDS crisis and the slow response to the threat of MPV among Black gay and bisexual men in 2022.
"During the early days of the HIV/AIDS pandemic, I used to quote my grandmother—probably your grandmother, too: "When white people get a cold, Black people get pneumonia," Wilson says.
"The parallels are scary—first, the denial, then the blaming, then the slow response and missed opportunities. And finally, the disproportionate impact on Black, other POC (people of color), and poor communities," he adds.
"All the earliest information about how the COVID-19 pathogen was transmitted said that Black, brown, and poor people would be disproportionately impacted. And yet, those in power did not develop strategies targeting those communities. The opposite happened."
A California resident, Wilson provides a first-person account of his vaccination experience in Van Nuys, a suburb of Los Angeles situated in the San Fernando Valley.
"I showed up at the pop-up vaccination station at about 10:15 in the morning. They didn't open until 11:00 am. There were already 100 people in line," Wilson says. "They had 400 vaccines available that day. By the time I left at 3:00 pm, they had closed the line for the day. I counted less than five Black men, four or five Latino men, and maybe one Asian man getting vaccinated. Four hundred, presumably LGBTQ+ people, were vaccinated that day, and less than 3% were BIPOC (Black Indigenous People of Color)."
To combat the inequity in the MPV vaccine rollout, the CDC has created a Vaccine Equity Pilot Program to reach populations most affected by MPV but less likely to be vaccinated.
In the report, GLAAD also calls out the inherent homophobia that precipitated the naming of HIV as a "gay disease" in the early days of the epidemic. This stigmatizing language has also been echoed during the recent MPV outbreak because most cases are among gay and bisexual men.
Ryan Lee, an Atlanta-based writer, was diagnosed with MPV in July and has since recovered. He says he understands why gay men are reluctant to bare the social responsibility of MPV.
"The burden and shame that gay men have borne regarding our sexual health have created generational trauma and anxieties. And five months of monkeypox have already stoked the bigotry and judgment in those who love telling gay folks how sick and dirty we are," Lee says.
"So I understand the reluctance of queer folks to be closely associated with a new illness, but we must recognize monkeypox is currently a disease that disproportionately impacts gay men."
According to reports published in August, the fear and anxiety experienced by many gay and bisexual men and the refusal of some phlebotomists to administer the MPV vaccine are reminiscent of a dark era in our nation's history that many hoped never to repeat.
"There is something spooky about sitting in a folding chair in 2022, surrounded by other gay men in folding chairs, waiting to be vaccinated by healthcare workers who wear personal protective equipment and immediately wipe down each vacated chair with disinfectant," says Amanda Cary, manager for the gay men's sexual health clinic at Whitman-Walker in D.C, in a story published in The Washington Post.
"Invisible People" lays bare the outcome of slow to no inaction when three health crises converge and target an already marginalized group of people. Through this report, GLAAD continues to elevate the stories and voices of LGBTQ people living with HIV at greater risk for COVID and MPV acquisitions.
"We have to learn from the lessons of each epidemic to be better prepared for the next," says Andres Cantero Jr., a study participant. "People living with HIV, like all chronic conditions, should know that we can count on care that keeps us alive and helps prevent the spread of HIV."
"We just lost two years," says Ellis. "We need folks to look up, wake up, and realize that we as a community and a country can walk and chew gum at the same time. We can deal with a major pandemic while not forgetting about our most marginalized folks."
Read the complete GLAAD report  Invisible People: A Retrospective Report On The Impacts of COVID & HIV In The United States.
*******************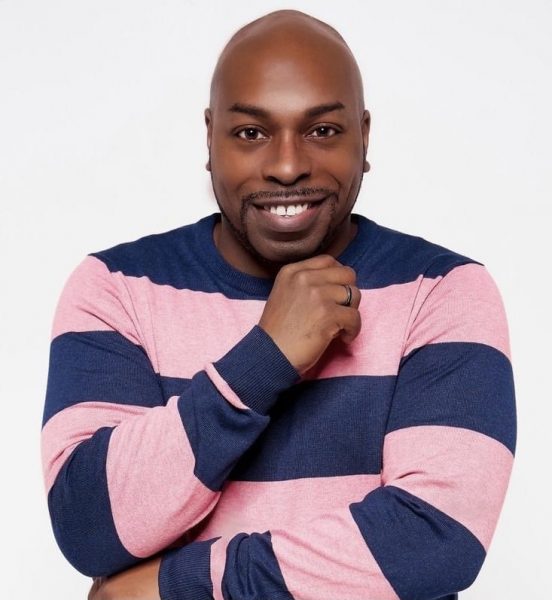 Darian Aaron is the MPV project coordinator for GLAAD. He is also communications director of CNP (Counter Narrative Project), and editor-at-large of CNP's digital publication The Reckoning.
His work can also be read across multiple platforms as a contributor for Q Digital. Follow him on Twitter @darianoutloud.