January 24, 2020 at 4:01 pm PST | by Karen Ocamb
Rep. Adam Schiff on saving democracy: 'If right doesn't matter, we're lost' (video)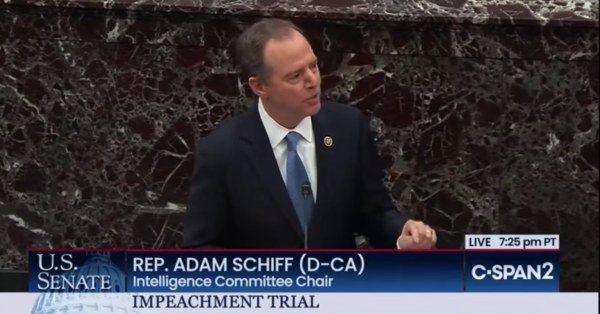 For three days, Democrats have been arguing their case for impeaching President Donald John Trump in a trial before the US Senate. On Saturday morning, Trump's defense team will have their opportunity to put on their case and, presumably, rebut the mounds of testimony the House managers have masterly presented, even without requested documents and the direct testimony of eyewitnesses such as former Ambassador John Bolton and Chief of Staff Mick Mulvaney, which Trump has blocked.
One of Trump's lead attorneys, Jay Sekulow – who Lambda Legal executive director Kevin Jennings has declared is "the mastermind of the right wing litigation strategies" that have scorched and reversed LGBTQ progress for three years – says the conspiracy theories about Ukraine and Joe and Hunter Biden will be part of the defense , despite having been repeatedly debunked and shown up as lies during the House's presentation.
Nonetheless, they have been pushed by Trump's complicit personal attorney Rudy Giuliani who went on Fox News Friday morning and advocated the conspiracy defense.
This third impeachment hearing and trial is already historic. Trump has been impeached on two counts – abuse of power and obstruction of Congress. Many expect Republican cult followers of Trump to refuse to convict or remove him, despite the incredible arguments spelled out by House managers. If they do, the House argues, Trump will feel vindicated and act even more like the dictator he apparently aspires to be.
House impeachment manager Rep. Adam Schiff – the prominent LGBTQ ally who represents Los Angeles County from Burbank to West Hollywood – delivered an impassioned warning in his closing remarks Thursday night, saying Trump must be convicted and removed since he will continue to place his own wants and needs ahead of the country.
Trump's guilty, Schiff says. "He's done what he's charged with. He withheld the money, he withheld the meeting, he used it to coerce Ukraine to do these political investigations. He covered it up, he obstructed us, he's trying to obstruct you, and he's violated the Constitution," Schiff said.
"Do we really have any doubt about the facts here? Does anyone really question if the president is capable of what he's charged with? No one is really making the argument 'Donald Trump would never do such a thing' because, of course, we know that he would and, of course, we know that he did," Schiff said. "We all know what we're dealing here with this president."
Americans can't trust Trump; you know he did it and he'd do it again. If you find him guilty, he must be removed for the sake of democracy and constitutional checks and balances.
Schiff concluded with a powerful reference to the House testimony of Lt. Col. Alexander Vindman — a childhood refugee from Ukraine who became an expert on the National Security Council. Vindman, Schiff said, came forward to testify about Trump's abuses of power — which serves as an example of a patriot who believes his country is more important than his own personal interest.
Schiff quoted Vindman as saying: "'Here, right matters. Here, right matters,'" he said recounting the testimony. "Well, let me tell you something, if right doesn't matter, if right doesn't matter, it doesn't matter how good the Constitution is. It doesn't matter how brilliant the framers were. Doesn't matter how good or bad our advocacy in this trial is. Doesn't matter how well written the oath of impartiality is. If right doesn't matter, we're lost."
Schiff closed by emotionally and morally appealing to Republican senators:
"If the truth doesn't matter, we're lost. [The] framers couldn't protect us from ourselves, if right and truth don't matter. And you know that what he did was not right. That's what they do in the old country, that [Lt.] Col. Vindman's father came from. Or the old country that my great-grandfather came from, or the old countries that your ancestors came from, or maybe you came from.

But here, right is supposed to matter. It's what's made us the greatest nation on earth. No constitution can protect us if right doesn't matter anymore. And you know you can't trust this president to do what's right for this country. You can trust he will do what's right for Donald Trump. He'll do it now. He's done it before. He'll do it for the next several months. He'll do it in the election if he's allowed to. This is why if you find him guilty, you must find that he should be removed. Because right matters. Because right matters and the truth matters. Otherwise, we are lost."