January 26, 2020 at 12:32 pm PST | by Brody Levesque
Kobe Bryant, daughter and 7 others killed In LA county helicopter crash
(UPDATED) NBA superstar Kobe Bryant died at about 10 AM Sunday morning in a helicopter crash near Calabasas in northern suburban Los Angeles County. Eight other people, including his 13 year old daughter Gianna, died in the crash.
Bryant, 41, was an Olympic gold medalist, Oscar, Grammy, Emmy winner and longtime Los Angeles Lakers superstar. His death was confirmed to the Los Angeles Blade by a source in the office of Calabasas City Manager Dr. Gary J. Lysik and a source for the Los Angeles County Fire Department.

Bryant was on his way to a travel basketball game with his daughter when the helicopter crashed law enforcement sources have told the Los Angeles Blade. Also aboard was another player and parent.
Deputies responded to the scene near Las Virgenes Road and Willow Glen Street at around 10 a.m., the L.A. County Sheriff's Department's Lost Hills station confirmed. The emergency call to LASD came from people on mountain bikes near the crash site. Federal Aviation Administration spokesman Allen Kenitzer said that the helicopter, a Sikorsky S-76B built-in 1991, had departed John Wayne Airport in Orange County at 9:06 a.m. Sunday. The helicopter crashed and burst into flames Sunday morning amid foggy conditions in the hills above Calabasas. Kenitzer added that the reason for the crash was unknown and that a team from the National Transportation Safety Board would be investigating.
During his 20 years long playing career with the Lakers franchise, Bryant regularly took a helicopter to Lakers games from his Orange County home in the Newport Coast community.
There has been no official word from the LA Lakers organization.
Los Angeles Mayor Eric Garcetti issued a statement: "Kobe Bryant was a giant who inspired, amazed, and thrilled people everywhere with his incomparable skill on the court — and awed us with his intellect and humility as a father, husband, creative genius, and ambassador for the game he loved. He will live forever in the heart of Los Angeles, and will be remembered through the ages as one of our greatest heroes. This is a moment that leaves us struggling to find words that express the magnitude of shock and sorrow we are all feeling right now, and I am keeping Kobe's entire family in my prayers at this time of unimaginable grief."
California's Governor Gavin Newsom and Jennifer Siebel Newsom issued a statement regarding the loss of Bryant:
"We mourn the tragic and untimely death of a California icon and basketball legend, Kobe Bryant. In his 20-year career with the Los Angeles Lakers, he made history with raw talent and unparalleled dedication that raised the bar and paved the way for a newer generation of players.
"Despite winning five NBA championships and two gold Olympic medals, and achieving countless accolades in the athletics world, he also helped improve the lives of youth and families through the Kobe Bryant and Vanessa Bryant Foundation, and was an outspoken advocate for combating homelessness.
"Our deepest condolences go to his wife, family, colleagues, friends and fans. He was taken too soon and he will be missed."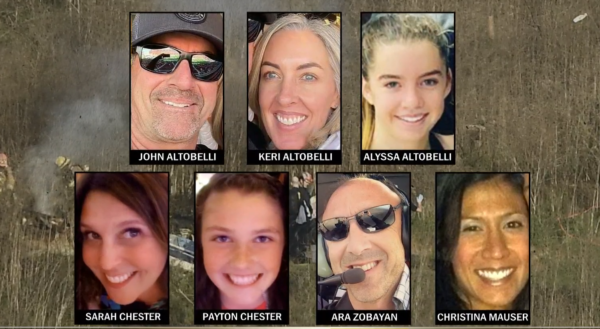 UPDATED: KTLA TV News reporter Christina Pascucci (@ChristinaKTLA), who is also, a licensed pilot, reported early Monday morning that all nine victims of the crash that killed beloved retired NBA superstar Kobe Bryant and his 13-year-old daughter Gianna have been identified.
"The victims included a highly-regarded baseball coach and three young athletes.
Christina Mauser
The husband of Christina Mauser posted on Facebook that she died in the helicopter crash. Mauser was a basketball coach at Harbor Day School in Newport Beach, where Kobe's daughter attended school.
"My kids and I are devastated. We lost our beautiful wife and mom today in a helicopter crash," Matt Mauser wrote on Facebook. "Please respect our privacy. Thank you for all the well wishes they mean so much."
Sarah Chester and Payton Chester
Sarah Chester and her middle school-aged daughter Payton were on also on board.
Ara Zobayan
The helicopter was piloted by Ara Zobayan. According to the FAA, he received his commercial pilot certificate in 2007.
Friends have identified the pilot as Ara Zobayan. He taught aspiring heli pilots to fly and was very much loved in the aviation community. They wrote "rest easy as you take your final flight to heaven.""
NTSB investigators arrived at LAX in Los Angeles early Monday and are currently working with local LAFD and LASD investigators to determine a cause of the crash on scene in Calabasas.
Below is a celebration of Kobe's career from 2016.
In honoring Magic Johnson, Kobe noted the importance of Magic's coming out
Though Bryant once got in trouble for calling a referee a "fucking fag" in the middle of a game in 2011 (and was fined $100,000) he became an outspoken ally.
@onepercentofone @pookeo9 exactly! That wasn't cool and was ignorant on my part. I own it and learn from it and expect the same from others

— Kobe Bryant (@kobebryant) February 11, 2013
Kobe was particularly close to Magic Johnson and in 2012 noted the importance of the 20th Anniversary or Magic's HIV revelation. "I think everything happens for a reason," he said, "and I believe Magic was the one person who could champion that cause and carry it so gracefully and bring so much awareness to it"
When Magic Johnson's son EJ came out of the closet and Magic said he fully supports him, Kobe said, "Of course Magic is supportive of and loves his son. Why should anyone be surprised? What I can't tolerate is a lack of tolerance."
As I try to write this post, my mind is racing. I'm in disbelief and have been crying all morning over this devastating news that Kobe and his young daughter, Gigi have passed away in a helicopter crash. Cookie and I are heartbroken. pic.twitter.com/X2vF0M0a1u

— Earvin Magic Johnson (@MagicJohnson) January 26, 2020
Jason Collins reminds the LGBTQ community of Bryant's stature:
So many of us are hurting right now. My condolences to the Bryant family & everyone that knew him. @kobebryant, your impact on our world goes way beyond a basketball court. #RIP #Mamba 💔 pic.twitter.com/lUntUFurEx

— Jason Collins (@jasoncollins98) January 26, 2020
So many of us are hurting right now. My condolences to the Bryant family & everyone that knew him. @kobebryant, your impact on our world goes way beyond a basketball court. #RIP #Mamba 💔 pic.twitter.com/lUntUFurEx

— Jason Collins (@jasoncollins98) January 26, 2020
Bryant retired in 2016 from the NBA after twenty years with the Lakers and was the third-leading scorer in NBA history a place he held until this past Saturday when the Lakers' LeBron James passed him for third place during a game in Philadelphia, Pennsylvania his hometown.
The Associated Press reported that "Bryant had one of the greatest careers in recent NBA history and became one of the game's most popular players as the face of the 16-time NBA champion Lakers franchise. He was the league MVP in 2008 and a two-time NBA scoring champion, and he earned 12 selections to the NBA's All-Defensive teams.
He teamed with Shaquille O'Neal in a combustible partnership to lead the Lakers to NBA titles in 2000, 2001 and 2002. He later teamed with Pau Gasol to win two more titles in 2009 and 2010."
But with all his accolades and accomplishments, Bryant also had a tarnished personal reputation with a sexual assault allegation against the then-24 year old star in June 2003. The Daily Beast reported in April of 2016, reflecting: "Bryant's tenure in the spotlight, the personal and professional, there will always be one giant question mark, one disturbing episode that gives even the most ardent admirers of him considerable pause: the rape case."
[…] "what exactly transpired on the night of June 30, 2003, at the Lodge & Spa at Cordillera, in Colorado, may always be a mystery. Despite being charged with sexual assault and false imprisonment—facing life in prison—and tearfully confessing to committing adultery with his 19-year-old accuser, Bryant's case never made it to trial. On Sept. 1, 2004, one week before opening statements were to be made, the case was dismissed after the accuser, who had been dragged through the mud for months by the media and Bryant's defense team, informed the court that she would not testify. The woman had filed a separate civil suit against Bryant, and had agreed to dismissal of the sexual assault charge."
Bryant's attorney read his apology in open court as stipulated by the victim.
The incident played out very publicly for 14 months, with the civil lawsuit being settled out of court in March. 2005. Eventually, after Bryant publicly apologized and shifted his attention to his wife Vanessa and their four children, he became a model family man and post-basketball career entrepreneur.
Early Sunday evening an accident investigation team accompanied by a victim family's assistance team from the NTSB departed Washington Reagan National airport bound for Los Angeles, California to commence the investigation into the cause of the accident.
The Los Angeles Times reported Monday afternoon that The NBA has postponed Tuesday's game between the Lakers and Clippers in the wake of Kobe Bryant's death.
The game will be rescheduled at a later date.
In a statement, the league said the decision was made out of respect for the Lakers organization, "which is deeply grieving the tragic loss of Lakers legend Kobe Bryant, his daughter Gianna and seven other people in a helicopter crash on Sunday."
The Lakers, who returned to Los Angeles after a road trip to Philadelphia where the team played the 76ers have yet to make a statement on Bryant's death. 
Editor's Note: This story will be updated as needed as new developments occur.