Ariadne Getty Foundation Senior Housing demand is off the charts
1,200 applicants enter lottery for 72 units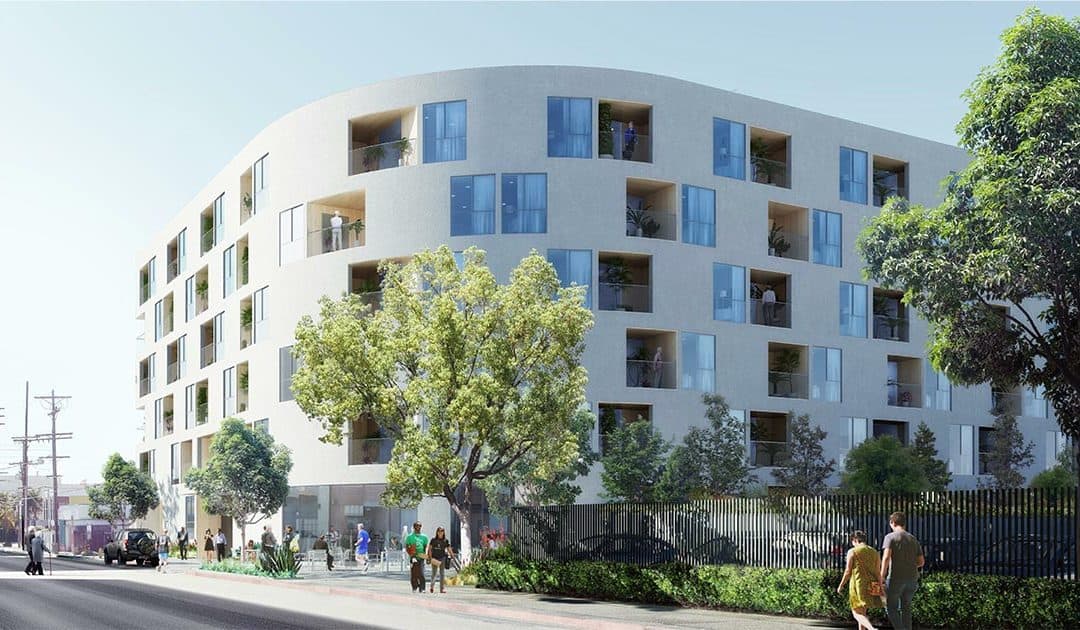 For 81-year-old Jim Wasson, landing a spot in one of the 98 affordable units in the Ariadne Getty Foundation Senior Housing complex would be a dream come true. He currently lives in an apartment which he can barely afford ever since his partner of more than 50 years passed away.
But, Wasson faces stiff competition. He is among the more than 1,200 applicants.
"I had no idea there would be so many people signing up for it," Wasson said of the housing complex currently under construction at the Los Angeles LGBT Center's Anita May Rosenstein Campus. "I'm doing whatever is necessary to have a chance. My hopes are still high."
Built for residents 62 years and over, the Ariadne Getty Foundation Senior Housing will contain studio, one-bedroom, and two-bedroom apartments with rents up to $1,175 per month. The residents can easily access Center programs specializing in HIV+ wellness, gender identity, and LGBT social and cultural support. Other services include meals, case management, employment training, and more than 100 monthly free or low-cost activities.
"The lack of affordable housing in this country is at an all-time high and presents even greater hardships for the LGBTQ community given the many biases which continue to exist. It's an even greater problem amongst LGBTQ seniors," said Ariadne Getty, President and Executive Director.
"In response, the Ariadne Getty Foundation (AGF) has recognized these challenges and, in an effort to also help LGBTQ elders facing social isolation, family rejection or discrimination in traditional senior housing, the AGF has donated $2.5 million to the Los Angeles LGBT Center to build the Ariadne Getty Foundation Senior Housing. The goal of the gift has a twofold purpose. The first, and most important, is that we provide housing for LGBTQ seniors. And, the second, is the AGF inspires others to donate to care for the elderly LGBTQ community who have faced so many obstacles and discrimination yet have gotten us to where we are today," said Getty.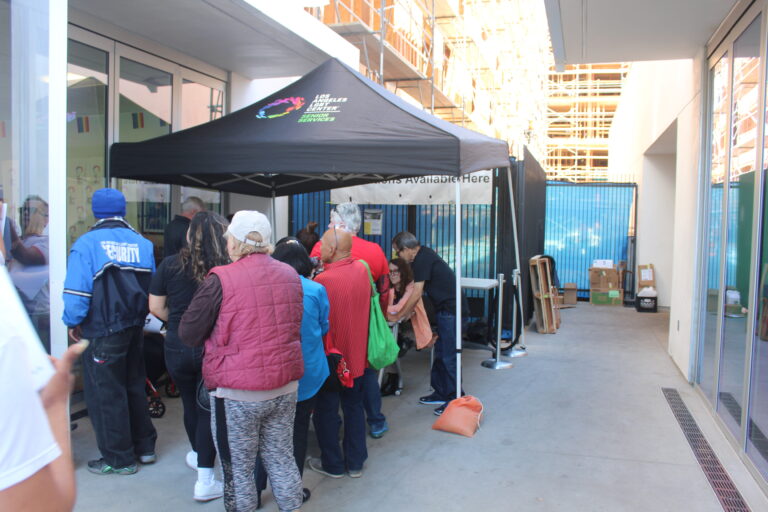 For eight consecutive days, the Center's Senior Services staff assisted prospective residents through the application process. Online applications closed on March 4. Paper applications are still being accepted, but they must be postmarked by March 11 to qualify for the housing lottery.
"This application process can be a very daunting and anxious experience for many seniors," says Tripp Mills, deputy director of Senior Services. "Many of them don't like doing anything online so they need help with paper applications to make sure all the information was correct."
Center staff also provided envelopes with labeled addresses and pre-paid postage to ensure seniors' paper applications were mailed. The team also spent three days in the City of West Hollywood to provide face-to-face application assistance.
Luis Zapata, 67, appreciated the help.
"I came in on the third day, and they assigned someone to me to help complete the application online because I'm not a computer guy," said Zapata, who recently migrated from living in an RV to bouncing among his friends' residences.
"I just want to go back to living in an apartment," he said.
Once all applications are mailed in, staff will begin to review each application to ensure all the information is accurate and the applicants meet the minimum age and income qualifications. Property management team Thomas Safran & Associates will input all of the eligible applicants into a database; a computer will then randomly pick approximately 300 applications as lottery winners. (It is a requirement to have three applicants per unit so those who do not get an apartment will be waitlisted.)
Winning names will be posted at the Senior Center around May 5. And, beginning early summer, the winners will be interviewed in person to submit proof of age, income, bank statements, and rental history.
Of the 98 units, only 72 will be leased through the lottery system; the remaining units will be set aside for individuals experiencing chronic homelessness whose rents will be paid for by county and city grants.
During the application days, potential residents were invited to participate in a creative project in which they wrote their responses to the following sentence: "As an LGBTQ senior, affordable housing is important to me because …"
Their responses, filling an entire wall of the main meeting room inside Harry and Jeanette Weinberg Senior Center, were earnest and thought-provoking.
As a gay man, it will be safer for me at 70 years old, wrote one senior.
After a lifetime of isolation, I want to be in community with my LGBTQ people, wrote another.
Alas: I can live with dignity.
For more information about the Center's Senior Services, visit lalgbtcenter.org/seniors.
For more information about The Ariadne Getty Foundation, visit ariadnegettyfdn.org.
This article was originally written by Greg Hernandez for the Los Angeles LGBT Center's LGBT News Now Blog.
Gay celebs to help Project Angel Food deliver 2,000 Thanksgiving dinners
The Hollywood-based charity provided 1 million meals in 2020 to people with COVID, cancer, HIV/AIDS & more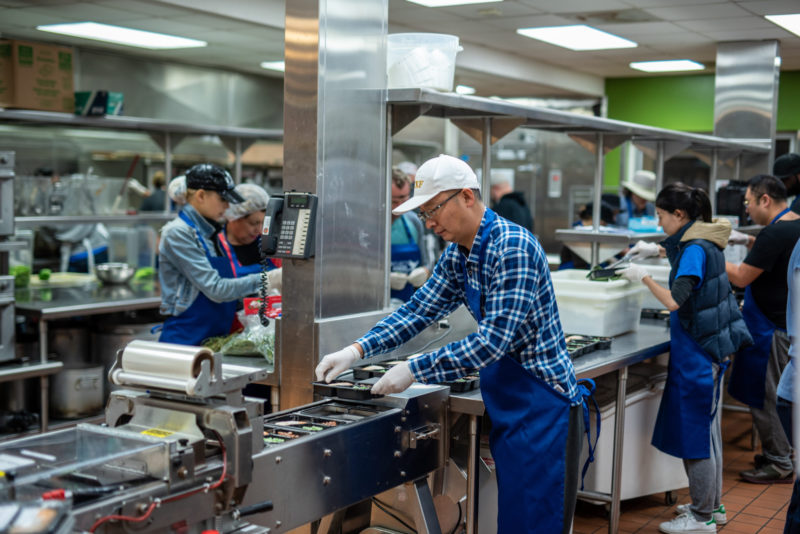 LOS ANGELES – Melissa Rivers and some of L.A.'s best known out gay celebrities will be pitching-in this Thanksgiving to help Project Angel Food provide a holiday meal to thousands of critically-ill clients and their caregivers.
The holiday helpers include KTLA-TV's Gayle Anderson, actors Megan Hilty, Juan Pablo Di Pace, Peter Porte as well as 2018 Los Angeles Blade Best of Gay L.A. Winner Chef Stuart O'Keeffe, among others.
In 2020, with the coronavirus raging, Project Angel Food delivered a record 3,000 traditional turkey dinners, and a total of one million meals last year.
Over the past 32 years, Project Angel Food has delivered more than 13 million meals to people with serious medical issues since its start in 1989. It was founded by Marianne Williamson, along with David Kessler, Ed Rada, Howard Rosenman and Freddie Weber; At first, it was an outreach program of the Los Angeles Center for Living,
"That was the height of the AIDS crisis, so everyone in Hollywood converged upon Project Angel Food to make it successful and to take care of our people who were dying," CEO Richard Ayoub told the Los Angeles Blade. "Bette Midler, Judith Light, Sheryl Lee Ralph. Elizabeth Taylor. Shirley MacLaine, Whoopi Goldberg, the list goes on and on and on." In recent years that list went on to include Halle Berry, Adam Lambert, Jesse Tyler Ferguson and even Prince Harry and Meghan Markle.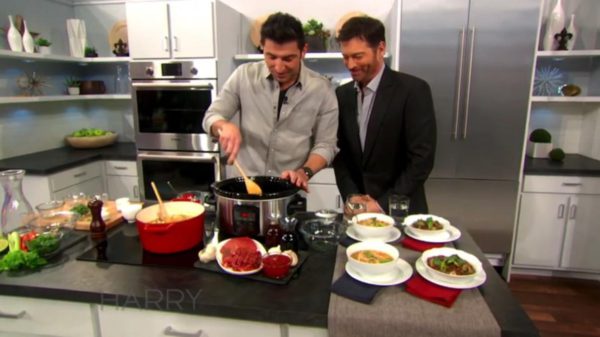 What's important to Project Angel Food's clients, however, isn't so much who's delivering as much as what they're bringing and why, Ayoub said.
"Today we have about 2,400 clients," he said, noting at least 500 of them are living with HIV as their main diagnosis. "These long-term survivors of AIDS and HIV, they're the ones we want to continue to honor and celebrate and take care of, so they're going to need us as long as it takes, and we're going to be there for them."
But then there is what Ayoub called "the second pandemic:" COVID-19. "The people with diabetes, heart disease, lung disease, people who are immune-suppressed, they are the most susceptible to get COVID. And if they get it, they're the most likely to die," he said. "So we want to make sure that they don't get out of their houses if they don't have to, and that they get all the right food that they need to keep them healthy."
And the same inflation problems plaguing all of us have hit the Vine Street nonprofit, too, Ayoub said.
"Our goal is to continue to feed the people we have, and by doing that, it is costing us more money today than it did last year," said Ayoub. "We just bought a brand new van, the very same kind of van we bought last year. But it costs $10,000 more because of supply chain problems. Food is 30% more. Fuel: We're paying $5 a gallon when you and I drive around town. Now, can you imagine doing that times 12? We have 12 vans that cover all 4,500 square miles of our county."
Ayoub noted that as many Americans get together this week for the traditional feast, politics may divide us, but there's one essential thing that brings everyone together: Food.
"It's one of the basic needs of any human being, and that is a nonpolitical issue," Ayoub told the Blade. "I think that's why we have Democrats and Republicans and independents supporting us and have always supported us, because you can't argue with someone who is sick and homebound and has the need for a meal that will nourish them and in some cases, help them heal."
Project Angel Food may have attracted some famous names to help out, said Ayoub, but right now the charity has some very immediate needs that everyday people can help them meet.
"Three things people can do. One, they can volunteer. We have a shortage of volunteers in our kitchen for the first time in our history," he said. "We need your help. Of course, we always accept donations, and angelfood.org/donate is a good place to go. And then third, spread our message. Get our message out there to your friends and family, and just make sure everyone's aware that there's no one else in L.A. County that does what we do at Project Angel Food." 

Click here to find out more about Project Angel Food, its mission and the Thanksgiving food drive.
'There's no place like home,' The Ariadne Getty Foundation Senior Housing
"This is probably the most important home I've ever had- My new home is my sanctuary. It is safety. It is my place of peace"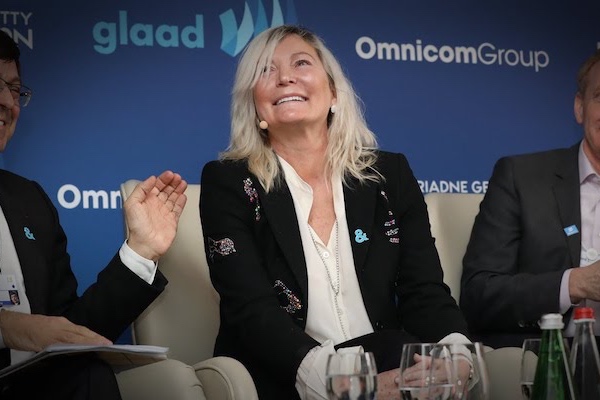 LOS ANGELES – The impact of a philanthropist's work on a community may often be felt although the public at large may not actually be informed on the character of that person sometimes mistaking the physical recognition such as naming rights on buildings as ego driven.
This simple truth is hardly applicable to the Ariadne Getty Foundation's founder and namesake, Ariadne Getty, as her work is not driven by ego, instead an unyielding devotion to community.
In Los Angeles the Getty family name can be found in public spaces that enhance the culture and education of Angelenos, the two most notable being the J. Paul Getty Museum at the Getty Center and the Getty Research Institute Library.
At LA's central library one of the largest exhibition spaces carries the family's name.
Ariadne Getty's significant philanthropic efforts however, are more focused on a marginalised community and aren't comprised of a grouping of public spaces adorned with plaques. This quiet unassuming mother of two instead prefers to direct efforts into funding organizations that directly benefit the LGBTQ+ community.
Her foundation has been underwriting the efforts of the Los Angeles LGBT Center and GLAAD. Getty joined the board of directors of the latter in 2016 and on Feb 1, 2018 at the World Economic Forum in Davos, Switzerland, Getty pledged $15 million to the organization, which focuses on media and increasing the visibility and acceptance of the LGBTQ community.
Getty is the mother of two twenty-something children who are members of the LGBTQ+ community and is the mother-in-law to a high profile Trans social media influencer who is married to one of her kids. While naturally focused on the younger set as a result, she also has deep compassion for LGBTQ+ seniors telling journalist Karen Ocamb in an interview this past January;
"I'm particularly excited about the seniors," Getty says. "My heart goes out to them so much because they've lost lots of their friends and they're lonely and the Center [LA-LGBT] provides such a hub of activity. And I love the fact that we're going to be joining the youth with the seniors, because the seniors will be able to educate the youth about really the history and the hardships of getting to where we are today, where we still have so far to go. But this is a far cry from being gay in the '40s or the '50s — let alone during the '80s with AIDS. I think people, as they get older, get afraid of new things like technology and I think that the youth can help the seniors with just staying up to date and feeling a part of that side. That's definitely the thing that makes me the happiest: they're in a Center where they're surrounded by people. There's no room for loneliness."
Getty had a dream. "My goal has always been that I'll be somebody that would give to community, to be a part of philanthropy on a larger scale," she told Ocamb. "It's been many years that I've known that — I can't shy away from the question completely — that I would inherit money. And the first thing that I did was set up the foundation and that's become my passion."
The Ariadne Getty Foundation Senior Housing is a result of Getty's focus. Located on the LA LGBT Center's Anita May Rosenstein Campus off Santa Monica Blvd. in Hollywood, the 70,000-square-foot building has 98 affordable housing units for seniors ages 62 and above. It also has a series of large common spaces and interconnected courtyards and areas for its residents tied to the larger Rosenstein campus. While the building bears the Getty name, the focus very much reflects the spirit of her ambition to offer a secure and communal safe space for LGBTQ+ seniors.
"The lack of affordable housing in this country is at an all-time high and presents even greater hardships for the LGBTQ community given the many biases which continue to exist. It's an even greater problem amongst LGBTQ seniors," Getty told journalist Greg Hernandez in a Blade interview conducted in March of 2020.
Getty's assertion that a lack of housing presents greater hardship for LGBTQ+ seniors has been backed by studies released by the Williams Institute on Sexual Orientation and Gender Identity Law and Public Policy at the UCLA School of Law and in a study that showed LGBTQ+ people are being left out of generational wealth for many reasons including family rejection, systematic barriers and a lack of financial education.
With almost half of LGBTQ+ adults saying they have been excluded by a family member or close friend as a result of their sexual orientation or gender identity, according to a study by the Pew Research Center, a lack of familial financial support is a common problem for many in the community.
It is that disconnect from family or death of a partner or spouse that leaves a substantial portion of LGBTQ+ seniors alone. Many of them at risk for homelessness which has reached epic crisis levels in Los Angeles.
An estimated 65,000 LGBTQ seniors live in Los Angeles—68 percent of whom live alone. Many struggle to afford housing and other necessities. They are four times less likely than their heterosexual counterparts to have children and grandchildren to support them and twice as likely to live alone.
These factors were reflected in the high demand during the application process to become a potential resident of the Getty Foundation/LA Center Senior Housing two years ago.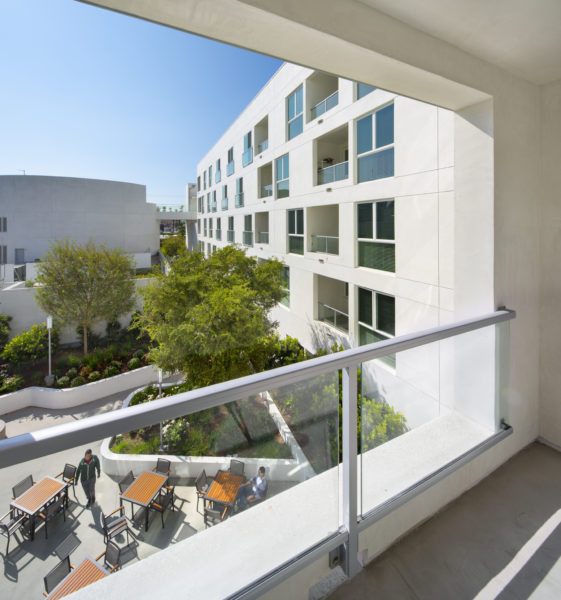 On Tuesday the formal dedication in a press-only event culminated the years-long process that opened the Senior Housing, celebrating the latest resource for the community. The process though had also been very much affected by the coronavirus pandemic. Prior to the Tuesday event, the in-house communications team at the LA LGBT Center interviewed Getty.
The Ariadne Getty Foundation Senior Center is the "cherry on the top" which completes the Center's dream of building an intergenerational campus—congratulations! How do you feel knowing that the Senior Center is finally open, particularly when we experienced delays due to the pandemic?
"I'm feeling a big sigh of relief knowing there are more LGBTQ seniors who finally have the housing and care they need and deserve. For decades, LGBTQ seniors have been on the frontlines advocating for equality. Without the progress they achieved and their personal sacrifices, the LGBTQ community would not have the same rights it does today. Covid-19 has been incredibly challenging, but even before the pandemic, LGBTQ seniors faced disproportionate rates of homelessness," Getty answered.
"Unfortunately, the pandemic deepened disparities, making the The Los Angeles LGBT Center's The Ariadne Getty Foundation Senior Center an urgent need not only for the Los Angeles community, but as an example and inspiration for communities nationwide. It's only right that we meet this urgent need and repay their decades of hardships with the services LGBTQ seniors need to live and age with dignity and respect. The Senior Center is another step towards achieving that goal and ensuring that the most vulnerable seniors receive the care they deserve."
In an email to the Blade, Getty's children Nats and August Getty expressed their admiration and support for their mother's charitable work as now physically evident with the completion of the Senior Housing.
"We couldn't be prouder to have a mom who cares so deeply for the LGBTQ community. Since we came out as queer, our mom and her foundation, The Ariadne Getty Foundation's commitment to LGBTQ equality has only deepened – and the new Los Angeles LGBT Senior Center's Ariadne Getty Foundation Senior Housing is a standing tribute to that commitment. Because of her advocacy and philanthropy, she has helped create a home where LGBTQ seniors can live and age with dignity and respect.
As out-queer, young adults, our ability to be our authentic selves comes on the back of the tireless advocacy of LGBTQ elders. It is only right that these seniors receive the care and support they deserve. We are thankful our mom has helped make that a reality."
In addition to Getty's foundation, the Senior Housing received support from investors and government agencies, including the City of Los Angeles; Los Angeles County; City of West Hollywood; State of California; California Community Reinvestment Corporation; Federal Home Loan Bank of California; and Wells Fargo Bank.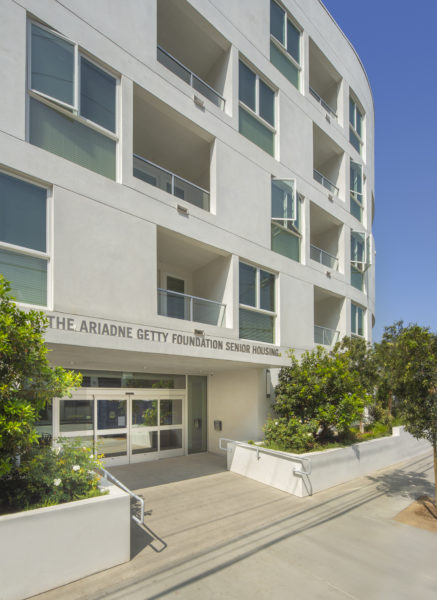 Also partnering was property management company Thomas Safran & Associates. In a phone interview Tuesday, the company's President Jordan Pynes told the Blade that community was the primary focus that was incorporated into every aspect of the design. From the physical layout to the interconnectivity with the center's main campus, every element was purpose driven to make sure that residents had the ability to mingle and build that sense of community.
Joining in the interview call, Kevin Napoli, co-founder of the LENA Group, Inc. told the Blade that all the elements of the design were based on the larger campus, but stressed that the focus was on the interconnected courtyards and common spaces. The effect to engender interactions between all members of the center's community and the seniors.
Senior Housing residents will have access to the full range of wraparound services and support provided by the Center, including case management; home-delivered meals; in-home care and benefits assistance; connection to health and mental health care; HIV support and wellness; counseling and support groups; and more than 100 monthly activities and events provided for free or at low-cost.
"We are immensely proud to finally open the doors of The Ariadne Getty Foundation Senior Housing following months of construction interruptions caused by the COVID-19 pandemic—but the wait was worth it," said LA LGBT Center CEO Lorri L. Jean. "Just in time for Thanksgiving and the upcoming holidays, our residents can celebrate with each other in a safe, warm environment where they are able to live freely and fearlessly as their authentic selves. We have many reasons to be grateful this year, and are particularly thankful for Ariadne Getty, her foundation, and our affordable housing developer partner Thomas Safran & Associates, who stepped up to work with us to improve the lives of many low-income seniors!"
"This is probably the most important home I've ever had," said new resident Lisa Chilton. "For 10 years, whether it was renting a room or sleeping on various sofas, I had been in many other people's space, trying to stay small, and following their schedules. My new home is my sanctuary. It is safety. It is my place of peace."
Group says enough signatures submitted to recall Councilman Mike Bonin
Anger and public dissatisfaction over L.A.'s homelessness crisis has fueled the efforts to oust Bonin who represents Council District 11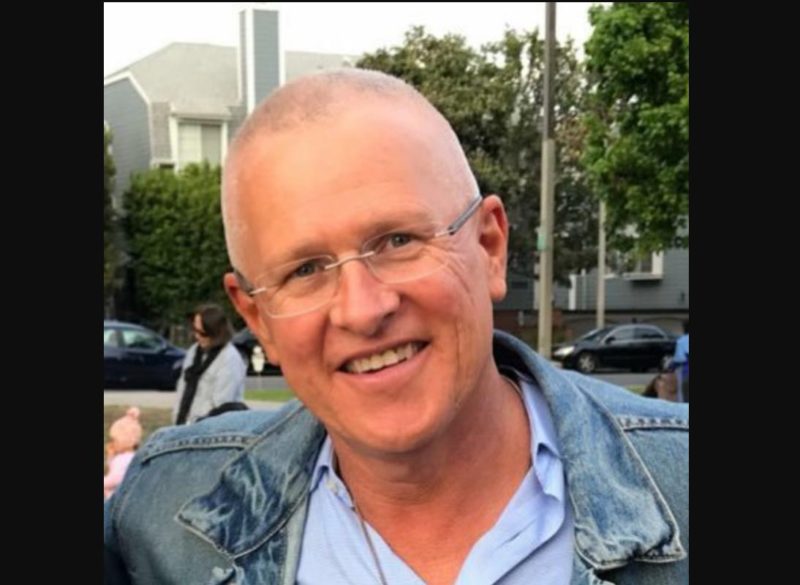 LOS ANGELES – Recall Bonin 2021, a group working to remove Los Angeles City Councilman Mike Bonin announced Wednesday that it had collected and submitted more than 39,000 signatures in support of a recall measure of Bonin. The signature petitions were required to be submitted by end of business day November 10, 2021 to Los Angeles City Clerk Holly Wolcott.
According to Wolcott's spokesperson, 27,000 signatures are required and if the signatures submitted Wednesday are verified, the petition would trigger a special election to be held in April or May 2022. Bonin's current term ends in December 2022 and the recall will not affect his run for re-election. He is one of the openly gay currently serving city councilmembers which includes Mitch O'Farrell.
Anger and public dissatisfaction over L.A.'s homelessness crisis has fueled the petitioner's efforts to oust Bonin who represents Council District 11, the Westside neighborhoods of Brentwood, Mar Vista, Venice, Westchester and Playa del Rey.
"This recall campaign is an extravagant waste of taxpayer money, a thinly disguised attempt to derail my efforts to provide real solutions to our homelessness crisis, and the latest in a series of recall attempts to silence strong progressive voices," Bonin said in a press release after he was served the recall notice in June.
"Under Mike Bonin's watch, the humanitarian crisis of the homeless population is growing exponentially. Taxpayer money is squandered. Fires. Struggling local businesses. Crime is rampant and rising. Neighborhoods and schools are unsafe. We feel afraid to visit public beaches and community parks," the Recall Bonin 2021 campaign's website reads.
Bonin said in his statement that the campaign is backed by right-wing forces and constituents who have fought to stop housing, shelter and services in the coastal neighborhoods, "leaving people to die on the streets."
In an acknowledgment of the recall effort's likely triggering a special election Bonin took to Twitter asking for support from residents.
We need to counter this with people power.

To help fight the recall, please donate at: https://t.co/1Ab1VSwvXz

If you want to support my re-elect, please do it here: https://t.co/OdIlbQbe8F

— Mike Bonin (@mikebonin) November 11, 2021