WHO: The coronavirus is officially a pandemic (UPDATES)
HRC/LA Gala still on, GLAAD Awards/NYC cancelled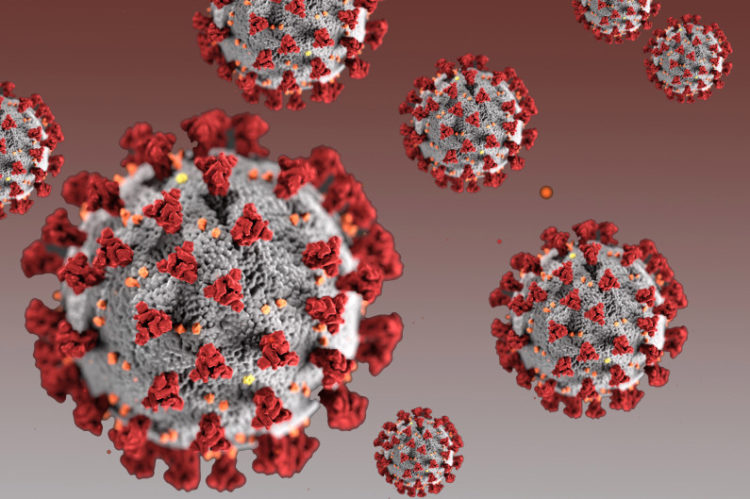 (PLEASE NOTE: This is a fast moving story. Please check the CDC and the LA County Dept. of Public Health and trusted news sites for accurate updated information).
The World Health Organization (WHO)  officially declared the coronavirus a pandemic on March 11, meaning it's a new super bug with no immunity, no vaccine, no cure and a threat to the public health system.
But while  Director-General Tedros Adhanom Ghebreyesus "rung the alarm bell loud and clear," he also tried to forestall widespread panic.
"All countries can still change the course of this pandemic," he said, "if countries detect, test, treat, isolate, trace and mobilize their people in the response."
President Donald Trump's self-obsessed magical thinking, however, continues to throw up inaccurate and contradictory barriers to the dissemination of important information, even that espoused by his own administration's trusted health experts.
(UPDATE) On March 10, shaken after yet another precipitous sharp Wall Street stock decline, Trump went to Capitol Hill to discuss measures to stem feared financial fallout resulting from the increasing spread of the virus. He met with congressional Republicans who did not automatically fall in line this time – some were even supportive of an economic relief package Speaker Nancy Pelosi has prepared. (UPDATE: On March 12, The Dow had its worst day since the Crash of 1987, per CNBC.)
Trump stopped to talk with reporters on his way out.  "We're doing a great job with it," he said, despite news reports of just how badly the administration failed to act to contain the virus early on.
"It will go away. Just stay calm," Trump said. "It's really working out. And a lot of good things are going to happen."
Meanwhile, on another part of Capitol Hill, Dr. Anthony S. Fauci, the director of the National Institute of Allergy and Infectious Diseases, told the House Oversight Committee the very opposite.
"We have got to assume it is going to get worse and worse and worse," Fauci said, noting that the new virus will not just die off with warmer weather, as Trump insists.
"We must be much more serious as a country about what we might expect," Fauci added. "We cannot look at it and say, 'Well, there are only a couple of cases here, that's good.' Because a couple of cases today are going to many, many cases tomorrow."
Fauci also rebutted Trump repeatedly saying that the coronavirus is no worse than the flu. "People always say, 'Well, the flu does this, the flu does that.' The flu has a mortality of 0.1 percent. This has a mortality of 10 times that," Fauci said.
AIDS activists and LGBTQ people who lived through the HIV/AIDS crisis recognize Fauci as someone who started out as a slow-moving bureaucrat but eventually became an AIDS ally. He is now a trust-worthy voice and — perhaps a trait learned from AIDS activists — he speaks truth to power, though the "power" might not listen.
"I have never ever held back telling exactly what is going on from a public health standpoint," Fauci told Rep. Stephen F. Lynch (D-MA) who suggested the expert be more forthright instead of just standing behind Trump at news conferences and rolling his eyes.
Part of the problem is that even the experts don't know the precise nature of the highly contagious novel coronavirus, nor its status in the US because there hasn't been enough testing. There are also questions about how many testing kits have actually been distributed, to whom, and when will more be available. NBC News reported March 11 that a company in Germany sent machines to the US capable of producing hundreds of test kits – but they are sitting idle awaiting FDA approval.
Meanwhile, considering that the virus can live in the air and on a surface for several hours and infectious incubation can be up to nine days without symptoms, officials extrapolate that every single person diagnosed with coronavirus probably had contact with up to three other people.
(UPDATE) John Hopkins Coronavirus Resource Center reports 4,718 deaths globally (as of March 12). The US reported 1,323 coronavirus cases and 38 deaths.
California Gov. Gavin Newsom declared a state of emergency and the state now has 157 cases, with thousands more people assumed to have been exposed.
"We're a nation-state," Newsom said March 10. "This is not a small, isolated state. The state of California is 40 million strong, 58 counties. So, what we're doing is a bottom-up process, not a top-down process. We're providing guidance in concert, in collaboration with the federal government and we are sending that down … but each and every county is experiencing a different set of circumstances on the ground."
The Los Angeles County Public Health Department reported 24 cases in LA County, with one confirmed coronavirus-related death – a woman over 60 with underlying health issues, Public Health Department Director Dr. Barbara Ferrer said, according to the LA Times.
UPDATE: So far, Newsom has not call out the National Guard for containment but he has instead strongly encouraged organizations to consider canceling or postponing events with more than 100-250 people, admittedly an arbitrary number. (Late Wednesday night, Newsom called for a ban on all large gatherings over 250 people.).
California counties, businesses and non-profits have reacted differently, some ordering bans and other forms of mitigation, others preferring alerts suggesting health protocols such as vigorously washing your hands for 20 seconds,  using alcohol-based hand sanitizer; covering your mouth with a disposable tissue or your sleeve when coughing or sneezing; not touching your face; wiping down publicly used surfaces; and self-quarantining when not feeling well.
In particular, officials advise practicing "social-distancing" by avoiding being within three to six feet of people you don't know (they could be asymptomatic) or who display signs of illness. Do not kiss or hug to either inadvertently spread or breath in those harmful droplets — instead bump elbows or feet. Or do an old spiritual acknowledgement: briefly join your hands in prayer and bow or clutch your heart like a 1930s motion picture singer.
Health officials also recommend staying and working from home with a fever or cough and calling a doctor or clinic if the symptoms worsen or do not get better after several days. The elderly and those with underlying health conditions such as diabetes, high blood pressure, chronic heart disease, respiratory conditions, cancer and compromised immune systems are particularly at risk.
LA County health officials have issued new guidance to mitigate the spread of the virus.
"It's time to start thinking about limiting activities anywhere you have a lot of exposure to the general public," Ferrer said March 10. She also said that health teams will start visiting all nursing homes and long-term-care facilities in Los Angeles County — roughly 300 — to enforce infectious disease protocols and prevention measures. The teams will also assess the 330 homeless shelters and numerous encampments throughout L.A. County to quarantine the sick from the healthy, she said.
On March 11, the National LGBT Cancer Network and GLMA: Health Professionals Advancing LGBTQ Equality (formerly known as the Gay & Lesbian Medical Association) issued an open letter signed by more than 100 LGBT-affiliated organizations that offered culturally competent information to supplement recommendations put out by the CDC and local public health agencies.
"As the spread of the novel coronavirus a.k.a. COVID-19 increases, many LGBTQ+ people are understandably concerned about how this virus may affect us and our communities," they write.
"Our increased vulnerability is a direct result of three factors:
The LGBTQ+ population uses tobacco at rates that are 50% higher than the general population. COVID-19 is a respiratory illness that has proven particularly harmful to smokers.
The LGBTQ+ population has higher rates of HIV and cancer, which means a greater number of us may have compromised immune systems, leaving us more vulnerable to COVID-19 infections.
LGBTQ+ people continue to experience discrimination, unwelcoming attitudes, and lack of understanding from providers and staff in many health care settings, and as a result, many are reluctant to seek medical care except in situations that feel urgent – and perhaps not even then."
Additionally, they write, "there are more than 3 million LGBTQ+ older people living in the United States. LGBTQ+ elders are already less likely than their heterosexual and cisgender peers to reach out to health and aging providers, like senior centers, meal programs, and other programs designed to ensure their health and wellness, because they fear discrimination and harassment. The devastating impact of COVID-19 on older people – the current mortality rate is at 15% for this population – makes this a huge issue for the LGBTQ+ communities as well."
Darrel Cummings, Chief of Staff at the Los Angeles LGBT Center, says he did not get an invitation to sign onto the letter. However, the Center has initiated its own precautions at its senior housing facility Triangle Square in Hollywood in reaction to the outbreak.
"For us, the primary client concerns are 1) those who are healthcare patients and who come to our McDonald/Wright building for a variety of healthcare services, 2) our senior services which include residents of Triangle Square but also the many others who come to the Campus for programs, meals, etc. and 3) our programs for youth that includes our drop in center services and housing through our emergency overnight beds and transitional living program," Cummings tells the Los Angeles Blade.
"The good news is that we now have tests on site and are prepared to administer those both at our clinic site but also off site at our other facilities," he says. "We have been providing, almost on a daily basis, the most up-to-date information to our staff and clients about the preventative measures they can take to protect themselves and others.
"We have been following the guidelines for congregate care and living issued by the department of public health and the CDC and have plans in place for appropriately reacting to any identified case that we may identify in the clinic or at our other facilities, especially those in our seniors and youth programs," he says. "We are prepared, as best we can be, to provide testing and any needed isolation.
"Generally, we are encouraging people (staff and clients) who are exhibiting symptoms, not to come to our services and to call us or their medical provider for counsel.  Obviously, we have masks and hand sanitizers throughout. although these things can be in short supply so we have lots on back-order," Cummings continues.
"We have established a COVID-19 (aka coronavirus) management team that is meeting and talking on a very regular basis so we can act on or react to developments as they happen and are just assuming that the numbers of those identified with the virus will grow dramatically as more and more are tested."
POZ Magazine has also been reporting on HIV/AIDS and the coronavirus and notes that "the HIV population is aging, and nearly half are over 50. Those with low CD4 T-cell counts, indicating advanced immune suppression, are at greatest risk. People with HIV are more likely to develop cardiovascular disease and may do so at a younger age. Certain HIV medications, especially older drugs, can cause neutropenia, or depletion of immune system white blood cells that fight infection."
"When you look at who's been most profoundly ill, it tends to be people who are older, in their 60s, 70s and 80s. As you get older, your immune system doesn't function as well," Steve Pergam, MD, MPH, of the Vaccine and Infectious Disease Division at Fred Hutchinson Cancer Research Center, told POZ.
Among people living with HIV, "it's all based on level of immune suppression."
"For an HIV patient who is on stable antiretroviral therapy and has a normal CD4 count, their risk may be slightly increased. People often lump HIV patients with other immunosuppressed patients, but HIV is a different disease than it was years ago. For people who have a reconstituted immune system because of treatment, I think the risk is not going to be tremendously different," Pergam told POZ.
(UPDATE) Individual LGBTQ and HIV/AIDS organizations are handling their responses with health safety protocols and their constituencies in mind. Equality California and the California LGBT Legislative Caucus, for instance, issued an advisory in advance of their March12-13 summit in Sacramento but decided to postpone after Newsom issued new guidance Wednesday night banning all gatherings over 250 people.  The LA County HIV Commission, on the other hand, decided to cancel the March 12 2020 Commission on HIV meeting and special panel presentation commemorating National Women + Girls HIV/AIDS Awareness Day reschedule "at later date/time to be determined."
(UPDATE) Other major events have canceled or postponed, as well, including the big Dinah bash in Palm Springs, the Los Angeles Times annual Festival of Books and Food Bowl. Goldenvoice announced the Coachella Valley Music and Arts Festival has been postponed until October. Also cancelled – RuPaul's DragCon LA 2020, NCAA March Madness tournaments.
(UPDATE)  Disneyland in Anaheim is closing through mid-April. Universal Studios said they are monitoring the outbreak but presumably will close for a period of time after Newsom's announcement.
The LA Times reports that "San Francisco announced it is banning large group events of 1,000 or more people."
"We know that this order is disruptive, but it is an important step to support public health," said Mayor London Breed, noting that city officials were following advice from state officials.
LA has not followed suit, so far. "We will get to a point, unfortunately, here in L.A. County, where we will be asking for events to close. But we're not there yet," said Public Health Director Ferrer.
(UPDATE) The Human Rights Campaign canceled its gala on March 28.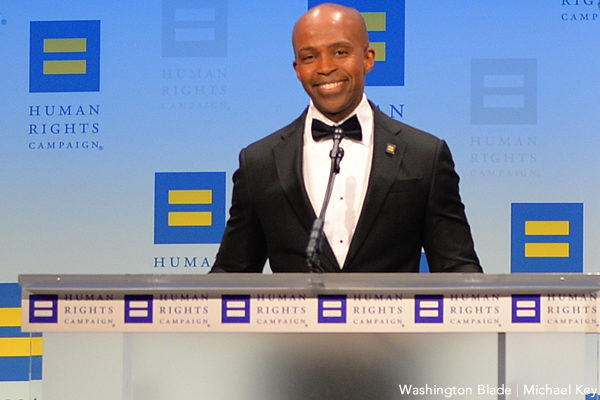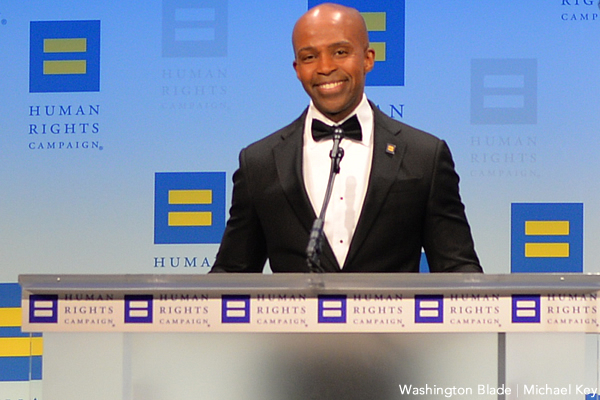 "We are facing a global health crisis, and the Human Rights Campaign's number one priority is to look out for the health and safety of our members, supporters, staff, the LGBTQ community and the community at large,'" says HRC President Alphonso David in a March 12 press release. "For that reason, we have decided to cancel or postpone all of our public events through the weekend of April 4, including our large-scale fundraising dinners in Nashville on March 14, Los Angeles on March 28 and Houston on April 4.
"Our focus remains on the goal of advancing the rights of LGBTQ people around the world and on the  defeat of Donald Trump and Mike Pence in November," he says. "We will continue to work toward this goal, and weather this crisis as we have weathered crises before — by uniting as a community."
GLAAD chose to cancel their 31st Annual GLAAD Media Awards in New York.
"Given GLAAD's long-standing commitment to the safety of our members, sponsors, and guests, the GLAAD Media Awards will no longer take place on March 19th in New York City," GLAAD's Rich Ferraro, Chief Communications Officer and an Executive Producer of the GLAAD Media Awards, said in an emailed advisory.
"The team at GLAAD has been in communication with the City of New York and is following the latest recommendations from Governor Cuomo. We were planning to unveil a historic get-out-the-vote campaign at the event because everything is at stake for LGBTQ Americans this election year," he says, "and are hopeful that the program and GLAAD's ongoing work to fight against anti-LGBTQ discrimination will continue to be supported and funded."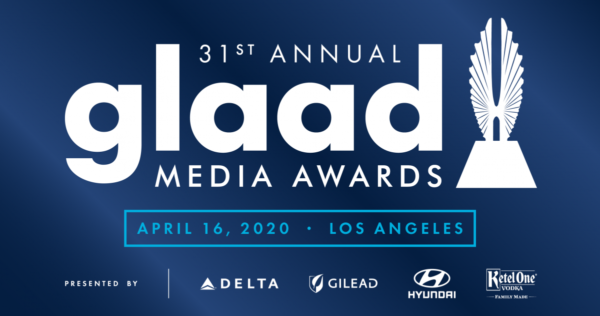 Ferraro notes that the loss of event funding will hurt their advocacy work.
"We are beyond proud to honor Ryan Murphy and Judith Light, two trailblazing beacons of LGBTQ advocacy and inclusion, and we will ensure their game-changing work is rightfully recognized at another time. We are so thankful to our host Lilly Singh, performers Adam Lambert and Ben Platt, and all of the LGBTQ people who were working hard to ensure our stage show would once again send much-needed messages of LGBTQ acceptance around the globe," he says.
GLAAD will contact the nominees about plans on how the awards will be announced, "acknowledging that a GLAAD Media Award nomination or win can raise the bar for LGBTQ representation and serve as a catalyst for media executives to greenlight additional LGBTQ projects."
GLAAD is also speaking with public health officials in Los Angeles about next month's GLAAD Media Awards dinner and stage show.
Stay tuned.
U.S. announces more funding for HIV/AIDS fight in Latin America
Jill Biden made announcement on Saturday in Panama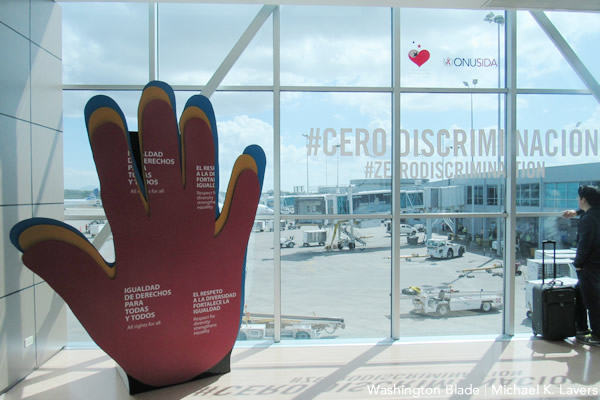 PANAMA CITY — First lady Jill Biden on Saturday announced the U.S. will provide an additional $80.9 million to the fight against HIV/AIDS in Latin America.
Biden during a visit to Casa Hogar el Buen Samaritano, a shelter for people with HIV/AIDS in Panama City, said the State Department will earmark an additional $80.9 million for President's Emergency Plan for AIDS Relief-funded work in Latin America. A Panamanian activist with whom the Washington Blade spoke said LGBTQ+ people were among those who met with the first lady during her visit.
Pope Francis visited the shelter in 2019.
"I'm glad we have the opportunity to talk about how the United States and Panama can work together to combat HIV," said the first lady.
Michael LaRosa, the first lady's spokesperson, noted Panama will receive $12.2 million of the $80.9 million in PEPFAR funding.
"This funding, pending Congressional notification, will support expanded HIV/AIDS services and treatment," said LaRosa.
UNAIDS statistics indicate an estimated 31,000 Panamanians were living with HIV/AIDS in 2020. The first lady's office notes the country in 2020 had the highest number of "newly notificated cases of HIV/AIDS" in Central America.
The first lady visited Panama as part of a trip that included stops in Ecuador and Costa Rica.
The Summit of the Americas will take place next month in Los Angeles. The U.S. Agency for International Development and PEPFAR in April announced they delivered more than 18 million doses of antiretroviral drugs for Ukrainians with HIV/AIDS.
New highly-infectious variant of HIV discovered by Dutch scientists
This new variant of HIV-1 damaged the immune system twice as fast, "placing individuals at risk of developing AIDS much more rapidly"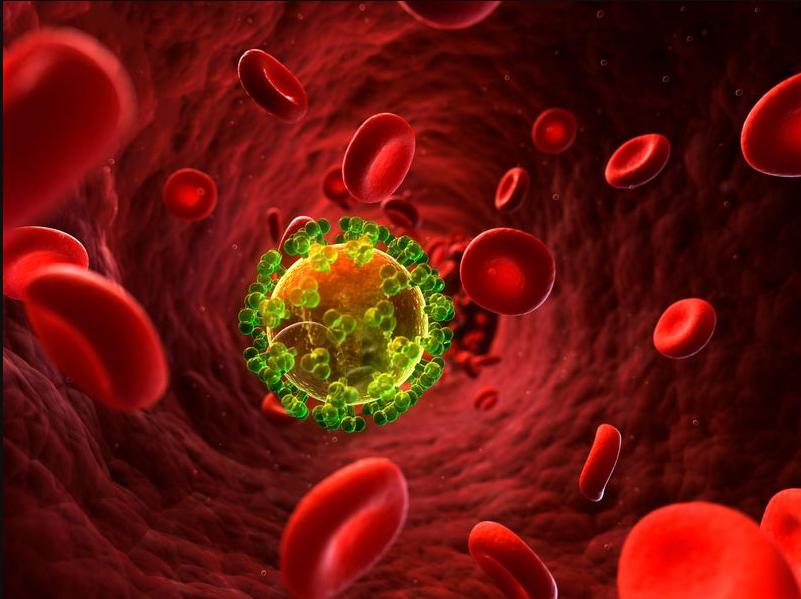 CAMBRIDGE, UK – A study published this week by Science (journal) detailed an alarming discovery by researchers, clinicians and epidemiologists in the Netherlands of a new, highly-infectious mutated variant strain of the human immunodeficiency virus, (HIV), circulating in the country.
The BEEHIVE project – which stands for "bridging the epidemiology and evolution of HIV in Europe and Uganda," detailed the findings which showed that a distinct subtype-B viral variant of HIV-1 damaged the immune system twice as fast, "placing individuals at risk of developing AIDS much more rapidly", and those with this variant were at a higher risk of transmitting the virus to others.
The variant, known as the "VB variant", causes CD4 cell decline to occur twice as fast in infected individuals compared with other viral variants. This is a clinical hallmark, or "signature" of the extent of damage caused by the HIV virus. In addition, those infected with the VB variant also demonstrated an increased risk of transmitting the virus to others, the data suggests.
Individuals infected with the new "VB variant" (for virulent subtype B) showed significant differences before antiretroviral treatment compared with individuals infected with other HIV variants:
Individuals with the VB variant had a viral load (the level of the virus in the blood) between 3.5 and 5.5 times higher.
In addition, the rate of CD4 cell decline (the hallmark of immune system damage by HIV) occurred twice as fast in individuals with the VB variant, placing them at risk of developing AIDS much more rapidly.
Individuals with the VB variant also showed an increased risk of transmitting the virus to others.
The project's researchers, clinicians and epidemiologists did determine however, that those infected with the VB variant had "similar immune system recovery and survival to individuals with other HIV variants."
However, the researchers stress that because the VB variant causes a more rapid decline in immune system strength, this makes it critical that individuals are diagnosed early and start treatment as soon as possible.
BEEHIVE project's lead author Dr Chris Wymant, from the University of Oxford's Big Data Institute and Nuffield Department of Medicine, said: "Before this study, the genetics of the HIV virus were known to be relevant for virulence, implying that the evolution of a new variant could change its impact on health. Discovery of the VB variant demonstrated this, providing a rare example of the risk posed by viral virulence evolution."
"Our findings emphasize the importance of World Health Organization guidance that individuals at risk of acquiring HIV have access to regular testing to allow early diagnosis, followed by immediate treatment. This limits the amount of time HIV can damage an individual's immune system and jeopardise their health. It also ensures that HIV is suppressed as quickly as possible, which prevents transmission to other individuals," Senior author Professor Christophe Fraser from the University of Oxford's Big Data Institute and Nuffield Department of Medicine, added.

In its Global HIV & AIDS statistics — Fact sheet, the UNAIDS Secretariat detailed the statistical data: 
GLOBAL HIV STATISTICS
28.2 million people were accessing antiretroviral therapy as of 30 June 2021.
37.7 million [30.2 million–45.1 million] people globally were living with HIV in 2020.
1.5 million [1.0 million–2.0 million] people became newly infected with HIV in 2020.
680 000 [480 000–1.0 million] people died from AIDS-related illnesses in 2020.
79.3 million [55.9 million–110 million] people have become infected with HIV since the start of the epidemic.
36.3 million [27.2 million–47.8 million] people have died from AIDS-related illnesses since the start of the epidemic.
People living with HIV
In 2020, there were 37.7 million [30.2 million–45.1 million] people living with HIV.

36.0 million [28.9 million–43.2 million] adults.
1.7 million [1.2 million–2.2 million] children (0–14 years).
53% of all people living with HIV were women and girls.

84% [67– >98%] of all people living with HIV knew their HIV status in 2020.
About 6.1 million [4.9 million–7.3 million] people did not know that they were living with HIV in 2020.
People living with HIV accessing antiretroviral therapy
As of 30 June 2021, 28.2 million people were accessing antiretroviral therapy, up from 7.8 million [6.9 million–7.9 million] in 2010.
In 2020, 73% [56–88%] of all people living with HIV were accessing treatment.

74% [57–90%] of adults aged 15 years and older living with HIV had access to treatment, as did 54% [37–69%] of children aged 0–14 years.
79% [61–95%] of female adults aged 15 years and older had access to treatment; however, just 68% [52–83%] of male adults aged 15 years and older had access.

85% [63– >98%] of pregnant women living with HIV had access to antiretroviral medicines to prevent transmission of HIV to their child in 2020.
New HIV infections
New HIV infections have been reduced by 52% since the peak in 1997.

In 2020, around 1.5 million [1.0 million–2.0 million] people were newly infected with HIV, compared to 3.0 million [2.1 million–4.2 million] people in 1997.
Women and girls accounted for 50% of all new infections in 2020.

Since 2010, new HIV infections have declined by 31%, from 2.1 million [1.5 million–2.9 million] to 1.5 million [1.0 million–2.0 million] in 2020.

Since 2010, new HIV infections among children have declined by 53%, from 320 000 [210 000–510 000] in 2010 to 150 000 [100 000–240 000] in 2020.
AIDS-related deaths
AIDS-related deaths have been reduced by 64% since the peak in 2004 and by 47% since 2010.

In 2020, around 680 000 [480 000–1 million] people died from AIDS-related illnesses worldwide, compared to 1.9 million [1.3 million–2.7 million] people in 2004 and 1.3 million [910 000–1.9 million] people in 2010.

AIDS-related mortality has declined by 53% among women and girls and by 41% among men and boys since 2010.
'Promising' HIV vaccine study conducted at George Washington University
"We are tremendously excited to be advancing this new direction in HIV vaccine design with Moderna's mRNA platform"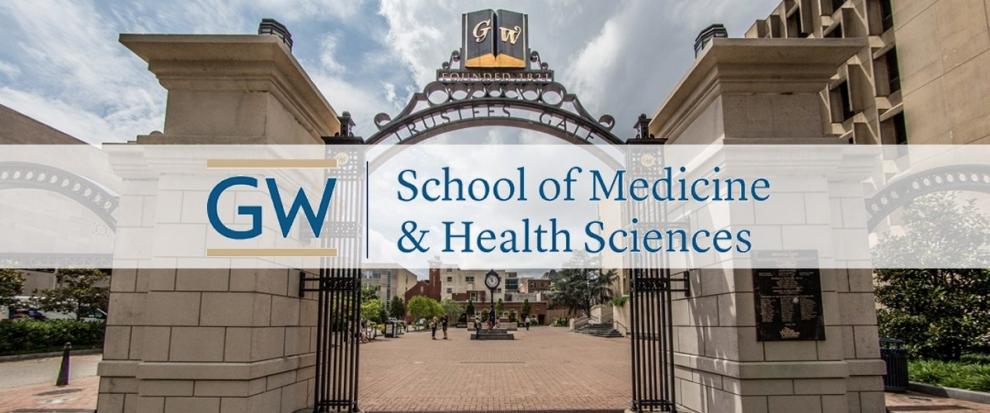 WASHINGTON – D.C.'s George Washington University School of Medicine and Health Sciences is one of four sites across the country in which a preliminary component of an experimental HIV vaccine is being given to volunteer participants in a study aimed at reversing years of failed attempts to develop an effective HIV vaccine by pursuing what study sponsors say is a new, promising approach.
The study, which involves 56 healthy, HIV-negative volunteer participants, is being conducted by the nonprofit scientific research organization known as IAVI and the biotechnology company Moderna, which developed one of the coronavirus vaccines now being used throughout the world.
In a Jan. 27 joint statement, IAVI and Moderna said their study is part of a Phase 1 trial designed to test newly developed experimental HIV vaccine antigens to determine if they will lead to the development of an effective HIV vaccine.
According to scientific literature, antigens are substances such as bacteria, viruses, and chemicals that induce the body to release antibodies that fight off infections. The statement by IAVI and Moderna says a vaccine technology developed by Moderna to use another component of the human body called messenger RNA or mRNA to strengthen a potential vaccine's ability to fight off infection by HIV is also a part of this vaccine study.
"We are tremendously excited to be advancing this new direction in HIV vaccine design with Moderna's mRNA platform," Mark Feinberg, president and CEO of IAVI, says in the statement. "The search for an HIV vaccine has been long and challenging and having new tools in terms of immunogens and platforms could be the key to making rapid progress toward an urgently needed, effective HIV vaccine," he says in the statement.
The statement says that scientific teams at IAVI and the biotechnology firm Scripps Research helped to develop the HIV vaccine antigens being tested in the trials taking place at the GW School of Medicine and Health Sciences and at locations in Atlanta, Ga., Seattle, Wash., and San Antonio, Tex.
It says the trial involving the 56 volunteer participants — who are divided among the four sites — began on Jan. 27 and is being funded by the Bill & Melinda Gates Foundation.
Among those calling the IAVI-Moderna trial an important step in HIV vaccine development is Carl Dieffenbach, director of the Division of AIDS at the National Institute of Allergies and Infectious Diseases (NIAID), which is part of the U.S. National Institutes of Health.
"This is a variation of a theme," Dieffenbach told the Washington Blade. "IAVI in collaboration with NIH did a version of this study already with a protein form of this immunogen," Dieffenbach said. He said that study worked out well and was published in a scientific journal.
"What's unique about this latest study is they're using RNA to deliver the vaccine rather than a protein," said Dieffenbach. "So, this is an important step for us in the vaccine field, that they can now compare the protein to the RNA."
Dieffenbach said the IAVI-Moderna trial is taking place after two other recently completed HIV vaccine studies involving human trials that NIAID was involved in resulted in findings that the two experimental HIV vaccines were ineffective. He said a third HIV vaccine study NIAID is involved in that is taking place in the U.S. and South America is expected to be completed in about a year.
The ongoing study in the Americas involves men who have sex with men and transgender individuals as those participating in that vaccine trial, he said.
Dieffenbach said in addition to the vaccine studies, NIAID is monitoring at least two studies of medication aimed at curing HIV. One of the studies was conducted by HIV researcher Dr. Timothy Schacker, who serves as Vice Dean for research at the University of Minnesota Medical School.
Schacker arranged for human trials of people who are HIV positive and taking standard anti-retroviral HIV medication to be given an experimental HIV cure medication developed by the biotechnology company ImmunityBio called Anktiva, according to a Jan. 31 statement released by ImmunityBio.
The statement says the trials showed promising results in the ability of Anktiva to induce the immune system of HIV-positive patients under standard HIV treatment who participated in the study to "kill" the latent or "hidden" HIV in their body that would otherwise reactivate and cause illness if they stopped taking HIV medication.
The goal of the development of Anktiva is to "rid the body of the virus for good and eliminate the need for antiretroviral therapy," the company's statement says.
Dieffenbach said his office was also monitoring an HIV cure study being conducted by the Rockville, Md., based genetic engineering company called American Gene Technologies. The company is conducting a human trial for a therapeutic treatment it has developed that's intended to enable the immune system of HIV-positive people to permanently eliminate HIV from their bodies. The company has said it was hopeful that early results of the effectiveness of the treatment would become available this year.