March 25, 2020 at 5:42 pm PDT | by Brody Levesque
LA Mayor: at least 2 more months of Stay At Home possible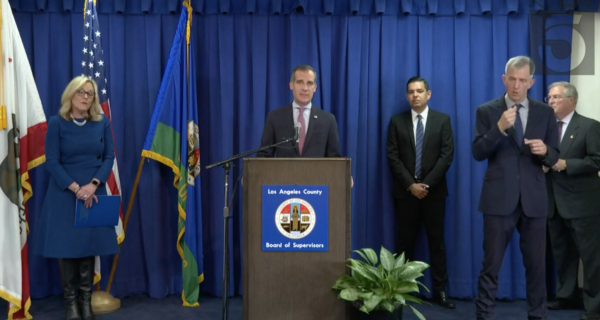 Los Angeles Mayor Eric Garcetti told Business Insider magazine's reporter, Charles Davis, that his city may be facing two additional months of the Safer At Home order during an interview Wednesday. The mayor told Business Insider that political leaders suggesting that Americans were on the verge of returning to business as usual, alluding to President Trump's declarations that America would reopen by Easter, "was putting lives at risk."
Garcetti added that he was worried about the irreplaceable loss of life that's predicted in the COVID-19 outbreak. "This will not kill most of us," he said. "It will kill a lot more people than we're used to dying around us." The mayor added, "It will be our friends. It will be our family. It will be people who we love dearly," he said. "And everything I do is through that lens."
During his press conference Tuesday. Garcetti warned that non-essential businesses that stay open defying Safer At Home order face water & power services shut-off. The visibly frustrated mayor told reporters that his office was receiving daily reports of nonessential businesses that continued to operate as normal. Garcetti called those businesses' actions "irresponsible and selfish."
To counter that problem the mayor announced a "Safer at Home" business-ambassadors initiative with the goal of ensuring better compliance from businesses that are ignoring the city's order to close.
If those businesses fail to comply Garcetti noted that they can expect to get a warning call from the District Attorney's Office and possible further actions by the city by turning off their water and power.
The Los Angeles County Public Health Department Director Dr. Barbara Ferrer told reporters Wednesday that her department has asked the Centers for Disease Control and Prevention to assist in the death of an Antelope Valley resident, a 17-year-old boy from Lancaster. Ferrer said that this was the death reported in the tally for COVID-19 related deaths on Tuesday, but while the boy did test positive for the coronavirus, there were "extenuating circumstances that pointed to an alternative diagnosis as well," she said. As a result, until a conclusive determination of his death could be made, her department would no longer include the boy's death in the county's COVID-19 statistics.
Wednesday, during his daily Coronavirus remote press briefing, Governor Gavin Newsom announced that four of the largest major banks and other financial institutions in California agreed to delay foreclosures and provide mortgage relief to the state's homeowners struggling to make their monthly payments due to the COVID-19 outbreak for 90 days. When asked about renter's protections against evictions during the crisis, Newsom said that his office at this time would not step in and override local jurisdictions efforts to implement bans, but should the need arise, the state would step in.
Newsom also announced that 4 thousand motel rooms had been made available to house homeless Californians along with a requisition of 1,305 trailers. The Governor then lauded the CEO Of the UK-based Virgin Group, Sir Richard Branson for his efforts in assisting the state by making a Virgin Airlines 747 cargo plane available to transport badly needed personal protection equipment and COVID-19 tests from Hong Kong to Oakland this week. He then applauded Tesla CEO Elon Musk for his company's efforts to speed up production and delivery of over one thousand medical ventilators for use by health care institutions.
Newsom noted that the state has already purchased 24.7 million masks and other PPE for the health care system and first responders.
In a tweet late Wednesday afternoon Newsom wrote: "UPDATE: CA has tested almost 67,000 people for #COVID19. 2535 have tested positive. 37 of those were people under 17. 51% were between ages of 18-49.
This disease can impact anyone. Stay home. Practice social and physical distancing. Take this seriously."