March 26, 2020 at 12:51 pm PDT | by Karen Ocamb
COVID-19 Update; Schiff holds tele-town hall for West Hollywood tonight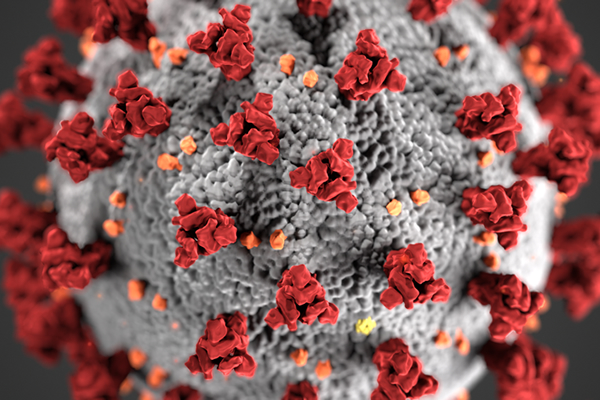 The juxtaposition is mind-boggling. The President of the United States is more worried about his re-election and the stock market than a global pandemic that is threatening the lives of millions of Americans. "President Trump recently cast himself as a 'wartime president' leading the nation's battle against the coronavirus pandemic. If one follows that analogy, he is drawing up our surrender," The San Francisco Chronicle editorialized on Tuesday.
The stakes? In an op-ed entitled "Better 6 feet apart than 6 feet under," 2009 Nobel Laureate Elizabeth H. Blackburn, an honored researcher and professor of biology and physiology in the Department of Biochemistry and Biophysics at the University of California, San Francisco who's been analyzing the data, posited: 
"In the U.S., if nothing changes: By the end of April: The cumulative COVID-19 deaths in the U.S. alone are projected to reach 1 million deaths. And by the second week of May: The cumulative COVID-19 deaths in the U.S. alone are projected to reach a total of 10 million deaths. For comparison, typical seasonal flu (not the pandemic kind) on average kills 37,462 people in the U.S. over a full year (data from 2010 to present), according to the Centers for Disease Control."
Worried elected officials have stepped up to counter Trump's vomit of misinformation. New York Gov. Mario Cuomo's morning briefings about the horrible surge and crisis in his state – "a canary in a coal mine," he says — are appointment television.
A devastating New York Times story about a public hospital in Queens, the borough in New York where Trump was born, reports: "A refrigerated truck has been stationed outside to hold the bodies of the dead. Over the past 24 hours, New York City's public hospital system said in a statement, 13 people at Elmhurst had died. 'It's apocalyptic,' said Dr. Bray, 27, a general medicine resident at the hospital."
California Gov. Gavin Newsom has also held regular briefings with experts in which he has been factual, dire and uplifting. Last week, he urgently pleaded with Trump for federal help, predicting that half of the state's population – 25.5 million people and potentially more than 5 million – could become ill and require hospitalization over two months.
A week later, on Wednesday, March 26, Dr. Mark Ghaly, the state's secretary of Health and Human Services, said:
"We originally thought that it [the rate of infection] would be doubling every six to seven days; we see cases doubling every three to four days," Ghaly said. "[We're] watching that trend very, very closely."
Right now, California is reporting that coronavirus cases have surged past 3,000, with a death toll now at 67. However,  officials say the growth rate is so big that it could overwhelm hospitals in the coming days and weeks, the LA Times reports.
Los Angeles Mayor Eric Garcetti agreed during his regular briefing on Wednesday, as he announced more restrictions and closures. "The worst days are still ahead," he said. "We've taken actions earlier and swifter [than other cities], but no one is immune from this virus."
LA County Board of Supervisors Chair Kathryn Barger has also been holding regular coronavirus updates with Barbara Ferrer, Director, of LA County Public Health. However, recently more attention has been paid to the squabble between the Board and LA County Sheriff Alex Villanueva who the Board wants removed as head of the emergency operations center during the coronavirus crisis. He calls that a "pure power grab at the worst time possible."
"I think the sheriff erroneously believes that centering the response to this crisis to the Office of Emergency Management is somehow a dis to him," Supervisor Sheila Kuehl said in a statement. "And yet I can't imagine that anyone would say that the sheriff should be coordinating all the health departments and the homelessness outreach and placement in housing — these are all different areas of the county that have grown up since we first had that old ordinance."
In West Hollywood, City Councilmember John Duran has been posting daily updates, personal observations and encouragement.
Meanwhile, Congress is debating a 2 trillion stimulus and aide package, which numerous state officials say is insufficient for their needs as the unemployment rate skyrockets and the US death toll reaches 1,000.
Rep. Adam Schiff, whose district runs from Burbank to West Hollywood, has been among those members of Congress who have been trying to keep constituents informed.
"It can be difficult to discern good coronavirus information from misinformation. To make matters worse, Trump's briefings are now like rallies, more self-promotion than insight," Schiff wrote on his Facebook page promoting a "valuable summary of where we are and what we know" in The Atlantic.
Schiff has an official coronavirus webpage in which he has lots of information from the CDC and Assistance for Small Businesses. He writes:
"As reports continue to emerge about the spread of Coronavirus across the globe, I know many of my constituents are deeply concerned about the health and safety of their families and communities. The most important thing is to be prepared, but not to panic. Listen to the advice of experts."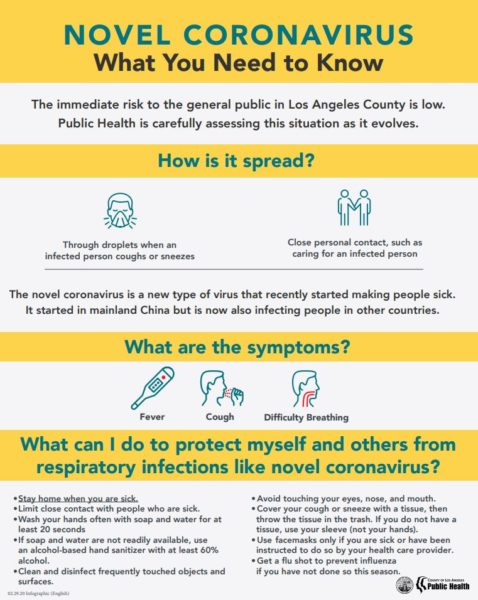 He will be holding a tele-town hall meeting Wednesday night at 7:00pm to share the latest information and take questions.
"We can't get together in person right now, but this is an opportunity to help get your questions answered while we all practice responsible social distancing by calling in from the safety of our homes. Joining me on this call are two local public health experts: Dr. Muntu Davis, MPH, Health Officer for the Los Angeles County Department of Public Health, and Dr. Rekha Murthy, VP of Medical Affairs and Acting Chief Medical Officer at Cedars-Sinai hospital.

On Thursday, March 26 at 7:00 PM PT, dial in to 855-962-1154 to get your questions answered. I look forward to talking with you about this critical moment for our nation."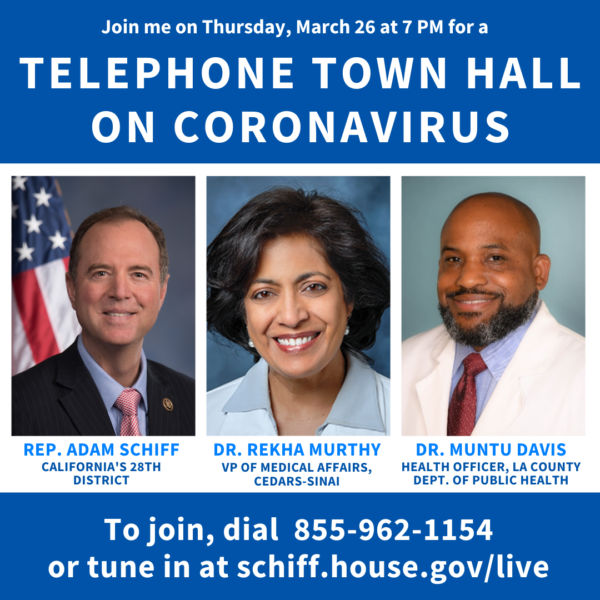 Schiff also posted a video to answer some questions now:
"How is Coronavirus different from the flu? Should I wear a mask? How long does the virus live on inanimate objects and surfaces? Hundreds of constituents have contacted my office with questions and concerns about Coronavirus, so I sat down with Dr. Rebecca Katz, Director of the Center for Global Health Science and Security at Georgetown University Medical Center. Misinformation about Coronavirus is rampant and poses a danger to our public health, and I want to make sure my constituents have the most accurate and reliable information out there."