Phyllis Lyon gives a happy middle finger to the Lavender Scare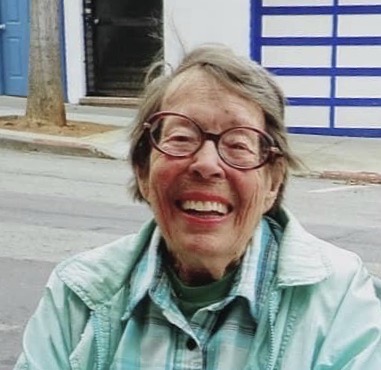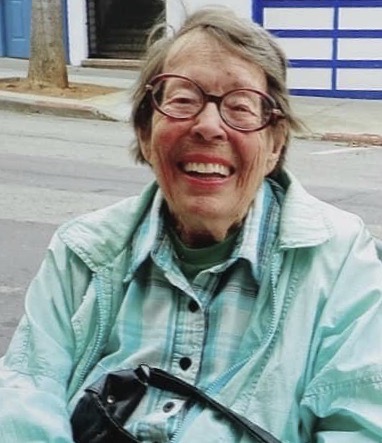 Phyllis Lyon (Photo courtesy Kate Kendell)
"Phyllis Lyon is not afraid of the L-word, whether it be lesbian or liberal – or even lipstick. In fact, L-words best describe her life," writes Del Martin, Lyon's partner of 58 years, in their friend Vern L. Bullough's 2002 book," Before Stonewall: Activists for Gay and Lesbian Rights in Historical Context."
"'I am a single Lyon,' she protests when people persist in adding an 's' to her name," Martin continues. "She has the largess, pride, and roar of a lion. She is distinguished by her laughter. She loves light and bare windows. She is loquacious, but she also listens. She is loving, loyal, learned, logical. She loves literature and she is an avid reader. She is a lover, a leader, a liaison. She lives up to her ideals. She also likes to live it up. Her concerns are limitless, as are her talents. She hopes to win the lottery so she can support all her causes more lavishly,"
Del Martin died on Aug. 27, 2008, ten weeks after she and Phyllis Lyon made headlines and history as the iconic lesbian couple legally married by San Francisco Mayor Gavin Newsom on June 16, 2008. Lyon was at Martin's side when she died at age 87.
Lyon died of natural causes on April 9 at their hilltop home in San Francisco, surrounded by loving friends. She was 95.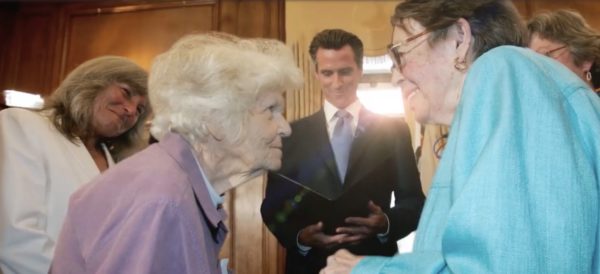 Now-California Gov. Gavin Newsom, who had become personally close with Lyon over the years, broke from his daily coronavirus briefing to commemorate the passing of his friend and hero. He featured their wedding when he announced his run for governor and a video clip still plays at the top of his Facebook page.
"I had the privilege of being involved in a marriage ceremony between Phyllis Lyon and Del Martin," Newsom told the Los Angeles Blade during the live-streamed news conference watched by more than 9.5 thousand people. "The couple had been together for almost a half a century – the manifestation of faith, love and devotion, and yet they were denied on the basis of their sexual orientation the right to say two extraordinary words: 'I do.' The power and potency of those two words is profoundly significant."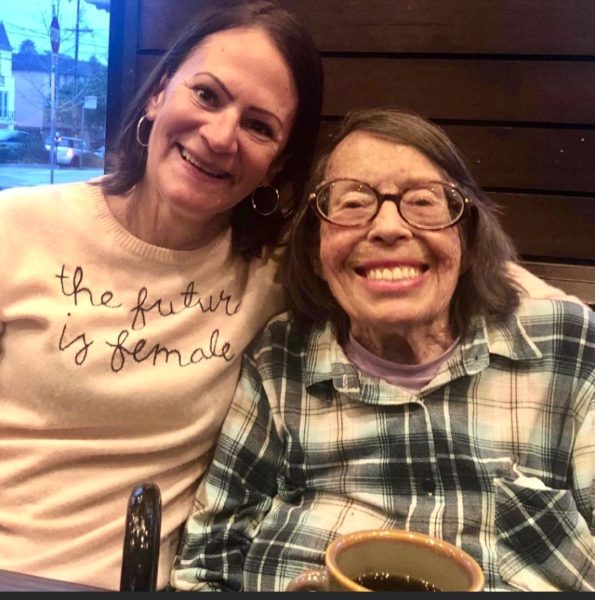 Joyce Newstat with Phyllis Lyon (Photo courtesy Newstat)
Del Martin and Phyllis Lyon were unquestionably the couple to be the "face" of marriage equality, says Joyce Newstat, Policy Director for then-Mayor Newsom who helped plan that first history-making marriage on Valentine's Day 2004, their 51st anniversary, after which 4,000 other couples lined up around City Hall seeking marriage licenses.
"We were already standing on their shoulders and now this would be yet another act of courage on their part," Newstat tells the Los Angeles Blade. "We knew that they also would be symbolic of love enduring between two people — and that was to be the face of marriage equality. How would you be scared or how could you possibly be so vehemently against these two lovely wonderful, powerful women who'd been together for 50 years being able to declare their love for each other in front of family and friends and then the world and having the same legal rights as other couples, men and women?"
But what does "standing on their shoulders" actually mean?
Most of the tributes to lesbian icon Phyllis Lyon focus on her historic symbolic (2004) and legal (2008) marriages to Del Martin. But in fact, their lives are even more profound, having both resisted the Lavender Scare and forged a new definition of equality in defiance of inculcated gender and societal stereotypes. They were pioneers of self-acceptance.
Phyllis Ann Lyon was born to a Republican traveling salesman and a Southern Democrat homemaker on Nov.10, 1924 in Tulsa, Oklahoma just before the Great Depression. The family moved to Northern California in the early 1940s. Lyon graduated from Sacramento Senior High School in 1943 during the paranoia of World War II nearby. For three months in 1942, the Pinedale Assembly Center located just north of Fresno served as a Japanese internment camp for 4,823 people.
Lyon attended the University of California/Berkeley where she served as a reporter and editor for the student newspaper, the Daily Californian, and wrote a scathing editorial about the internment camps, Martin reported in Before Stonewall.
Lyon graduated in 1946 with a BA in Journalism, emerging into an America struggling to return to pre-war society but pulsing with young people enthralled with freedom.
World War II especially liberated women who were recruited — most notably through the Rosie the Riveter campaign — to join the war effort and take up jobs in the wide-ranging defense industry. By war's end in 1945, one out of every four married women worked outside the home; more than seven million women had joined eleven million other women who were already in the work force.
Their mass firing with new patriotic orders to return home to serve their husbands or become "pretty little things" whose sole job was to look for a husband created a subterranean rancor to the reactionary Cold War conformity.  Freudian psychiatry experienced a boom. "Freud gave Victorian antifeminism the appearance of scientific standing. His theory of penis envy not only took for granted the inferiority of women but provided an ideological rationalization of it. Psychoanalysis thus reinforces the dependence and subordination of women," some feminists said later
This was the climate in which young journalist Phyllis Lyon sought a job. "I was determined I was not going to be a society writer," Lyon told David Mixner and Dennis Bailey for Brave Journeys: Profile in Gay and Lesbian Courage.  She relented after a corporate job led to abject boredom. Fortuitously, that position was taken at The Chico Enterprise and she gladly accepted the position of general reporter. She covered the police beat and city hall, competitively trying to out-scoop her rivals at The Chico-Record. She also covered stories "on rural Chico's underbelly" – bar brawls and domestic quarrels.
One assignment was particularly meaningful — interviewing former First Lady Eleanor Roosevelt at a train "whistle stop" in the nearby town of Durham. After the death of her husband, President Franklin Delano Roosevelt, President Harry Truman appointed her as a delegate to the United Nations General Assembly in Dec. 1945. She soon became the first chairperson of the UN Commission on Human Rights, where she later led the drafting of the Universal Declaration of Human Rights.
Eleanor Roosevelt was "the most wonderful woman I had ever heard of," Lyon told Dianna Lee Johnson in Nov. 2010 for the scholar's Masters Theses. "Women didn't do a lot of things like she did in those days."
When Roosevelt stepped off the train, Lyon froze.
"I should have begun to ask her questions if it hadn't been that she was my absolute heroine and I was so excited about getting to even meet her that I didn't realize what was going to happen when I did. And I just froze." The staff photographer got a shot of Lyon's back as Roosevelt smiled down on her.
"Graciously, Mrs. Roosevelt conducted the interview herself," Martin wrote. It was a story Lyon told often, laughing at her big rookie mistake.
                  Phyllis Lyon (screen grab from "No Secret Anymore)
Chico was too small after Eleanor Roosevelt and in 1949 Lyon moved to Seattle, first writing "man on the street" articles for a naval outlet then getting an editorial staff position at two building trades magazines published by Pacific Builder and Engineer. Unaware of her sexuality, Lyon dated married men, reflecting to Mixner and Bailey later that "it was safer." At one point she was engaged to an older single man, but broke it off over his "penchant for jealousy."
And then Lyon met Martin, a "gay divorcee" who had moved to Seattle from San Francisco to serve as editor of Daily Construction Reports, owned by the same publisher.
Lyon was mesmerized. "She had on pumps and then a little green gaberdine suit and she was carrying a briefcase. And never before had I seen a woman carrying a briefcase," Lyon tells JEB (Joan E. Biren) for her documentary "No Secret Anymore: The Times of Del Martin & Phyllis Lyon. "I had a party at my apartment for her and invited all the folks from work. She spent most of her time in the kitchen with the guys who were trying to teach her how to tie a tie and smoking cigars. She said I was her good, straight friend. But she always accused me of flirting with her, too."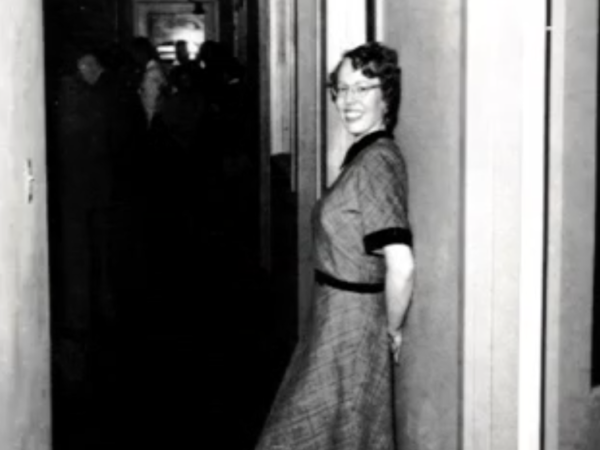 "You flirted with everybody," says Martin.
"Well, she made sort of a half-a-pass at me and I made a pass back so we kind of got together in bed. But we didn't make any commitment. So, I quit the job and got back to the Bay Area. I was writing letters to her and she was writing back and about the time she decided it was hopeless, I wrote and said she should come down. And that was in 1953. She came down on Valentine's Day. Got in about 11:00 at night but it was still Valentine's Day," says Lyon.
"That way you can't forget your anniversary," says Martin.
Martin had already discovered that she was a lesbian by reading The Well of Loneliness, though subsequent research into library books revealed the prevalent label for those feelings were "sick" and "perverted," with no cure except lobotomy or forced behavioral conversion therapy. But when Martin shared her secret with Lyon and co-workers during a discussion about homosexuality, Lyon was so impressed, she called all their friends. She had no idea that outing Martin was dangerous.
"[A]fter the war a concern began to grow throughout the nation that American morality was in a state of decline. Publication of the Kinsey report fed these fears, particularly Kinsey's statistics that suggested widespread homosexual behavior," David K. Johnson, author of The Lavender Scare: The Cold War Persecution of Gays and Lesbians in the Federal Government, said in a 2004 interview with the University of Chicago press.
Congress was on high alert as Sen. Joseph McCarthy's House on Un-American Activities Committee (HUAC) hearings charged that communists and homosexuals had infiltrated the federal government to undermine the nation's morality and security.
"The Lavender Scare helped fan the flames of the Red Scare. In popular discourse, communists and homosexuals were often conflated. Both groups were perceived as hidden subcultures with their own meeting places, literature, cultural codes, and bonds of loyalty. Both groups were thought to recruit to their ranks the psychologically weak or disturbed. And both groups were considered immoral and godless. Many people believed that the two groups were working together to undermine the government."
A true understanding of the dangerous and harmful Red Scare requires also an equal understanding of the Lavender Scare, Johnson argued.
"A survey of McCarthy's mail suggests that his supporters were more concerned about allegations that the federal government was harboring sexual deviants than they were about political deviants. President Truman's aides also thought the homosexuals-in-government issue posed a more dangerous political weapon than the communists-in-government issue," he said.
McCarthy, whose chief aide was unscrupulous closeted attorney Roy Cohen, seemed focused on the power he derived from thundering about threats of communist infiltration. So ferreting out homosexuals fell to Senators Styles Bridges and Kenneth Wherry.
Their rationale, Johnson said, "wasn't that homosexuals were communists but that they could be used by communists." But after months of investigation, they found "no evidence that even a single gay or lesbian American civil servant had ever been blackmailed into revealing state secrets."
Nonetheless, their final report "emphatically" stated that "homosexuals posed a threat to national security," said Johnson. Meanwhile tabloids reported that "communists promoted 'sex perversion' among American youth as a way to weaken the country and clear the path for a communist takeover." Homosexuals "acted as a fifth column, by preventing family formation and fostering moral decay."
The number of gays and lesbians whose lives were ruined from 1947 to 1954 during the Red Scare and the Lavender Scare may never be known," said Johnson. "As the nation's largest employer, the federal government set the tone for employment practices in many industries, and its anti-gay policies were widely copied by the private sector."
Brad Sears, Nan Hunter and Christy Mallory concurred in 2017 in Documenting Discrimination on the Basis of Sexual Orientation and Gender Identity in State Employment published by The Williams Institute at UCLA School of Law.
"To identify homosexuals in public employment, the FBI sought out state and local police officers to supply arrest records on morals charges, regardless of whether there were convictions; data on gay bars; lists of other places frequented by homosexuals; and press articles on the largely subterranean gay world. Even friendship with a known homosexual subjected individuals to investigation," the scholars wrote. "[A]nti-homosexual policies had spread from the federal government to nearly all levels of employment in the United States."
But there was resistance: Harry Hay founded the Mattachine Society in Los Angeles in 1950; ONE Inc was founded in 1952; and the Daughters of Bilitius was founded in 1955 by Lyon and Martin and six others.
Lyon and Martin didn't start out wanting to change the world — they just wanted to meet other lesbians.
On Valentine's Day in 1953, when they moved in together in San Francisco's working class Castro district, change was in the air. UCLA professor Evelyn Hooker, who received a grant to study the difference between gay and straight men, recruited homophiles from the Mattachine Society.   Conducting her research in a small study on her spacious Saltair Avenue estate in Los Angeles, she found no significant difference. Two decades later, that research helped declassify homosexuality as a mental illness in the Diagnostic Statistical Manual of Mental Health Disorders.
At the same time, gay poet and war veteran Lawrence Ferlinghetti opened City Lights Books in North Beach, the nation's first all-paperback bookstore that helped launch the "Beat Generation" in San Francisco. He featured Greenwich Village gay and bisexual transplants Allen Ginsberg, William S. Burroughs, Neal Cassady  and Charles Bukowski.
And thanks to a 1951 landmark ruling that Black Cat bar owner Sol Stouman could serve alcohol to homosexuals, North Beach was dotted with gay and lots of lesbian bars. The decision meant that gay people could congregate – but it was still illegal for homosexuals to touch or dress in clothes of the opposite gender.  The irony of the bar raids and public arrests was that gay people learned that there were others like them.
But what did that mean?
"Who knew about 'homosexual'? Even 'lesbian,' we didn't know those terms. So here you are feeling this, whatever it is, but you don't know even how to define it," Martin, then-68, told Eric Marcus on July 27, 1989 for his audio series "Making Gay History!" "Everybody thought, 'I am the only one.'"
Through books, said Lyon, then-64, lesbians found out "that you were illegal, immoral, and sick."
"I think the things that we were working on in the '50s, in the Daughters of Bilitis anyway, was trying to build our self-esteem," said Martin.  "I mean, begin to say that we were okay in spite of being faced with, as Phyllis said, being immoral, illegal, and sick. I mean that's heavy duty for a lot of people."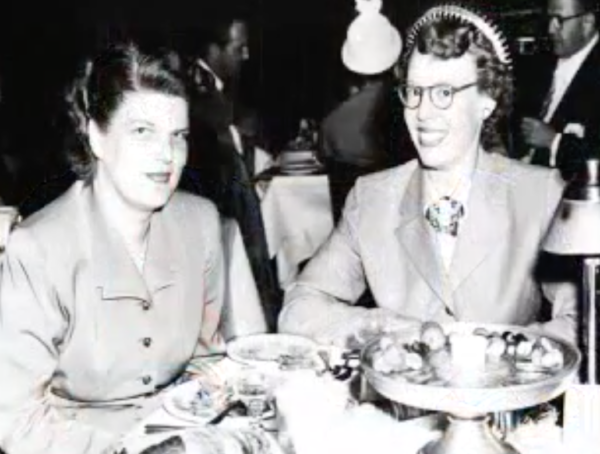 Del Martin and Phyllis Lyon (Screen grab from "No Secret Anymore")
What about the dynamic of their own relationship, which Marcus understood was "the classic butch/femme relationship."
"Well, I don't know about the 'classic'" Lyon said. "It didn't work for us no matter how we tried. It was true that Del tended to light my cigarettes, okay? But that was as butch as she got sometimes. She doesn't drive, and I did. You know, she didn't drive the nails in and I did. She didn't do any of these butch things."
"I'm not at all mechanical," Martin added
But wasn't a butch/femme relationship "the relationship you thought you were supposed to have?" Marcus asked.
"Yeah, right. I remember thinking, well, now, let's see, I've got to get Del's breakfast every morning because that's what mother did for dad. So, I did that for a week," Lyon said. "Forget it. None of these things really worked for us and I suspect that was true for most couples."
They had no lesbian role models.
"I didn't know really much of anything. I mean, I just had met this person three-and-a-half years before and she said she was a lesbian, and I thought that was the most fascinating thing I'd ever heard," said Lyon, noting that explained her own feelings. "But I didn't really have a clue as to what that was all about."
They knew about the bars in North Beach. But "we were very shy. And so, we sort of were more like tourists. Going to the bars and watching everybody and wondering how we fit in," said Martin.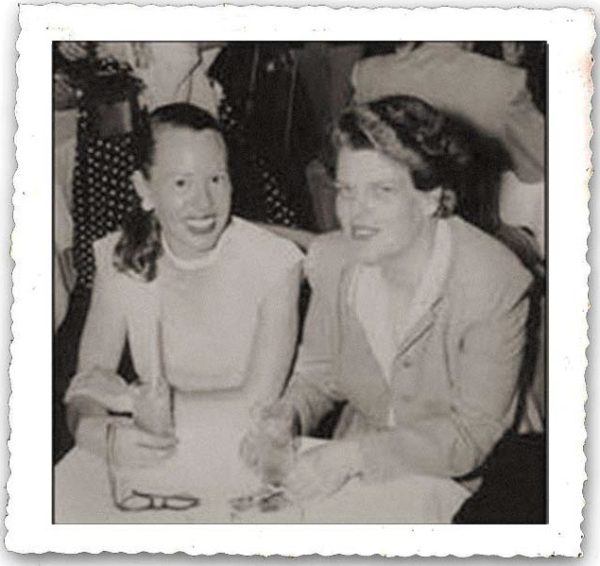 Phyllis Lyon and Del Martin (Photo from "Last Call at Maud's")
That first year in the Castro was difficult. Though they'd been close friends for three years, living together was another matter as Lyon and Martin tried to figure out their power differential based on heterosexual norms. Later they said a kitten given to them by a friend kept them together since they couldn't figure out how to divide the pet.
Finally, they realized that they didn't need to follow anyone else's prescription.  They were equals with strengths and weaknesses and they could just be themselves as women instead of caricatures.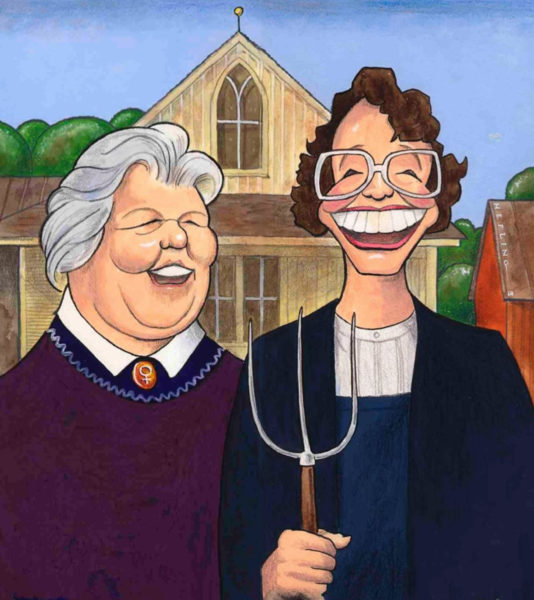 Illustration by Charles Hefling, originally published in The Gay & Lesbian Review. Used with permission.
That was a radically new concept for American women. What was it to be a woman, independent of a man instead of Adam's rib?
It was a question in the air as a second wave of feminism wafted across Europe. "One is not born, but rather becomes, a woman," wrote existential philosopher Simone de Beauvoir in The Second Sex, published in 1949.
Del Martin and Phyllis Lyon were living in the question.
"Our only tie with the gay world was our sense of 'belonging' to each other," they wrote in Lesbian/Woman. "We needed to relate to gay people who would understand the subtle differences between heterosexual and homosexual relationships. We needed to know more about the gay life and how to manage in a straight society. Above all, we needed a sense of community with others like ourselves—the feeling of security and respect that a homogenous group affords its members."
In 1955, the couple moved into a house atop a steep hill in Noe Valley with a great view overlooking downtown San Francisco. They paid $10,000, using a down payment from Lyon's stash of war bonds.
They befriended a gay couple who lived around the corner. "They were in a butch/femme relationship," Lyon told Eric Marcus.
Jerry was a bartender and "Ricky was very effeminate. He used to dress in drag. He and I used to dress alike sometimes, to go out, Halloween and stuff like that," said Lyon. He stayed home and took care of the cats.
Jerry introduced them to lesbian Rose Bamberger who called to see if they wanted to start a secret club for lesbians as a safe alternative to the bars.
"We are erroneously given credit as the founders of the Daughters of Bilitis in San Francisco in 1955," Lyon wrote in "Lesbian Liberation Begins" in the Nov. 1, 2012 issue of the Gay & Lesbian Review.
"It wasn't even our idea. A young Filipina immigrant envisioned a club for lesbians here in the States that would give us an opportunity to meet and socialize (and especially to dance) outside of the gay bars that were frequently raided by police. Meeting in each others' homes provided us with privacy and a sense of safety from the police and gawking tourists in the bars," she wrote.
"There were eight of us in the beginning: four couples, four blue-collar and four white-collar workers, two lesbian mothers, and two women of color," she added.
They named the new secret club the Daughters of Bilitis (DOB) "to sound like just another women's lodge. Bilitis (pronounced Bil-E-tis) came from The Songs of Bilitis by Pierre Louÿs, a long narrative love poem in which Bilitis was cast as a contemporary of Sappho on the Isle of Lesbos. Presumably lesbians would know what the name meant. If anyone else asked, we could say we belonged to a Greek poetry club," Lyon wrote.
In a 1992 interview with Terry Gross of NPR's "Fresh Air," Martin joked that, "It was supposed to be a secret, and we have spent many, many years now trying to explain the name."
"The Daughters began in a climate of fear, rejection, and oppression," Lyon wrote.  "There was no sense of community as exists today. Lesbians were isolated and separated—and scared."
In 1956, DOB discovered the Mattachine Society in San Francisco and ONE, Inc. in Los Angeles, both of which welcomed lesbians into their "homophile" movement but chided them for being separatists and not welcoming to gay men. It was a constant source of friction, though Lyon and Martin did become friends with some gay men, such as Jim Kepner, who wrote for ONE Magazine. He was an "honorary" DOB, he told this reporter, but as a SOB, Son of Bilitis. SOB was also a source of amusement, given it's more mainstream use to mean "son of a bitch."
"Along with parties and discussion groups, the early days involved a great deal of peer counseling to help overcome the stigma of being branded illegal, immoral, and sick by a hostile society," Lyon wrote in GLReview.
Since outreach was difficult, DOB, with Lyon as editor, started publishing The Ladder in October 1956. "It included the four-fold purpose of DOB: 1) education of the variant to enable her to understand herself and make her adjustment to society; 2) education of the public to break down erroneous conceptions, taboos, and prejudices; 3) participation in research projects to further knowledge about the homosexual; 4) investigation of the penal code and promotion of changes through state legislatures," Lyon wrote.
Under their mandate, DOB held "public" forums that allowed, Lyon wrote, "lesbians and some gay and transgendered men to attend without committing themselves. Professional speakers included attorneys who explained the law and told us what our rights were and what to do in case of arrest. Those in the mental health professions refuted the sickness theory and promoted self-acceptance. Our contention was that once you accepted yourself, regardless of what others had to say, you could cope better in a hostile society. The professionals who were among society's decision makers gave us the validation we needed then."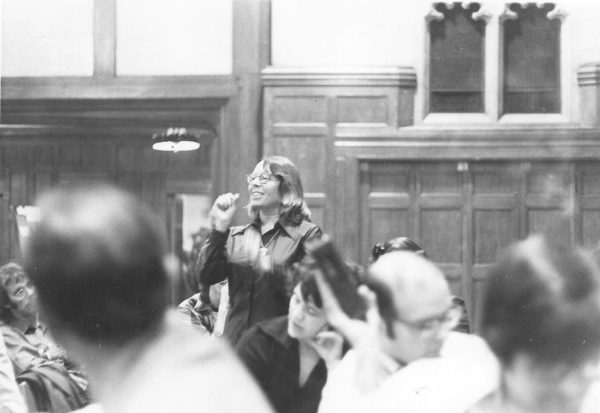 Phyllis Lyon (Screen grab from "No Secret Anymore,"1974, by Al Lopp, Bloomington Gay Alliance)
In Feb. 1957, DOB became a legal non-profit corporation.
At a Mattachine Society convention in Denver in 1959, Lyon and Martin squared off with homophiles who "assumed that whatever was said about homosexuality included lesbians, just like the generic term 'he,'" Martin said "Lesbians are not satisfied to be auxiliary members or second-class homosexuals. …One of Mattachine's aims is that of sexual equality. May I suggest that you start with the lesbian?'"
It's a question still being asked today.
By 1968, DOB had evolved into from a strictly secret social club into an organization taking on persistent anti-LGBTQ issues. DOB's research director, Florence Conrad (née Jaffy), thought it was important to survey the attitudes of professional psychiatrists, psychologists, and therapists. She gained the cooperation of Dr. Joel Fort, director of the Center for Special Problems at San Francisco's Public Health Department, who developed a DOB-sponsored questionnaire with Claude M. Steiner that was distributed randomly to 153 Bay Area mental health professionals: 147 responded, 88 percent of whom were in private practice and had gay clients.
"The results," Lyon wrote in GL Review, "were startling: 99 percent opposed laws treating homosexual acts between consenting adults as criminal," a law that remained on California's books until 1975. "So pro-homosexual were the results that it took almost three years to find a publisher (Psychological Reports in October 1971)."
The results "vindicated DOB and played a role in the eventual removal of homosexuality per se from the American Psychiatric Association's Diagnostic and Statistical Manual," Lyon wrote.
But by 1972, DOB and The Ladder had faded from view. Lyon and Martin, however, persisted, politically supporting Dianne Feinstein and Nancy Pelosi, among many others.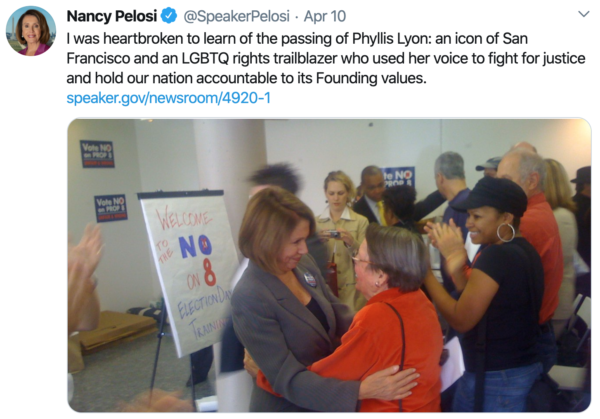 On June 25, 1989, the 20th anniversary of the Stonewall riots, Phyllis Lyon and Del Martin served as grand marshals of San Francisco's Gay Freedom Day Parade.
"We were trying to help lesbians find themselves," Lyon told Eric Marcus. "I mean, you can't have a movement if you don't have people that see that they're worthwhile."
Despite the darkness, fear and struggle, Lyon and Martin shouldered the burden and forged a new path to equality. Their impact as guides and role models continues to have powerful ripple effects.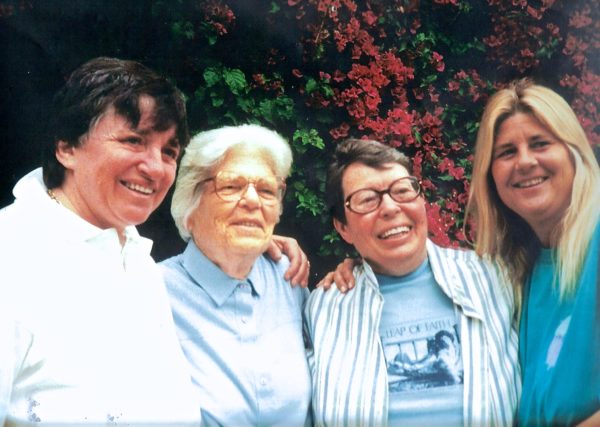 Robin Tyler, Del Martin, Phyllis Lyon, Diane Olson (Photo courtesy Robin Tyler)
"In 1959, when I was 17 years old, I got a crush on another girl at the Banff School of Fine Arts in Canada. I ran down to the bookstore and found a booklet called 'The Ladder.' In it was written: 'If you are a woman and you love another woman, what you are is a lesbian. Everybody can tell you it is wrong, but if it feels right to you, it is right,'" longtime lesbian and marriage equality activist Robin Tyler tells the Los Angeles Blade. "Because of them, I was not in the closet for one minute after that."
Lesbian/Woman also impacted many lives.
"The year is 1972. I'm standing in the checkout line of a typical large grocery store in the South Bay contemplating whether I'm going to ever be able to openly love a woman when I look up and in the paperback book by Phyllis Lyon and Del Martin named Lesbian Woman.  That paperback book changed my life.  It gave me the courage to leave my husband, fight to keep my children and learn to say, 'I am a lesbian,'" longtime political activist Diane Abbitt tells the Los Angeles Blade.
In an Aug. 2008 interview, then- Mayor Gavin Newsom, who was being honored by Equality California, reflected on the significance of marriage in the face of Prop 8:
"I just got married last week – and I felt we were together a long time and it's a year and a half. I couldn't wait to get married. I could only imagine couples that have been together for decades and the struggle and the despair. And the resignation, almost – that you just never imagine it would happen in your life – so there's not even the expectation that it could. And now all that's changed and that's what's so important about November. What's at stake is so much more palpable than we could have ever intellectualized it six months ago or even three months ago."
Politico Bob Burke, San Fransisco Mayor Gavin Newsom and attorney and EQCA board co-chair Diane Abbitt in Los Angeles August 2008 (Photo by Karen Ocamb)
Asked about the marriages of Phyllis Lyon and Del Martin, Newsom said:
Ah, come on. That was as good as it gets. The whole thing started with them. In 2004 it was all about putting a human face on discrimination and no greater narrative, no greater love story than theirs and to be able to do it then, to go through the travail of the nullification, and then to come back four years later, I got to tell you candidly – never thought I would have that opportunity in my life, certainly not as mayor still and it was liberating, it was glorious, it was extraordinary.

And it wasn't just Phil and Del – it was their family, it was their friends and I understand this now better than ever because our wedding was about our families – it wasn't just about Jen and I.

And that's also something that's so important to communicate in the next few months – that it's not just about the LGBTQ community. This is about all of us. This is about our families and friends. This is about people coming together across their differences. And that's something that I think is very unifying and so fundamental.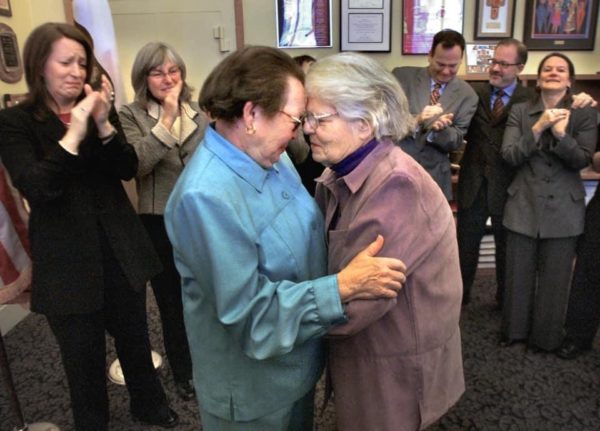 Phyllis Lyon and Del Martin married in 2004 as Kate Kendell, Roberta Achtenberg, and Joyce Newstat (Photo Liz Mangelsdorf courtesy Kendell)
"Phyllis was a light in my life and in the life of our community," says Roberta Achtenberg, who became the first highest ranking out person in the federal government during the Clinton Administration. "She and Del were the mothers of our movement. They gave us so much—and asked very little— except that we continue the struggle until we prevail."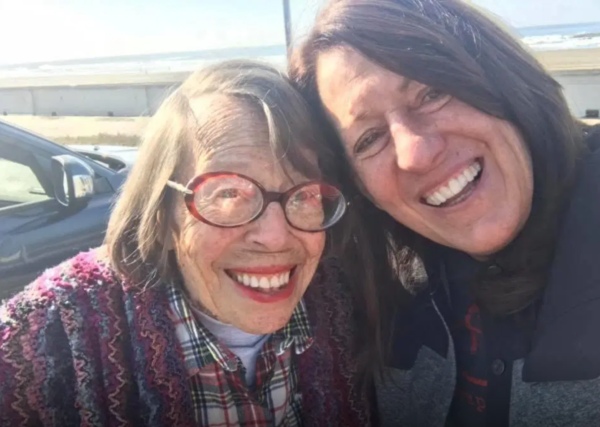 Phyllis Lyon and Kate Kendell (Photo courtesy Kate Kendell)
Lyon's death has been hard for Kate Kendell, former executive director of the National Center for Lesbian Rights who conspired with Newsom and Newstat to create that 2004 marriage.
"I am living the duel reality of this is exactly what I would have wished for her – to be 95, to be able to die at home with care givers who have been part of her life and family for several years now. Getting phone calls from close friends who just told her stories. And being able to be comforted, not in pain, and then walk through the door to whatever is next. And thinking that I won't have Phyllis," says Kendell, pausing to recall her last visit.
"She just took my hand and said, 'You are a real sweetie.' And I said, 'Well, Phyllis, I love you.' "And I love you, too, sweetie,'' Kendell says. "I'm going to miss her every day."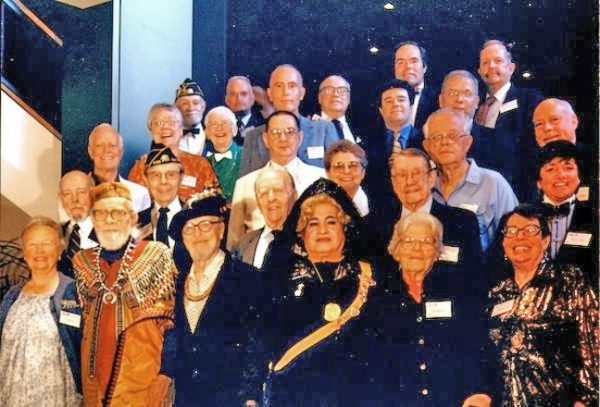 LGBTQ PIONEERS attend 1998 memorial for Jim Kepner in Los Angeles. First row from left Lisa Ben, Harry Hay, John Burnside, Jose Sarria, Del Martin, Phyllis Lyon; (second row) Fred Frisbie, Bob Basker, Frank Kameny, Florence Fleischman, Hal Call, Robin Tyler; (third row) Philip Johnson, Eddie Sandifer, Vern Bullough, Malcolm Boyd; (fourth row) Barbara Gittings, Kay Tobin Lahusen, Jack Nichols, Mark Segal, unidentified; (fifth row) Cliff Anchor, Leo Laurence, Eldon Murray, John O'Brien, and Jerome Stevens. (Photo courtesy Robin Tyler; photo IDs thanks to Michael Bedwell)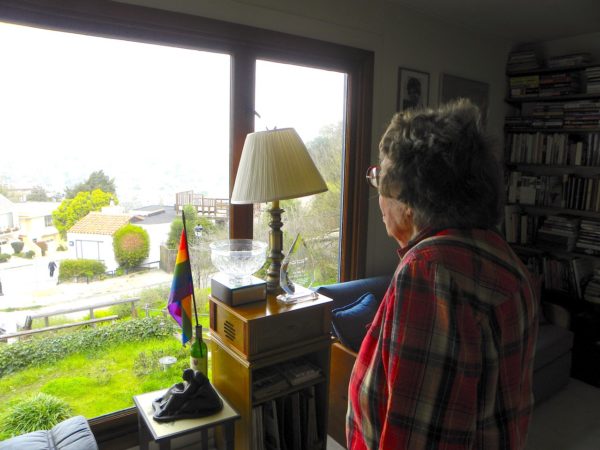 Phyllis Lyon looking out over downtown San Fransisco (Photo by Karen Ocamb)
LGBTQ rainbow flag was born in San Francisco, but its history is disputed
On that day in June 1978, it felt as if the rainbow had always been a symbol for the LGBTQ community, it just hadn't revealed itself yet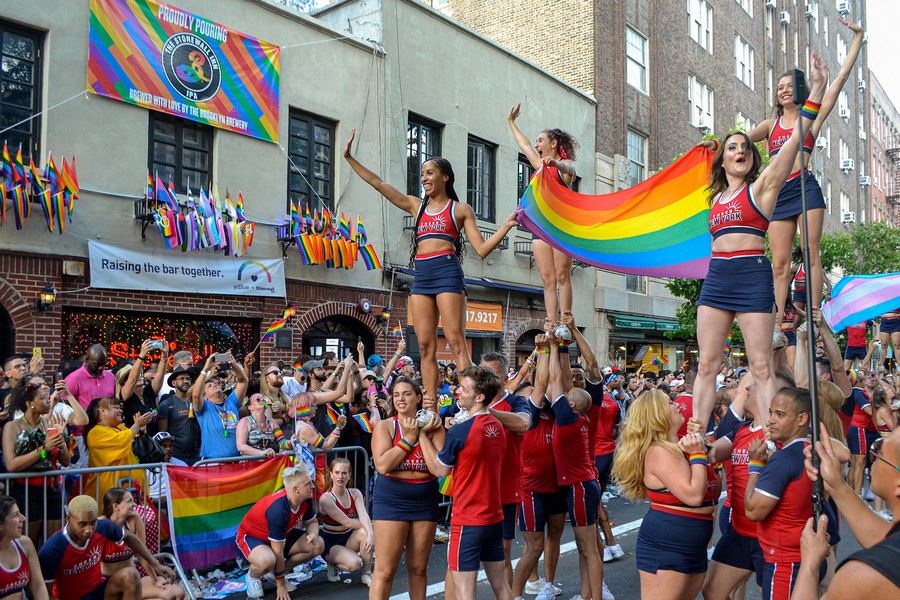 By August Bernadicou (with additional text and research by Chris Coats) | NEW YORK – Many enduring symbols that establish an instant understanding and define a diverse community are intrinsically linked with controversy, confusion, and ill-informed backstories dictated by vested interests and those who told the story loudest. The LGBTQ rainbow flag is no different.
While it was the work of many, the people who deserve credit the most have been minimized if not erased. Gilbert Baker, the self-titled "Creator," screamed the story and now has a powerful estate behind his legacy. Before his death in 2017, Baker established himself as the complete authority on the LGBTQ rainbow flag. It was his story which he lived and became.
While there are disputed accounts on the flag's origins, one thing that is not disputed is that the LGBTQ rainbow flag was born in San Francisco and made for the Gay Freedom Day Parade on June 25, 1978.
For all of human history, rainbows have mystified and inspired. A greeting of light and serenity after the darkness and chaos of a storm. They have symbolized hope, peace, and the mysteries of existence. For a moment, we can see the invisible structure, the "body" of light, made visible. A secret revealed, then hidden again.
Though it may seem like a modern phenomenon, rainbow flags have waved throughout history. Their origin can be traced to at least the 15th Century. The German theologian, Thomas Müntzer, used a rainbow flag for his reformist preachings. In the 18th Century, the English-American revolutionary and author, Thomas Paine, advocated adopting the rainbow flag as a universal symbol for identifying neutral ships at sea.
Rainbow flags were flown by Buddhists in Sri Lanka in the late 19th Century as a unifying emblem of their faith. They also represent the Peruvian city of Cusco, are flown by Indians on January 31st to commemorate the passing of the spiritual leader Meher Baba, and since 1961, have represented members of international peace movements.
Now, the rainbow flag has become the symbol for the LGBTQ community, a community of different colors, backgrounds, and orientations united together, bringing light and joy to the world. A forever symbol of where they started, where they have come, and where they need to go. When many LGBTQ people see a rainbow flag flowing in the wind, they know they are safe and free.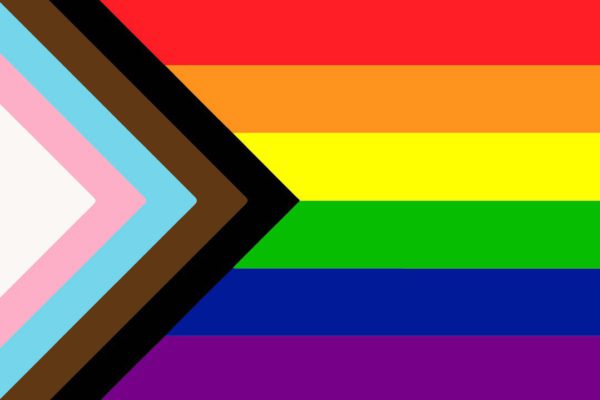 While the upper class and tech interests rule the city now, in the 1960s and 70s, San Francisco was a wonderland for low and no-income artists. The counterculture's mecca. By the mid-1970s, the Haight-Ashbury neighborhood that had once been a psychedelic playground of hippie art, culture, and music had fallen into disarray. Hard, dangerous drugs like heroin had replaced mind-expanding psychedelics. Young queers and artists needed a new home, and they found it in the Castro.
Lee Mentley (1948-2020) arrived in San Francisco in 1972 and quickly fell in with the oddball artist and performers in the Castro neighborhood, donning flamboyant, gender-fucked clothes, performing avant-garde theater, and creating their own clubhouses. He was on the Pride Planning Committee in 1978 and ran the Top Floor Gallery on the top floor of 330 Grove, which served as an early Gay Center in San Francisco.
Lynn Segerblom (Faerie Argyle Rainbow) was originally from the North Shore of Hawaii and moved to San Francisco where she attended art school at the Academy of Art. Her life changed when she found a new passion in tie-dye and rainbows in the early 1970s. Entrenched in the free-loving technicolor world of San Francisco, in 1976, Lynn legally changed her name to Faerie Argyle Rainbow. She joined the Angels of Light, a "free" performance art troupe where the members had to return to an alternative, hippie lifestyle and deny credit for their work.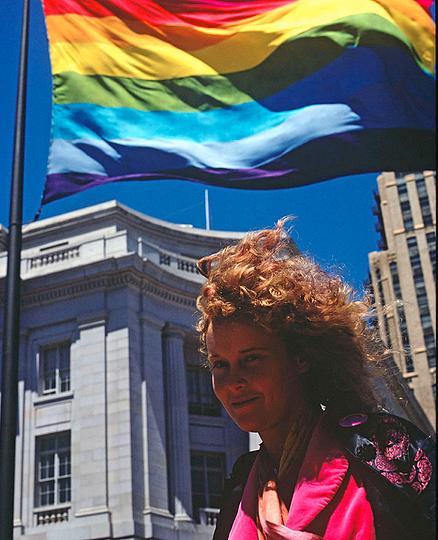 Shortly after the original rainbow flags were flown for the last time, both Lynn and Lee moved out of San Francisco. Lee moved to Hawaii and Lynn moved to Japan. When they returned, they were shocked to see how their contribution to history was becoming a universal symbol. They remain passionate about defending their legacies and giving a voice to the mute.
——–
LEE MENTLEY: "One day in 1978, Lynn came to 330 Grove with a couple of her friends, James McNamara and Robert Guttman, and said we should make rainbow flags for Gay Day to brighten up San Francisco City Hall and Civic Center because it's all gray and cold in June. We thought that it sounded like a great idea."
To get over the first hurdle, money, the young artists went to Harvey Milk, the first openly gay elected official in the history of San Francisco, California, for help.
LEE: "There was no actual funding for it. We contacted Harvey Milk and another supervisor, and they asked the city if we could get a little funding. They found some leftover funds from the previous year's hotel tax, and we got $1,000."
LYNN SEGERBLOM: "I remember having a meeting where I presented the idea of making rainbow flags. I had some sketches. At that meeting, there was just a handful of us there, and I remember, and even my friend assured me, that Gilbert Baker was not at that meeting. I don't know where he was, I didn't keep track of him, but he was not at the meeting where I suggested rainbow flags. We decided, yes, rainbow flags sounded great."
The committee approved the rainbow imagery and made the decision to make two massive 40' x 60' foot rainbow flags to be flown at the Civic Center along with 18 smaller rainbow flags designed by different, local artists, to line the reflecting pool putting rainbows into the grey sky.
For the two large flags, one would be an eight-color rainbow starting with pink and including turquoise and indigo in place of blue, and the other a re-envisioning of the American flag with rainbow stripes which became known as Faerie's flag.
——
Gilbert Baker's name on his memoir, Rainbow Warrior, it says "CREATOR OF THE RAINBOW FLAG," leaving little debate that Gilbert claimed full ownership for the concept and design of the legendary symbol. He never denied Lynn or James MacNamara's involvement in the flags' construction and speaks briefly and fondly of them and their talents in that same book.
LEE: "We didn't need one person saving our ass, and it certainly wouldn't have been Gilbert Baker. He was no Betsy Ross. He was a very good promoter, and I give him all the credit in the world for making the rainbow flag go international. He did a great service, and he was a very talented, creative man, but he could never have done all of the work by himself; no one could have.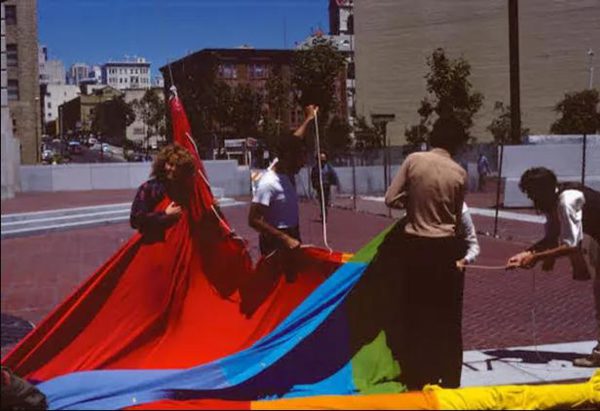 We never considered ownership. There was never this big ownership debate until Gilbert started it. Because AIDS hit us so fast after this, most of our leadership either went into HIV activism or died."
LYNN: "The story is that a white gay man did all of this by himself, but, in fact, that is not true at all. He just promoted it. For that, though, he should be given great love."
————
Making the two original rainbow flags was no easy feat. With a limited budget and limited resources, the group had to improvise and figure it out as they went along. While Lynn had dabbled in flags before, a project of this scope and importance was far beyond her comfort zone.
LEE: "The community donated the sewing machines we used. We asked people at the Center if anyone would like to volunteer. All sorts of people from all over the country helped us with the flags, over 100 people, which, to me, is an amazing story. That's where it came from. It came from regular artists who wanted to have fun and make something pretty for gay people."
LYNN: "The Rainbows Flags were hand-dyed cotton and eight colors. I made two different types. The one with just the stripes and then the American flag one, which I designed myself. There was a group of us that made them, James McNamara, Gilbert Baker, and myself. Originally they were my designs. I was a dyer by trade, and I had a dying studio at the Gay Community Center at 330 Grove Street."
LEE: "People would come and help as long as they could. Then, somebody else would come and help as long as they could. We opened up the second floor of 330 Grove to people who came to be in the Parade and march. People came in and made posters, banners and did art stuff."
LYNN: "We made the flags on the roof because there was a drain up there. There was a wooden ladder that led up to the roof. The hot water had to be carried up to the roof because we didn't have hot water up there. We heated it up on the stove in pots. We put the hot water in trash cans on the roof."
LEE: "We had trash cans and two by fours, and we had to keep agitating the fabrics in the dye. Since they were in hot water, they had to be poked and agitated for hours."
LYNN: "We had to constantly move the fabric in the dye, so the dye penetrated the fibers that weren't clamped tight. We had to make sure there would be blue, and it wouldn't just be white on white or white with a very murky, pale blue.
After they were washed and dyed, they went through the washer and dryer. Then, we ironed them. If the fabric stays out too long, once you take it out of the water, if it sits on itself even for just a few minutes, it starts to make shapes."
—-
LEE: "Lynn's flag, the new American flag, was a similar rainbow, but it had stars in the corner. I have photographs of that flag flying at gay events in San Francisco at City Hall and Oakland."
LYNN: "I always liked the American flag. I thought, oh, wouldn't that be nice? I knew with some luck I could make it."
LEE: "I thought the one with the stars was more interesting because it symbolized a new flag for the United States."
LYNN: "For my American flag, I decided to flip the order of the colors, so pink was at the bottom and purple was at the top in an eight-color spectrum. That was intentional. I wanted them to be different.
​I made the stars with wood blocks and clamps. I got the white fabric and washed it, and folded it a different way. When I was making it, it looked like a big sandwich. The bread would be the woodblocks, and the fabric was in between. We immersed the whole flag in dye and swished it around. I wasn't sure if it would come out right because it was the first time I did that fold. I was lucky. It worked.
I sewed lamé stars into one stripe with leftover stars from my Angels of Light costumes. On one side of the blue stripe, there was a star with silver lamé, and on the other side, there was a star with gold lamé.
I got all these ideas because I worked with these mediums on a daily basis: paint, dye, fabric, and glitter."
—
LEE: "We worked for weeks dying fabric, shrinking fabric, and sewing fabric."
LYNN: "We worked on them for seven weeks. I was worried that we weren't going to finish on time. We worked hard and long hours. Towards the end, we decided we didn't have time to go to the laundromat, so we started rinsing them on the roof and wringing them dry. We also ran out of quarters. We draped them off of the Top Floor Gallery's rafters, and they drip-dried. They looked great. They were beautiful."
Until that day, the pink triangle, used by the Nazis to label homosexuals in their genocidal campaign, was the most commonly used symbol for the LGBTQ movement, a symbol in solidarity with our fallen ancestors. But the triangle came from a place of trauma, it was a reminder of the storm while the rainbow was the hope that came after. The promise of brighter days ahead.
On that day in June 1978, it felt as if the rainbow had always been a symbol for the LGBTQ community, it just hadn't revealed itself yet.
LEE: "We went out, flew the flags, and blew everybody's fucking minds. People were blown away. The flags were so beautiful. They were waving warriors. The biggest ones were 40' by 60' feet. The Parade marched through the flags to get to Civic Center. We instantly proclaimed that this was our symbol. It wasn't planned. It was organic."
LYNN: "It was just what I wanted: a touch of magic, a touch of glitter, and a little bit of Angels of Light."
LEE: "We weren't creating this huge symbol. We were decorating Civic Center. We weren't thinking of marketing our entire futures. It was an art project."
LYNN: "We looked at the rainbow flags as a work of art, and we wanted them to be beautiful and unique. After the Gay Parade, the flags were a big hit. People loved them. Everybody loved them."
—-
In the pre-technology world, people and property could just disappear. There were no surveillance cameras. Lynn didn't even have a phone.
Even though no one could have known the flag would become an eternal symbol for a worldwide community, it was clear even then that they were a piece of history to be coveted.
In his memoir, Baker hypothesizes that the Rainbow American flag was stolen shortly after it was hung up on the front of the Gay Community Center for Gay Freedom Day in 1979. He suggests it might have been a construction crew working on the new symphony across the street and in a homophobic act, stole the flag and buried it in cement.
LEE: "Later in 1979 or 1980, you can find it somewhere in the minutes for a Pride Foundation meeting, Gilbert came to us and asked to borrow the two large flags, and we agreed. We never saw them again."
LYNN: "I went to work one day at 330 Grove, and Gilbert came in and said that the two 40' by 60' flags had been stolen."
Images published in the San Francisco Chronicle, videos of the march, and other widely distributed photographs only add to the mystery. They show both the classic rainbow flag of eight stripes and the American revision flying at the Civic Center on June 24, 1979 and not at the Gay Community Center.
As for the original eight-stripe flag, there are even fewer answers. In his memoir, Baker says that while they were taking down the flags from Civic Center, he was hit on the head on knocked out. "When I came to on the muddy ground," he says "I saw people all around me hitting each other and screaming obscenities. They were fighting over the rainbow flags, pulling on them like a game of tug-of-war, tearing them."
LYNN: "It would have taken more than one person to carry the flags. It took three people to carry one folded-up flag for the Parade, and we needed a van. They weighed a lot, and 330 Grove did not have an elevator. Whoever stole them had help—one person could not do it on their own."
—-
LYNN: "Before the rainbow flag missing, Gilbert came to one of my workshops. He wanted to watch me dying fabric all day and see how I did everything.
I was like, oh yeah, I'll show you, come in.
I said, here, put some gloves on and do it with me.
He was like, oh, no, no, I don't want to get my hands dirty.
​He was only trying to figure out how I did the dying."
—-
LEE: "Gilbert went to these places like MoMa and told them these outrageous stories about how he made the rainbow flag all by himself. He said this about the flag he donated. When you look at it, you can tell that it was bought at a craft fair. It flat out wasn't one of our flags. It was polyester."
​LYNN: "It was polyester, it wasn't the same size, and it wasn't hand-dyed. My flags were different. The rainbow flag at MoMa was a beautiful flag inside a frame, but it wasn't an original, not from 1978, not even a piece from 1978. I was hoping, oh, my God, maybe this is a piece of it."
LEE: "It wasn't even the original colors. MoMa said they were original flags, but they weren't. It was a commercially produced rainbow flag with a primary color rainbow. The plaque cited Gilbert donating it as an original flag."
—-
LYNN: "I read online that Gilbert Baker said he named me "Faerie Argyle Rainbow," a complete lie. Bethany the Princess of Argyle named me. I chose the name Rainbow because I was known as a rainbow artist."
​LEE: "Even Lynn's driver's license said her name was "Faerie Argyle Rainbow.""
LYNN: "In 1976, I filled out a form at the DMV, and my name became Faerie Argyle Rainbow. Back then, they didn't ask you for a birth certificate. The employee just said, "This is your name now," and gave me a driver's license that said Faerie Argyle Rainbow.
​It all sounds crazy now, but back then, it wasn't."
—–
LEE: "I had my arguments and fights with Gilbert Baker because he claims he came up with the rainbow flag. If you go through all of his different interviews, you see that his story changes over and over and over again. He even said Harvey Milk came to him and asked him to create a symbol for the movement. No—I read that, and no such thing happened."
LYNN: "Just look at his interviews. His takes on what the colors in the rainbow flag mean are all in his head. The rainbow represents everyone, no matter what gender or race you are; that's how I looked at it. Rainbows are in nature and beautiful. People love them, and I love them. I knew they would be great color healing.
Gilbert assigning meaning to each color is ridiculous. I think anyone could make up what each color means. If I wanted to, I could do the same. It wasn't what I was thinking. I was thinking that rainbows encompass everybody, the whole group, unity."
LEE: "I have tried to convince people that the rainbow flags were made with tax-payer dollars. We made them as a non-profit.
Not even Gilbert owns them. I have always thought that anyone who sells anything rainbow should give a portion of the profits to homeless gay youth. We need to take care of our own kind because no one does. The whole concept of taking care of gay people has disappeared."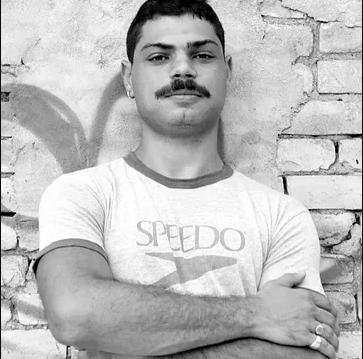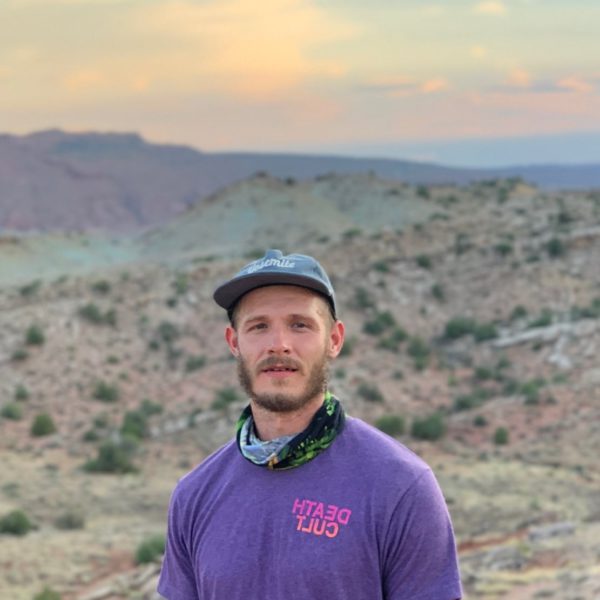 August Bernadicou is a 27-year-old gay historian and the President of the LGBTQ History Project Inc. Chris Coats is an editor and producer.
Together, they produce the QueerCore Podcast and will shortly be releasing an episode that is the definitive story on the rainbow flag featuring Lee Mentley, Lynn Segerblom, and Adrian Brooks.
August Bernadicou is presenting a Pride event in NYC this year that all folks are cordially invited to attend- its virtual;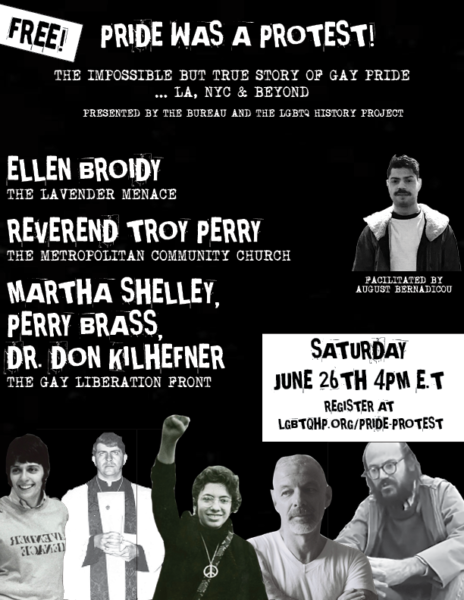 Here is the link for the event: https://www.lgbtqhp.org/pride-protest