Miami fashion designer makes masks to fight coronavirus
Alberto Ravelo is originally from Cuba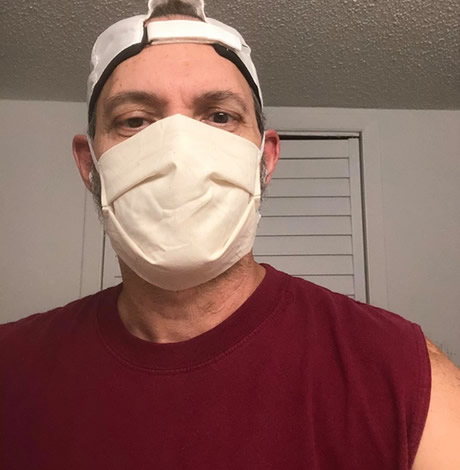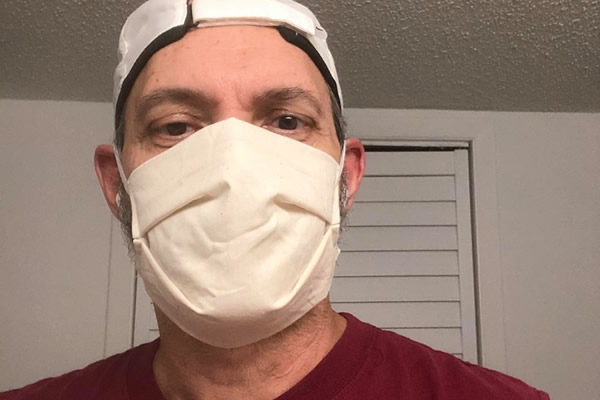 Editor's note: The Los Angeles Blade published a Spanish version of this story on April 17.
MIAMI — Given the growing demand for masks due to the current coronavirus pandemic, the Cuban-born fashion designer Alberto Ravelo decided to do his part by making this vital garment, but with attractive and unique designs.
"I was motivated to make them because of the social responsibility that we have to stop this crisis, because of the shortage of masks that currently exist and to educate society on how to protect themselves with the resources that we have at our disposal," Ravelo told the Blade in an exclusive interview.
It is the first time the designer, who lives in Miami, launched a collection like this. He has created several patterns in different styles; some more complicated and others simpler, but he says all of the masks are equally effective.
"I make the masks at home with materials that certain people have donated to me, like sheets, t-shirts and cloth," he says. "The donations arrive washed and I hygienically handle them at home on clean surfaces and I am constantly washing my hands, but I recommend that people who receive them wash them before wearing them."
It is precisely the cloth masks, made from things found at home or made at home from common materials that are inexpensive to buy that the Centers for Disease Control and Prevention (CDC) has recommended to stop the virus' spread.
Surgical masks and N-95 masks that many people use are critical supplies that should continue to be reserved for health care workers and other emergency response medical staff as the CDC recommends.
Ravelo uses polyester and cotton and other synthetic and natural fabrics in his production.
"The ones that I am making are with a pocket to be able to add a filter that can be different materials," he says. "A filter is required to make the masks more effective, even though the fabric is double-layered. I am also using more elegant cloths to make them more beautiful and to make them into a fashionable item. I have created a design where everyone can draw or put a message they want (onto the masks), converting them into a medium of social expression."
Ravelo initially began this project to help A Zero Waste Culture, a non-profit organization that supports the fight against climate change. A Zero Waste Culture plans to donate the masks.
The designer will also receive orders through his Facebook and Instagram accounts. Customers can choose their design and materials.
According to Ravelo, his masks try to "educate, raise awareness and please. The prices are modest and (I won't profit from them.) These are difficult times and anything that can help us feel better will make them more enjoyable."
Ravelo has 18 years of experience in the fashion industry as a creative designer and pattern maker.
He has also worked in clothing manufacturing and in printed textile and graphic design, embroidery and other techniques. Ravelo is a designer for Fashionate, a women's clothing company in New Delhi and for Caravana, an artisanal lifestyle brand that preserves ancient Mexican artisan techniques.
He collaborates with the Miami brand Ramona La Rue as a design assistant. Ravelo has been an adjunct professor at the Miami Fashion Institute at Miami Dade College since 2016.
He currently works independently.
Profiting from tragedy
Many fashion brands like Off-White, Louis Vuitton, Gucci, Futurewear, Fendi and Antisocial Club has been strongly criticized for attempting to profit from this global health crisis by selling masks at exorbitant prices. Despite this, their websites do not have available examples (of these masks.)
Off-White, which is currently the most influential urban fashion brand, sells a variety of masks — including those with the word "mask" on them and others with their logo in big letters — for 70 euros. The San Francisco-based designer Danielle Baskin is selling a personalized mask with a printed photograph of the part of the face covered by it for $40.
Louis Vuitton is selling a mask with the French company's logo in the center and a monogram design, for $85. Fendi has put masks with its logo on sale for around 200 euros.
On the other hand, Ellen DeGeneres is selling a mask on her virtual store that is decorated with her famous phrase "Be Kind" for a much more reasonable price: $10. All profits will be donated to America's Food Fund.
Madonna, Justin Bieber, Rosalía and Bad Bunny are among the many celebrities who, for many years, have incorporated face coverings into their wardrobes. Billie Eilish, one of the first singers who became concerned over the spread of the coronavirus, is the most recent celebrity to embrace this trend.
The new U.S. artist wore a Gucci mask on the red carpet of this year's Grammy Awards, which increased the demand for face coverings 42 percent in 24 hours.
Gucci is the largest fashion house that has included on its runways models with all types of face coverings, from ski masks to masks with a hole for the mouth as it could be seen in the 2018-2019 Fall-Winter collection.
According to Lyst, an online fashion platform, the search for designer protective mouth coverings has increased 147 percent since January. Off-White by Virgel Abjoh saw a 334 percent increase in mask searches. A Bathing Ape saw a 167 percent increase, Nike a 60 percent increase, Louis Vuitton a 24 percent increase and Marcelo Burlon a 10 percent increase.
GOP State lawmakers to hospital: Stop gender-affirming surgeries
The clinic is the only healthcare provider in Tennessee offering clinical care programs for transgender & gender-expansive children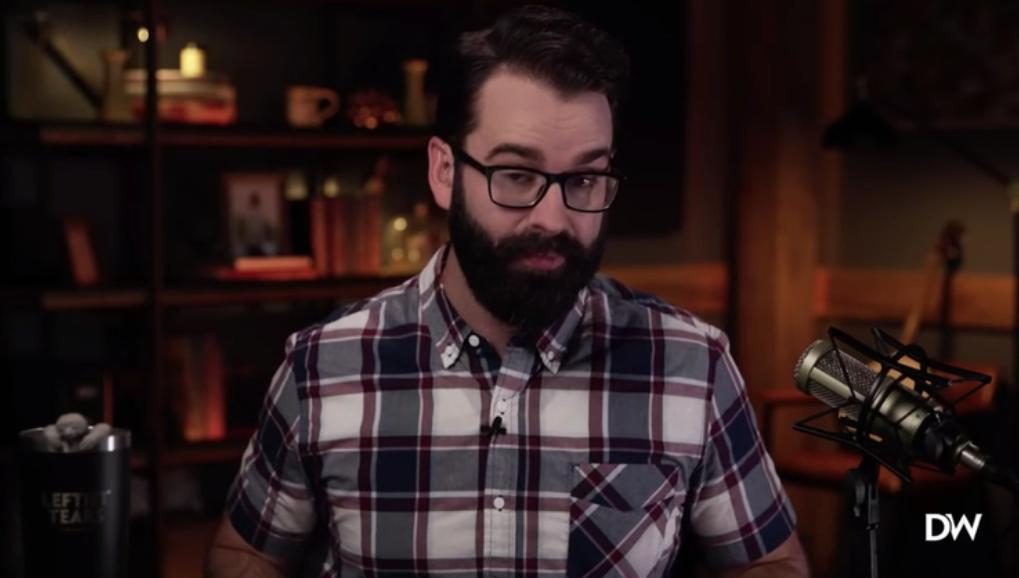 NASHVILLE – A group of Republican state lawmakers in Tennessee sent a letter to Vanderbilt University Medical Center's Pediatric Transgender Clinic demanding gender-affirming surgeries cease.
The letter came a few days after Republican Governor Bill Lee called for an investigation into the clinic at the Monroe Carell Jr. Children's Hospital at Vanderbilt in a statement after reporting by transphobic far-right pundit Matt Walsh on his Daily Wire show.
"The 'pediatric transgender clinic' at Vanderbilt University Medical Center raises serious moral, ethical and legal concerns," Governor Lee said in his statement. "We should not allow permanent, life-altering decisions that hurt children or policies that suppress religious liberties, all for the purpose of financial gain. We have to protect Tennessee children, and this warrants a thorough investigation."
State Rep. Jason Zachary and more than 60 of his Republican colleagues sent a letter to addressed to the chair of the hospital's board of directors calling on Vanderbilt to halt the Clinic's trans youth healthcare regarding gender affirming treatments.
This is a time in which elected leaders must boldly lead and speak on behalf of the people.
I've been joined by my esteemed @tnhousegop colleagues in formally requesting that Vanderbilt Medical halt all gender transition surgeries on minors.
1/ pic.twitter.com/FgiRdLHEM4

— Rep. Jason Zachary (@JasonZacharyTN) September 28, 2022
Zachary also noted the letter also requested that all conscientious and religious objections be honored.
Walsh and the far-right extremist anti-LGBTQ Twitter account Libs of TikTok, run by Brooklyn-based Chaya Raichik have previously grabbed headlines for spreading what Trans advocates and LGBTQ+ activists call anti-LGBTQ hate speech.
Raichik who has been suspended from Facebook and also Twitter for inflammatory lies and propaganda about Trans youth healthcare, pledged to redouble her attacks on hospitals providing trans people with health care, she wrote in a rant on her Substack in which she called gender-affirming care "mutilating the body." 
Libs of TikTok has reportedly been suspended multiple times on multiple platforms, including Instagram, Facebook, and Twitter. Raichik's last Twitter suspension came for accusing LGBTQ people of "grooming" children, which Twitter confirmed violates its policies against hateful conduct.
In line with the earlier attacks on Boston's Children's Hospital and Washington D.C.'s Children's with misinformation and misleading characterizations of the trans youth health care provided by those facilities, in a lengthy thread Twitter the Daily Wire's Walsh attacked Vanderbilt's clinic.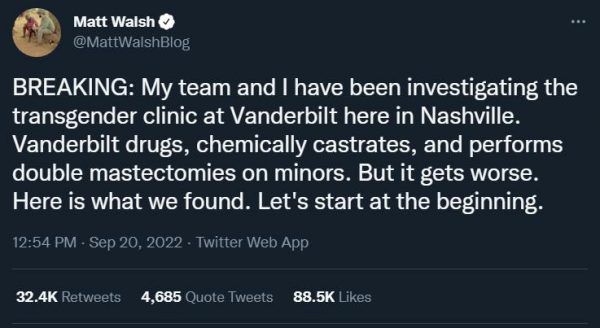 Vanderbilt opened its trans clinic in 2018. During a lecture the same year, Dr. Shayne Taylor explained how she convinced Nashville to get into the gender transition game. She emphasized that it's a "big money maker," especially because the surgeries require a lot of "follow ups" Walsh tweeted adding:
Vanderbilt was apparently concerned that not all of its staff would be on board. Dr. Ellen Clayton warned that "conscientious objections" are "problematic." Anyone who decides not to be involved in transition surgeries due to "religious beliefs" will face "consequences"
In case the objectors hadn't gotten the memo, Vanderbilt unveiled a program called "Trans Buddies." The "buddies" are trans activists from the community who attend appointments with trans patients, monitoring the doctors to guard against "unsafe" behavior such as misgendering, Walsh continued.
Vanderbilt makes their Trans Buddies available to children, too. They make lots of "services" available to children, including chemical castration. Though at some point in the last month they removed explicit admission of this fact from their site. Here's the archived screenshot:

But they must have forgot to delete a video from Vanderbilt Psychiatry's Youtube channel back in 2020 which admits explicitly that they will give and have given irreversible hormone drugs to children as young as 13, Walsh wrote in the thread.
After they have drugged and sterilized the kids, Vanderbilt — as explained in this video presentation by plastic surgeon Julien Winocour and Physician's Assistant Shalyn Vanderbloemen — will happily perform double mastectomies on adolescent girls.
So, let's review. Vanderbilt got into the gender transition game admittedly in large part because it is very financially profitable. They then threatened any staff members who objected, and enlisted a gang of trans activists to act as surveillance in order to force compliance.
They now castrate, sterilize, and mutilate minors as well as adults, while apparently taking steps to hide this activity from the public view. This is what "health care" has become in modern America, Walsh finished.
Vanderbilt responded to Walsh in a statement:
"(VUMC) is now the subject of social media posts and a video that misrepresent facts about the care the Medical Center provides to transgender patients," said the university. "VUMC began its Transgender Health Clinic because transgender individuals are a high-risk population for mental and physical health issues and have been consistently underserved by the U.S. health system."
Walsh also shared a video that featured Vanderbilt University law and genomics professor Ellen Clayton, who discouraged physicians from religious objections to transgender surgeries.
"Saying that you're not going to do something because of your … religious beliefs is not without consequences, and it should not be without consequences," she said in the undated clip. "I just want to put that out there. If you don't want to do this kind of work, don't work at Vanderbilt."
The University in its statement disputed that assertion by Clayton:
"Our policies allow employees to decline to participate in care they find morally objectionable, and do not permit discrimination against employees who choose to do so. This includes employees whose personal or religious beliefs do not support gender-affirming care for transgender persons," Vanderbilt wrote.
The Tennessee Equality Project notes that the clinic is the only healthcare provider in the state offering clinical care programs for transgender and gender-expansive children and adolescents.
Out U.S. Rep. introduces bill to create U.S. LGBTQ history museum
"It is vital to remember our collective past when certain states seek to constrain & repeal existing rights by passing laws that harm LGBTQ+"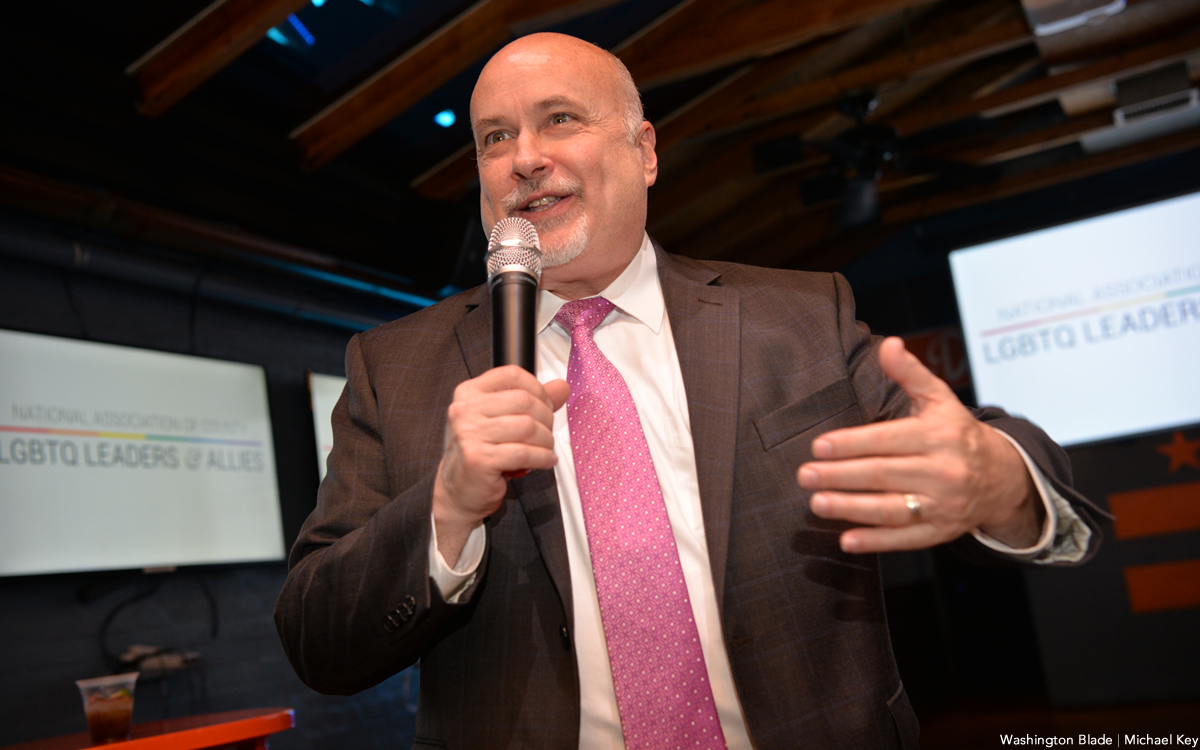 WASHINGTON – U.S. Rep. Mark Pocan (D-Wis.) has introduced legislation that would set up the process to create a National Museum of American LGBTQ+ History & Culture, potentially as an official site within the Smithsonian Institution in Washington, D.C.
Pocan, one of nine openly gay members of the U.S. House and co-chair of the LGBTQ+ Equality Caucus, said in a statement Thursday the measures would are effort to preserve LGBTQ history "as our community faces unprecedented attacks and attempts to erase our history." The pair of bills is H.R.9070 and H.R.9071.
"It is vital to remember our collective past – particularly when certain states seek to constrain and repeal existing rights by passing bills that harm LGBTQ+ youth and our community at large," Pocan said. "Let's tell these stories, and honor the many contributions the LGBTQ+ community has made to this nation with a museum in Washington, D.C."
The first bill, according to a news statement, would creates an eight-member commission of individuals with expertise in museum planning or LGBTQ+ research and culture "to look into the viability of establishing such a facility in the nation's Capital."
Among other things, the commission would be charged with recommending a plan on action for museum, including fundraising for the museum, and submitting to Congress a plan for construction of the museum, the statement says.
The bill would also instruct the commission to address whether the museum should be part of the Smithsonian Institution, based in the nation's capital and the world's largest museum and research complex, per the news statement. The full study, the statement says, would have to be completed in 18 months.
If the Smithsonian were to adopt the a museum on LGBTQ history and culture, it would be similar to other museums under its jurisdiction focused on minority populations in the United States, including the National Museum of African American History & Culture and the National Museum of the American Indian.
The second bill, according to a news statement, would be eligible for consideration by Congress after the commission completes its work and issues its recommendations and allow for formal creation of the museum. More than 50 lawmakers, including all nine openly gay members of the U.S. House, co-sponsor the legislation.
New survey shows 72% of Utah residents back same-sex marriage
Troy Williams, executive director of Equality Utah said he's not surprised to see that a majority of Utahns now support marriage equality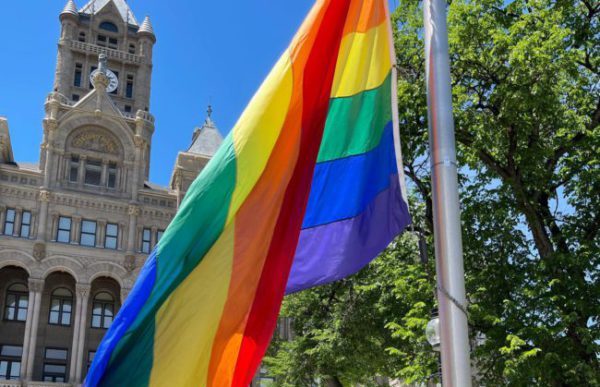 SALT LAKE CITY – The results of a poll run by the Hinckley Institute of Politics and the Desert News found 72% of Utah's residents agree that marriages between same-sex couples should be recognized by law as valid, with the same rights as cis-gender marriages.
"For a state that less than 20 years ago passed laws and a constitutional amendment prohibiting same-sex marriage, there has been a seismic shift in opinion," said Jason Perry, director of the Hinckley Institute of Politics at the University of Utah.
The Deseret News/Hinckley Institute of Politics survey also found that 23% of those surveyed disagreed, while 5% expressed that they don't know.
The poll shows Utahns are aligned with the nation as a whole on the issue. A Gallup poll in May found 71% of Americans say they support legal same-sex marriage, a new high.
Troy Williams, executive director of Equality Utah, told the Desert News that he's not surprised to see that a majority of Utahns now support marriage equality.
"Utah is a pro-family state, and we recognize that families come in all shapes and sizes. When we see loving, committed couples joining in matrimony, our natural impulse is to support and encourage that love. This gives me great hope for the future," he said.
A new poll shows nearly three-fourths of Utahns support legal same-sex marriage. | By @dennisromboy #utpolhttps://t.co/DBJHHNgmnJ

— Deseret News (@Deseret) September 30, 2022