Smith concedes, Republicans rejoice in 25th CD special election victory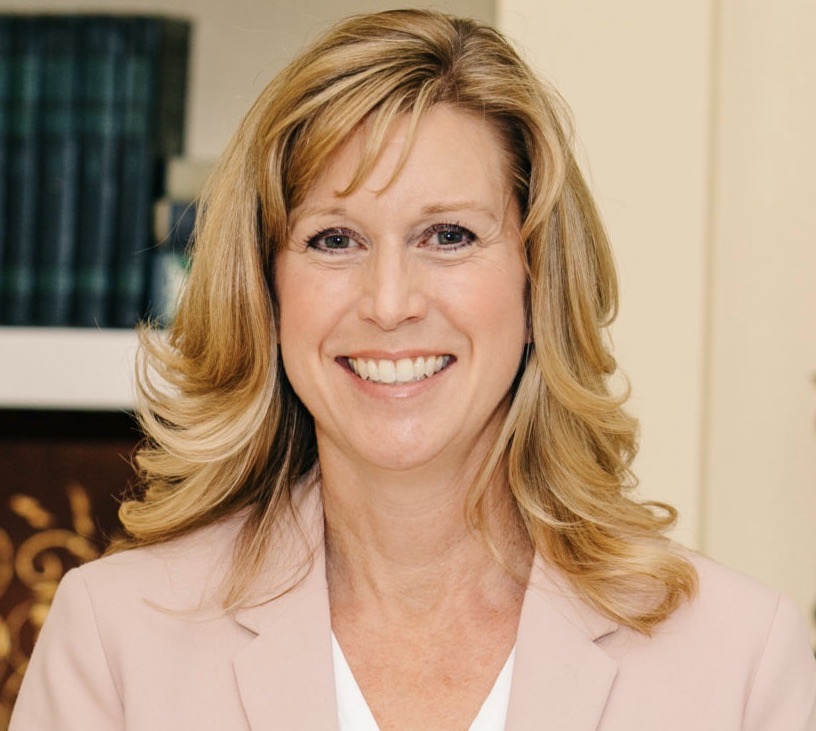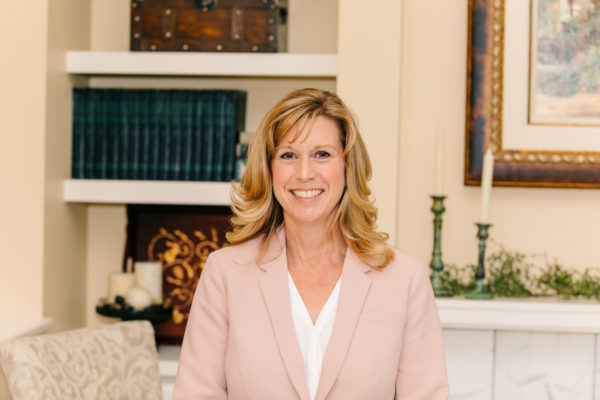 Assemblymember Christy Smith conceded her race to Mike Garcia. (Via Facebook)
House Speaker Nancy Pelosi was clear: the May 12 special election in California's 25th Congressional District was "an historic opportunity to send a message President Trump and his Republicans can't ignore: Democrats aren't letting up, not one bit."
Democrats may not be letting up but Republicans just sent a major message of their own.
Early returns from the May 12 special election in the 25th Congressional District show Republican former fighter pilot Mike Garcia with a double digit lead over Democratic Assemblymember Christy Smith in the race to fill former Rep. Katie Hill's seat. The 25th CD includes Palmdale, Porter Ranch, Santa Clarita, Simi Valley and a part of Lancaster.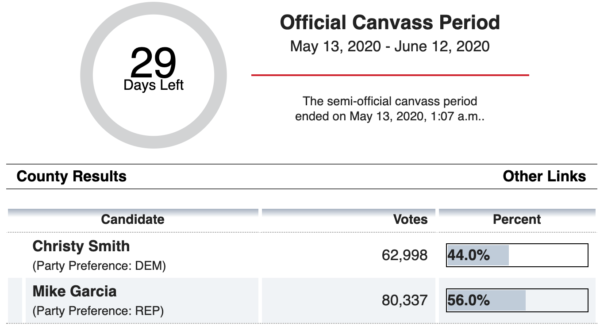 Though it will take days, maybe weeks to process all the mail-in ballots, the outcome looked clear, prompting Smith to concede in a post on Facebook.
"While it's critical that we ensure every vote is counted and recorded, we believe that the current tally shows Mike Garcia is the likely victor in the May 12 special election," Smith wrote. "As such, I'd like to congratulate him."
Smith not only had endorsements from national Democratic celebrities like Barack Obama and Hillary Clinton but even the Los Angeles Times published a second endorsement in asking voters not to sit out the runoff election, calling Garcia "woefully unprepared" for the job.
Garcia declared victory earlier, with a congratulations from Twitter supporter, President Donald Trump.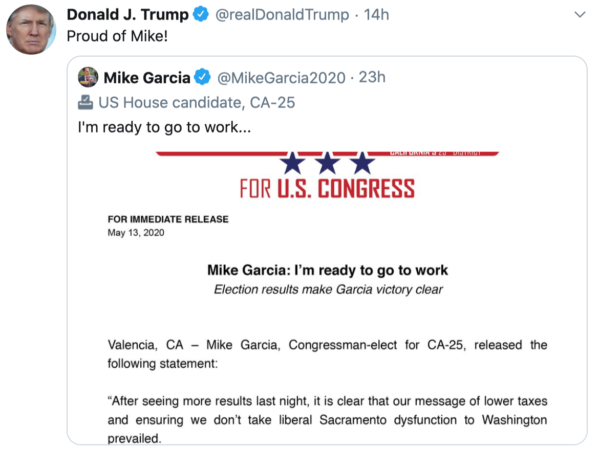 "After seeing more results last night, it is clear that our message of lower taxes and ensuring we don't take liberal Sacramento dysfunction to Washington prevailed," Garcia said in a statement. "I'm ready to go to work right away for the citizens of the 25th Congressional District."
Trump's morning barrage of tweets included: "Big Congressional win in California for Mike Garcia, taking back a seat from the Democrats. This is the first time in many years that a California Dem seat has flipped back to a Republican."
Not since 1998, in fact, gloated Republican groups like the Republican Jewish Coalition using the victory as a fundraising tool.
"Make no mistake – this is a MASSIVE victory for the GOP. It shows that our voters are energized and that we're in a position to take back the House this November," wrote RJC Deputy Executive Director Alex Siegel. "Think about it – if we can win in California, in a district that Hillary Clinton won by 6 points in 2016, then we are in a GREAT position for November's election up and down the ballot."
Siegel highlighted their use of peer-to-peer texting "to encourage Jewish Republican voters in the district to return their ballots. With mail-in ballots figuring to be much more prevalent in this November's election, our use of this political technology will be a key outreach tool for us moving forward."
Out Los Angeles County Democratic Party Chair Mark J. Gonzalez issued a statement, as well, looking toward the rematch in November for the new term in Jan. 2021.
"Tonight the Trump-Garcia-McConnell machine showed America that they will continue to deploy their dangerous tactics, buying and lying their way into an election. As we continue to grapple with the local and national effects of the coronavirus, Mike Garcia has fallen in line with Donald Trump in their attempt to destroy the Affordable Care Act, putting millions of Americans at risk," Gonzalez said.
"I know that Christy will be the voice Congress needs right now to ensure that our workers are safe and our families are secure. This fight in CA25 was never going to be over tonight," he added. "Trump, Mike Garcia and the Republicans have been put on notice, and they will do whatever they can do to defeat Christy in November. There's too much at stake, and LA Democrats look forward to the challenge ahead with Christy."
The updates to the mail-in-ballot vote count should give an indication just what the district actually looks like. The registrars in LA and Ventura counties have until June 1 to certify the election.
Though Democrats expect to do better November when the presidential election will draw more money, volunteers and new know-how into the second contest between Smith and Garcia, the victory has spiked Republican enthusiasm and so far seems to have prompted little Democratic after-action analysis of the loss.
"It will mean something to Trump, who will just wrap his arms around Garcia and will declare Trump the winner," said longtime political analyst Sherry Bebitch Jeffe, senior fellow at the Sol Price School of Public Policy, told the LA Daily News. "And it will energize Trump's base. Even though Democrats will say it's just a blip on the screen, they wouldn't be happy about it."
Bob Mulholland, a veteran California political strategist, was annoyed at what he perceives as the party's complacency.
"No excuses," Mulholland, a member of the Democratic National Committee, told the LA Times. Democrats "were too full of themselves" and "they let Christy Smith down."
But, he added, by October, "Garcia will have a Trump tattoo on his forehead," and — given Trump's massive unpopularity in California — "Democrats had better not fail."
Meanwhile, Trump gloats.

Los Angeles Mayor: Supreme Court decision "fundamentally un-American"
Mayor Eric Garcetti spoke to the Los Angeles Blade reflecting on Friday's U.S. Supreme Court reversal of Roe v. Wade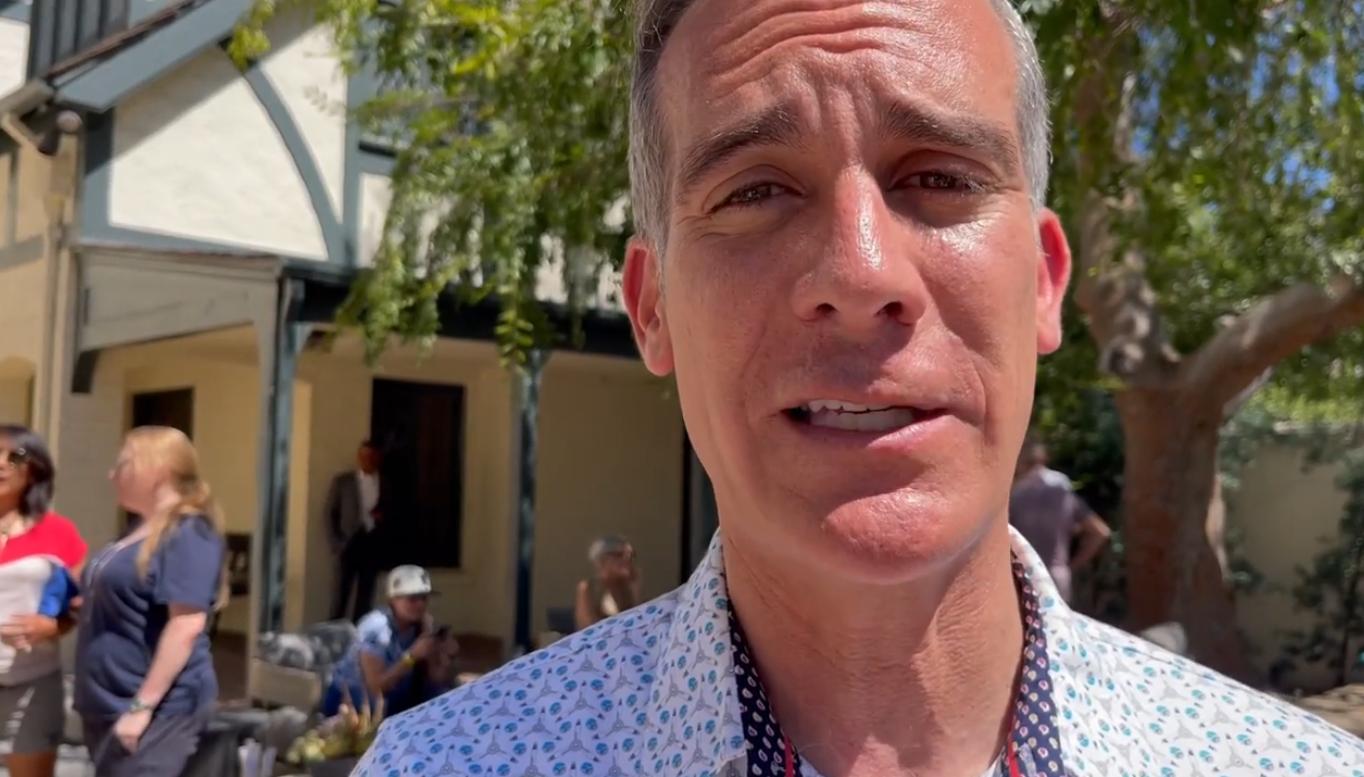 LOS ANGELES – During the Los Angeles Mayor's Pride Garden Party held at The Getty House, the official residence of the mayor Saturday afternoon, Mayor Eric Garcetti spoke to the Los Angeles Blade reflecting on Friday's U.S. Supreme Court reversal of Roe v. Wade.
Garcetti noted that "here in LA we defend those rights" after taking aim at the actions of the high court Friday in the ruling on the Mississippi case of Dobbs v. Jackson Women's Health clinic. "Make no mistake, we have to be active," Garcetti added.
WATCH:
Reminder: 101 closed through DTLA until 10pm Sunday
The closure began at 10 p.m. Saturday and will be completed by 10 p.m. Sunday, the Los Angeles Bureau of Engineering announced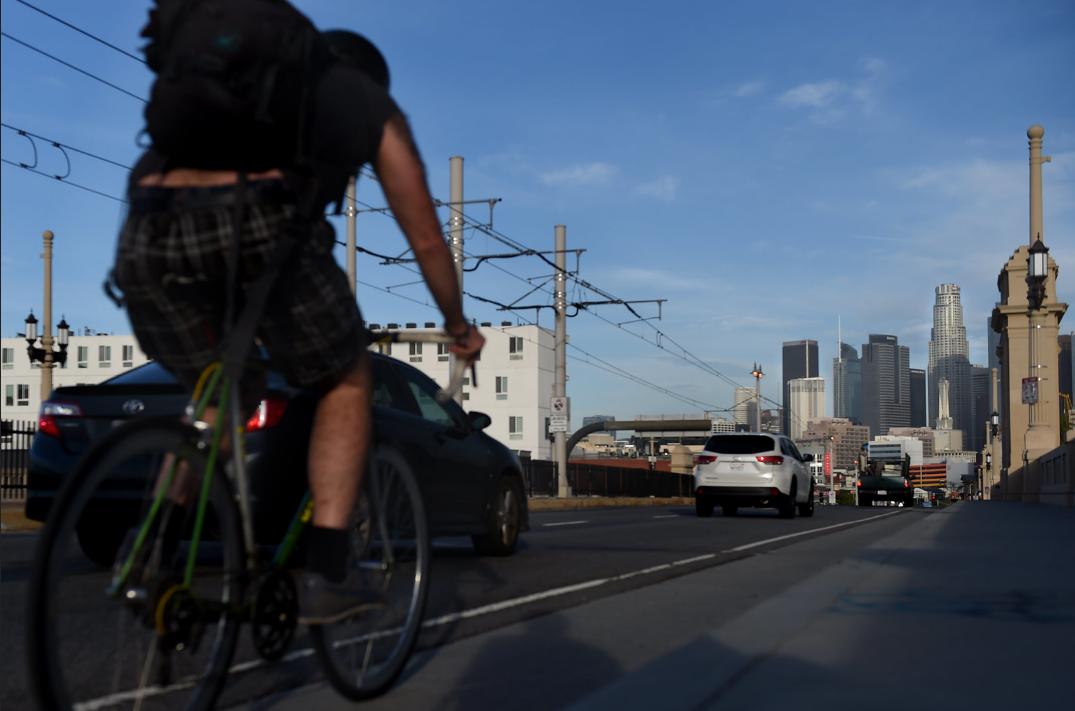 LOS ANGELES – (KTLA) Motorists are being reminded that the stretch of 101 through the downtown area of Los Angeles is shut down for road restoration and reconstruction work.
KTLA reported the closure began at 10 p.m. Saturday and will be completed by 10 p.m. Sunday, the Los Angeles Bureau of Engineering announced.
The 24-hour closure between State Route 60 and the 10 Freeway interchange is needed for the Sixth Street Viaduct Replacement Project, which aims to replace the original, seismically-deficient structure built in 1932, authorities said.
During the closure, the California Department of Transportation will also be doing slab replacement work along the same stretch of the 101 Freeway.
The closure will center around the east side of the viaduct construction site in Boyle Heights. While the stretch is closed, drivers headed west on State Route 60 from the Pomona area will not be able to access the 101, officials said.
Off-ramps and on-ramps in the area will also be closed during as road work gets underway.
Drivers who reach the closure will see signs directing them to a detour.
The new $588 million viaduct is expected to be completed in Summer of 2022, stretching between Boyle Heights and the Arts District.
Officials say it is the largest bridge project in the history of Los Angeles.
LA-DWP & Mayor Garcetti announce new outdoor watering restrictions
Sprinkler watering will be allowed Monday & Friday at odd-numbered addresses in the city, and even-numbered addresses on Thursday & Sunday

LOS ANGELES – In a press conference Tuesday Los Angeles Mayor Eric Garcetti and officials from the Los Angeles Department of Water and Power (LADWP) announced that outdoor watering in the city will be restricted to two days a week starting June 1.
The announcement comes as the Metropolitan Water District of Southern California declared an unprecedented water shortage emergency two weeks ago, imposing restrictions after MWD's board voted to adopt the emergency measures to "reduce non-essential water use" in certain areas. Cities and smaller water suppliers that get water from MWD are required to start restricting outdoor watering to one day a week, or to find other ways to cut usage to a new monthly allocation limit.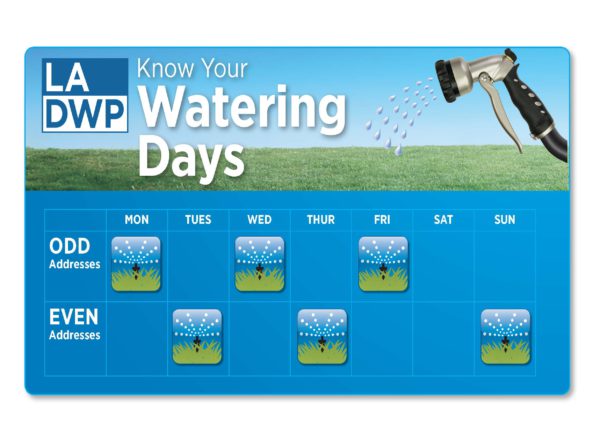 In Tuesday's press conference Mayor Garcetti said L.A.'s two-day limit was still more lenient than the one imposed by the Metropolitan Water District of Southern California, which has ordered many of its member agencies to restrict outdoor watering to once a week.
Sprinkler watering will be allowed on Monday and Friday at odd-numbered addresses in the city, and even-numbered addresses on Thursday and Sunday.