Smith concedes, Republicans rejoice in 25th CD special election victory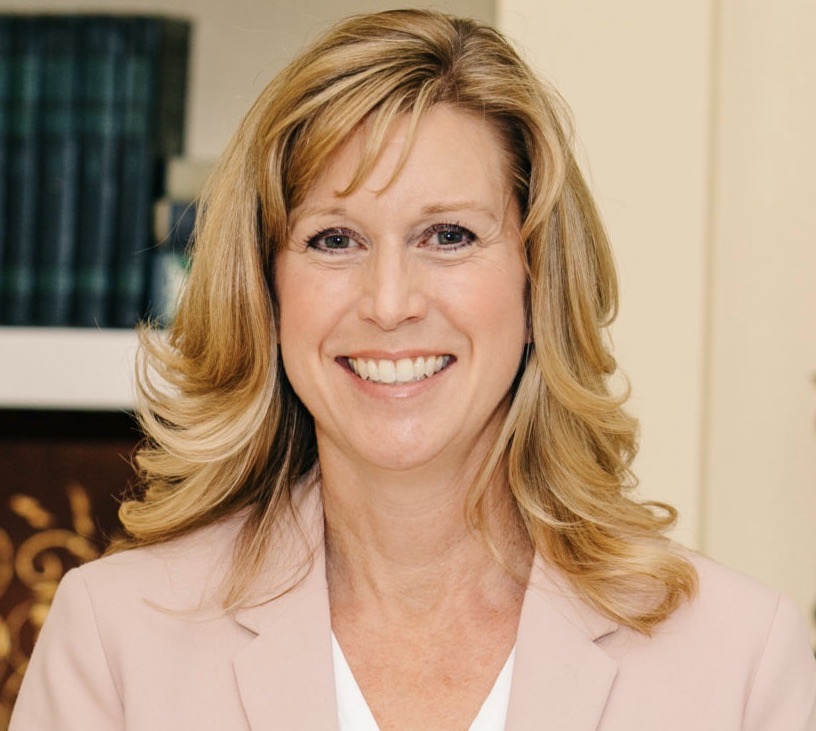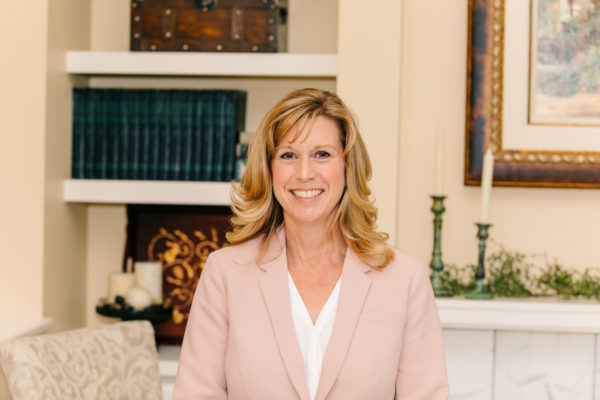 Assemblymember Christy Smith conceded her race to Mike Garcia. (Via Facebook)
House Speaker Nancy Pelosi was clear: the May 12 special election in California's 25th Congressional District was "an historic opportunity to send a message President Trump and his Republicans can't ignore: Democrats aren't letting up, not one bit."
Democrats may not be letting up but Republicans just sent a major message of their own.
Early returns from the May 12 special election in the 25th Congressional District show Republican former fighter pilot Mike Garcia with a double digit lead over Democratic Assemblymember Christy Smith in the race to fill former Rep. Katie Hill's seat. The 25th CD includes Palmdale, Porter Ranch, Santa Clarita, Simi Valley and a part of Lancaster.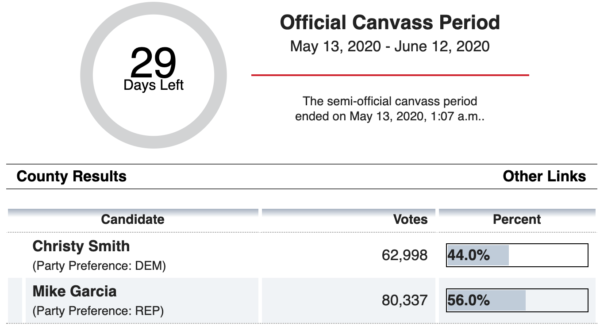 Though it will take days, maybe weeks to process all the mail-in ballots, the outcome looked clear, prompting Smith to concede in a post on Facebook.
"While it's critical that we ensure every vote is counted and recorded, we believe that the current tally shows Mike Garcia is the likely victor in the May 12 special election," Smith wrote. "As such, I'd like to congratulate him."
Smith not only had endorsements from national Democratic celebrities like Barack Obama and Hillary Clinton but even the Los Angeles Times published a second endorsement in asking voters not to sit out the runoff election, calling Garcia "woefully unprepared" for the job.
Garcia declared victory earlier, with a congratulations from Twitter supporter, President Donald Trump.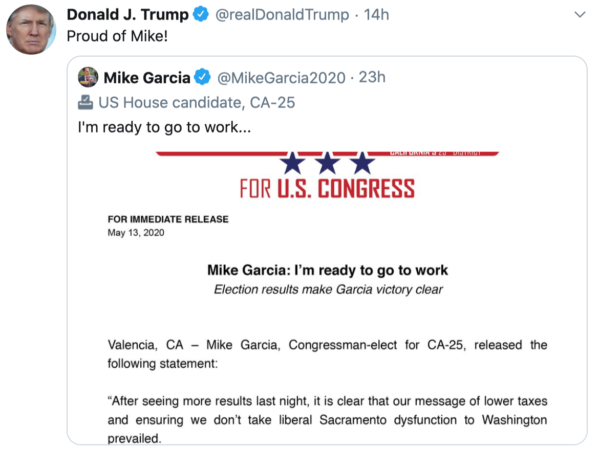 "After seeing more results last night, it is clear that our message of lower taxes and ensuring we don't take liberal Sacramento dysfunction to Washington prevailed," Garcia said in a statement. "I'm ready to go to work right away for the citizens of the 25th Congressional District."
Trump's morning barrage of tweets included: "Big Congressional win in California for Mike Garcia, taking back a seat from the Democrats. This is the first time in many years that a California Dem seat has flipped back to a Republican."
Not since 1998, in fact, gloated Republican groups like the Republican Jewish Coalition using the victory as a fundraising tool.
"Make no mistake – this is a MASSIVE victory for the GOP. It shows that our voters are energized and that we're in a position to take back the House this November," wrote RJC Deputy Executive Director Alex Siegel. "Think about it – if we can win in California, in a district that Hillary Clinton won by 6 points in 2016, then we are in a GREAT position for November's election up and down the ballot."
Siegel highlighted their use of peer-to-peer texting "to encourage Jewish Republican voters in the district to return their ballots. With mail-in ballots figuring to be much more prevalent in this November's election, our use of this political technology will be a key outreach tool for us moving forward."
Out Los Angeles County Democratic Party Chair Mark J. Gonzalez issued a statement, as well, looking toward the rematch in November for the new term in Jan. 2021.
"Tonight the Trump-Garcia-McConnell machine showed America that they will continue to deploy their dangerous tactics, buying and lying their way into an election. As we continue to grapple with the local and national effects of the coronavirus, Mike Garcia has fallen in line with Donald Trump in their attempt to destroy the Affordable Care Act, putting millions of Americans at risk," Gonzalez said.
"I know that Christy will be the voice Congress needs right now to ensure that our workers are safe and our families are secure. This fight in CA25 was never going to be over tonight," he added. "Trump, Mike Garcia and the Republicans have been put on notice, and they will do whatever they can do to defeat Christy in November. There's too much at stake, and LA Democrats look forward to the challenge ahead with Christy."
The updates to the mail-in-ballot vote count should give an indication just what the district actually looks like. The registrars in LA and Ventura counties have until June 1 to certify the election.
Though Democrats expect to do better November when the presidential election will draw more money, volunteers and new know-how into the second contest between Smith and Garcia, the victory has spiked Republican enthusiasm and so far seems to have prompted little Democratic after-action analysis of the loss.
"It will mean something to Trump, who will just wrap his arms around Garcia and will declare Trump the winner," said longtime political analyst Sherry Bebitch Jeffe, senior fellow at the Sol Price School of Public Policy, told the LA Daily News. "And it will energize Trump's base. Even though Democrats will say it's just a blip on the screen, they wouldn't be happy about it."
Bob Mulholland, a veteran California political strategist, was annoyed at what he perceives as the party's complacency.
"No excuses," Mulholland, a member of the Democratic National Committee, told the LA Times. Democrats "were too full of themselves" and "they let Christy Smith down."
But, he added, by October, "Garcia will have a Trump tattoo on his forehead," and — given Trump's massive unpopularity in California — "Democrats had better not fail."
Meanwhile, Trump gloats.

Fed up, LA moves to require proof of vax for indoor dining, bars, gyms
"Enough is enough already. Hospital workers are exhausted, moms are tired, and our kids cannot afford the loss of another school year"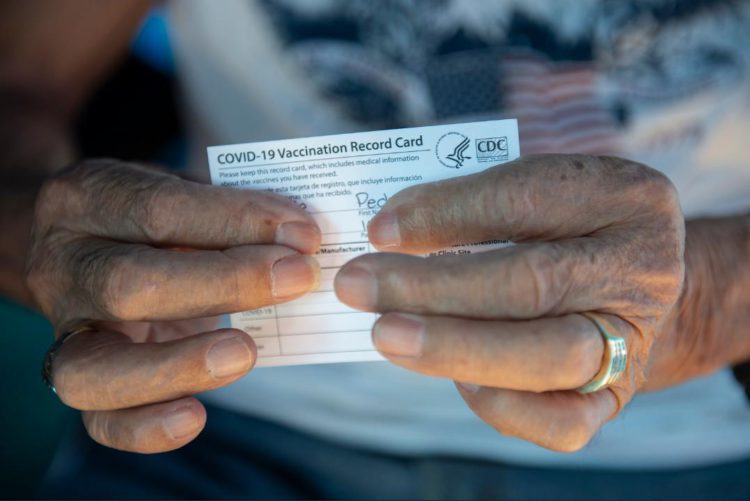 LOS ANGELES – Los Angeles City Council President Nury Martinez and Councilman Mitch O'Farrell (D-13) on Wednesday introduced a motion to the council that will require vaccine proof indoors at restaurants, bars, gyms, stores, spas, movie theaters, concert venues and sporting events.
"Enough is enough already," Martinez said in a statement. "Hospital workers are exhausted, moms who have put aside their careers are tired, and our kids cannot afford the loss of another school year. We have three vaccines that work and are readily available, so what's it going to take?"
There has already been over a dozen LA eateries that have enacted Vax-Proof required for entry including several in West Hollywood, Santa Monica, Downtown, and across the city.
Today I introduced legislation with @MitchOFarrell to require proof of COVID vaccination to enter indoor public spaces throughout the City of LA.

So many Angelenos stepped up and did their part. They shouldn't be penalized with closures by those unwilling to do theirs. pic.twitter.com/ebj0phJ5wZ

— Nury Martinez (@CD6Nury) August 4, 2021
Hard-working Angelenos, their customers, and the general public deserve to be safe in public spaces. The vaccines are our most effective form of protection.

The time to act is now.

— Mitch O'Farrell (@MitchOFarrell) August 4, 2021
The motion calls for the L.A. City Attorney to prepare and present an ordinance and to report back on how businesses can comply with the measure.
City Attorney Mike Feuer, a mayoral candidate, on Tuesday also sent a letter urging the Los Angeles County Board of Supervisors to require proof of vaccination for certain indoor activities, including those listed by the LA City Council members in Wednesday's motion.
Delivering justice and equity, Jasmyne Cannick has 'the receipts'
This fight is about getting justice for Ed Buck's victims & also calling out all of the people along the way who failed them & enabled him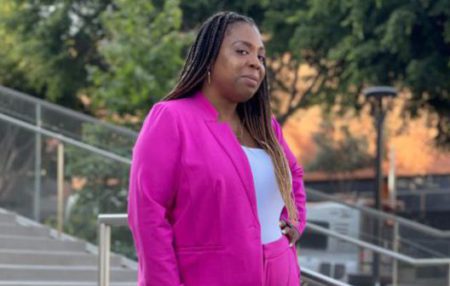 LOS ANGELES – In the world of popular culture the use of the slang phrase 'has the receipts' translates to bringing proof that someone was/is lying. Conversely it also is used to define that a person is being genuine.
Over the past several years as the crimes committed by West Hollywood resident and political activist Ed Buck, as he preyed on Black men were made public, the person holding the receipts was journalist turned advocate Jasmyne Cannick.
Frustrated and angered by what she perceived as lack of serious engagement by local law enforcement in the initial stages of the investigation into the death of 26-year-old Gemmel Moore, Cannick rallied the community and publicly called out law enforcement to take more aggressive action.
She orchestrated and led a grass-roots effort to get the criminal justice system of Los Angeles to listen to Gemmel's mother LaTisha Nixon's plea for justice. She used Gemmel's own words, written in his journal to alert authorities to the depths of the debauchery occurring inside that second floor flat in West Hollywood. She pleaded with law enforcement including the District Attorney for the County of Los Angeles Jackie Lacey to take action.
Her activism and fueling the rage of the greater community finally received the attention of Federal law enforcement and action that culminated in Buck's arrest and the trial.
She stood by the families even as to the horror of many, another Black man died nearly two years after Gemmel (2017) in January of 2019 and like that young life snuffed out too early, Timothy Dean, 55, was found deceased on the trash strewn floor of Buck's flat.
"The lives of Black gay men matter — no matter if they're homeless, survival sex workers or escorts — this is a case that transcends race, class, wealth. Our lives matter, our community matters, and just because someone is unhoused, an addict, may be a survival sex worker, or an escort, or HIV positive does not mean their lives don't matter and we should look the other way when they show up dead in a white Democratic donor's home." ~ Jasmyne Cannick.
In her owns words Cannick writes after the jury delivered guilty verdicts on nine separate federal counts; "It's been a long four years on this road for justice–justice that a guilty verdict would be but one small part off. Real justice is making sure that this never ever happens again. We can't do that with the enabling parties still acting like Ed Buck didn't happen"
She adds, "Ed Buck only got away with it for so long because he was white and because we still don't believe Black victims–even when they tell us what happened to them.
Gemmel Moore told us in his diary, "Ed Buck is the one to thank, he gave me my first injection of chrystal [sic] meth. It was very painful."
Buck was not all that he was portrayed as in the media, but he parlayed his influence, funneled through donations from others, and did ingratiate himself into the Democratic party in California over the years. There is plenty of photographic evidence to substantiate those claims to fame showing Buck rubbing elbows with politicians from all quarters.
Worse though was that rumours of Buck's fetishes were well known and yet even after the death of Gemmel Moore there seemed to be a collective shrugging of shoulders and zero calls for accountability. Cannick however, wasn't having it.
"Former district attorney Jackie Lacey was sitting on a mountain of evidence and still did nothing to prosecute Ed Buck for the deaths of Gemmel Moore and Timothy Dean," she said.
Appearing on BNC's Black News Tonight anchored by journalist Marc Lamont Hill last week, Cannick told Hill that the case intersected race and sexual orientation.
"As much as this case is about Ed Buck, it's also about our housing crisis, and what it makes people feel they have to do — play Russian roulette with their lives just to have a roof over their heads," she stressed.
Cannick is not just a gadfly community activist, in fact far from it. She is a powerful voice for those who have had no voice reminding people that Buck happened because the community allowed him to happen.
In her own words she points out, "Paul Koretz, a candidate for Controller in 2022, who is backed by the Black Democratic establishment and has taken thousands from Ed Buck, told a group that Buck's victims were all "disadvantaged Black hustlers."
"So while this fight is as much about getting justice for Ed Buck's victims it's also about calling out all of the people and entities along the way who failed them and enabled Ed Buck. Not doing so ensures a repeat of this situation because Ed Buck isn't the only Ed Buck," she pointed out. "Entities like the L.A. County Sheriff's Department who many of Ed Buck's victims said didn't take their complaints about Ed Buck seriously."
"But even though Ed Buck's crimes have been made public throughout his trial, not much has changed. The silence in Los Angeles' is deafening. If I wasn't sitting in the courtroom myself, I probably wouldn't know the trial was happening.
There's been no mention of the trial or justice for Ed Buck's victims from the Los Angeles County Democratic Party, California Democratic Party, Stonewall Democratic Club, or any of the dozens of elected officials he gave his money to," she noted.
In a conversation with the Blade on Monday Cannick said that the next phase for her advocacy is to seek financial compensation for Buck's victims. But beyond that is challenging community leaders and elected officials to address the very causes of what gave Buck ready access to the disadvantaged Black men in the first place; homelessness and helping the unhoused is her top priority.
She also serves now as an elected "At-Large" member of the leadership team of the Stonewall Democratic Club, the very place where Buck donated sums of money and rubbed elbows with Democratic Party leadership who gave Buck credibility and status.
For now there are some community leaders who are stepping up to acknowledge Cannick's holding the receipts including the City Council and Mayor of West Hollywood who honoured her community work during a regularly scheduled Council meeting Monday.
West Hollywood Mayor Linsey Horvath tweeted afterwards, "Thank YOU for your fearless leadership in pursuit of truth and justice, @Jasmyne Our community is safer, and survivors have more confidence that they will be heard & believed, because of you."
Thank YOU for your fearless leadership in pursuit of truth and justice, @Jasmyne Our community is safer, and survivors have more confidence that they will be heard & believed, because of you. #weho #believesurvivors #BlackLivesMatter #blackgaylivesmatter #AllBlackLivesMatter https://t.co/vq4t8IjLij

— Lindsey P Horvath (@LindseyPHorvath) August 3, 2021
BNT: Buck case highlights intersection of race & sexual orientation
Journalist Jasmyne Cannick, said that the case "intersected race." She joins "Black News Tonight" to discuss the case and its impact.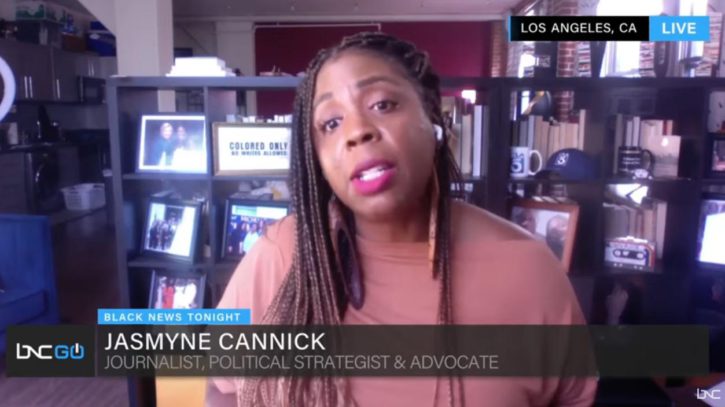 PHILADELPHIA – Appearing on BNC's Black News Tonight anchored by journalist Marc Lamont Hill Wednesday, Los Angeles based political strategist and journalist Jasmyne Cannick, who has covered the Ed Buck case, told Hill that the case intersected race and sexual orientation.
"As much as this case is about Ed Buck, it's also about our housing crisis, and what it makes people feel they have to do — play Russian roulette with their lives just to have a roof over their heads," Cannick stressed.