Smith concedes, Republicans rejoice in 25th CD special election victory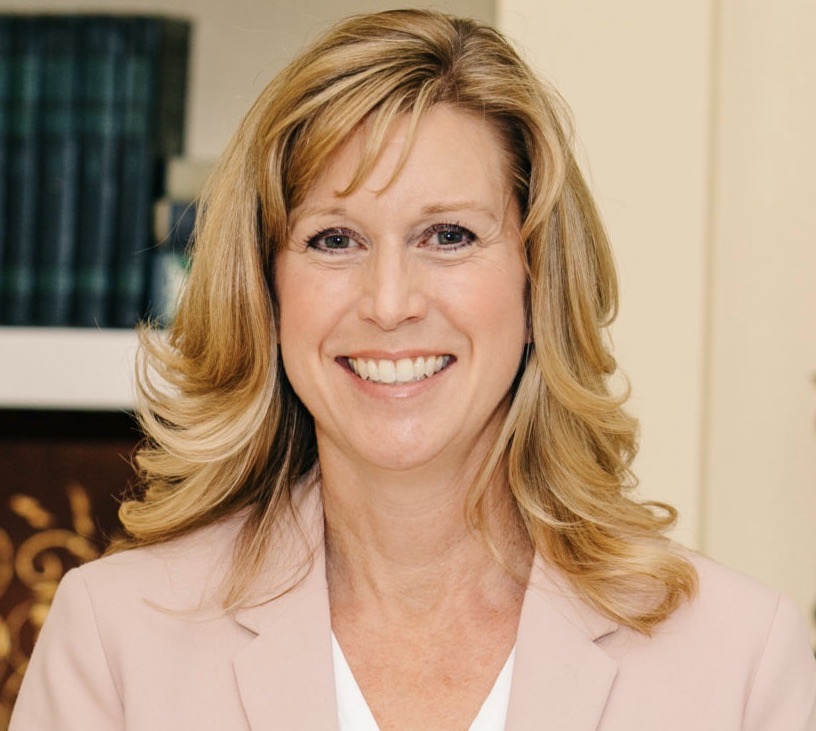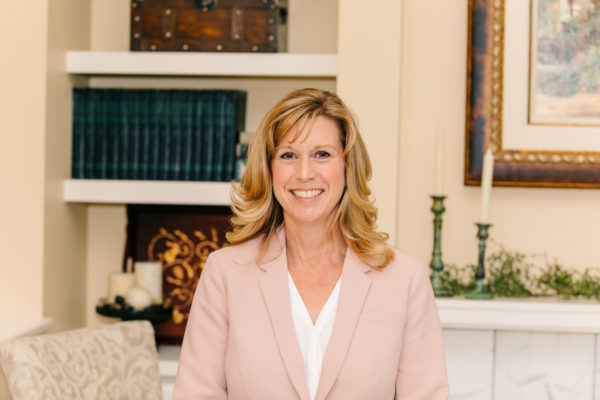 Assemblymember Christy Smith conceded her race to Mike Garcia. (Via Facebook)
House Speaker Nancy Pelosi was clear: the May 12 special election in California's 25th Congressional District was "an historic opportunity to send a message President Trump and his Republicans can't ignore: Democrats aren't letting up, not one bit."
Democrats may not be letting up but Republicans just sent a major message of their own.
Early returns from the May 12 special election in the 25th Congressional District show Republican former fighter pilot Mike Garcia with a double digit lead over Democratic Assemblymember Christy Smith in the race to fill former Rep. Katie Hill's seat. The 25th CD includes Palmdale, Porter Ranch, Santa Clarita, Simi Valley and a part of Lancaster.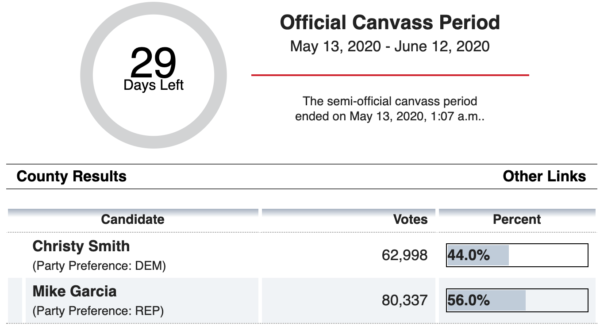 Though it will take days, maybe weeks to process all the mail-in ballots, the outcome looked clear, prompting Smith to concede in a post on Facebook.
"While it's critical that we ensure every vote is counted and recorded, we believe that the current tally shows Mike Garcia is the likely victor in the May 12 special election," Smith wrote. "As such, I'd like to congratulate him."
Smith not only had endorsements from national Democratic celebrities like Barack Obama and Hillary Clinton but even the Los Angeles Times published a second endorsement in asking voters not to sit out the runoff election, calling Garcia "woefully unprepared" for the job.
Garcia declared victory earlier, with a congratulations from Twitter supporter, President Donald Trump.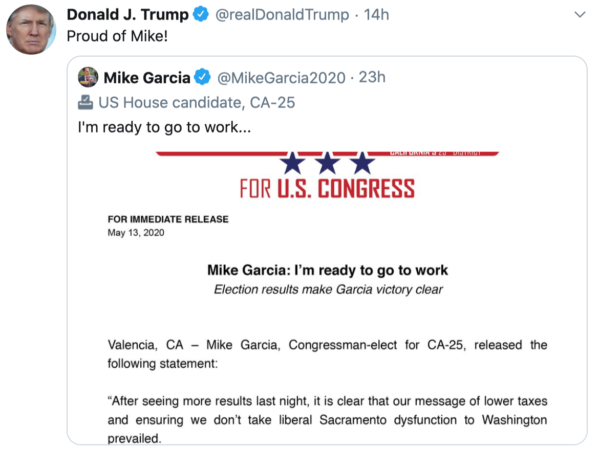 "After seeing more results last night, it is clear that our message of lower taxes and ensuring we don't take liberal Sacramento dysfunction to Washington prevailed," Garcia said in a statement. "I'm ready to go to work right away for the citizens of the 25th Congressional District."
Trump's morning barrage of tweets included: "Big Congressional win in California for Mike Garcia, taking back a seat from the Democrats. This is the first time in many years that a California Dem seat has flipped back to a Republican."
Not since 1998, in fact, gloated Republican groups like the Republican Jewish Coalition using the victory as a fundraising tool.
"Make no mistake – this is a MASSIVE victory for the GOP. It shows that our voters are energized and that we're in a position to take back the House this November," wrote RJC Deputy Executive Director Alex Siegel. "Think about it – if we can win in California, in a district that Hillary Clinton won by 6 points in 2016, then we are in a GREAT position for November's election up and down the ballot."
Siegel highlighted their use of peer-to-peer texting "to encourage Jewish Republican voters in the district to return their ballots. With mail-in ballots figuring to be much more prevalent in this November's election, our use of this political technology will be a key outreach tool for us moving forward."
Out Los Angeles County Democratic Party Chair Mark J. Gonzalez issued a statement, as well, looking toward the rematch in November for the new term in Jan. 2021.
"Tonight the Trump-Garcia-McConnell machine showed America that they will continue to deploy their dangerous tactics, buying and lying their way into an election. As we continue to grapple with the local and national effects of the coronavirus, Mike Garcia has fallen in line with Donald Trump in their attempt to destroy the Affordable Care Act, putting millions of Americans at risk," Gonzalez said.
"I know that Christy will be the voice Congress needs right now to ensure that our workers are safe and our families are secure. This fight in CA25 was never going to be over tonight," he added. "Trump, Mike Garcia and the Republicans have been put on notice, and they will do whatever they can do to defeat Christy in November. There's too much at stake, and LA Democrats look forward to the challenge ahead with Christy."
The updates to the mail-in-ballot vote count should give an indication just what the district actually looks like. The registrars in LA and Ventura counties have until June 1 to certify the election.
Though Democrats expect to do better November when the presidential election will draw more money, volunteers and new know-how into the second contest between Smith and Garcia, the victory has spiked Republican enthusiasm and so far seems to have prompted little Democratic after-action analysis of the loss.
"It will mean something to Trump, who will just wrap his arms around Garcia and will declare Trump the winner," said longtime political analyst Sherry Bebitch Jeffe, senior fellow at the Sol Price School of Public Policy, told the LA Daily News. "And it will energize Trump's base. Even though Democrats will say it's just a blip on the screen, they wouldn't be happy about it."
Bob Mulholland, a veteran California political strategist, was annoyed at what he perceives as the party's complacency.
"No excuses," Mulholland, a member of the Democratic National Committee, told the LA Times. Democrats "were too full of themselves" and "they let Christy Smith down."
But, he added, by October, "Garcia will have a Trump tattoo on his forehead," and — given Trump's massive unpopularity in California — "Democrats had better not fail."
Meanwhile, Trump gloats.

LAPD asking for public's help with murders of homeless persons
Anyone with information is urged to contact the Los Angeles Police Department's Robbery-Homicide Division, Homicide Special Section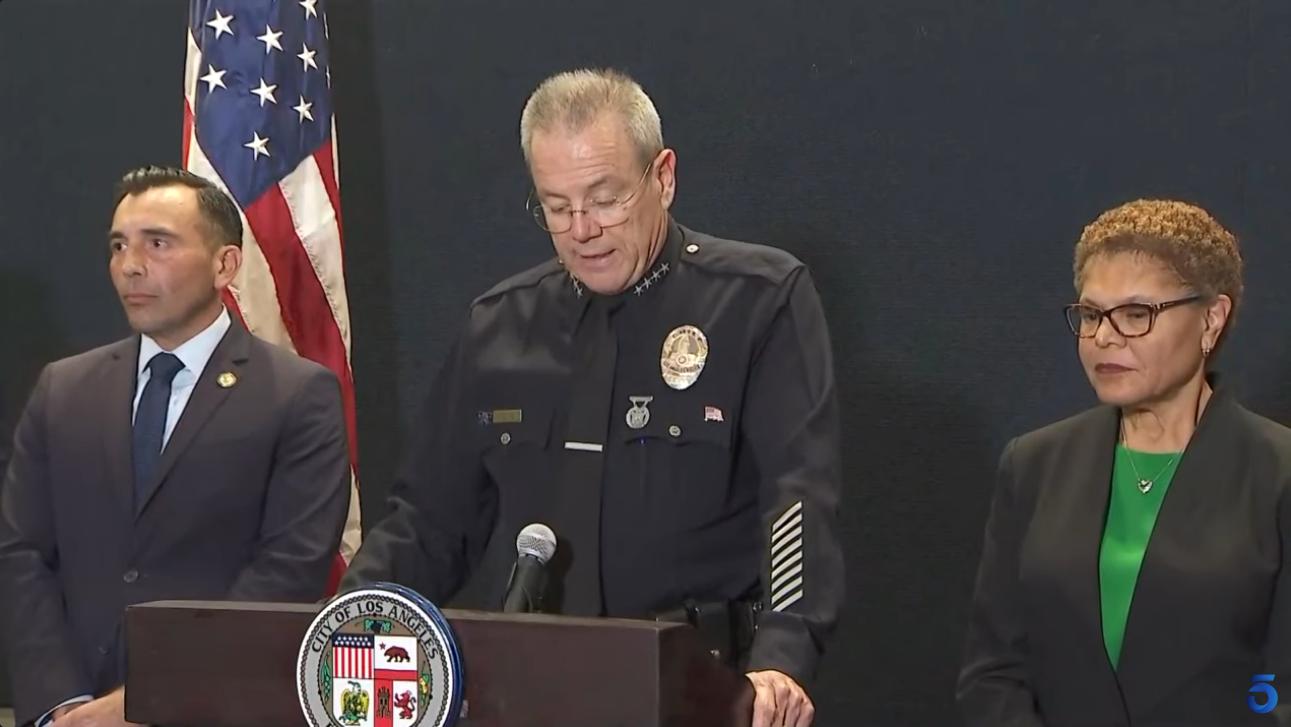 LOS ANGELES – Flanked by Los Angeles County District Attorney George Gascón, LA Mayor Mayor Karen Bass and Martin Estrada, the United States Attorney for the Central District of California, Los Angeles Chief of Police Michel Moore, held a news conference Friday where he announced that three homeless people had been fatally shot while they slept within the past week.
Moore added that authorities believe one suspect is responsible for all three murders.
Detectives from the LAPD's Robbery-Homicide Division are investigating three separate murders that occurred between November 26, 2023, and November 29, 2023. In each case, the victims were experiencing homelessness.
While some similarities have been identified, detectives are working to determine if these murders are related. A community alert bulletin has been issued to make the region's unhoused population and the community stakeholders aware of these recent murders.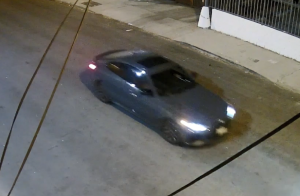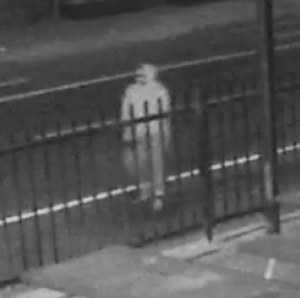 The suspect in these homicides is described only as male. The suspect was seen in a dark-colored sedan. It is unknown if he was alone or there were any additional suspects.
Police have spotted who they believe the shooter is on surveillance footage — Moore said they believe it's a man in a hoodie — and they also have images of the suspect's vehicle, though Moore would not describe it in an effort to avoid misinformation.
"People will see different types of cars, different types of models," he said. "I don't want someone to say 'You called this a Kia and it turns out to be a BMW or Mercedes," he said.
"A single individual approached each one and shot and killed each one as they slept," Moore said, though he avoided use of the term "serial killer."
"The Los Angeles Police Department is employing all available resources to bring justice to these murder victims. I am thankful for our City partners who are working with us closely to ensure the safety of this vulnerable population as we pursue the criminal investigation," said Moore.
"I want to be very clear about what we're facing today: This is a killer who is preying on the unhoused," Mayor Bass said, adding that homeless people should not sleep alone.
"As we always do in the face of a challenge or crisis, our region is mobilizing to respond to this issue. We will work tirelessly to find the individual responsible, arrest them, and hold them accountable. I have met with our partners at the Los Angeles Homeless Services Authority, Housing Authority of the City of Los Angeles, and the Los Angeles Housing Department and we are moving immediately to get the word out to our unhoused neighbors in housing networks. Our message to our unhoused community is clear – try not to be alone tonight. We will do all we can to make shelter and services available. To the many Angelenos who have friends or family who are unhoused, please let them know the danger that exists. We must stay safe. We will work diligently to bring those responsible to justice," the Mayor said.
"To the person responsible: We will find you, we will catch you and you will be held accountable," Bass said.
"I commend the LAPD for creating a dedicated task force to uncover the identity of a potential serial killer preying on the most vulnerable in our community. I've assigned our Major Crimes Division, Bureau of Victim Services and our Bureau of Investigation to assist with these efforts. Today, we demonstrate our collective resolve and stand united in our pursuit of justice, unwavering against the darkness that preys on the most defenseless among us," said LA District Attorney George Gascón.
Related:
Anyone with information is urged to contact the Los Angeles Police Department's Robbery-Homicide Division, Homicide Special Section, at (213) 486-6890. During non-business hours or on weekends, calls should be directed to 1-877-LAPD-24-7 (1-877-527-3247).
Anyone wishing to remain anonymous should call the LA Regional Crime Stoppers at 1-800-222-TIPS (800-222-8477) or go directly to www.lacrimestoppers.org.
Lastly, tipsters may also download the "P3 Tips" mobile application and select the LA Regional Crime Stoppers as their local program.