June 22, 2020 at 2:40 pm PDT | by Chris Johnson
Trump admin sued for refusing to back down on anti-trans health care rule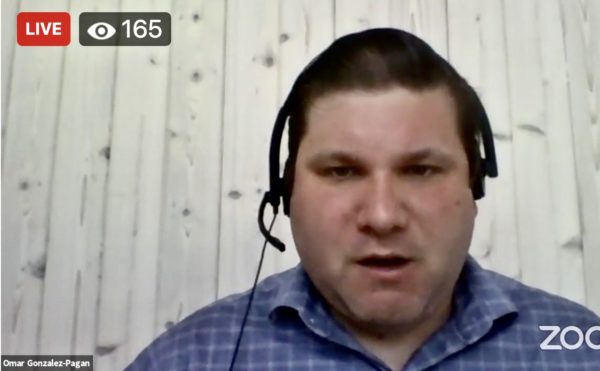 With the Trump administration refusing to take back its rule permitting anti-transgender discrimination in health care following a U.S. Supreme Court ruling on LGBTQ rights effectively countermanding it, LGBTQ legal advocates are returning to the courts to bring the federal government into compliance.
The LGBTQ legal group Lambda Legal sued the Trump administration Monday over a rule from the Department of Health & Human Services permitting health care workers to refuse service to transgender people, including transition-related care and gender reassignment surgery. The case and the 85-page complaint is now pending before the U.S. District Court for D.C.
Omar Gonzalez-Pagan, a senior attorney at Lambda Legal, said in a Zoom call with reporters Monday the lawsuit was necessary because the Trump administration has used the law as a "weapon to target and hurt vulnerable communities, particularly the LGBTQ community."
"They are seeking to harm those who have already experienced alarming rates of discrimination when seeking care," Gonzalez-Pagan said. "Even now, in the midst of a global pandemic, their actions are simply wrong, they are callous, they are immoral. More importantly, for purposes of today, they are illegally indefensible."
The Trump administration rule change was based on Section 1557 of the Affordable Care Act, which bars discrimination on the basis of sex in health care. During the final year of the Obama administration, HHS issued a rule interpreting the definition of "sex" to apply to cases of discrimination in health care against transgender people, women who have had abortions and patients with limited English proficiency.
However, in defiance of widespread legal precedent affirming anti-transgender discrimination is unlawful — and refusing to wait until later in the month, when the U.S. Supreme Court would issue the final word on the issue — the Trump administration revoked those regulations earlier this month with a rule change based on a narrow interpretation of the word "sex."
The move prompted an outcry from transgender advocates who said it would enable widespread discrimination in health care during the time of a global coronavirus pandemic. LGBTQ legal advocates had threatened to sue over the reversal, which came to pass on Monday.
Chief among the reasons cited in the lawsuit for the unlawfulness of the Trump administration's action was the U.S. Supreme Court's decision in Bostock v. Clayton County, which determined anti-LGBTQ discrimination is a form of sex discrimination, thus illegal in the workplace under Title VII of the Civil Rights Act.
Even though the Supreme Court ruling was based on employment, the lawsuit says the Bostock decision applies to the Trump administration's health care rule, calling it "not in compliance with the law" in the aftermath of the landmark decision.
"To be clear, Bostock's holding that discrimination on the basis of sexual orientation or transgender status constitutes discrimination on the basis of sex forecloses HHS's attempts to deny the full protection of Section 1557 to LGBTQ individuals and patients in health care settings," the lawsuit says.
The lawsuit also seeks an injunction against the Trump administration rule change on the basis of it being arbitrary and capricious, in excess of statutory authority, in violation of due process and equal protection under the Fifth Amendment and in violation of freedom of speech and religion under the First Amendment.
"The Revised Rule violates the Establishment Clause by creating expansive religious exemptions for health care providers, plans, and employees at the expense of third parties – namely, plaintiffs, other providers, and most importantly the patients and the individuals whom plaintiffs serve," the complaint says. "It invites health care providers, including insurance companies, hospitals, doctors, and nurses, to deny LGBTQ patients necessary medical treatment based on their religious beliefs."
Although the lawsuit challenges the Trump administration rule change on legal grounds, representatives of plaintiffs in the lawsuit made an impassioned plea for reversal of the Trump administration rule change based on immortality and widespread harm of denying health care to LGBTQ people.
Naseema Shafi, CEO of the D.C.-based Whitman-Walker Health, said many D.C.-based LGBTQ patients come to the clinic because they experience marginalization and rejection in health care.
"Too often we learn of examples, such as a transgender patient who is subjected to hostile questions about who they are when seeking help from a hospital emergency room for deep pain, questions that may have long-term impact on whether that person seeks care when they are in pain again," Shafi said.
Other examples Shafi cited were a transgender woman with cancer who was refused an ultrasound after being openly mocked by a technician performing the procedure, or patients trying to fill a prescription for PrEP for HIV prevention being denied service at a pharmacy.
"This type of discrimination is routine, and as health care providers we are obligated to do better and to rectify a history of upholding barriers to health and well-being," Shafi said.
According to a 2017 survey conducted by the Center for American Progress, about 29 percent of transgender people reported being denied health care because of their actual or perceived gender identity. Eight percent of survey respondents reported being denied health care because of their sexual orientation.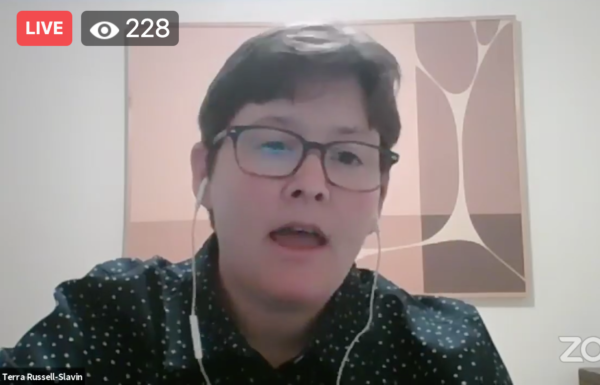 Terra Russell-Slavin, deputy director of the Policy and Community Building Department at the Los Angeles LGBT Center, said on the Zoom call the Trump administration rule change is particularly reprehensible during the coronavirus pandemic.
"Many of our clients come to the center because they face discrimination and dehumanization when they seek basic medical care from other providers," Russell-Slavin said. "That our government would seek to restrict access to care during a worldwide pandemic is yet another attack on their humanity."
It should be noted that regardless of the outcome of the lawsuit, the underlying law on which the HHS rules are based, Section 1557 of the Affordable Care Act, is still in place, as is its language prohibiting discrimination on the basis of sex in health care. If LGBTQ people feel they experienced discrimination in health care, they can still sue in court, even if they can't take it up with the HHS Office of Civil Rights under the Trump administration regulations.
One wrinkle in the lawsuit against the Trump administration is an injunction issued in 2016 by U.S. District Judge Reed O'Connor in Texas against the Obama administration's trans-inclusive interpretation of the law.
The U.S. government was enjoined from enforcing the rule regardless of an administrative rule change in the back end. The Trump administration had the opportunity to appeal that injunction, but declined.
But if the injunction against Obama-era trans-inclusive interpretation of the law stays in place, and the district court in D.C. issues an injunction against the Trump administration reversal, what action should HHS take?
Gonzalez-Pagan, asked about potential conflicting injunctions by the Washington Blade, acknowledged higher courts may have to adjudicate conflicting injunctions to resolve them.
"Certainly if there are competing injunctions, we can see this move up to higher levels of courts, whether it's a court of appeals, or at some point, even SCOTUS, if they so decide to take this case," Gonzalez-Pagan said.
Each of the plaintiffs in the case are organizational plaintiffs or representatives of those organizations. One of them, the Los Angeles-based TransLatin@ Coalition, has members who say they've experienced discrimination in health care firsthand.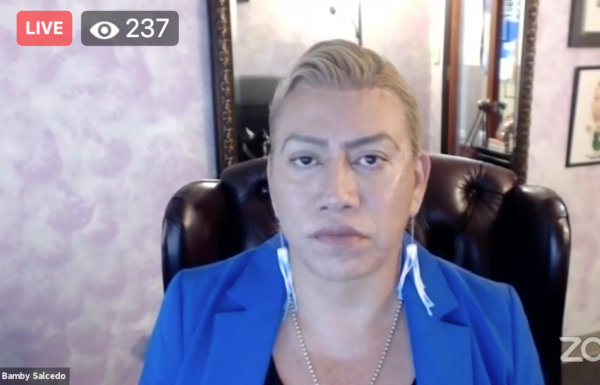 Bamby Salcedo, founder of the TransLatin@ Coalition, said she experienced discrimination in health care because she's transgender, which is noted in the complaint.
"I myself as a trans Latina immigrant, and undocumented, has experienced discrimination while trying to access health care," Salcedo said. "Not just myself, but Arianna Lint, as she was mentioned, but many members of our organization across the country have stated to us that they have been discriminated against while trying to access health care."
An HHS spokesperson declined to comment on the lawsuit, citing a policy of no comment on pending litigation.
Click here for more information on other trans cases waged by Lambda Legal, plus resource links. – Karen Ocamb contributed to this story.