Trans flag power-washed off WeHo intersection angers trans activists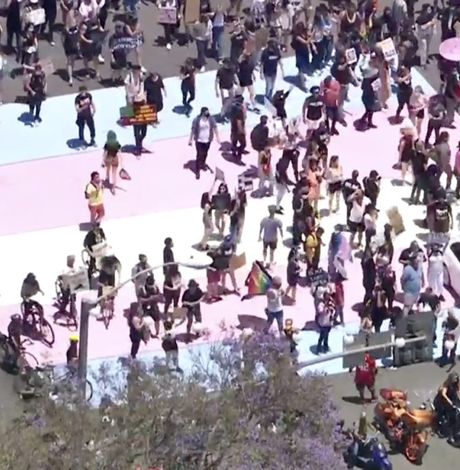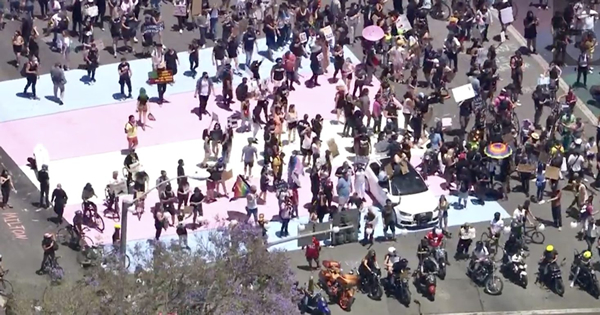 A large trans flag painted at the culmination of the All Black Lives Matter march on June 14 was removed by the West Hollywood Public Works Department. The surprise art work at the  intersection of San Vicente and Santa Monica Blvds was power-washed off the street as part of "routine maintenance and ongoing graffiti removal efforts," a source told the Los Angeles Blade.
Apparently, the department was unaware of the growing controversy over the trans flag. They received neither word to leave it untouched nor word to remove it. The LA Blade has also learned that the WeHo Sheriff's station had been notified about the art installation for the unpermitted march and visibly posted two squad cars to ensure there were no safety incidents.
The controversy first erupted when WeHo Councilmember John Duran, who participated in the march, arrived at the intersection and was surprised to find the flag installation. No one had sought a permit nor had regular protocols and procedures been followed to get one in advance of the long-publicized march.
Duran and Councilmember Lauren Meister expressed concerns at the Monday night City Council meeting  about the flag and took issue with the illegal flag painting and that traffic control had been provided by the nearby Sheriff station deputies to protect the unauthorized late-night painting crew.
Additionally, Duran argued at the council meeting, the presence of Mayor Lindsey Horvath gave the appearance of the city's tacit approval.
Duran pointed out that when the City wanted to paint the Rainbow flag in the intersection, the California Department of Transportation (CalTrans) who has jurisdictional control over Santa Monica Blvd., rejected the proposal, saying no symbols or artistic expression outside of traffic control markings were allowed. The City then temporarily painted the sidewalks with rainbow colors for June Pride in 2012. Despite some public objection at the cost to maintain the flag, the city council subsequently approved making the installation permanent.
The controversy over the trans flag installation seemed moot after the Public Works street maintenance crew power-washed the flag off the intersection. A City source told the LA Blade that no instructions had been specifically given to Public Works by any City Council member nor had any instructions been given to leave the flag in place.
On June 22, City spokesperson Joshua Schare sent an email to the LA Blade saying:
"Due to California state laws regulating traffic control, the City of West Hollywood was unable to leave this in place. The City must follow state laws establishing uniform standards and specifications determined by the California Department of Transportation (Caltrans), which prohibits signs or messages placed on the right-of-way by a private organization or individual.

The intersection has been restored to ensure public safety in compliance with state regulations.

The City of West Hollywood is steadfast and passionate about supporting transgender and gender non-conforming people. The City is outraged by the disproportionate impact of discrimination and violence experienced by transgender and gender non-conforming people and the City is deeply committed to amplifying voices, to raising awareness, and to creating spaces for education and empowerment.

Through its Transgender Advisory Board, the City regularly develops and co-sponsors programming. Flagpoles at the City of West Hollywood's Matthew Shepard Human Rights Triangle at Santa Monica and Crescent Heights Boulevards fly the pink-blue-and-white transgender flag, year-round."
Horvath confirmed that if the painting organizers had asked her, she would have proposed a temporary permit, which she believes the council would have approved.
"I am not aware of the Sheriff providing clearance to anyone. I do know our Sheriffs were there, protecting the peaceful protestors, and I truly appreciate them stepping up to protect our trans activists and their allies," Horvath wrote in an email to Los Angeles Blade publisher Troy Masters.
"That being said, I applaud the City's response to this demonstration, especially since it was not a permitted event. I am a proud ally of the transgender community, and I have marched in the streets in support of black lives. If the organizers of this flag painting action had come to me in time, I would have proudly drafted an agenda item of support for the Council to consider, and I would like to think the Council would have passed it."
Horvath continued: "We need to direct our energy to support activists who are fighting to protect black trans lives. We should focus our anger on the recent brutal murders of two black trans women, or the Trump Administration's erasure of healthcare protections for transgender people during Pride Month on the anniversary of the Pulse shooting. Better yet, maybe cisgender people can take a pause all together and listen to our transgender family, center their voices in this conversation, and empower their work."
Another controversy arose, however, when Duran tried to further explain why the City had no jurisdiction over the intersection or its content. After noting in his daily coronavirus daily update on June 16 that the installation organizers had not sought nor received City approval and that two previous City reports had noted the cost of maintaining an art installation on a highly trafficked street, Duran stressed the City's lack of control over the ability to regulate Free Speech.
"Finally – although we may agree with the message of this expression for transgender equality – we would not agree with the placement of a confederate flag, or a Greenpeace symbol or any other random expression in the middle of our public streets without public input, proposal competition and a decision made at a public meeting," Duran wrote.
"So while I understand that the painting on the street is part of the symbolic protest for Trans Equality – we are left with the choice to either let it fade over time and look horrible for many months or restore the corner to its original form."
Duran added, "if we allow this to stand and possibly continue – we may not like the next painted message another group paints on the asphalt. If we remove one mural yet allow the other to remain – now we, the government, are regulating content in expression. And that's a big No No."
Any future decision about what to do "on those 4 corners at Santa Monica Blvd and San Vicente" will involve lots of ideas and community input, he wrote.
Chela Demuir, Founder and President of the LA-based Unique Woman's Coalition, issued a public "Hey John Duran" letter saying Black LGBTQ+ Activists for Change took exception to Duran's viewpoints.
Demuir excoriated Duran, reminding him of the history of the Gay Liberation Movement and the Stonewall riots that "made it possible for the City of West Hollywood and other LGBTQ+ cities like it to be what they are today. You may be disconnected from this reality; however, that reality is history—our history, your history," she wrote in the public letter emailed June 20 to the LA Blade. "And because of that, we will hold you accountable to our foremothers and forefathers whose sacrifices you benefit from today."
Demuir challenged the whole historic notion of "Boy's Town" during "this time of liberation and civil unrest," as Black people and the Black trans community are both "standing up to injustices and exclusionary systems" around the world.
"You mentioned the intersection of Crescent Heights and Santa Monica Boulevards as a substantial and symbolic space for trans people. However, if we look at the amount of geographic and metaphorical space occupied by gay men, including an area where the trans flag was installed referred to as 'Boys Town,' you know as well as anyone else the lack of adequate safe spaces for trans citizens is yet another oversight of the City of West Hollywood," she wrote.
"Another element which quite frankly speaks to your tone-deafness to LGBTQ+ issues at large (which you a part) is your equating the transgender flag to the Confederate flag, a symbol of white supremacy, exclusion and oppression," Demuir wrote, referencing  Duran's Facebook post about government not regulating speech. "The transgender flag remains a symbol of inclusion and visibility for a part of the LGBTQ+ community which has historically been excluded; and, to be clear, this in comparison is a Trump tactic used to spotlight your 'concerns' from a blatant prejudiced and exclusionary perspective."
The Black LGBTQ+ Activists for Change asserted in the letter to Duran: "Your past and current actions, sentiments, and lack of leadership have shown the City and the community that you do not represent LGBTQ+ people, aim to erase the trans community, and are a poor representative of the city and its residents, businesses, and guests."
They demanded Duran's resignation from the West Hollywood City Council and promised to take action against him.
Duran – who started his legal career defending LGBTQs and ACT UP in Orange County and LA in the late 1980s and has served on the boards of LIFE Lobby, ANGLE, Equality California and the National Association of Latino Elected Officials —did not respond to a request for comment.
Karen Ocamb contributed to this story.
Monét X Change joins Kiva to Celebrate Pride
Kiva, the sought-after cannabis brand, is following through once again with their second annual partnership with world famous drag superstar Monét X Change.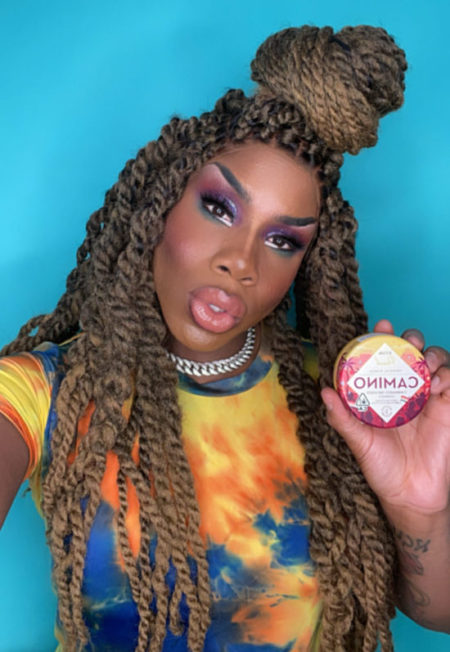 LOS ANGELES – 'Tis the season of rainbow sponsorships. Pride partnerships between companies of all sizes and queer celebrities of all caches abound. In the whirl of Pride collabs, it's important to know which companies are for real.
Kiva, the sought-after cannabis brand, is following through once again with their second annual partnership with world famous drag superstar Monét X Change. Monét went Live on Kiva's Instagram Thursday evening, hosting a candid conversation with viewers on Pride, cannabis and how the two are intertwined.
On her Instagram Live, Monét started off the bat by calling out other companies who "slap on a rainbow" and call it a day. Kiva is not one of those companies. This Pride month, Kiva has made donations to GLAAD and has pledged to continue their involvement and support of the LGBT+ community year-round, something with Monét cited on Live as especially noteworthy.
GLAAD is an internationally recognized LGBT+ organization that works ubiquitously in the worlds of entertainment, news, and digital media to accelerate acceptance and celebrate LGBTQ+ stories.
Monét X Change gained fame on the 10th season of RuPaul's Drag Race, where she won Miss Congeniality. She went on to win (in a tie) the fourth season of RuPaul's Drag Race All Stars. Working her way to the top of the industry, she is now regarded as one of the most popular and successful queens to come out of the show, frequently partnering with her pal from New York, Season 8 winner Bob the Drag Queen.
You can now find Monét everywhere in almost every facet of the entertainment world. Most recently, Monét released "Love Like This" – a beachy bop with a fresh queer Caribbean sound.
Joining Monét's Kiva live stream was a colorful bunch of up and coming New York queens, including the in-demand Jacklynn Hyde, her leggy New York sister Tina Twirler and the crown-snatching Sabbyiana.
Back by popular demand, Kiva is relaunching the much asked for Tropical Punch Camino Gummies. These fruity little edibles are a Pride spin-off of Kiva's popular line of Camino gummies. A light, refreshing edible with 5mg THC per dose perfect for Pride month.
LA Pride breaks silence announces 'Thrive with Pride'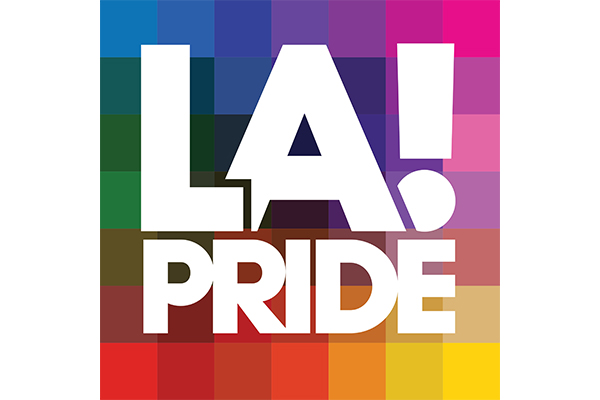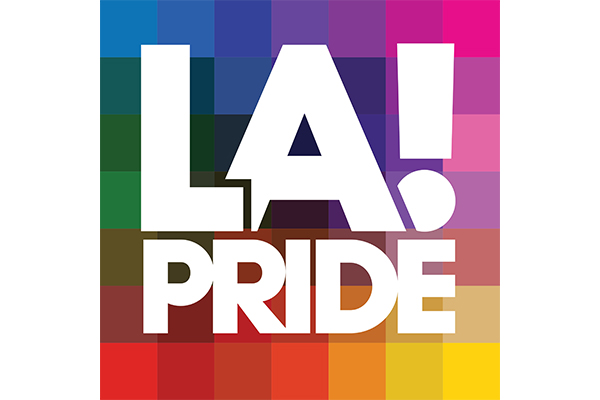 LOS ANGELES – After weeks of 'stay tuned' on its website and no real engagement with the media or the LGBTQ community, Christopher Street West Association Inc. the nonprofit organization that produces the annual LA Pride celebration announced its planned June programming for LA Pride 2021 on Thursday.
Pride 2021 activations are themed around the daily reminder to Thrive with Pride.
LA Pride weekend will kick-off on Thursday night, June 10th with a concert exclusively presented by and live streamed on TikTok featuring hyper-pop diva Charli XCX and a showcase of up and coming LGBTQ+ performers across genres. In-person concert opportunities are not available at this time. Fans and followers can follow @tiktokforgood and @lapride on TikTok for updates and advanced promotions.
Further, a televised special titled "Thrive with Pride Celebration" is set for Saturday, June 12th airing 9:00pm-10:00pm PDT on ABC 7 Los Angeles, the most-watched station in Southern California, will feature special guests, performances and LA Pride honorees.
"To thrive means to flourish and progress despite the circumstances. Pride this year is a moment for you to stop and breathe," said Sharon-Franklin Brown, CSW board president. "It's a moment to remember you're not just surviving one of the hardest years in recent memory, but growing into your truth. This is why we were so intentional in our planning. We want to bring a moment of celebration, a moment to highlight the community, and an opportunity to give back. If we as a community can come together, even for a moment, to realize we've broken down some barriers put on us, it'll strengthen our resolve to continue tearing more down for those to come after us."
"After an unprecedented year of challenge and struggle, I am so pleased that this year's pride festivities embrace the spirit of the first pride parade and our activist roots," said Los Angeles City Councilmember Mitch O'Farrell. "By bringing together LGBTQ+ communities from every corner of our City, we will uplift all voices and elevate the important work of the icons of the LGBTQ movement who sacrificed everything in their young lives at the time so we can all celebrate together in 2021. With a mix of virtual and potential in-person events, this year's festivities will keep our community safe and connected while providing every Angeleno an opportunity to embrace giving and volunteerism."
In recognition of the incredibly difficult work Los Angeles social justice and non-profit organizations have put into achieving equity, actionable change and stability, LA Pride will launch a 30-day give back campaign to support these efforts. Pride Makes a Difference will highlight opportunities for Angelenos to sign up to either volunteer, or donate goods and/or money to local organizations in Los Angeles County. Pride Makes a Difference is a new program in conjunction with Big Sunday. As part of these new efforts, drop off locations will be set up all throughout Los Angeles. A list of selected local organizations and drop off sites will be available soon to choose from, as well as the sign-up details and commitment.
"Our utmost priority in whatever we're doing to celebrate Pride this year ensures safety and follows CDC-approved pandemic guidelines," continued Brown. "That's why we're announcing this programming first. Any potential in-person celebratory activations will be announced at a later date in the coming weeks. The more we put safety first, the more likely we're able to plan big physical events in the future, including Pride 2022, where we can celebrate who we are, where we came from, and where we need to go."
LA Pride 2021 looks to be virtual with limited in-person events- maybe?
There have not been any announcements for plans for Pride month events in June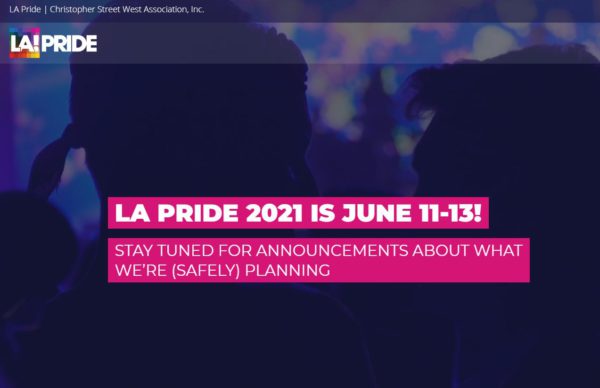 LOS ANGELES – The months April and May are usually crunch time in planning for Pride events in any year, however the impact of the coronavirus pandemic has shut down larger scale in-person gatherings as well as restricted smaller events in both outdoor and indoor venues.
This year, however, remains a question mark and so far there's been no concrete planning announcements.
Last week, California Governor Gavin Newsom announced that as the state has surpassed a major milestone in the fight against COVID- administering more than 20 million vaccine doses, including 4 million in the state's hardest-hit communities, officials intend to fully reopen on June 15.
However, common-sense health measures such as masking will remain across the state. Testing or vaccination verification requirements will remain in relevant settings.
All sectors listed in the current Blueprint for a Safer Economy grid may return to usual operations in compliance with Cal/OSHA requirements and with common-sense public health policies in place, such as required masking, testing and with vaccinations encouraged.
Large-scale indoor events, such as conventions, will be allowed to occur with testing or vaccination verification requirements.
Pride would fall into the latter category.
A spokesperson for The Los Angeles County Department of Public Health echoed the governor's announcement but stressed there were science and data driven caveats to modification of the Public Health Order allowing large-scale events and that systems would be required in place to protect the public's health.
A majority of Pride events in 2020 were either cancelled outright or moved online as California was under strict 'Stay-At-Home' orders.
This year, even with the governor's announcement there have not been any announcements for plans for Pride month events in June. The Blade reached out to the both the City of West Hollywood and Christopher Street West which runs LA Pride seeking information.
In an email, a spokesperson for the City of West Hollywood said that it is anticipated that the West Hollywood City Council will receive an update on programming for the celebration of LGBTQ Pride 2021 at its regular City Council meeting on April 19, 2021.
'At this time, the City of West Hollywood remains in a declared local emergency in order to respond to the COVID-19 pandemic. Despite extraordinary progress in vaccinations and in opening certain sectors of the economy, COVID-19 community transmission remains a top concern to the City and to local health officials; this year there will be no large in-person gatherings, including the events we typically see in West Hollywood during Pride festivities," Sheri A. Lunn, the Public Information Officer for City of West Hollywood told the Blade.
"Gov. Newsom's announcement to fully open its economy is conditioned on the state meeting two criteria: 1) sufficient vaccine supply for Californians 16 years and older who wish to be inoculated, and 2) stable and low hospitalization rates. In planning ahead, the City must anticipate shifts in the timing of these policy changes and plan accordingly to ensure the health and safety of residents, business community members, and visitors," she added.
For Pride 2021, the City of West Hollywood will host its annual One City One Pride LGBTQ Arts Festival, which will take place with a series of virtual events that will run from Harvey Milk Day (May 22) through the end of June Pride month (June 30). The City plans to work with the West Hollywood Chamber of Commerce to encourage and promote the efforts of West Hollywood's business community during Pride season this year to celebrate in accordance to regularly revised guidelines established by the Los Angeles County Department of Public Health.
So far there has been no comment nor statements from LA Pride/Christopher Street West nor has the organization returned phone calls from the Blade regarding plans for Pride.
On its website the organization simply says "Stay Tuned."
The Blade also reached out to several businesses and a couple of LGBTQ organizations, all of which said that there had been no news or announcements for Pride planning as of this week.