June 27, 2020 at 10:45 pm PDT | by Troy Masters
Palm Springs gay bars lead precautionary Covid-19 closures
BREAKING NEWS:  Return to this story for updates. PALM SPRINGS —
All bars have now been ordered closed in several SoCal Counties by order of Governor Newsom.
The following story is interesting because it shows how a few responsible entrepreneurs showed leadership and good sense.
As Covid-19 surges in Southern California, Palm Springs gay bars have begun closing their doors after employees at two bars tested positive for coronavirus.
Hunters Nightclub (302 E Arenas Rd) and Streetbar (224 E Arenas Rd) in Palm Springs have announced they will be closed for at least two weeks, both saying that because other employees — and presumably bar goers — were in close contact with the infected employee staff-wide testing and quarantine measures will be implemented immediately.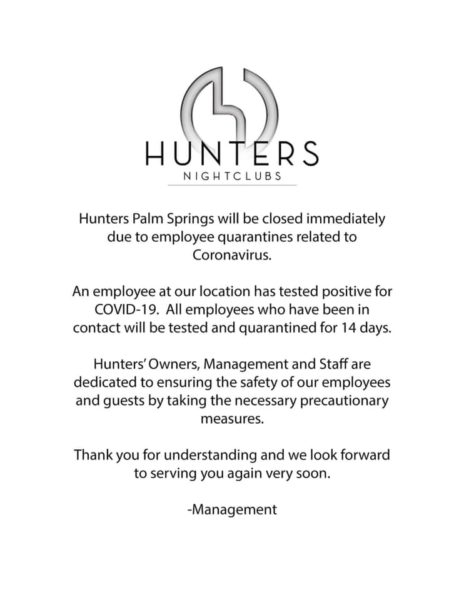 In a statement, Hunters Nightclub announced that for the safety of employees and guests "all employees will be tested and (voluntarily) quarantined for 14-days."
Streetbar also announced closure because an employee had tested positive.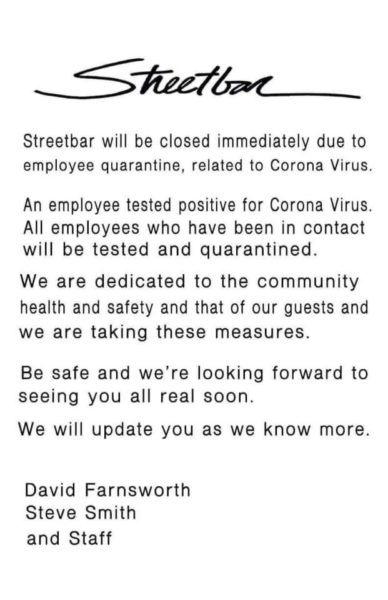 A third bar, Chill Bar Palm Springs (217 E Arenas Rd) has closed in solidarity and with a logical community wide warning about the hazards of working in the service industry, an industry on which Palm Springs' economy relies almost entirely.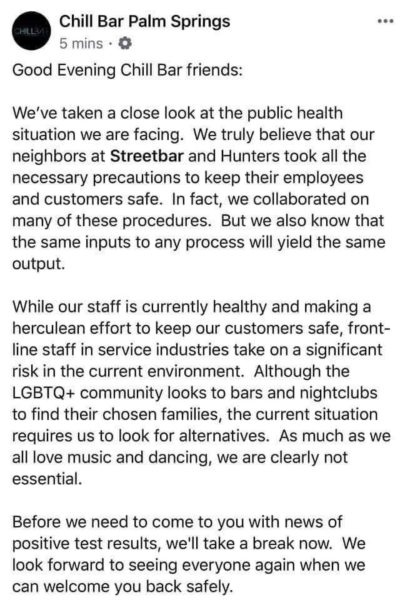 "While our staff is currently healthy and making a herculean effort to keep our customers safe, frontline staff in service industries take on a significant risk in the current environment."
Reopening of hotels, restaurants and bars had begun recently and the closures represent a significant business setback.
The City of Palm Springs has reported 268 cases and 16 deaths, however Riverside County has reported more than 15,643 cases and 438 death and that number has risen dramatically in the past few days.
The county has also experienced an increase in positivity rates, the percent of all tests that result in a positive test. A number greater than 4 percent is concerning because it indicates a quickly moving viral event.  That number now stands at 10.5 percent.
Nearby San Bernardino and Imperial County are both experiencing dangerous community spread as the percentage of people testing positive is rising. San Bernardino County's positivity rate is 10 percent and nearby Imperial County is experiencing an astounding 20 percent positivity rate, a number that is considered an extreme emergency.
Los Angeles County is also experiencing a dangerous rise in positivity rates at 10.7 percent.