June 28, 2020 at 12:30 pm PDT | by Brody Levesque
Governor Newsom orders bars and nightspots closed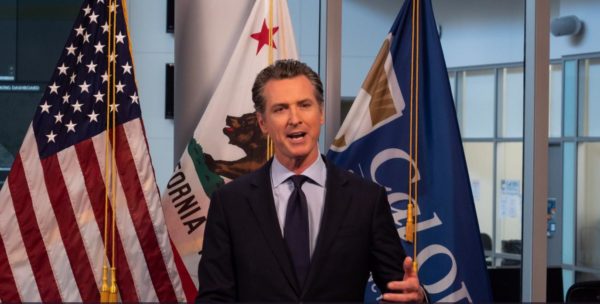 SACRAMENTO- Citing the rapid pace of COVID-19 that has spread in certain parts of the state, California Governor Gavin Newsom ordered seven counties including Los Angeles to take action and to immediately close bars and nightspots that are open. The Governor additionally recommended eight other counties take action on their own to close those businesses.
The orders are required in the following counties: Los Angeles, Fresno, Kern, San Joaquin, Tulare, Kings and Imperial.
"Californians must remain vigilant against this virus," said Newsom. "COVID-19 is still circulating in California, and in some parts of the state, growing stronger. That's why it is critical we take this step to limit the spread of the virus in the counties that are seeing the biggest increases.
Each of us has the power to limit the spread of this virus. Wear a face covering and keep physically distant outside the home. Don't gather in groups, and if you are older or have a condition that puts you at higher risk of COVID-19, protect yourself by staying home."
Covid-19 Positivity Rates, the percentage of all people who take the test and who who test positive, has escalated to emergency levels.
Los Angeles County is reporting a 10.7 percent positivity rate; Fresno is reporting a 26.4 percent rate; Imprerial, 20.0; Kern, 10.1; Kings, 19.1; San Joaquin, 16.7; and Tulare, 12.1.
Several counties are seeing extreme occupancy of ICU beds at hospitals.
Eight other counties are urged by state officials to issue local health orders closing bars: Contra Costa, Santa Clara, Sacramento, Riverside, San Bernardino, Ventura, Santa Barbara and Stanislaus.
"California is using data and science to guide our response to COVID-19. We are actively monitoring COVID-19 across the state and working closely with counties where there are increased rates and concerning patterns of transmission. Closing bars in these counties is one of a number of targeted actions counties are implementing across our state to slow the virus' spread and reduce risk," said Dr. Sonia Angell, Director of the California Department of Public Health. "We all have our part in the fight against community spread of COVID 19. If you go out then remember, wear a face covering, keep your distance and wash your hands frequently."
The Los Angeles County Department of Public Health (LA County Public Health) has announced that its Health Officer Order will be amended to require that all bars, breweries, brew pubs, pubs, wineries, and tasting rooms close unless they are offering sit-down dine-in meals. This includes closing bar areas in restaurants.
According to LA County Public Health, there has been a sharp increase in new COVID-19 cases and hospitalizations. The timing of these increases is in line with the reopening of key sectors, including bars, which are places where people remove their face coverings to drink while they may be socializing with people not in their households.
It should be noted that at least 3 bars in Palm Springs, Hunters, Streetbar and Chill Bar, gay bars on Arenas Road in downtown Palm Springs, announced before this directive that they would close their doors after 2 employees at those bars tested Covid-19 positive.
Other business categories, like office workplaces, restaurants and retails are not currently impacted but an emergency move on Sunday indicates more to come.