June 25, 2020 at 7:46 pm PDT | by Brody Levesque
COVID-19 LGBTQI+ data collection bill passes CA Senate, heads to Assembly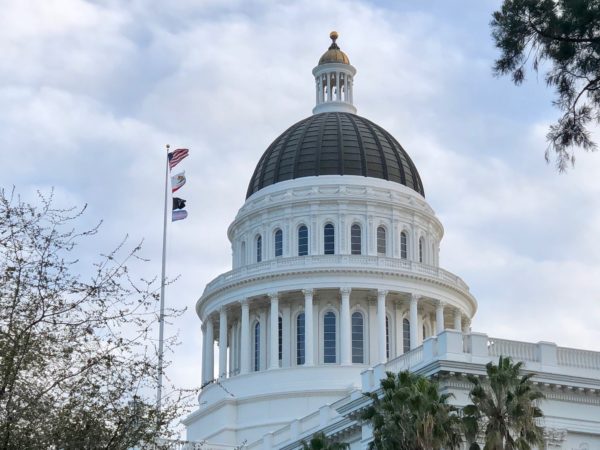 SACRAMENTO — A bill that requires public health officials across California to collect data points on LGBTQI+ people affected by the Coronavirus (COVID-19) pandemic passed its first legislative hurdle Thursday as the state Senate passed SB Bill 932.
The bill authored by State Senator Scott Weiner and co-sponsored by LGBTQI rights organization Equality California requires the collection of voluntarily provided sexual orientation and gender identity data for all COVID-19 patients, which would allow public health officials and government and community leaders to understand whether similar disparities exist within the LGBTQ+ community. As with all demographic data, no one will be required to answer these demographic questions, though every patient will be asked
In an emailed response to a request for comment by the Los Angeles Blade Thursday evening, Weiner noted;
"SB 932 is essential in helping us understand how the LGBTQ community is being impacted by COVID-19. LGBTQ people have heightened risk factors for this virus, yet we don't collect this health data and have missed the opportunity for months. The history of LGBTQ people is a history of attempted erasure, in our health care system and in society. This erasure must stop, and collecting data is essential to end it."
"California's response to this crisis has been data-driven — and rightly so," Equality California Executive Director Rick Chavez Zbur said in an emailed media release. "Our government has set a national example of how to use data and science to meet this moment. But if LGBTQ+ people are left out of the data, then we'll be left out of the response. Every day that passes, we lose critical, valuable information that could save lives. We will never get that information back. We're grateful to the Senate for passing SB 932 and hope the Assembly will work quickly to send this emergency bill to Governor Newsom and that he will sign it."
Both Senator Weiner's office and Equality California highlighted to the Los Angeles Blade that the state is already collecting data on race, age, and sex with respect to cases of COVID-19 — data that has revealed deep disparities in both infection and fatality rates among Black and Latinx Californians.
A spokesperson for Equality California noted in the media release that, "If LGBTQ+ people continue to be left out of COVID-19 data, then outbreaks within the community can't be detected and government and public health officials can't take action to prevent COVID-19-related deaths. In addition to urging the California Legislature to pass SB 932, Equality California and other LGBTQ+ advocates have asked state and local elected officials and public health leaders to take immediate administrative action to begin collecting sexual orientation and gender identity data."
Because rates of respiratory issues (from smoking), HIV/AIDS, cancer, and homelessness are higher in the LGBTQ+ community, LGBTQ+ people are likely experiencing greater health impacts from COVID-19 according to studies by the Williams Institute.
In Los Angeles County, Supervisors Kathryn Barger and Sheila Kuehl have been finding a way to collect LGBTQ data locally, through the LA County Department of Public Health COVID portal.
On Thursday, June 18, Kuehl and the County announced that SOGI questions are now being included in the general questionnaire asked of all people seeking an appointment to test for the coronavirus. This is the same questionnaire used by providers asking data questions on race, age, and sex.
"LGBT people experience disproportionate rates of underlying illness, poverty, homelessness, and discrimination," Kuehl said in a statement to the Los Angeles Blade. "That's why it's so important that we capture sexual orientation and gender identity information as people get tested for COVID-19. Knowing how COVID-19 is affecting LGBT populations will allow us to appropriately allocate resources and address needs within the community. I'm very grateful to the many people in government and local nonprofits who worked quickly to make sure we could start this data collection as quickly as possible."
"I want to thank LA County for their leadership on collecting SOGI data," Wiener told the Blade. "This is a great first step, but we need to see action on the state level and make sure that all health providers are collecting this data, not just LA County providers. I look forward to working with Equality California to pass SB 932."
"We are working closely with Supervisors Kathryn Barger and Sheila Kuehl's office as they begin the collection of data on sexual orientation and gender identity in Los Angeles City and County," Zbur told the Blade. "Los Angeles has been a champion on this issue and we look forward to the California legislature and other counties following their lead, ensuring that our LGBTQ+ community is not left behind in the COVID-19 response."
The SB Bill 932 is co-authored by all members of the California Legislative LGBTQ Caucus, as well as Assemblymember David Chiu (D-San Francisco), and co-sponsored by Equality California and the California LGBTQ Health and Human Services Network.
Additional reporting by Los Angeles Blade News Editor Karen Ocamb.