July 18, 2020 at 12:46 pm PDT | by Karen Ocamb
John Lewis expanded my conscience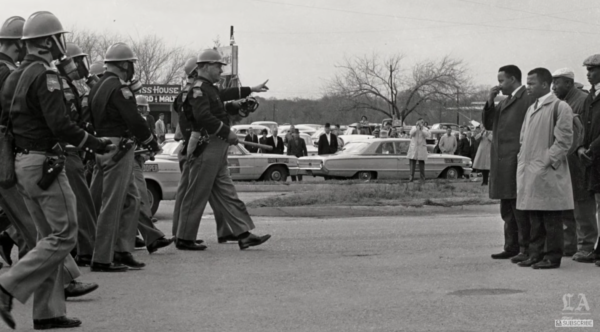 Since John Lewis passed away last night, I've been sharing the loving thoughts of others honoring this gentle moral giant. So let me take a moment and share some of my own.
I remember watching John Lewis as the civil rights struggle unfolded on our little black & white Admiral TV. I was 15 in 1965 and there was this young Black man with a backpack, just 10 years older than me, standing on the frontline in this terrifying battle against cops, hate and white supremacy.
I was one of the JFK "ask not" kids so through the TV, John Lewis was essentially holding up a mirror asking my conscience: what are YOU doing to fight against hate? I had no power but at least I could become more aware and consciously think of others. My conscience expanded from the Jesus-centric teachings of Sunday school to a deeper understanding of social justice. I discovered that I liked confronting hatred with love in common cause with others.
Decades later, I brought my friend Jewel Thais-Williams with me to a 2013 Pride reception at the White House (thank you, Jeremy Bernard) so she could meet America's first Black President, BarackObama. We both also got to meet Rep. John Lewis and it turned out, though Jewel and I have very different life journeys, our experiences were very similar when it came to John Lewis.
"Some 60-plus years ago when I was a teenager, I wished I could march and be part of the civil rights movement," Jewel told me. She vicariously experienced the young people being hosed, beaten, and jailed, including Lewis. "So when I met him, there was a special kindred spirit of feeling like I knew him always. When they were beaten, I felt that."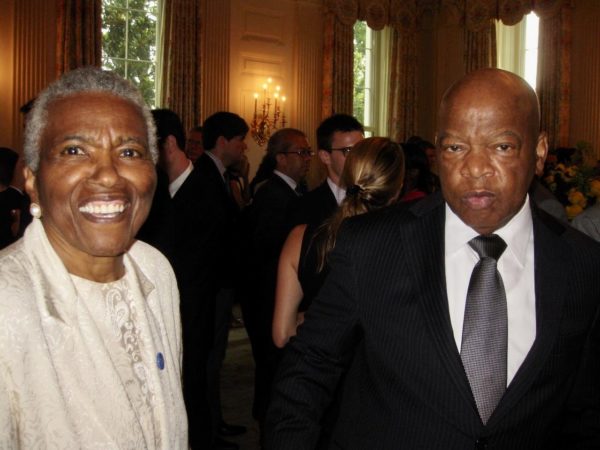 "He's one of my heroes," Jewel said. "It was a thrill meeting one of the legendary survivors of the 'Bloody Sunday' march that made it possible for Barack Obama to be in the White House."
And as a young member of those early civil rights efforts with Rev. Martin Luther King Jr., Coretta Scott King, and openly gay March on Washington organizer Bayard Rustin, Lewis also stood for LGBTQ rights, including the freedom to marry.
55 years after Bloody Sunday, as we look at the Friday deaths of civil rights icons John Lewis and Rev. C.T. Vivian, Black Lives Matter protests force police and criminal justice reform and confront voter suppression and tear gas again clouds American cities, I am heartened to see so many young people creating personal power and taking to the streets to demand justice and equality and a better democracy.
Just as Jewel and I grew up worlds apart and years away, we were each deeply impacted by John Lewis and we each acted on the moral impression he made. It is on such shared experiences that commonality can be created and unity forged.
One of John Lewis' last acts was to stand masked up with Muriel Bowser in Black Lives Matter Plaza in Washington DC. "Freedom is the continuous action we all must take, and each generation must do its part to create an even more fair, more just society," @MurielBowser quoted him as saying.
I believe that, too. And I'm so grateful to the young Black man – and the hundreds of others on that bridge and elsewhere for years – who inspired and taught me about justice, equality and color as a confused 15 year old glued to our black & white Admiral TV. Thank you.
Top photo of John Lewis facing racist cops during "Bloody Sunday" 1965 screen grabbed from an LA Times documentary on another organizer and marcher that day, Amelia Boynton Robinson.