Who will Biden pick for VP? 9 choices and their LGBTQ backgrounds
A snapshot of possible candidates and their records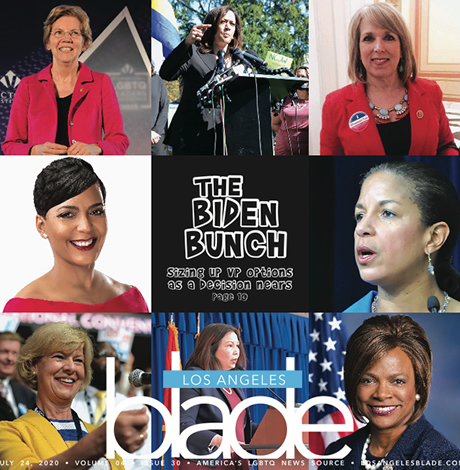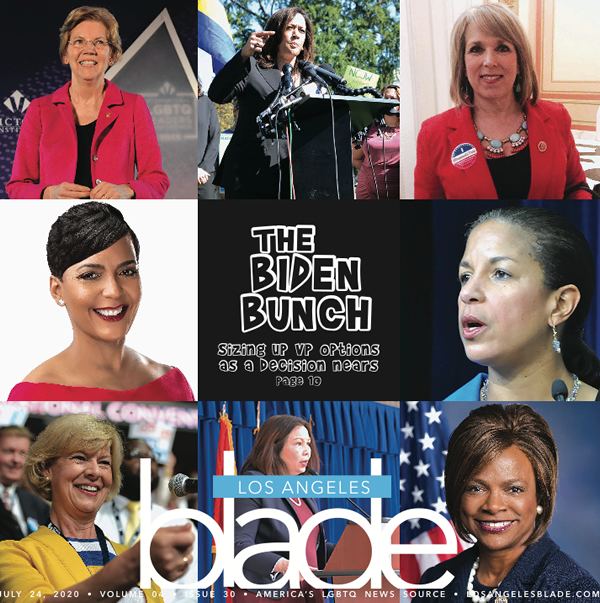 As the 2020 presidential campaign continues to heat up, Joseph Biden is expected to soon name his choice for a vice presidential running mate on the Democratic ticket. Biden has committed to naming a woman and is looking strongly at women of color amid a national awakening on racial justice after the killing of George Floyd.
Here's a roundup of possible choices and a snapshot of their backgrounds on LGBTQ issues:
Susan Rice
Notable offices held: U.S. ambassador to the United Nations, 2009-2013; National Security Adviser, 2013-2017
LGBTQ record: Rice promoted LGBTQ human rights issues as a component of U.S. foreign policy as U.S. ambassador to the United Nations, then national security adviser under President Obama. When Uganda was debating a "Kill the Gays" bill, Rice called leadership to get them to abandon the initiative and denounced the anti-gay comments from the president of Gambia. Rice also spoke out in an interview with the Washington Blade after the Pulse nightclub shooting in 2016, which led to the deaths of 49 patrons in the establishment.
Notable quote: "This is a jolt. What we are seeing sadly more recently is an infusion of hate-filled rhetoric into public discourse and a greater degree of attention being paid to it and then in some people's mind it becomes more acceptable." — Rice to the Blade in 2016 on the Pulse shooting
Tammy Baldwin
Notable offices held: Wisconsin state Assembly member, 1993-1999; U.S. House member, 1999-2013; U.S. senator, 2013-present
LGBTQ record: What hasn't she done? In 1998, Baldwin became the first out lesbian elected to Congress, then became the first openly gay person elected to the Senate in 2012. Baldwin has been a consistent leader on LGBTQ rights, pushing for a transgender inclusive Employment Non-Discrimination Act and the federal protections against anti-LGBTQ hate crimes. After her election to the Senate, Baldwin became a leader on the Equality Act, which would comprehensively ban anti-LGBTQ discrimination under civil rights law. Baldwin has also taken the lead on lower-profile issues, such as ending the ban on gay blood donations.
Notable quote: "We don't want to just live in a country where our rights our respected under the law, we want to live in a country where we are respected for who we are, where we enjoy the freedom and opportunity not because the Supreme Court gave us permission, but because we're Americans, and that's all there is to it." — Baldwin at DOJ Pride celebration in 2013
Tammy Duckworth
Notable offices held: Director of the Illinois Department of Veterans Affairs, 2006-2009; U.S. House member 2013-2017; U.S. senator, 2017-present
LGBTQ record: Tammy Baldwin isn't the only Tammy said to be under consideration for the VP slot. Elected to the House in 2012 and the Senate in 2016, Duckworth is a combat veteran of the Iraq war, the first Thai American woman elected to Congress, the first female double amputee in the Senate, and the first senator to give birth while in office. A favorite among progressive veterans, Duckworth has spoken out against President Trump's ban on transgender service members and recommended the nomination of lesbian U.S. District Judge Mary Rowland. She is a co-sponsor of the Equality Act to ban anti-LGBTQ discrimination.
Notable quote: "When I found myself sitting in that field, where we landed a couple hundred yards from where the bad guys were jumping in pickup trucks and headed toward us, and I was bleeding out in that aircraft, I didn't care if the guys risking their lives to save me were gay, straight, transgender, black, white, male or female. All that mattered was they had an American flag on their shoulder and they did not leave me behind." — Duckworth at DOD Pride event in 2019
Karen Bass
Notable offices held: California Assembly member, 2004-2010; U.S. House member, 2011-present
LGBTQ record: The current chair of the Congressional Black Caucus, Bass has a long history of activism going back to her work as a community organizer in Los Angeles during the 1980s, which included a firsthand experience with the devastation of HIV/AIDS at the peak of the epidemic. In her time in the California Assembly, Bass joined with leaders in the legislature to pass marriage equality legislation before it was vetoed by then-Gov. Arnold Schwarzenegger. Bass has embraced the Black Lives Matter movement, has supported the Equality Act to ban anti-LGBTQ discrimination and is considered the likely successor to House Speaker Nancy Pelosi.
Notable quotable: "I went through the AIDS crisis from its very beginning. I watched all of Santa Monica Boulevard get wiped out near Vermont (Ave.). That whole area there. I watched everybody die within a matter of two years." — Bass to the Los Angeles Blade in March
Val Demings
Notable offices held: Chief of the Orlando Police Department, 2007-2011; U.S. House member, 2017-present
LGBTQ record: Demings is relatively new to the national stage as a two-term member of the House, but has spoken out on LGBTQ issues. A former chief of police in Orlando, Fla., Demings drew on that experience to condemn anti-trans violence in an op-ed for The Hill newspaper, saying "an epidemic of anti-transgender violent crime is going unaddressed." Demings also supports the Equality Act to ban anti-LGBTQ discrimination.
Notable quote: "Political attacks and hate crimes against LGBTQ people are increasing right along with the divisive and hateful rhetoric. No place feels this more deeply than Orlando, where in 2016, 49 people were killed at the Pulse Nightclub. The shooting was the deadliest attack against the LGBTQ community in modern American history and remains one of the worst our country has ever experienced." — Demings in a 2018 op-ed for The Hill
Kamala Harris
Notable offices held: California attorney general, 2011-2017; U.S. senator, 2017-present
LGBTQ record: Since becoming a U.S. senator, Harris has resisted efforts to keep U.S. citizens from identifying themselves as LGBTQ in the 2020 Census; urged investigations into the death of transgender immigrant Roxsana Hernández, who died after being held in ICE detention; and called on the Justice Department to stop excluding transgender people from its enforcement of Title VII. But Harris also championed LGBTQ issues as California attorney general, declining to defend Prop 8 and marrying the first same-sex couple in California after courts struck it down. Critics, however, have taken issue with her defending California in refusing transgender surgery for prison inmates.
Notable quote: "I grew up in a community and a culture where everyone was accepted for who they were, so there wasn't a moment where it was like, 'OK, now let's let this person in.' Everyone was a part of everything. It was about community. It was about coalition building. It was about equality, inclusion. I mean, I had an uncle who was gay. [But] there was no epiphany" about gay people. — Harris to the Los Angeles Blade in 2018
Elizabeth Warren
Notable offices held: Special adviser for the Consumer Financial Protection Bureau, 2010-2011; U.S. senator, 2013-present
LGBTQ record: Warren sought to advance LGBTQ rights even before she took office as a U.S. senator, telling the Washington Blade she wanted to see former President Barack Obama support same-sex marriage, as his then-stated evolution continued. (Obama would come out for marriage equality months later.) In the Senate, Warren has introduced the Refund Equality Act, which would give gay couples a refund on back taxes they would have owed if not for DOMA. As a 2020 candidate, Warren said she'd read aloud as president the names of transgender people killed each year in the White House Rose Garden.
Notable quotable: "I want to see the president evolve because I believe that is right; marriage equality is morally right." — Warren in Washington Blade interview in 2012
Keisha Lance Bottoms
Notable offices held: Atlanta City Council, 2010-2018; Atlanta mayor, 2018-present
LGBTQ record: As mayor of Atlanta, Bottoms passed a resolution in 2019 calling on the state of Georgia to ban widely discredited conversion therapy. Earlier this year, Bottoms issued the city's first Biennial Report of LGBTQ Affairs, which highlights pro-LGBTQ policies, programs and initiatives under her administration of the city. Among the achievements cited in the report are the appointment of the first-ever city official on LGBTQ Affairs; the establishment of a diverse Mayoral LGBTQ Advisory Board; expanding access to PrEP; and bolstering financial support of local grassroots organizations to provide needed social services for LGBTQ people, such as housing for transgender people.
Notable quote: "Atlanta's LGBTQ community has long been an active contributor to the vibrancy of our city, and as mayor, I will ensure the city continues to balance the scale and take a more active role in contributing to the wellness of our LGBTQ residents and neighbors." — Bottoms in statement on first-ever LGBTQ report
Michelle Lujan Grisham
Notable offices held: Secretary of Health of New Mexico, 2004-2007; U.S. House member, 2013-2019; New Mexico governor, 2019-present
LGBTQ record: As New Mexico governor, Grisham signed a measure codifying into law same-sex marriage, which the state had as a result of a judicial decision in 2013, as well as legislation designating single-occupancy restrooms as gender neutral. Grisham has repeatedly expressed a commitment to LGBTQ rights and co-sponsored the Equality Act before she left Congress. Grisham faced a complaint from a former transgender intern who spoke out during the "Me Too" movement to allege discrimination in the congresswoman's office, although a spokesperson vehemently denied discrimination.
Notable quote: "I was an early advocate for the Hate Crimes Act and spearheaded efforts to recognize same-sex partners as legally qualified to make medical and healthcare decisions for their partners. New Mexico was the first state to include the provision in state law." — Lujan-Grisham in 2012, according to her House campaign website.
California voters give Newsom thumbs down on homelessness response
"I don't think homelessness can be solved – I know homelessness can be solved," said Newsom. "We are going all-in with innovative solutions"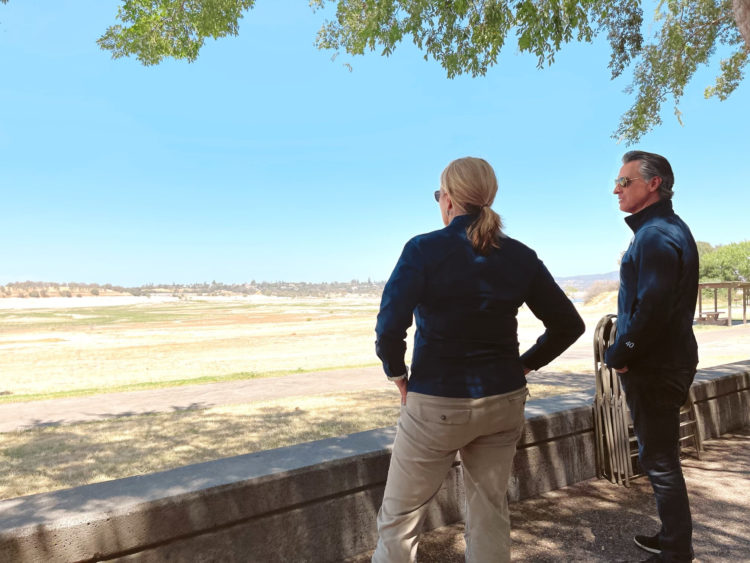 BOSTON – In a new poll released Friday conducted by Inside California Politics and Emerson College of more than 1,000 registered voters, half rated Governor Gavin Newsom's response to the homelessness crisis in California as 'poor.'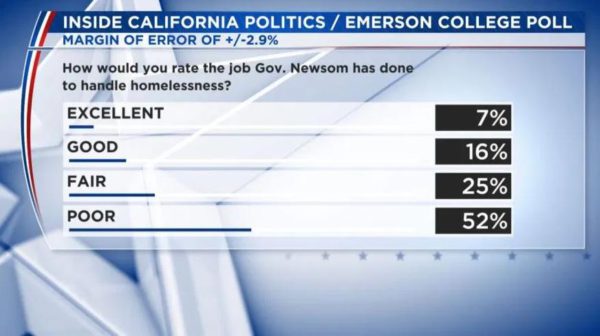 Newsom's low marks comes after an announcement earlier this week at a Project Homekey site located in Sebastopol, West of Santa Rosa, where he signed the largest funding and reform package for housing and homelessness in California history as part of the $100 billion California Comeback Plan. The package includes $10.3 billion for affordable housing and $12 billion over two years towards tackling the homelessness crisis head-on – helping tens of thousands of people off the streets while also demanding greater accountability and more urgency from local governments.
The new homelessness funding includes $5.8 billion to add 42,000 new housing units through Homekey – a national model for homeless housing. $3 billion of this investment is dedicated to housing for people with the most acute behavioral and physical health needs. This investment is the biggest expansion in decades in terms of clinically enhanced behavioral health housing in California.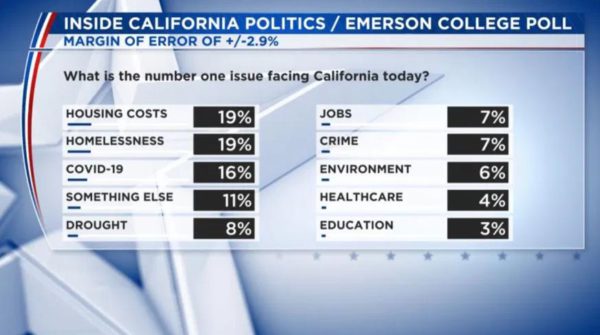 "I don't think homelessness can be solved – I know homelessness can be solved," said Newsom. "We are going all-in with innovative solutions that we know work – with a focus on creating housing to support people with severe mental health challenges, and with more money than ever to move people out of encampments and into safer situations."
California is home to more than a quarter of the nation's homeless people with an estimated 161,000 people are experiencing homelessness, according to federal government data, and it has reached crisis proportions in many cities, especially in Los Angeles.
Los Angeles Mayor Eric Garcetti announced in his annual State of the City address on April 19, 2021 that he will seek to spend nearly $1 billion on initiatives for addressing homelessness, as well as allocate $235 million for the city's Emergency Rental Assistance program, intended to help up to 100,000 households and other critical needs.
There are deep disagreements in how to solve a problem that goes beyond economics, advocates claim they can't house people quickly enough with a shortage of housing units and high rents. The issue is also further exacerbated by the complications of mental illness and addiction issues that require treatment and can make people resistant to accepting shelter.
Assembly race candidate amasses significant war chest 11 months out
Openly gay, Zbur has collected critical endorsements in the race, including125+ elected, community leaders & progressive organizations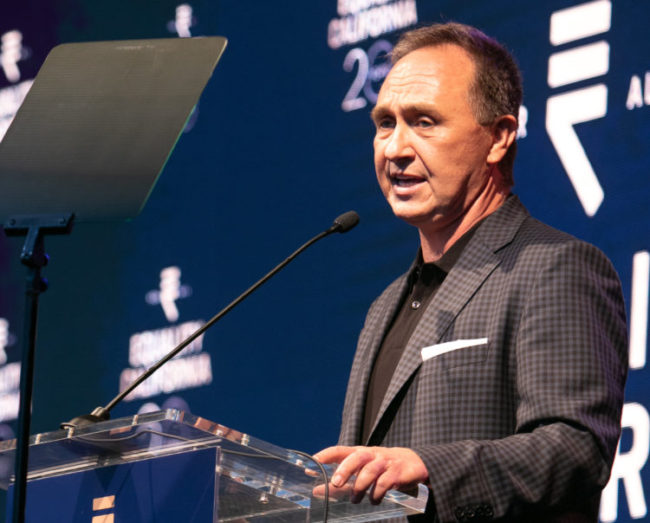 LOS ANGELES – The race for state Assembly District 50's seat by Rick Zbur, the outgoing head of the state-wide LGBTQ equality rights advocacy group Equality California, saw his campaign amass a significant campaign funds war chest total this past week.
A financial disclosure report from the campaign this week disclosed that Zbur had raised more than $615,000 through June 30, 2021, and will report $530,000 cash on hand approximately 11 months out from the 2022 primary.
In the race for the seat which is currently held by Assemblymember Richard Bloom (D-Santa Monica) who is running for the County of Los Angeles Board of Supervisors, Zbur's impressive fund raising could give him an edge over his fellow Democrat Sion Roy, a physician, who has not disclosed yet what his campaign has raised.
Openly gay, Zbur has been collecting critical endorsements in the race, including over 125 elected and community leaders, as well as influential progressive organizations. On Friday San Francisco Mayor London Breed added her endorsement of Zbur. [A complete list of Zbur's endorsements can be found here.]
There has not been an LGBTQ representative in Sacramento for the Western portion of Los Angeles County since 2008, when Sheila Kuehl left her Senate seat and later in 2014 ran a successful bid to become the Supervisor for the Third District on the County of Los Angeles Board of Supervisors.
"While it's still early and this is only the first of many key benchmarks that we plan to hit during this election, the depth and breadth of support we've received for this first fundraising report serves as a validation of our message of bold progressive leadership and the important work that we've already accomplished," Zbur said Wednesday.
Puerto Rico activists condemn police raid on LGBTQ-friendly bar
More than 20 officers descended on Loverbar near the University of Puerto Rico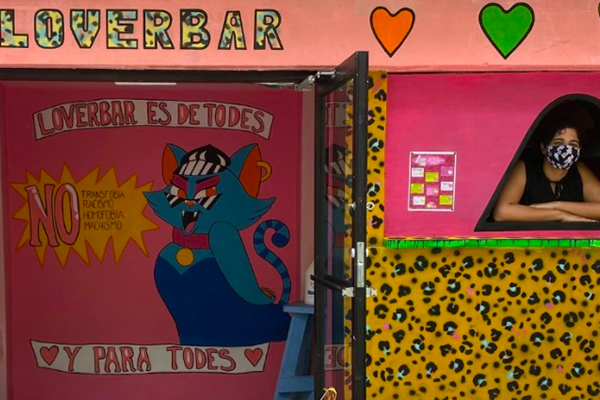 SAN JUAN, Puerto Rico — Activists in Puerto Rico have condemned a police raid on an LGBTQ-friendly bar that took place on Thursday night.
Local media reports indicate more than 20 officers with the San Juan Municipal Police Department entered Loverbar, which is near the campus of the University of Puerto Rico, at around 11 p.m.
A video posted to social media shows that some of the officers who entered the bar were armed with what appear to be shot guns.
Media reports cite local authorities who said Loverbar did not have the necessary permits to operate as a bar, and the officers arrived there to fine them. San Juan Mayor Miguel Romero in a statement said officers fined Loverbar and seven other businesses in the city on Thursday for either not having the necessary permits or excessive noise.
"The Municipal Police of San Juan led by Miguel Romero intervened last night with a queer bar," tweeted Pedro Julio Serrano, founder of Puerto Rico Para [email protected], a Puerto Rican LGBTQ advocacy group. "This reminds us of a time when LGBTQI+ people were prosecuted, criminalized and villified."
"We won't tolerate homophobia and transphobia in San Juan," added Serrano.

Comité Amplio Para la Búsqueda de Equidad (CABE), another Puerto Rican LGBTQ advocacy group, has called for an "exhaustive and independent investigation into the excessive use of force and intimidation by the Municipal Police of San Juan last night" at Loverbar.