Matthew Contreras picks up torch passed by John Lewis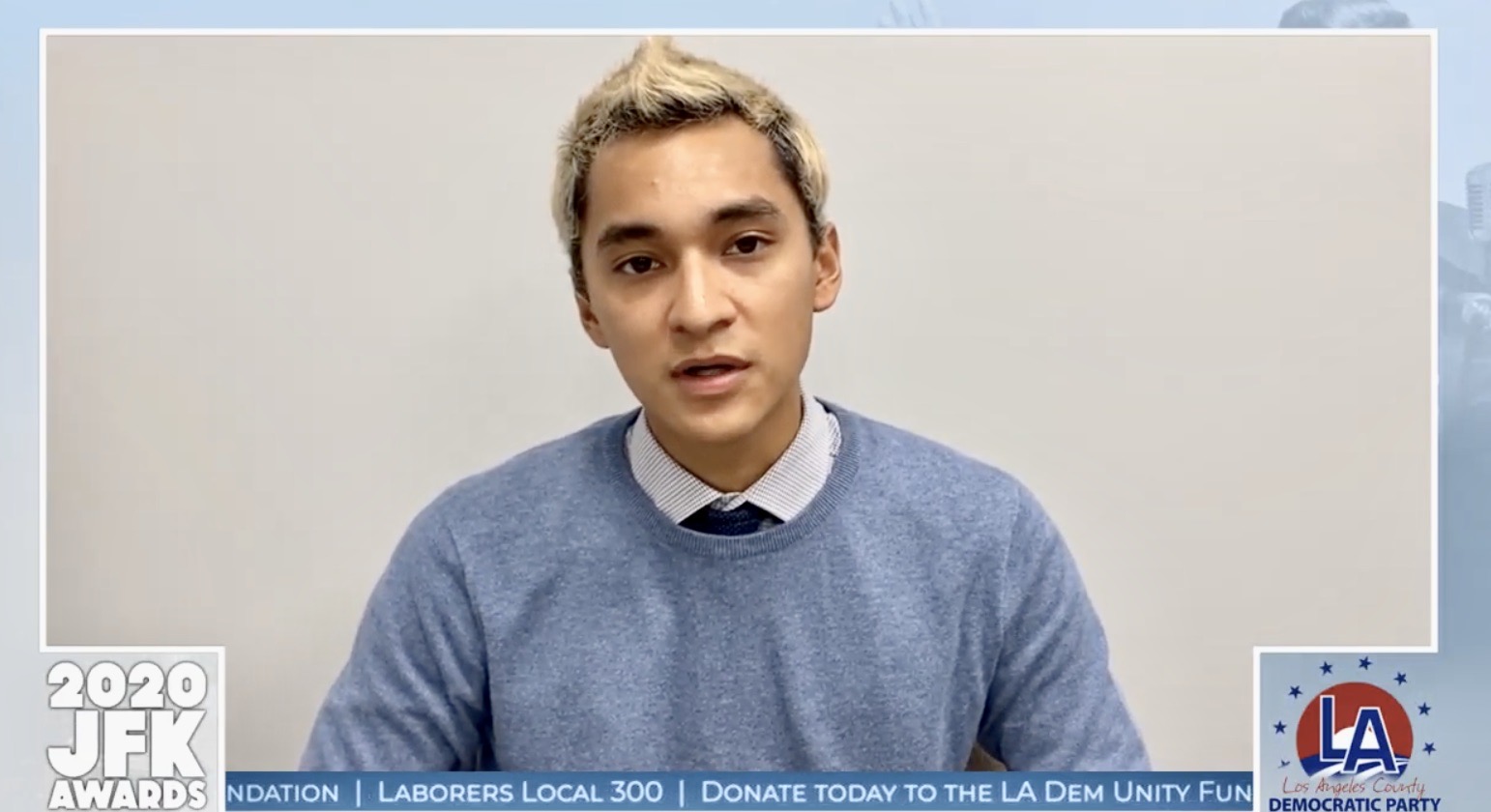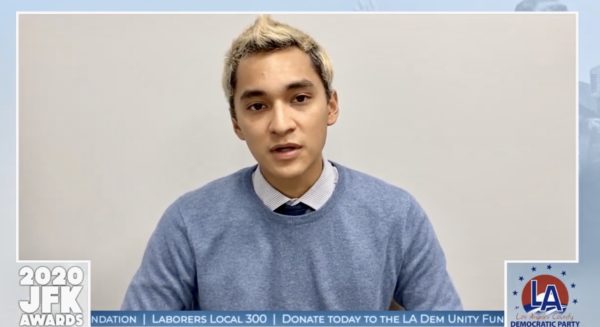 Los Angeles County Democratic Party honoree Matthew Contreras (Screen grab from JFK Awards 7-25-2020)
After civil rights icon Rep. John Lewis died July 17, woke people around the globe sang the praises of the humble leader born to sharecroppers in rural Troy, Alabama who, at 23, became the youngest speaker at the famous 1963 March on Washington and went on to become the "conscience" of the US Congress.
Lewis' spirit infused the virtual Los Angeles County Democratic Party's JFK Awards show eight days later, with California Democratic Party icon Roz Wyman, who won a seat on the LA City Council at 22, praising another civil rights hero and LACDP honoree Dolores Huerta as "my John Lewis of California."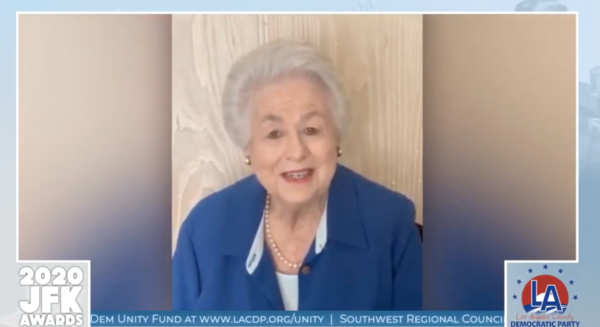 Wyman announced the recipients of this year's Roz Wyman Democratic Youth Leadership Award — "our future" — as Erica Liepmann, president of the LA County Young Democrats and Erica has a accountDigital Strategist for LA Mayor Eric Garcetti, and Matthew Contreras, a gay student at California State University/ Northridge set to serve as a political intern through The Panetta Institute for Public Policy on the cusp of his 22nd birthday (on Aug. 5).
Though Contreras didn't mention Lewis during his acceptance remarks, the young activist nonetheless best articulated the core principles the civil rights hero passed on to young activists in his final New York Times opinion piece entitled: "Together, You Can Redeem the Soul of Our Nation." 
"Democracy is not a state. It is an act, and each generation must do its part to help build what we called the Beloved Community, a nation and world society at peace with itself," Lewis wrote. "When historians pick up their pens to write the story of the 21st century, let them say that it was your generation who laid down the heavy burdens of hate at last and that peace finally triumphed over violence, aggression and war. So, I say to you, walk with the wind, brothers and sisters, and let the spirit of peace and the power of everlasting love be your guide."
Contreras picked up the torch, noting his involved participation in community matters, including serving on the boards of directors of two non-profit organizations and promoting diversity inclusion.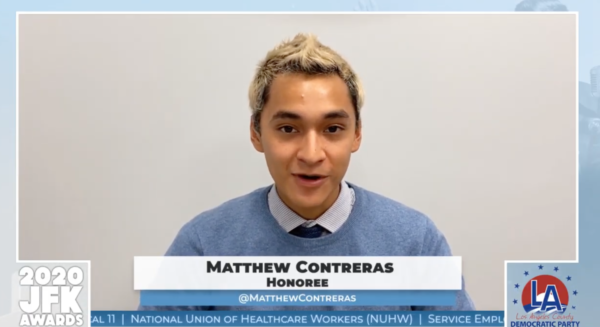 The "four characteristics of servant leadership that resonate with me are listening, stewardship, empathy, and valuing people. As a first generation Latinx Gen-Zer, these are the qualities I look for in people when I vote," Contreras said. "My decisions indeed have consequences and every time I vote on an action item, I keep my community in mind. Time and time again, we see people in charge exploit vulnerable communities in their special interest."
With the critical November elections fast approaching, he pledged to continue "to have difficult conversations with peers, mentors and community members," as well as "pushing for change" by phone banking, organizing, donating money and informing community members on how "they, too, can get involved in the democratic process."
Though people will not always agree, he said, "it is really important to move forward together" while "living through an extraordinary moment in our lives."
Politics "is very personal," Contreras said. "I have never forgotten why I do the work. I do it for those so often left out of the conversations we have. And I want you all to practice radical inclusivity and invite people to the table and respect people's world views that are different than your own.
"You see, the political landscape is changing before our very eyes," Contreras continued. "My generation of voters are looking for strong, community-based servant leaders that don't just talk but act….We're starting to hold people accountable and reevaluating concepts that we're learning in schools. The stakes have never been higher and people are starting to wake up."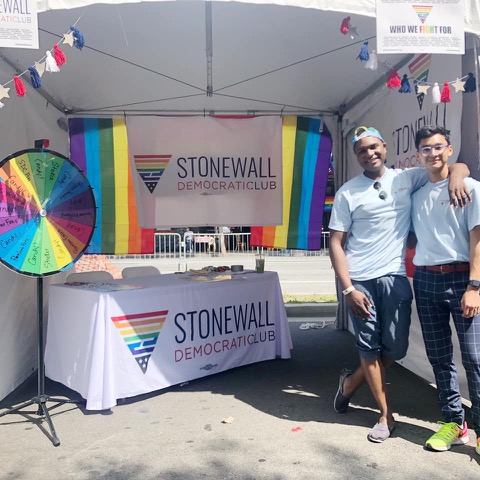 LACDP Executive Director Drexel Heard, II with his friend Matthew Contreras (Photo courtesy Heard)
"Matthew continues to embody not only the best in Los Angeles, but the best in our Nation," LACDP Executive Director Drexel Heard, II, Contreras' mentor, told the Los Angeles Blade. "Empathy, Drive, Selflessness has been his NorthStar for as long as I've known him. As we look to cultivate and engage more young people in our Democratic process and our party, like John Lewis, young Democrats like Matthew show us that the upcoming generation is ready and determined to set us up for a future that we can believe in. I'm proud of his accomplishments and excited to watch what's next for him."
"John Lewis said, 'The truth does not change, and that is why the answers worked out long ago can help you find solutions to the challenges of our time.' It is because we are now facing the ugly truth about our country that we are able to say 'no, let's not go down that path again,'" Contreras told the LA Blade.
"People want concrete changes that involve shifting money away from the police to communities of color. It's devastating to see communities of color, especially Black communities, disproportionately affected in areas of life ranging from healthcare to graduation rates," he said. "The Black Lives Matter Movement is making sure the world is paying attention. If we look back in time to analyze the many forms of protests organized by people of color in this country, we will see that they all had importance in creating societal change."
Contreras, a senior at CSUN who lives with his parents in Sun Valley, is starting his Panetta internship on Monday. The DC portion, where he would have interned in a Congressional office, has been cancelled because of the coronavirus pandemic.
"That really threw me off because I worked so hard for that experience," Contreras told the LA Blade. "My mother is from the city of Oaxaca and my father is from Durango, México. They both raised me to be a hard-working person in a country that seems to be against people like us. What I really hope to learn at the Panetta Institute is how someone with my background and privileges can use the legislative process to support people in my community. I really want to hear what they have to say about leadership roles for People of Color and the difference that we can make."
Contreras has packed a lot of experience into his 22 years.
"I came out in high school shortly after having my first girlfriend. I was absolutely in love with this girl, but I just could not continue dating her," he told the LA Blade. "I remember struggling with suicidal ideation, internal homophobia, and a lack of self-confidence. I began trusting close friends at the time but somehow those secrets came out. For about a year or two, people always asked me if I was straight or gay, but I always lied and said I was straight."
He was outed at a friend's Quincenera practice.
"I was one of her chambelanes. During one dance rehearsal, I remember going to the restroom and leaving my phone out on a table. A few people decided to go through my phone without my permission to find messages of me talking to boys online. As soon as I returned from the bathroom, I noticed a bunch of commotion around my phone. I quickly realized that everyone at that rehearsal knew my secret," he said.
"It wasn't really my choice to come out that way, but that experience taught me so much about myself, so in a way, I am grateful that happened to me. Eventually, I became more comfortable with myself because I started to find my community."
Eventually, Contreras secretly started dating boys in high school. "But it typically ended up in getting my heart shattered into a million pieces. My senior year a boy asked me to prom and that was a nice way to publicly tell my peers that I was for sure queer."
College enabled him to express himself with rainbows in his room and USU Pride Center logos everywhere.
"My attitude shifted. It's really funny because my parents actually came out to me. On my 18th Christmas, they co-wrote a beautiful letter expressing their support for me and letting me know that they already knew my secret. Apparently, they overheard me talking about my identity with a friend," Contreras said.
"It was getting super hard having to suppress my true identity at home because it felt like I was having to be two different people at all times."
College allowed him to develop his own identity and commitment to activism.
"Ghandi once said, 'Be the change you want to see in the world.' That's exactly what I want to do. I'm an individual driven by action and doing. I became an activist because I wanted to improve my community and create real societal changes. If I complain about something, I'm going to come up with plans and strategies. I won't just complain and dwell," Contreras said.
"I learned this lesson through ethnic studies courses at California State University/ Northridge. This truly made an impact on my life, as it did for so many. Student groups on campus have taken what they learned in the classroom and applied it to their communities. When I joined The Queer Collective, CSUN's LGBTQIA+ Club at CSUN, we gathered together because of common struggles, identities, and interests. I slowly became more vocal on campus and learned about my own privileges."
Learning about his own privileges "took a lot of active listening and reflection. I figured that if I could support communities with my own privilege, then why not do it? We often see so much negativity and I want to be part of the big picture — no matter how small or big of an effect I have in this world."
Contreras learned about injustice through his Chicano and Queer studies, as well as working with homeless youth for about a year, seeing first-hand the disparities he had only read about in the news.
"This prompted me to invest my time and energy into standing up for what I believe in. This work is never seen as the high paying career that people go for. I'm doing this to create changes that I want to see in my community," he said.
"My mentors have inspired me to become a better person for myself so I can one day support the social justice work that they are doing today. These changes take time so I want to be part of that. The victories are worth it," he said.
"It's so easy to be complicit but times are changing, and I want to be working towards a better world. My generation is unlearning so much of what we learned in our history books and maybe even some of what our parents have taught us," Contreras said. "We will be the generation cleaning up the mess of this current administration. It's about time to take things into our own hands. When you don't get invited to the table you pull up a chair, sit down and don't apologize. I want to see younger people more involved in this democracy because we are the future."
Contreras also notes that there have been young civil rights leaders of color throughout history, as exemplified by the late Rep. John Lewis.
"John Lewis left me thinking how I want to spend my time," Contreras said. "I will be spending my time and energy fighting for communities that need my support. It's a calling. In truth, I have been pessimistic about my generation's future because of Donald Trump.  But I no longer dwell on that because this movement woke up so many people and sparked awareness."
21 years in prison for gunman who shot gay dogwalker
"You shot me and left me to die, and both of our lives have changed forever. […] but I do forgive you and everyone involved with the attack"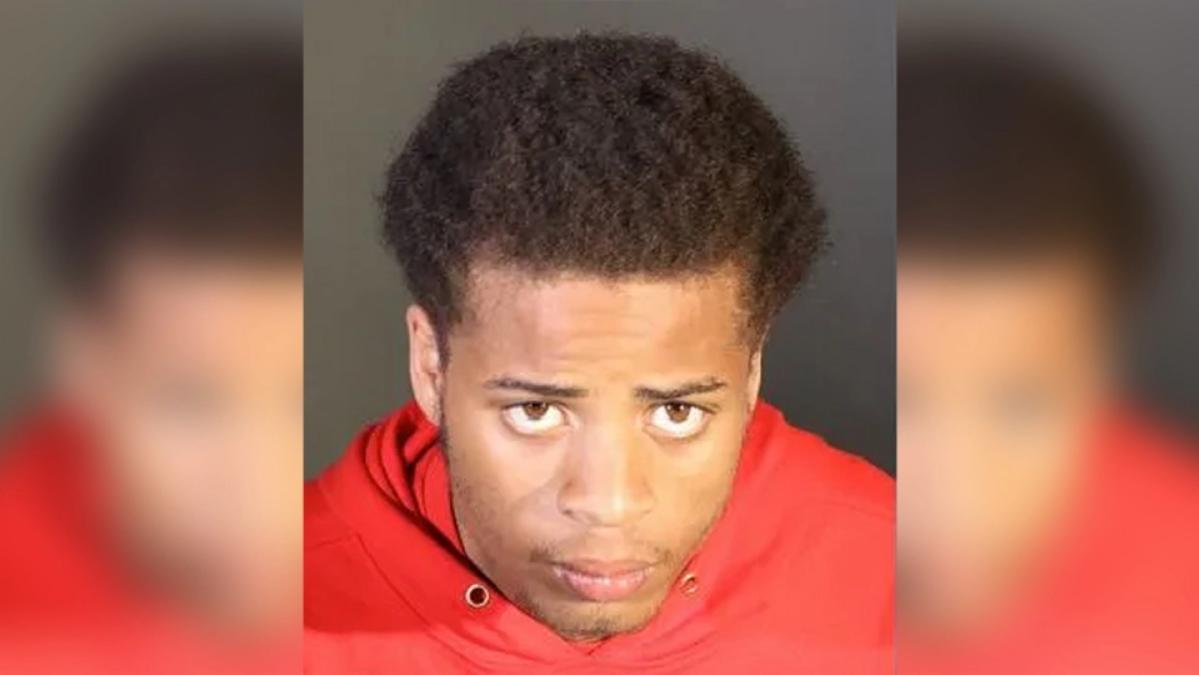 LOS ANGELES – A Los Angeles County Superior Court judge handed down a sentence of 21 years in a California prison to James Howard Jackson, who had shot then thirty-year-old Ryan Fischer, a gay professional dog walker in Hollywood on Feb. 24, 2021.
The robbery/dognapping made global headlines after it was revealed that the two French Bulldogs taken were owned by Oscar and Grammy award winning singer Stefani Germanotta, known as Lady Gaga.
Fischer was walking three of the singer's dogs when Jackson shot him during a struggle and then along with an accomplice grabbed two of the dogs in the 1500 block of N. Sierra Bonita Avenue just off Sunset Blvd, taking off in a late-model white Nissan Altima 4-door sedan.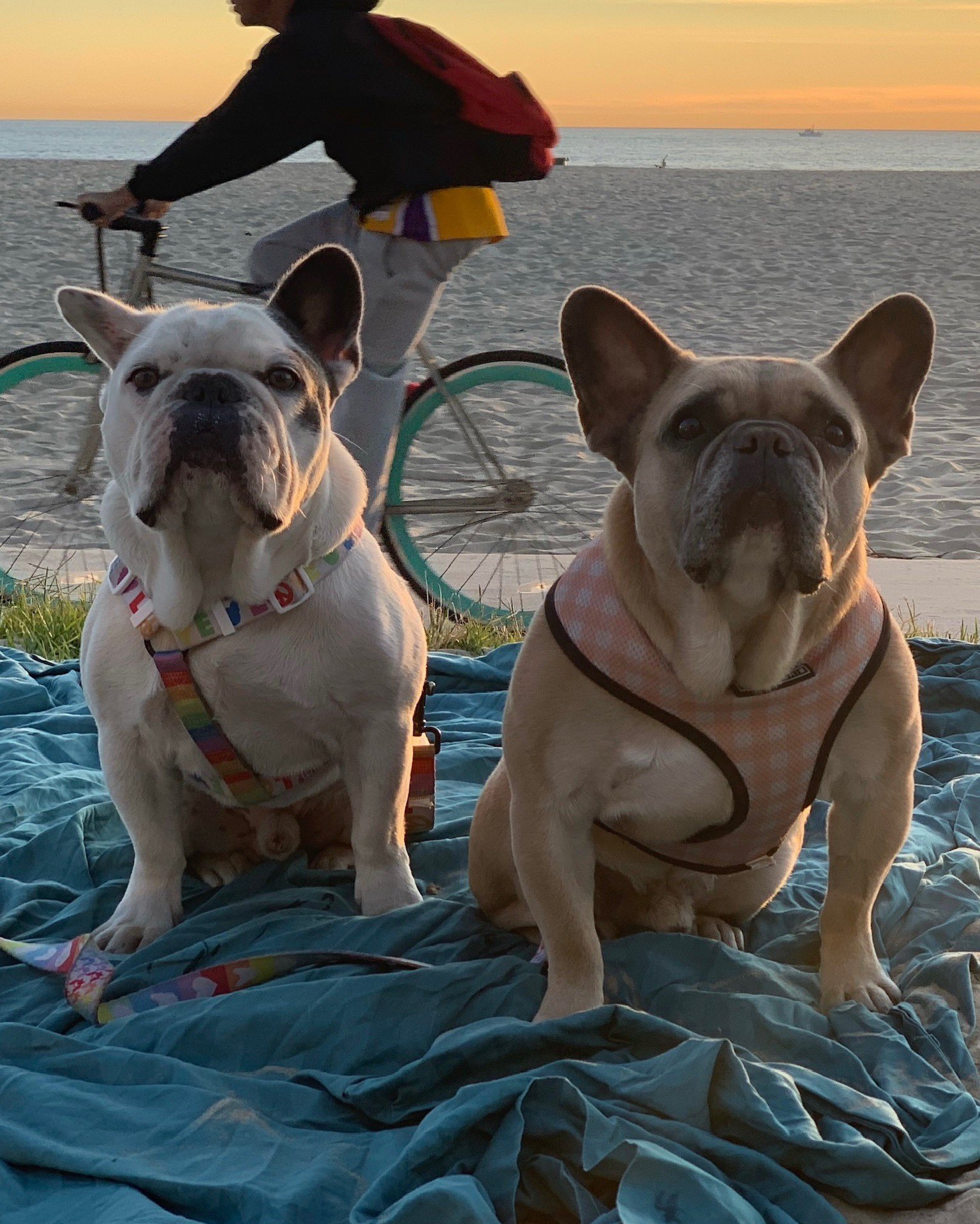 The Lady Gaga connection was a coincidence, authorities told KTLA/Associated Press. The motive was the value of the French bulldogs, a breed that can run into the thousands of dollars, and detectives do not believe the thieves knew the dogs belonged to the musician.
According to the Los Angeles County District Attorney's Office, the sentence handed down was part of a plea deal.
"The plea agreement holds Mr. Jackson accountable for perpetrating a coldhearted violent act and provides justice for our victim," the office said in a statement. Howard had been charged with attempted murder, conspiracy to commit a robbery and assault with a semiautomatic firearm.
In a victim's impact statement made prior to Jackson's sentencing, Fischer said:
"Your honor, thank you for the opportunity to give my impact statement here in court, and for everything you, Michele Hanisee [Deputy LA District Attorney] and the DA's office, and detectives and law enforcement have done to bring these cases to completion. It's hard to believe that it's nearing 2 years since I was taking Asia, Koji and Gustav out for an evening stroll when – in an instant – I suddenly found myself fighting with everything I had to protect those dogs from being stolen. But it wasn't enough: I was beaten, strangled, shot and left to die bleeding out on a sidewalk and gasping for my life. And Koji and Gustav were gone.
In some ways that night and everything that followed: from hospital stays, lung collapse after lung collapse and eventual surgery and partial removal- physical therapy that I'm still in to get mobility and sensation fully restored in my shoulder, chest and hand, the media storm that made me terrified to even go back to my home or walk on the street, the loss of a career, friendships, sense of self and savings and then aimlessly traveling this country for over a year as I went into debt, contemplated suicide, and struggled – and continue to struggle – with my identity and how to move past such a life-changing, earth-shattering event…
Sometimes it feels like all that happened to someone else, and other times it feels like I never left that sidewalk. A part of me is still trying desperately to save those dogs knowing you were going to shoot me. I'm sure it feels the same for you, Mr. Jackson. I imagine you're on that sidewalk sometimes too. You shot me and left me to die, and both of our lives have changed forever. A limbo neither of us asked to be in.
In my darkest hours, when I feel lost and abandoned and mourn a life and those dogs I sacrificed myself for, a life I've accepted – through a lot of therapy – I've accepted I'll never see again, I try to focus on what I've gained:
A deeper love for friends and family that have shown up and continue to show up even when I'm still such a mess. I love you and thank you.
That, despite everything and the trauma I still work through in regards to them, I love dogs so so much and look forward to continue bringing them back into my life.
Gratitude for strangers that became family and have supported me in countless ways.
And that I finally feel healthy enough to stop running from my problems.
Forgiving myself for not being able to save those dogs that night and falling down again and again these last two years.
Forgiving friends who didn't and don't know how to be there for me in the lengthy recovery process this continues to be.
And forgiveness for you. It's something I'm still working on but I do forgive you and everyone involved with the attack. You completely altered my life, and I know I can't fully move forward from the night you shot me until I said those words to you.
My hope for you is the same for me: to live a life of purpose and grow from what happened that night. Moving forward, it's going to be a hard road for both of us, and I know from prison it won't be easy. But I do hope you find a calling there as I continue to search for my own and live life contributing to others. It's the only way to heal from this experience.
I also wanted to give gratitude, to thank you for not killing – for not harming – the dogs after everything and the media storm. They were returned and returned to their mom. I don't think I could have lived with myself if they died.
And, in general, I just wanted to say how guns have impacted my life and countless others and continue to harm our society. I look forward to contributing to a future that doesn't destroy so many lives and so many people in this country. It doesn't make sense to fear for your life at school, places of worship, clubs, or when you're taking dogs out for an evening stroll.
Thank you all for your time today."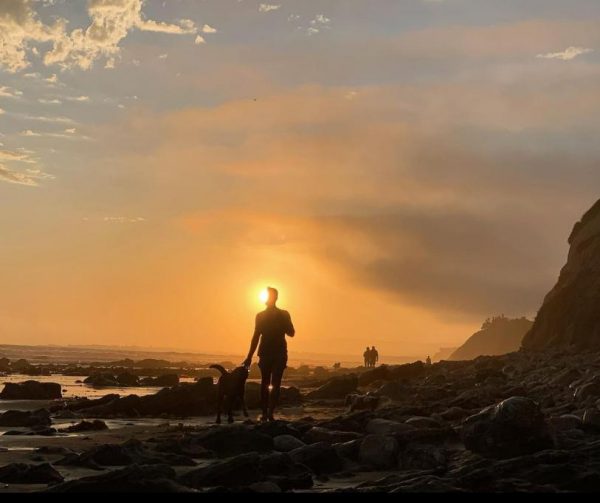 KTLA/AP also reported that another accomplice, Harold White, pleaded no contest Monday to a count of ex-convict in possession of a gun. White, who was in a relationship with McBride at the time, will be sentenced next year.
The couple had allegedly tried to help White's son, Jaylin White, avoid arrest in the aftermath of the shooting.
Jaylin White and Lafayette Whaley earlier this year pleaded no contest to robbery.