'Different Stars:' The World's First Queer COVID-19 Musical is Streaming Your Way
A moving piece of off-Broadway in your own home
"Different Stars" is that gem of musical theater that you would find in a comfy off-Broadway house tucked in the heart of New York City. It is the type of production with the heart, intimacy, and musical nuances that an avid theatergoer eats up, delighted to have personally discovered the next Sondheim.
On Saturday Aug. 15 at 7 p.m. EST, the premiere performance beams from differentstars.live. It is free, and any donations given are used to support QORDS, a music-centered camp for queer and transgender youth ages 12-17 in the South.
"Different Stars" is both about our lives re-imagined under COVID-quarantine as well as the re-imagining of theater itself under those conditions.
The story revolves around James, played by renowned actor James Jackson Jr. of Pulitzer Prize-winning play "A Strange Loop" fame, a songwriter who has hit a block because of his romantic trauma. Caught in the isolation of a COVID-19 quarantine, he goes through a box of artifacts that conjure up the ghosts and characters from his first queer love gone awry.
This week, I sat down with show creator Karl Saint Lucy, director Raquel Cion and star James Jackson Jr. on the award-winning podcast Rated LGBT Radio. They shared their thoughts and experiences of being part of this new and medium-busting phenomenon.
The story behind the songs and book of "Different Stars" has evolved, been developed, and reached refinement over time. Karl related their journey: "I moved to New York from Oklahoma in 2010. During my second year in New York, I fell in love. He was my first exposure to queer people, my first gay friend. We were close—best, best friends. Then we became lovers. We dated for months. It was crazy and intense. I felt like I had escaped what I had grown up under. Wow. I was finally in a place I wanted to be, doing what I wanted to do. And I have this man I am in love with."
Karl continued, "Then it deteriorated so tragically over the next nine months. It was extremely dramatic. I was in the middle of writing a 90-minute musical. I was so hurt, and I wrote and wrote and wrote. I would go into a room and cry and write a new song. I ended up writing 40 songs. Originally, they were songs to him, but they evolved into songs of me having a dialogue with myself. I did not really have a vision for them. He was my intended audience."
In 2013, the songs were finally performed as part of a workshop. The audience's deep and emotional reaction told Karl that the song collection was not just for or about him anymore. "After this one performance, an actress, who was at that time playing Mary Magdalene at a summer theatre session Glow Lyric Theatre caught up with me. She had tears streaming down her face. 'You read my journal', she exclaimed."
Karl had a vision to make the song collection into a theatrical piece. Along with director Raquel Cion, he planned to do that in March 2020.
Then the COVID-19 pandemic hit.
Karl and Raquel closed the production nine days before they were scheduled to open. Soon they were deciding that if the quarantine had re-imagined their lives, they could re-imagine theater. Raquel knew the theatrical process itself had to be addressed and created anew. She related her experience having to direct it – in a way she had never done before, "This has been so very strange, to not be in the same room as the cast. I only met James in person once. It was odd and brand new. We had to address our aesthetic and not our obstacles. Putting it together was challenging and exciting. The performers are so capable and skilled. Their emotional journeys are exquisite—so present and willing."
As for bringing COVID into the story itself, "How does my art address the moment we are in?" Karl pondered. "We decided to develop a story around the quarantine. We looked at our actor, James Jackson Jr. and built the show around his character, James, as the lead character."
James was undaunted at the prospect. He had launched original characters before, and he knew he could take a character essentially based on Karl and make it his own. While James playing a character who was based on real-life Karl was not a challenge, the same could not be said for the actor who was chosen to play the character based on Karl's heartbreaking ex — that actor would be Karl himself. Karl shared, "In retrospect, his experience was not all that different than mine. I think that is one of the things so scary about intimacy. When relationships end, it is two people amid profound grief, and they cannot share it with each other. I think the words I wrote from me to him also work the other way around. Saying them to the character that is supposed to be me, is essentially therapeutic."
Karl's reflection on his painful past is at the core of the title "Different Stars." It took him to the realization that his life was not necessarily about what he could have done differently, but rather, what life would have been if the situation had been different. Poetically, what a couple's love would have been had it taken place under "different stars." The theme is emphasized by the play's quarantine setting where the character goes from dreading isolation to embracing the unique gift of reflection.
Raquel mused on the theatrical situation itself, "This experience reminds me of something David Bowie said—paraphrasing: Always go further into the water than you feel capable of being in, a little bit out of your depths and when you don't feel your feet are quite touching the bottom, then, and only then, are you in just about the right place to experience something exciting."
With that said, on Saturday, Aug. 15, you can wade into your watching habits a little bit beyond. You can welcome a moving piece of off-Broadway into your home and enjoy an evening under "Different Stars."
"Hadestown" now at LA's Ahmanson Theater
It's a retelling of the myth of Orpheus, who in Ancient Greece became renowned for making music so beautiful it moved the stones to weep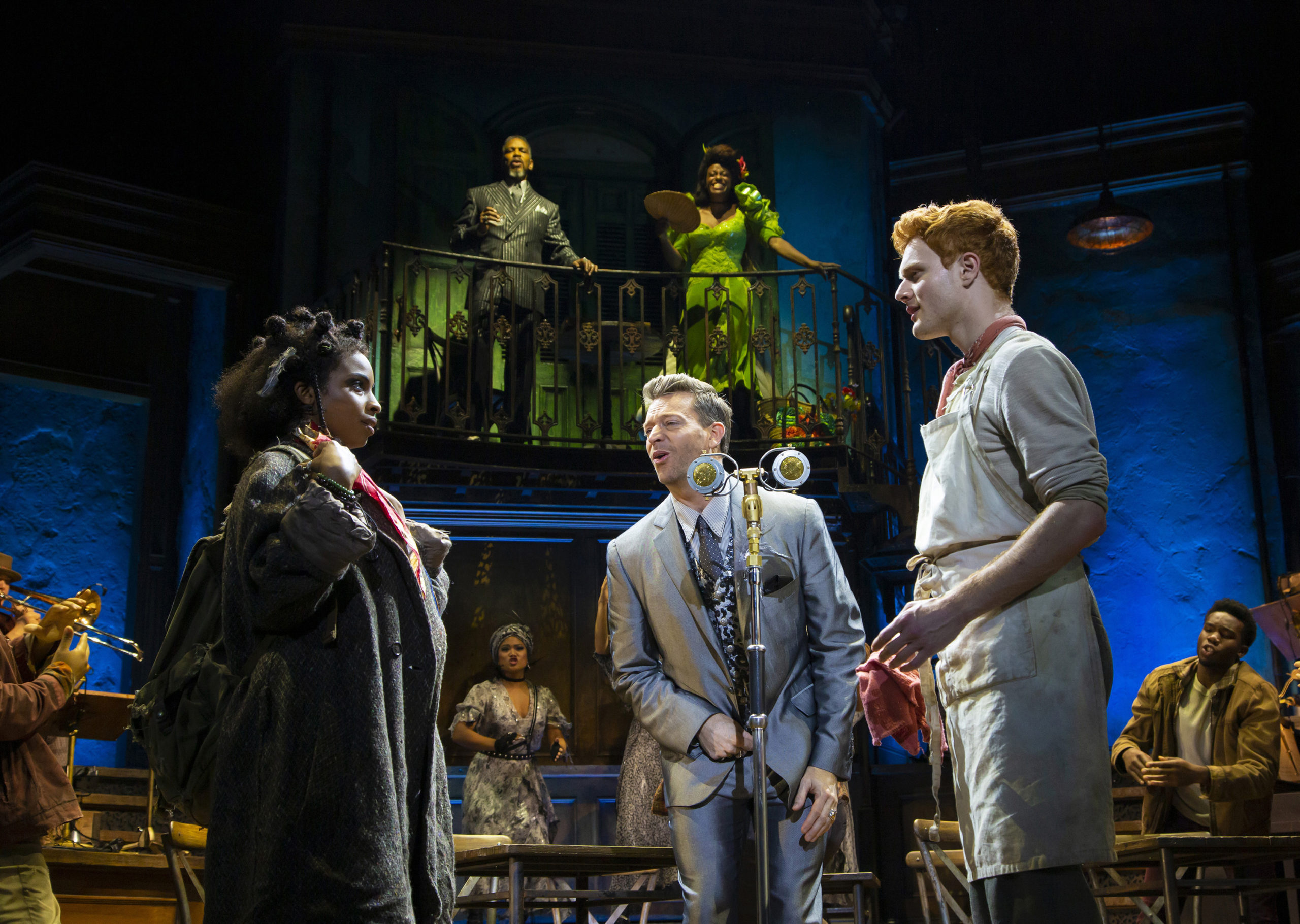 LOS ANGELES – By the time "Hadestown" won the Tony for Best Musical, it had already been around for more than 13 years. Conceived, created, and composed by singer/songwriter Anaïs Mitchell in 2006 in what she describes as "a D.I.Y. theater project", it passed through several iterations (including a concept album and a New York Theatre Workshop production) in a lengthy development process before finally emerging as the Broadway Production that debuted in 2019.
Its story, of course, has been around for much longer. It's a retelling of the myth of Orpheus, who in Ancient Greece became renowned for making music so beautiful it moved the stones to weep; when his beloved wife Eurydice was bitten by vipers and died, he descended into the underworld and used his musical gifts to persuade Hades himself to let her return with him to the world of the living – though with a condition attached to make the hero's triumph less a victory than a Devil's bargain, as anyone who knows this familiar tale will surely remember.
And it IS a familiar tale, one which spawned an entire religion in the Ancient Mediterranean world and has gone on to inspire countless artists – for reasons which are perhaps obvious, it's a story with particular significance to artists, of all kinds – to express it through works of their own over all the centuries since. Why, then, does it need to be told again?
"Hadestown," now arrived at LA's Ahmanson Theater, endeavors to answer that question – but it also stands, in all its infectious and transfigurative excellence, as answer enough in itself.
Reimagining the story from its classical origins into something more resembling a rustic American folk tale, Mitchell's musical transplants it into a New Orleans-esque setting somewhere on the Road to Hell, where Hermes may still be messenger of the gods, but is here a master-of-ceremonies, too.
It's a place where the times are definitely hard, but Hermes' ward Orpheus claims to be writing a song to set the world right again. Eurydice is a hungry drifter who falls for the youthful bard even though he's clearly a simple-minded dreamer with nothing to offer her but his love; the Underworld is a factory, where workers labor eternally under the promise of freedom which never comes, and Hades is its powerful owner; his wife Persephone (per agreement) lives half the year with him down below and counts the hours until she's free to live the other half having fun and spreading sunshine in the world above.
With the principal characters recast in this way, the show is free to weave their tale through a rich and imaginative blues-and-jazz infused musical score and the simple-but-ingenious theatrical trickery of its scenic design – and the result is two-and-a-half hours of high-spirited, irresistible enjoyment that's guaranteed to deliver a deeply satisfying emotional catharsis but never once feels like just another version of a stodgy old myth.
There is not much a review can convey about the experience of "Hadestown" that comes close to capturing it. The best one can do is say you will certainly laugh, probably cry, and unquestionably be humming the songs for weeks to come. Beyond that, we can only encourage our readers – enthusiastically –to go and see it, and assure them it will be a rollicking, rousing good time. It is, and we do.
That said, there are a lot of things about it to appreciate – the sense of magic that pervades the entire show, for instance, bringing us into a realm where reality and metaphor blend, and the literal and the poetic become one and the same.
In this "world of gods and men", summer can be both a season of the year and a feeling of being in love, Hell can be a dead-end job or a troubled marriage, and a wealthy industrialist with Fascist leanings can be the Devil himself. Reading those statements alone is enough to recognize the truth of them; living them through "Hadestown" is enough to stamp that truth indelibly into your memory.
A great deal of the magic that makes that happen comes from the show's score, performed with relish by an onstage show band that is as much of a character as any of the other people on stage. It disarms us with its feel-good sound, a classic blend of elements from gospel to Dixieland to zydeco, and artfully deploys harmonics and melody with scientific precision to transport us into the esoteric mindset where all myths take place.
In other words, the power of "Hadestown" comes from its music – which, perhaps not coincidentally, is about as true to the spirit of Orpheus himself as you can get.
That spirit clearly inhabits the show's cast, as well. Tony-winner (for "Million Dollar Quartet") Levi Kreis steps into the unenviable task of filling the shoes of the regal Andre De Shields – Broadway's Hermes – and makes the role his own, bringing a crooner's voice and a "good-time Charlie" flair that lend a poignant edge to the hard-won wisdom it is his assignation to dispense.
As Orpheus, youthful Nicholas Barasch endears himself with a comedic red-headed "mooncalf" persona, while contrasting it with a voice that sounds as if it really was a gift from the gods; Morgan Siobhan Green's Eurydice is a perfect yin to his yang, as grounded in practical reality as he is adrift in the clouds of his imagination and his art, but with a soulful voice of her own.
Keyvn Morrow brings imposing presence, a powerful deep bass voice, and just enough empathy to Hades, while Kimberly Marable's Persephone, equally compelling as sun-drenched summer goddess and day-drinking neglected wife, is the natural center of attention whenever she appears onstage.
Capping the main ensemble off are Belén Moyano, Bex Odorisio, and Shea Renne as The Fates, who taunt the characters – and the audience – throughout with tight harmonies and choreography that practically stop the show every time they take the spotlight. And as praiseworthy as all the leading players are, their talents are matched by the entire ensemble.
Add an ever-metamorphosizing scenic design by Rachel Hauck and electrifying choreography by David Neumann, and "Hadestown" becomes an unforgettable trip to the Underworld and back that will leave you wanting more for a long time to come. And if all that is not enough to convince you that it's the biggest must-see musical of the year so far, then just remember what we said about words not being able to capture the experience – and go to see it anyway.
"Hadestown" continues through May 29 at the Ahmanson, but if you can't make it by then you can catch the same production when it takes the stage at the Segerstrom Center for the Arts in Costa Mesa from August 9 to 21.
Barrier-breaking lesbian does a 'Death-Defying Escape' in her new play
Carter was the first woman to ever play the Close-Up Gallery at the Magic Castle, LA's famed club frequented by celebrity magic lovers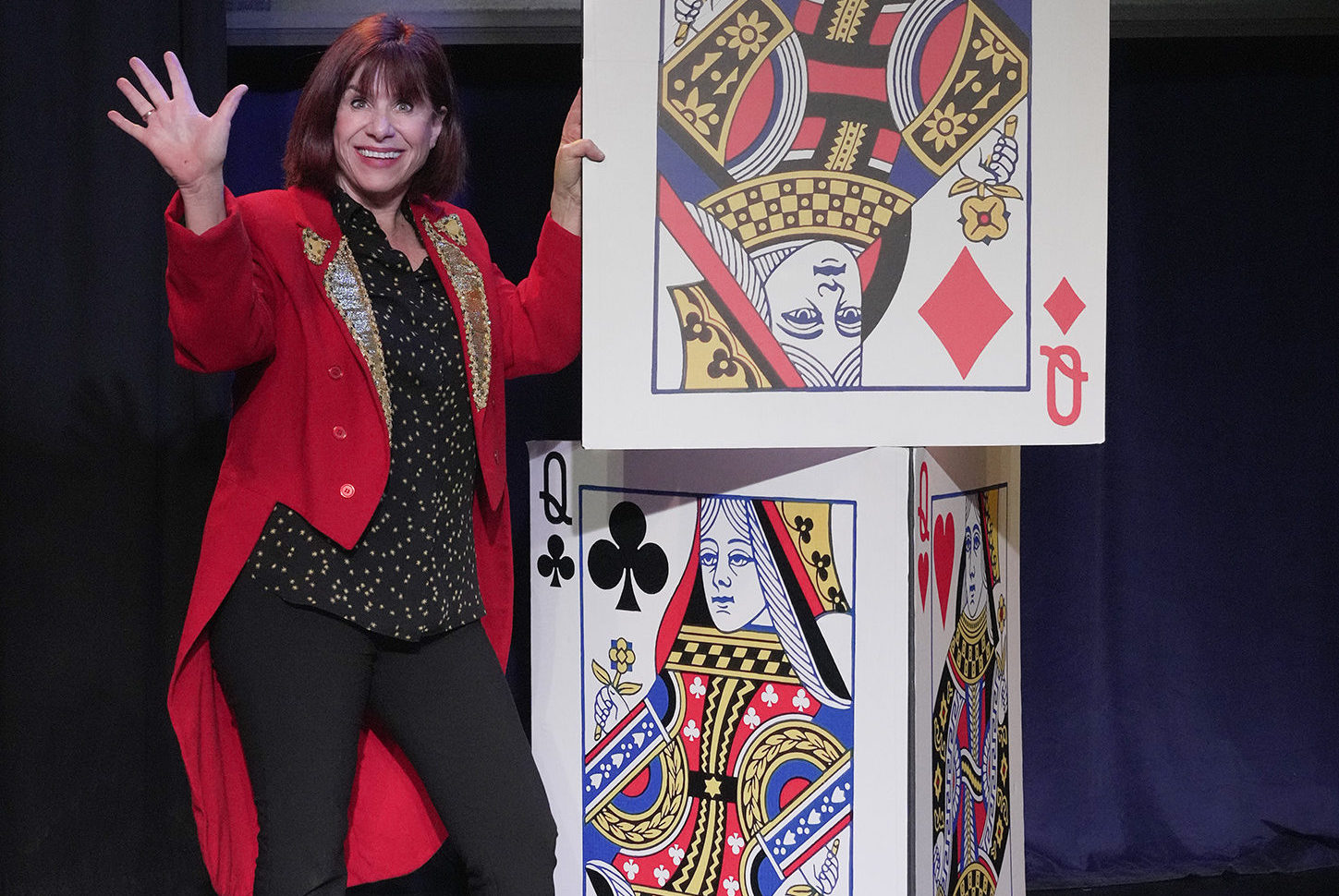 HOLLYWOOD – Quick, name a famous female magician. Don't worry, we already know you probably can't – not even if you use Google. That's because, as Judy Carter puts it, "There aren't any. They're all men. The idea that a woman can manipulate reality is really terrifying – I mean, we used to get burned at the stake for it, right?"
Judy herself, however, is proof that her statement is not entirely true. Though hardly a household name (not in most households, anyway), she broke gender barriers by performing magic on TV on the likes of "The Merv Griffin Show" and "The Mike Douglas Show," before an impromptu performance necessitated by missing equipment launched her into a second career as a stand-up comedian, public speaker, and author ("I wrote the BOOK on being gay!", she jokes, in reference to her Lambda Literary Award-winning humor book, "The Homo Handbook"). She's since appeared on over 100 TV shows and four comedy cable specials, as well as opening for Prince and playing in Las Vegas.
Now she's playing the Hudson Guild Theatre in Hollywood, with her play "A Death-Defying Escape." Presented by Comedy Workshop Productions, it's described as "a darkly funny, inspiring new comedy about one woman's miraculous escape from the secrets of her past." In it, Carter weaves together stories from her life with "jaw-dropping, audience-interactive on-stage magic", and takes audiences through a unique narrative that features something for everyone: Jewish humor, lesbian romance, a disability awareness — and world-class, never-before-seen illusions designed by Vegas pro Craig Dickens.
"He did it because he loved the script so much," Carter tells us.
Speaking with the Blade during a break from the rigors of last-minute rehearsals, the verteran performer shared some of the experiences – not all of them wonderful – that culminated in her decision to tell her life story in a play, starting with a not-so-obvious explanation about the connection she feels between magic and being a lesbian.
"I think there's a big correlation between us gays and magicians," she told us. "Especially those of us who came out in the eighties – and that's keeping secrets.
This play is about revealing secrets. We had so of them many growing up in the Fairfax district of LA – we weren't the fancy Beverly Hills Jews, you know, we were the low-end Jews who still had our original noses. My older sister was disabled, and she was given away to an institution, that was a secret. And then I turned out to be gay, and that was a secret. And then guess what? Grandma's having electro-shock treatment, and that was another secret!"

During those early years, Carter found refuge and release in comedy, overcoming a speech impediment so she could do funny magic shows for birthday parties. She even ended up being written up for it in the Los Angeles Times, launching her on a career that would ultimately take her across barriers no woman had passed before – though it wasn't always an easy passage.
"I was the first woman to ever play the Close-Up Gallery, in the card room at the Magic Castle," she remembers, meaning Los Angeles' famed private club frequented by celebrity magic lovers ranging from Orson Welles to Neil Patrick Harris since its founding in 1963.
"Anyway, what happened was, I was physically picked up by this real 'macho' magician, and he threw me over his shoulder, and carried me out of the Castle, and he threw me down into the parking lot. And he said to me, 'Women don't belong here, honey, stick to bunnies and rabbits, cards are for men.' And I thought, 'Why? Because they're so heavy?'
And so, in my play, I have that scene, and I think it will open up some things… I think it will really resonate."
Still, her show is not just dedicated to the professional hurdles that she had to leap.
"I wrote this play because it also surrounds something that happened to me later in life, and that is that I fell deeply in love," she explains. "It was almost like the first time. I was married to another woman for sixteen years, and we got divorced, and even though I had given up on finding love – I mean, I know getting older is not big turn on for a lot of people – suddenly I was falling in love with a woman that was considerably younger than me. Forty years younger! And it blew my mind."
While the new love in her life might not seem related to the stories of her earlier trials, it's more than just a convenient "happy ending" – there's a point to be made.
"No matter what trauma has happened to us in our past, love is possible," Carter says. "Escape is possible. It's possible to leave behind these things that have happened to us and make ourselves vulnerable to love."
As for the magic, she won't reveal too much.

"I can't give any spoilers, but I will tell you that I do a death-defying escape from heterosexuality, right in front of people's eyes! It's going to be amazing!"
Directed by Lee Costello, "A Death-Defying Escape!" features Carter alongside actors Kevin Scott Allen and Lyndsi LaRose, and will "disappear weekly" at the Hudson Guild Theatre Saturdays and Sundays from April 2 through May 8. In addition, the production will be made available to streaming audiences worldwide beginning on April 9 – so even if you're reading this from outside of Los Angeles, you'll still get a chance to experience it.
Tickets to both are available via www.deathdefyingescape.com.
Near-naked Ambition: 'The Comics Strip' is getting more exposure
Much of the material performed by both women draws from observations about what makes lesbian culture sex & sexuality idiosyncratic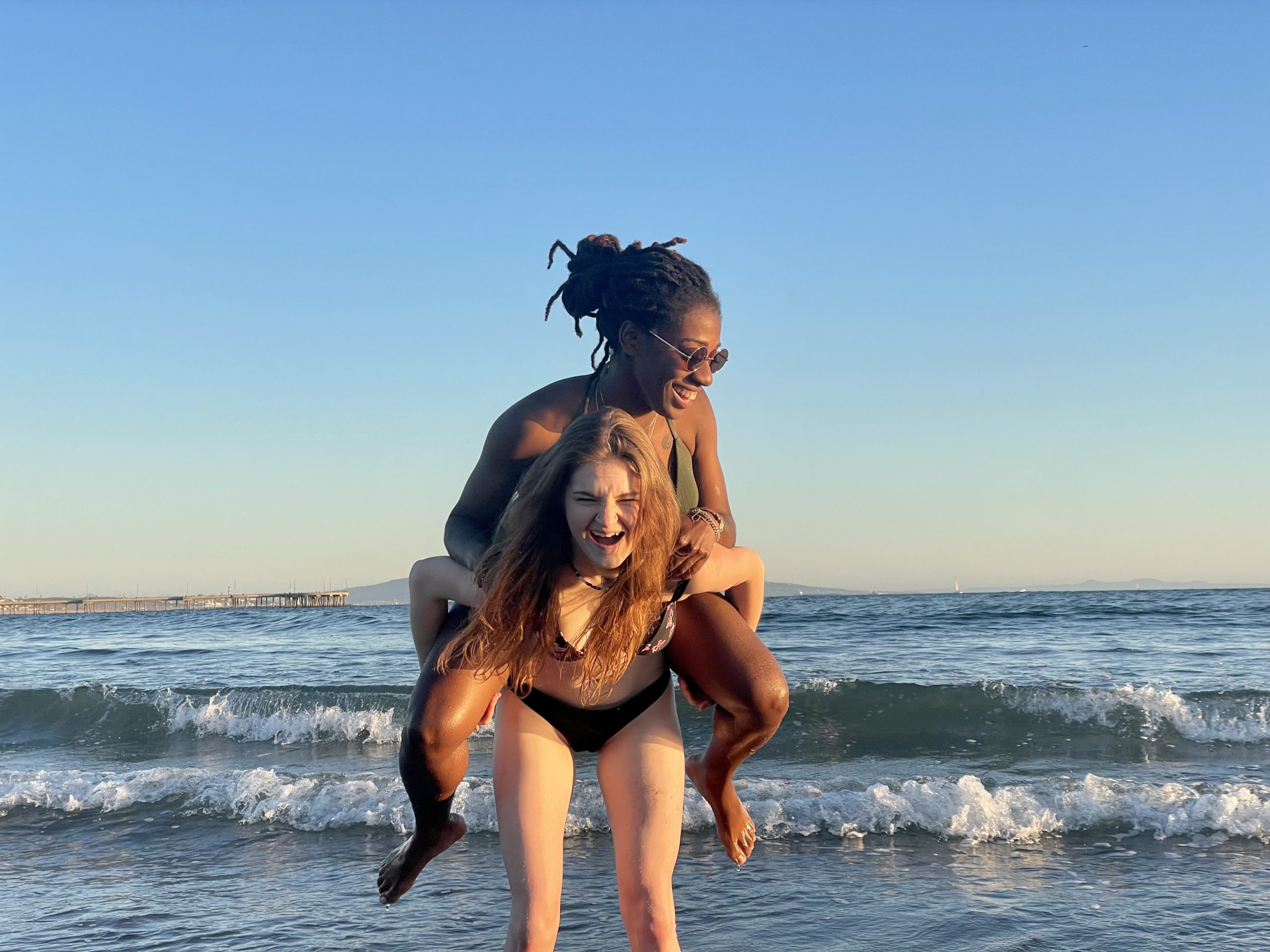 NORTH HOLLYWOOD – Nervous people who find themselves on stage fumbling at a podium or clutching a microphone for dear life are often told to picture their audience without any clothes on—the idea being that if the crowd looks as vulnerable as the person on stage feels, the prosect of getting laughs or applause won't see so daunting.
But wait: Not so fast, says veteran stand-up comedian Michael Grant, whose role reversal take on the old "picture them naked" advice is the cornerstone of what Grant believes could be the next big thing in elimination-based, reality entertainment.
"The Comics Strip" is a live stand-up show where the audience remains fully dressed, and gets to decide which comedian just told the better joke. The winner basks in the glow of their approval, while the loser must shed a piece of clothing.
This friendly competition continues until one of the performers is standing nearly naked in front of a room full of people who share an unbroken bond with their shoes, socks, shirts, skirts, and pants.
"This is the first show of its kind," notes the likably enthusiastic Grant, who wouldn't ask his hand-picked cast of comedic performers to do anything he wasn't willing to do first. In fact, Grant is the founding father of Strip-Down Comedy, having improvised the concept in 1997. As an early career stand-up comedian who often found himself preceding or following a fellow up-and-comer, Grant recalls his stand-up experience back in the day was largely about "always trying to beat Gabriel Iglesias."
One night, Grant found himself on stage, having taken off his jacket and tie "just to get comfortable." But then he continued disrobing, and it got laughs. Soon enough, he recalls, "when the shirt came off, it was like static electricity. They [the audience] went wild… and if I didn't get a laugh, I'd put a piece of clothing back on."
Eventually, recalled Grant, "I dropped the gimmick and became a better writer—and now, I'm bringing that concept back," says the man with skin in the game, who's betting that comedy club audiences will be eager to embrace something different, after spending the last two-plus years locked in lockdown routine.
Early indications seem to bare him out, so to speak: A sample reel of "The Comics Strip" concept playing out in front of a raucous live audience garnered two million hits on Tik Tok "in like, nine days," says Garner, who notes you won't find it on that platform anymore. "They didn't wanna pay," he says, "so now we're banned."
Clips from the show are still to be found on Twitter, Instagram and YouTube shorts, however, in addition to a website where new content is being added all the time—and this Monday, March 21at 8pm (at the Comedy Chateau, North Hollywood), the concept gets a fully realized stage show presentation.
That show, and a handful of others in the coming months, will be taped. From that material, a pilot will be created and shopped around as a network, syndicated, or streaming series. Franchising the concept to comedy clubs is also a possibility, as are custom-made versions of the joke-telling/voting/stripping concept such as, say, a Pride Month edition with contestants from the LGBTQAI+ community.
With June just around the bend, a lavender-leaning special edition of "The Comics Strip" seems like a no-brainer (well at least a no-blazer). The diverse cast of distinct voices Grant is still in the process of assembling already has its share of rainbow shading—and confirmed talent for the March 21 gig includes the competitive pairing of Kira Johnson and Kammie Burns.
Both women are relative newcomers to stand-up comedy—and, for that matter, the cohabitation (three months and counting) that came about as part of their recently formed romantic relationship.
Much of the material to be performed by both women draws from observations about what makes lesbian culture, community, sex, and sexuality both universal and "inside baseball" idiosychratic. Exactly who will walk away from the stage with more clothes on that the other person cannot be predicted—but both Kira and Kammie see their pairing as yielding two positive outcomes, guaranteed.
Noted Kammie of their mutually accelerated joke-writing process lately, "Our approach is, 'This is my girlfriend I'm competing against, head to head, so I'd better get to work' [and make both of us look good]."
"We're both competitive," says Kammy, "so this show gives us double the chances of winning. We are very excited to really challenge each other, to push each other to the next level."
Kira says she feels "very competitive, and I'm pretty excited to win… I don't think it will have any negative effect on our relationship." (Although if one of them shows up wearing the other's undergarment, the one that "went missing" at the laundromat a few weeks ago, all bets are off—the live-in gays know what I'm talking about.)
As for the selling point of the show itself, Grant puts forth a line of reasoning sure to appeal to the spendthrift and live entertainment consumer alike: "If you like nudity—and you like comedy," he says, "then why are you spending money at two places?"
"The Comics Strip" is performed at 8pm on Monday, March 21, at the Comedy Chateau (4615 Lankershim Blvd. North Hollywood, CA 91602).
For tickets ($20 general admission), visit https://app.showslinger.com/ticket_payment/3858/checkout_ticket.