Morris Kight, a gay American original (Photos)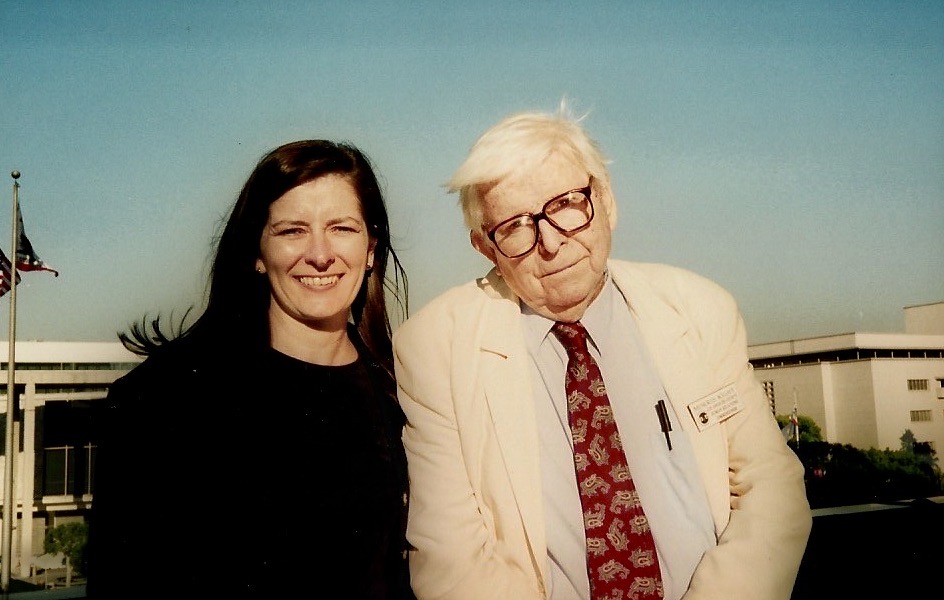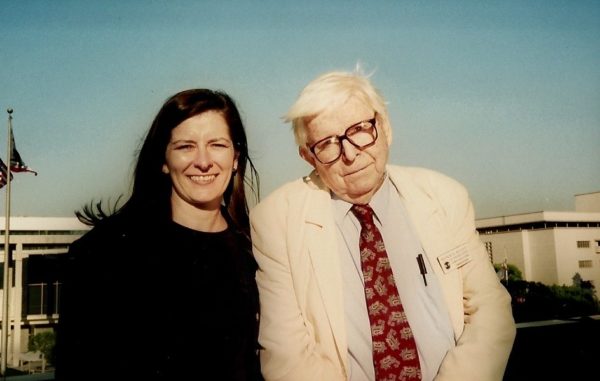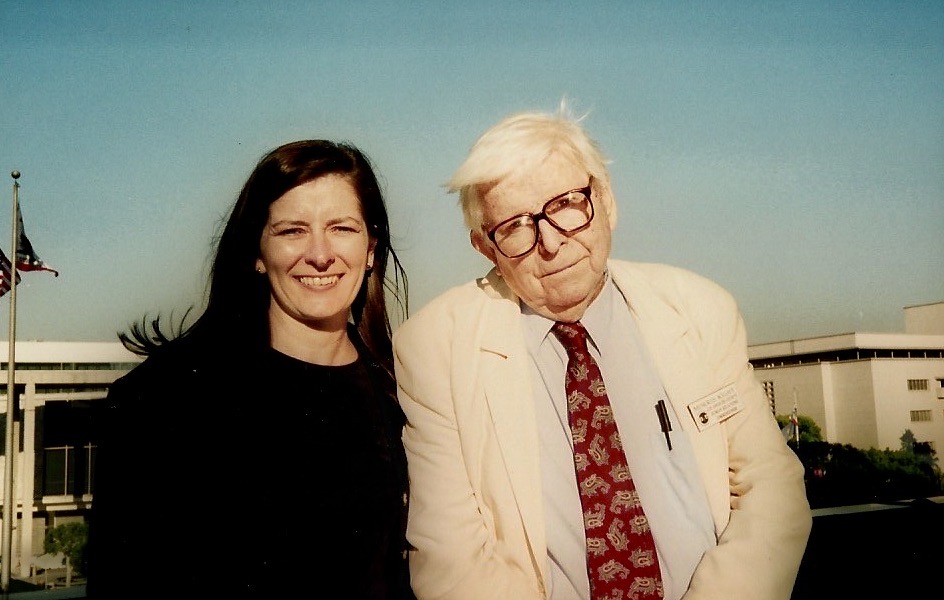 Only if you knew what went before do you feel its absence.
Today, crimped by the coronavirus crisis, the quiet streets of West Hollywood are haunted by gay activists of the past — the rallies against police harassment and the anti-gay Briggs Initiative, the AIDS vigils and ACT UP protests, and the ground troops organizing for pro-gay politicians in a consequential election year.
Ubiquitous among the generations of activists was Morris Kight, the radical gay rights advocate with a theatrical cadence and genteel nod who adored the spotlight and brazenly asserted in a matter-of-fact manner that he had essentially founded all things gay in L.A. About half of that was true – though it's hard to gauge with complete accuracy.
Today, when TikTok makes originality commonplace, the younger LGBTQ community might not fathom how original this gay rights pioneer was when homosexuality was illegal and in an environment where more conservative gays and lesbians intensely squabbled with more radical LGBTQ activists who insisted on respect, not respectability.
Kight, like Ivy Bottini, his lesbian feminist sister in the movement for gay and lesbian liberation, rebuked assimilation, while at the same time exercising his ability to command a mainstream stage the minute he walked through the door and demanding attention be paid for gays and other minorities during his more than 20 years on the Los Angeles County Human Rights Commission.
Morris Kight was 83 when he died at the Carl Bean Hospice in 2003. But for those who feel the absence of his theatrical activism, one wonders: what would Morris do if he were alive and thriving today?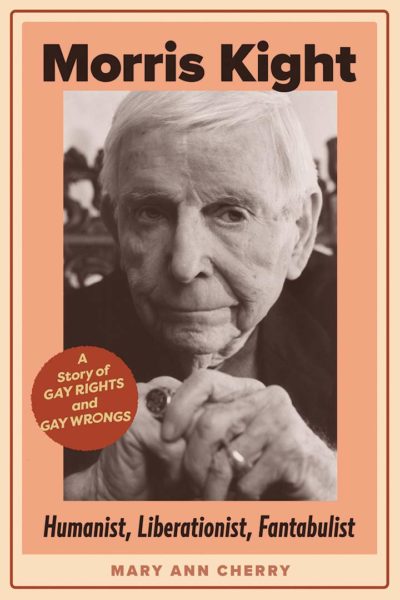 "He'd be very busy. He would probably have multiple phone lines," says ally and Kight friend Mary Ann Cherry, the "hopelessly hetero" author of Morris Kight: Humanist, Liberationist, Fantabulist during a recent phone interview. "First let's acknowledge that the needs have changed. When there's a gay teen runaway, when a teen is abandoned by their family, they have places to go and if they don't know about them, they quickly learn about them."
That's considerably different from the 1960s and 1970s when Kight handed out his card to homeless LGBTQ teens and offered help with no strings attached.
If Kight were alive today, Cherry's best guess is that "Morris would be focused on the Black Lives Matter movement. They are out there, they're doing it. They are determined and they're very obvious and vocal about it."
And though Kight was known nationally, his focus was on a local level. "He would have been all over this homeless issue years ago," Cherry tells the Los Angeles Blade. He would attend city council meetings complaining about years of economic injustice through development deals that "are now coming home to roost."
Kight would also be complaining against the cooptation of the LGBTQ liberation movement through the influx of money, especially corporate money.
"The gay community has become very respectable, so to speak, and they don't want to be identified with the old hippie roots," says Cherry. "And there's also a need to disidentify with the liberal ideology, because the truth is — not all gay people are going to be antiwar. And not all gay people are going to be pro-Black Lives Matter. We can't assume anybody's ideology based upon their sexual identity. And we make that mistake. And I think Morris made that mistake."
Gay couples were the same before the Supreme Court granted same sex couples the freedom to marry, she notes.
"We understand, we appreciate the importance of being able to marry the person you choose to be with," Cherry says. "But Morris always worried about the gay community becoming 'heterosexuized' — that they give into what the heterosexual community was about. And I think gay marriage kind of speaks to that — but it legitimizes people."
Kight was also opposed to the City of West Hollywood "appeasing" Coors Beer, as was Don Kilhefner, who co-founded with Kight the LA Chapter of the Gay Liberation Front, which confronted psychiatrists over their use of lobotomies and other "behavior modification" practices, now known as "conversion therapy." Kight also used his resources Rolodex when co-founding the LA Gay Community Services Center on Wilshire Boulevard in 1971. Kilhefner did not speak with Cherry for the book.
Kight was opposed to letting Coors off the hook. The boycott against the anti-gay company started in the late 1970s when Kight's friend, San Francisco activist Harvey Milk, sided with union truck drivers and started a long association between gay rights advocates and the labor movement, which became critical in defeating the anti-gay Briggs Initiative in 1978. Eventually Coors Brewing Company met the boycott demands, though patriarch Adolph Coors continued to contribute to anti-gay causes.
Morris thought Coors hadn't really done what needed to be done," Cherry says. "You really can't force a corporation or even a family like Coors to change their values."
Kight and Kilhefner are linked together in LGBTQ history but that's not the whole story. "When they had a cause in common, they were a great front. They really were very strong and powerful," Cherry says. "But that was only around a cause — that wasn't who they were as individuals."
Indeed, Kight's relationship with Rev. Troy Perry, founder of the Metropolitan Community Church, was one of mutual respect and allowances for human foibles such as Kight's renowned self-aggrandizement. The two LA gay activists, along with homeless advocate Rev. Bob Humphries, co-founded Christopher Street West and the Pride Parade.
Morris Kight: Humanist, Liberationist, Fantabulist, Cherry says, is "this man's story about how one person can make a difference."
But this well-research biography also serves a larger purpose, telling the unflinching but colorful arc of L.A. LGBTQ history through the life of this one dramatic original gay activist, Morris Kight.
Postscript: Mary Ann Cherry was the perfect person to write this well-research, dense biography of Morris Kight – most of the rest of us who knew Morris would no doubt have written a skewed version through whatever kaleidoscope lens we might be looking at him. This was a 17 year commitment. And Mary Ann also raises an issue not really tackled in LGBTQ history books: the serious ripple effects and harmful impact The Closet has on unsuspecting heterosexual spouses, children and friends. While LGBTQ people might deal with the devastation of internalized homophobia, Mary Ann looks at the selfishness of keeping that secret. She also honestly writes about Morris' out-sized ego, as well as the monumental humanitarian community services he provided to marginalized people, especially LGBTQ youth with nowhere else to turn. Morris deserves this book and the LGBTQ community owes Mary Ann a debt of gratitude for adding such an important, serious contribution to LGBTQ history.
When I first started reporting for the "gay press" in the late 1980s after a career in mainstream media, I had no idea there was a gay or lesbian community. By 1988, I'd met a lot of gay people through 12 Step programs and AIDS services and memorials. But honestly, it wasn't until I had long talks with Harry Hay, Jim Kepner and Morris Kight that I really grasped that we were an oppressed minority around whom straights devised a mythical reputation as abnormal sexual perverts and predators (thank you for the synopsis, Vito Russo!) – which we internalized as the truth!
It was an awakening. I was very grateful. So I took my job reporting LGBT news very seriously – while also giving myself permission to be a perpetual student.
Like Mary Ann, Morris used to call me at 6:00am about something that was happening. I explained to him that Frontiers, for which I was freelancing at the time, published every other week, not daily, so he could have called later. And like Mary Ann, Morris would finish whatever he had to say, then just hang up. No "goodbye." It was as if he just didn't have time for some of these minor niceties. And Morris didn't drive so that sometimes fell to me – though mostly to AHF stalwart Miki Jackson.
Mary Ann' book has lots of photos but here are some I took that I thought might be of interest: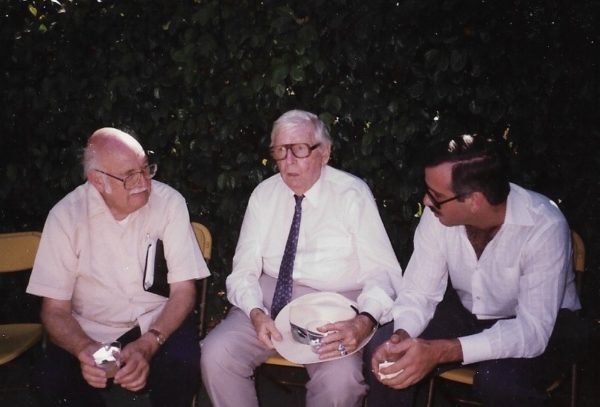 I drove Morris to Dorr Legg's memorial at the Milbank Mansion in 1994. It was my first realization that the LA gay movement of elders (not L or B or T yet) was essentially two contingents – the Harry Hay group and the Morris Kight group.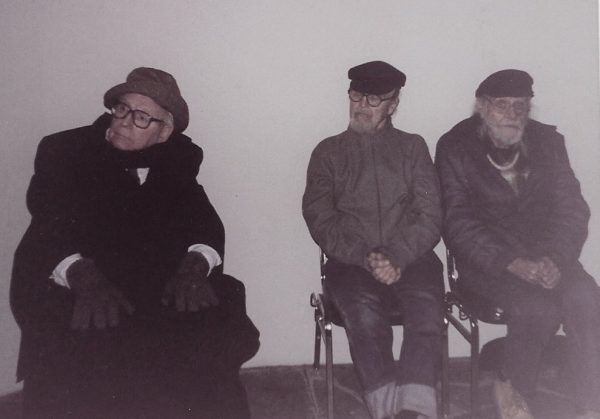 That division kept on for a long time.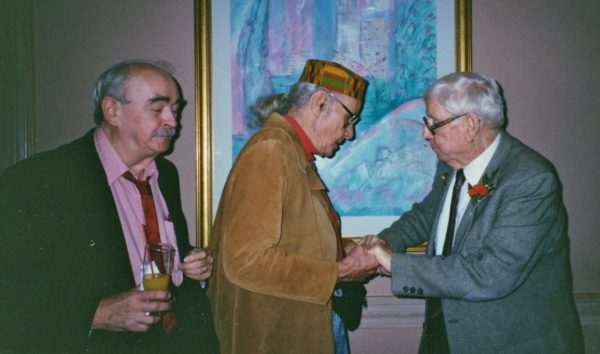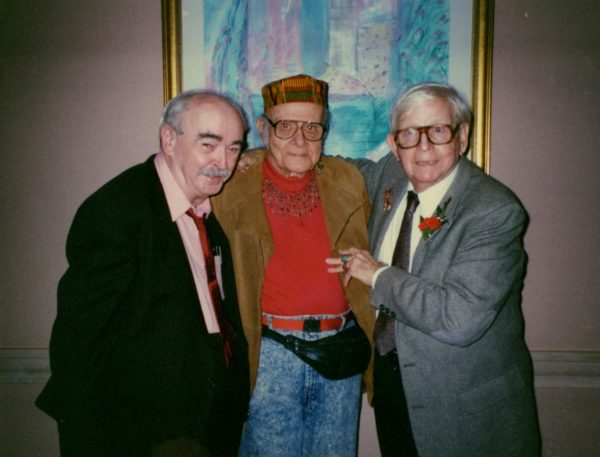 But there were other times, especially at an event where Harry was being honored, where they would put their differences aside. Since I knew them fairly well by then, I asked if I could take a three shot of the movement's honored elders – and they complied.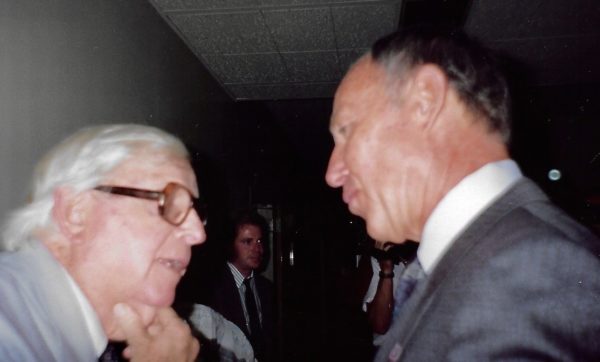 Morris, a pacifist, constantly challenged anti-gay LAPD Chief Daryl Gates, who militarized the police and for whom openly racist and homophobic LAPD Chief William H. Parker had been a mentor. It was odd, then, to see the two in public – holding their positions but sometimes being unexpectedly jovial.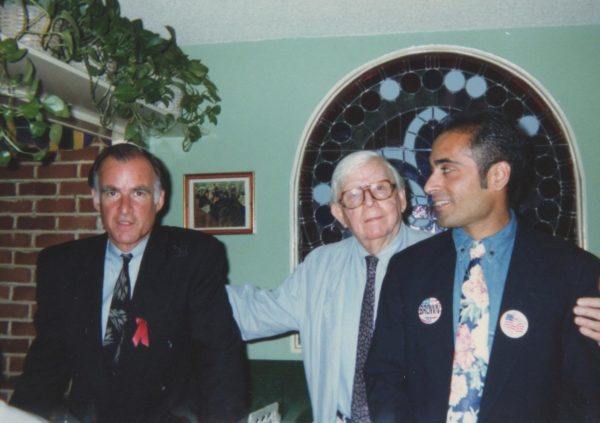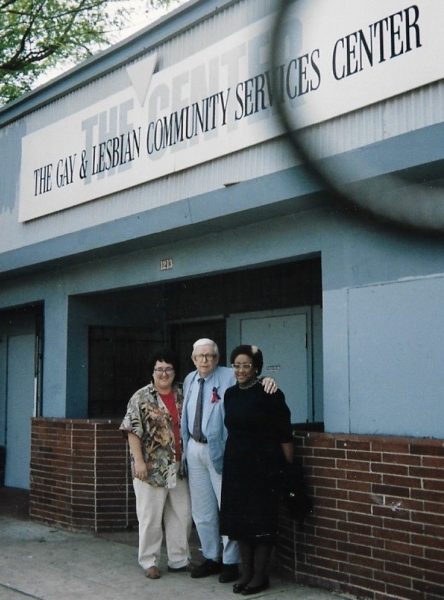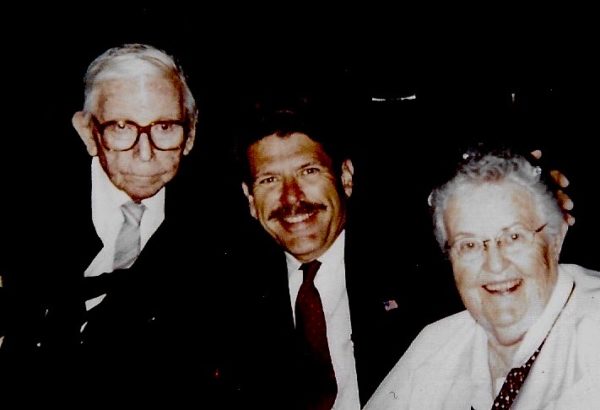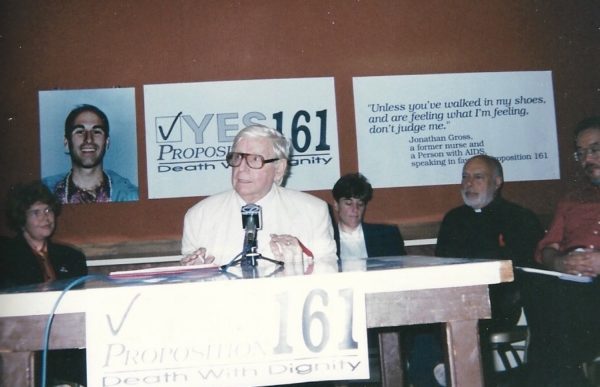 Morris, who co-founded Stonewall Democratic Club, had the political era of many electeds and introduced then to the LGBT community, such as taking former Gov. Jerry Brown to the French Market in West Hollywood in 1992; or driving newly-elected Seattle City Councilmember Sherry Harris through riot-scared LA then to the LA Gay & Lesbian Community Services Center on Highland with AHF's Miki Jackson; or celebrating Ivy Bottini's birthday with LA County Supervisor Zev Yaroslavsky. Morris also advocated for the Death with Dignity initiative with Torie Osborn and Rev. Malcolm Boyd.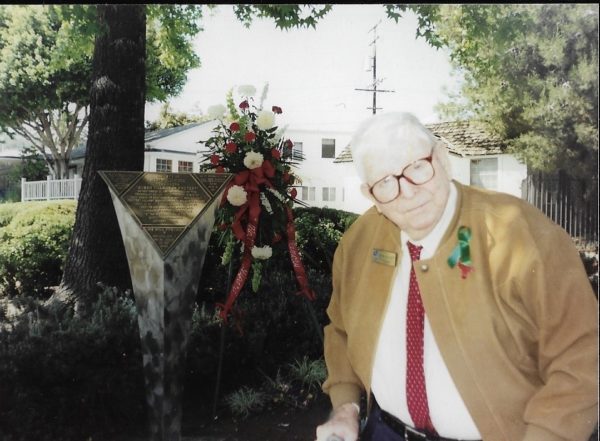 Morris also decided to rename "Queer Village" — the triangle at Santa Monica Boulevard and Crescent Heights in West Hollywood where AIDS and AB 101 (the gay civil rights bill) fasting protests had occurred — the Matthew Shepard Human Rights Triangle after the tragic hate murder of gay Wyoming student Matthew Shepard.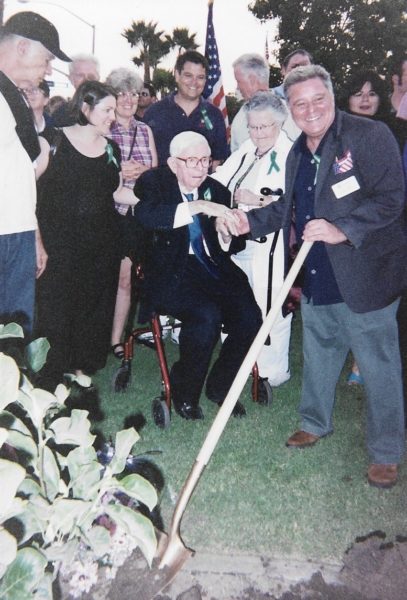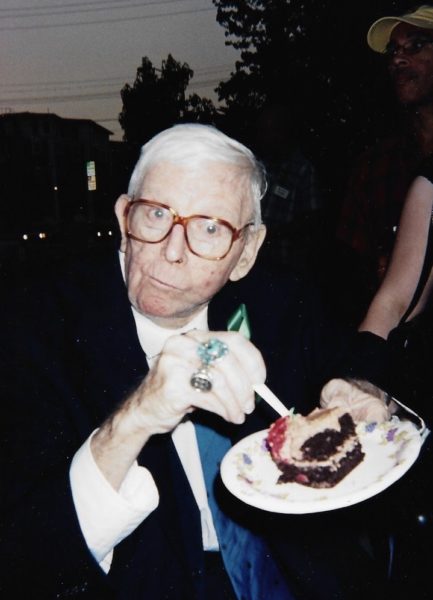 In 2001, the City of West Hollywood planted trees and plaques at that site honoring both Morris and Ivy for their decades of LGBTQ activism.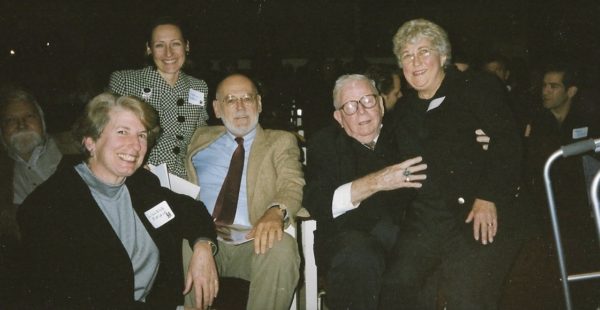 Morris with Don Kilhefner, Betty Berzon, Gwen Baldwin and Lillene Fifield.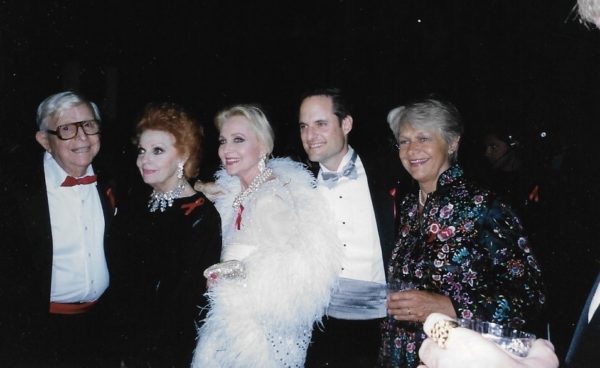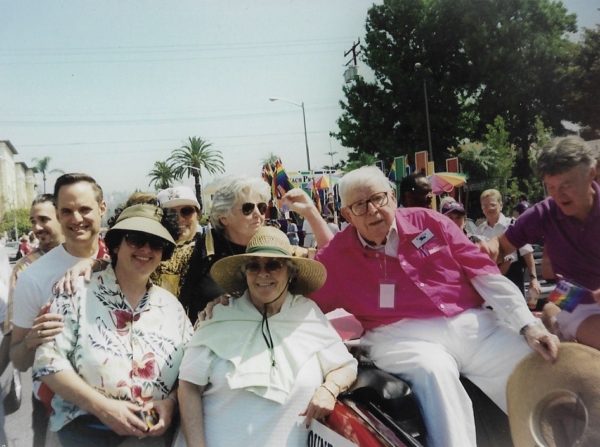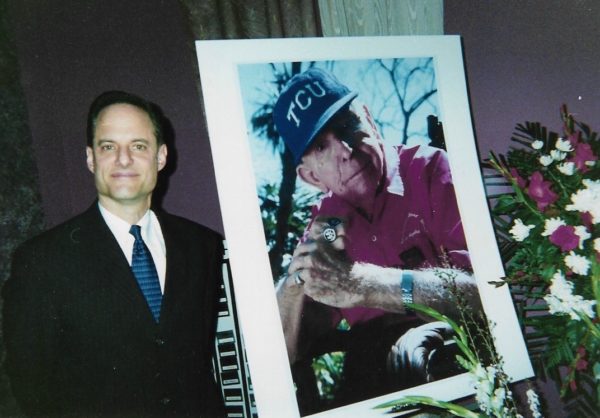 In 1983, Morris helped found Aid for AIDS, a small organization that raised money to give to people with AIDS for emergency payment of rent, mortgages and utilities to enable them to die with dignity at home instead of homeless on the streets. Later a friendship developed between AIDS activist Michael Weinstein, who went on to co-found the Chris Brownlie Hospice in 1987 and subsequently, the AIDS Healthcare Foundation. Morris attended AHF fundraisers and hung out during CSW Pride, if he wasn't the focus of the parade. Morris died at AHF's Carl Bean Hospice; his memorial at MCC in West Hollywood drew scores of dignitaries and old friends.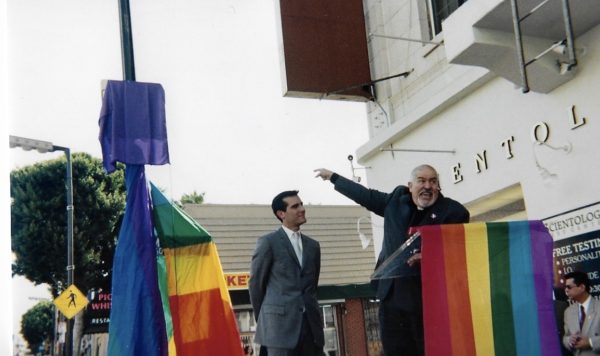 In 2003, the LA City Council, led by Councilmember Eric Garcetti, and Morris' friends, including CSW co-founder Rev. Troy Perry, designated the corner of Hollywood Boulevard and McCadden Place as "Morris Kight Square" as the site of the first CSW Pride Parade in 1970. Several people noticed the amusing ironic fact that the Square is right outside the Scientology Hollywood store front, as if Morris was haunting the anti-gay "religion."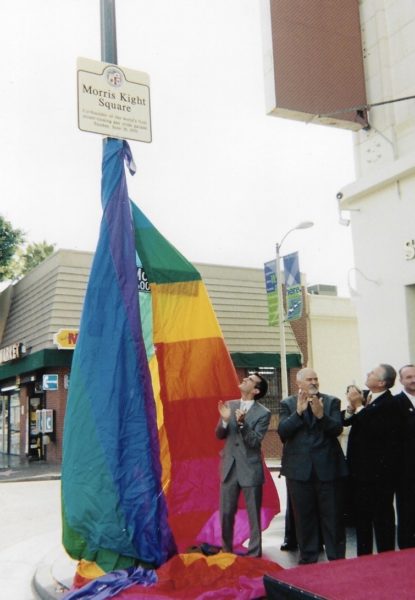 New bio illuminates Liz Taylor's decades of support for queer community
'Without homosexuals there would be no culture'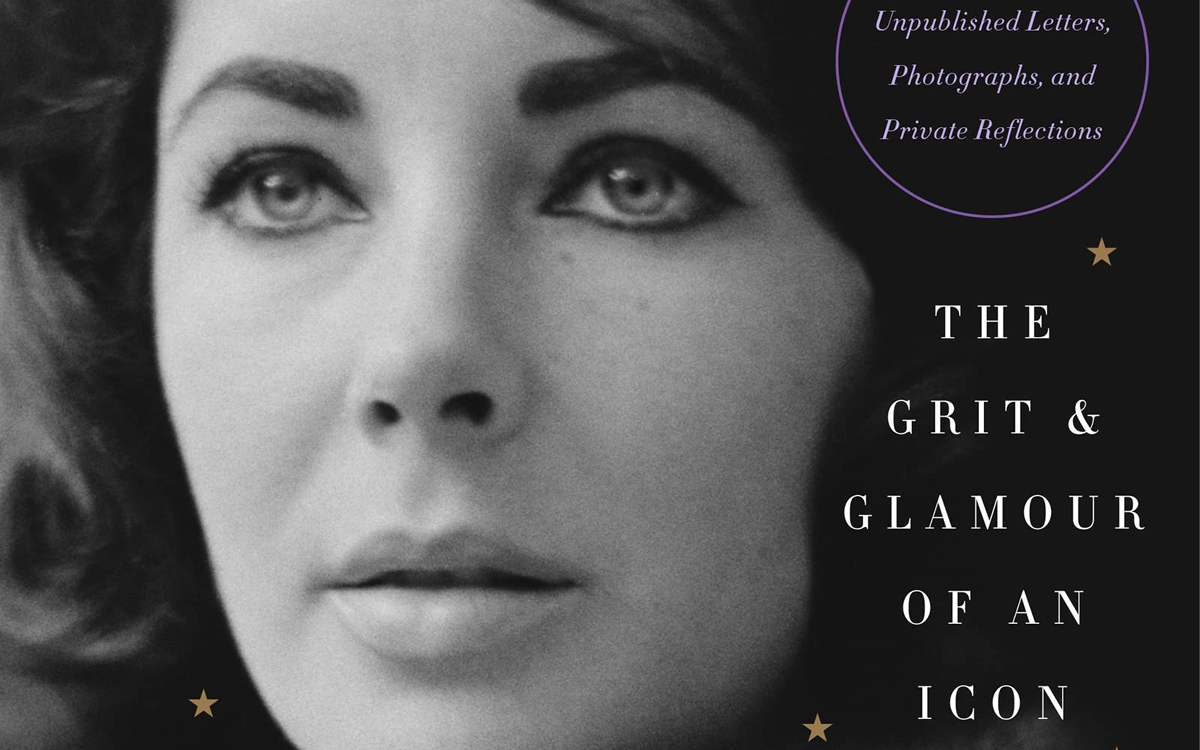 'Elizabeth Taylor: The Grit & Glamour of an Icon'
By Kate Andersen Brower
c.2022, Harper
$33/513 pages
In the mid-1980s, actor Roddy McDowell threw a dinner in honor of Bette Davis's birthday. Davis, a queer icon, thought it was "vulgar" when Elizabeth Taylor and actress Pia Zadora, tried on each other's diamond rings. "Oh, get over it, Bette," Taylor, an actress, philanthropist and queer icon, told Davis.
One Friday in 1998, Taylor learned that a friend of her assistant had died, alone, with no money for his burial, from AIDS. Taylor wanted her business manager to arrange for the man who had died to be buried. She was outraged when she learned that this couldn't be done ASAP. "We will not fucking wait until Monday," Taylor said, "We will do it right now."
These are two of the entertaining, moving, and revealing stories told about Taylor in "Elizabeth Taylor: The Grit & Glamour of an Icon" by Kate Andersen Brower.
Many bios written about celebs have the shelf life of a quart of milk. Thankfully, this isn't the case with Brower's bio of Taylor.
Taylor, who lived from 1932 to 2011, was, for most of her life, not only a celebrity – but a household name, a worldwide subject of admiration, titillation and gossip.
But Taylor was so much more than catnip for the paparazzi. She was a feminist, an often underrated actress, businesswoman, senator's wife, addict, mother, lover of animals, a proponent of gun control, an opponent of anti-Semitism, philanthropist and queer history hero.
Yet, despite the hype, glam and all that's been written about Taylor, many aren't aware of the multi-facets of her life.
In "Elizabeth Taylor," Brower, a CNN contributor, who's written "The Residence," "First Women" and "Team of Five, "First in Line," gives us an informative, lively bio of Taylor.
It is the first authorized biography of Taylor. Usually, this is the kiss of death for a biography. Few want their family members to be revealed as three-dimensional people with not only talent, but flaws.
Thankfully, Brower's Taylor bio escapes the trap of hagiography. Brower began writing the biography after talking with former Sen. John Warner, who was married to Taylor from 1976 to 1982. (Warner died in 2021.)
Warner was one of Taylor's seven husbands. He and Taylor remained friends after they divorced. Warner connected Brower with Taylor's family who wanted the story of Taylor to be told. Brower was given access to a trove of new source material: to Taylor's archives – 7,358 letters, diary entries, articles, and personal notes and 10,271 photographs. Brower drew on unpublished interviews with Taylor, and extensively interviewed Taylor's family and friends.
In her 79 years, Taylor did and lived so much, that telling the story of her life is like trying to put the Atlantic Ocean into one bottle of water. Yet, Brower makes Taylor come alive as an earthy, glam hero with flaws and struggles.
Taylor, who performed with Burton in Shakespeare's "Taming of the Shrew," was as proficient at cursing as the Bard was at writing sonnets. "I love four-letter words," Taylor said, "they're so terribly descriptive."
She was renowned for caring for friends and strangers. During Sept. 11, Taylor was in New York. She paid for a toothless woman, who was looking for a job, to get teeth, and comforted firefighters. A firefighter wondered if Taylor was really at his firehouse. "You bet your ass, I am," Taylor said.
Taylor loved her children. Yet, her kids were often (due to her work) left with nannies or enrolled in boarding schools.
Due partly to life-long back pain sustained from an injury she sustained while filming "National Velvet" when she was a child, Taylor struggled with a life-long addiction to pills.
In "Elizabeth Taylor," Brower illuminates Taylor's decades of support and friendship with the queer community. Early in her career, she formed close friendships with queer actors Rock Hudson, Montgomery Clift and James Dean. "Without homosexuals there would be no culture," Taylor said.
Decades later, it's easy to forget how horrible things were during the AIDS crisis in the 1980s and 1990s. Brower vividly brings back the horror and the tireless work Taylor did for AIDS research. At a time when people wouldn't use a telephone touched by someone with AIDS, Brower reports, Taylor would hug patients with AIDS in hospices. She jumped into bed to hold her friend Rock Hudson when he was dying from AIDS when no one would go near him, Brower writes.
"I'm resilient as all hell," Taylor said.
There couldn't be a better time for "Elizabeth Taylor" than today. In our era, when many would like to erase LGBTQ people, Taylor's legacy is more important than ever.
The Blade may receive commissions from qualifying purchases made via this post.