August 27, 2020 at 7:15 am PDT | by Michael K. Lavers
Texas congressional candidate slams homophobic GOP attacks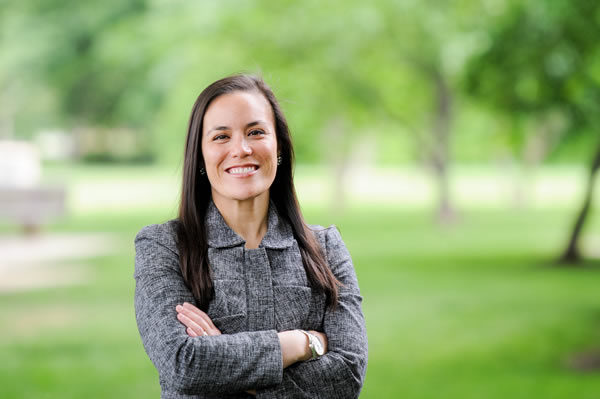 A Texas congressional candidate has sharply criticized the National Republican Campaign Committee over its suggestion that she should be attacked because of her sexual orientation.
The Huffington Post reported Democrat Facts, an NRCC website, published a picture of Gina Ortiz Jones and her partner and noted "Jones and her female partner lived and worked near Washington, D.C., not Texas" before she ran for Congress.
A spokesperson for the NRCC on Tuesday told the Huffington Post it removed the reference to Jones' sexual orientation from the website.
Democrat Facts' profile of Jones still contains a picture of her with her partner. A talking point under the "hits" tag still refers to her partner and sexual orientation.
"Before deciding to first run for Congress, Gina Jones and her partner lived and worked near Washington, D.C., not Texas," reads the talking point. "Jones has never owned property in the district and just recently moved into her mom's house for the sole purpose of running for Congress in this district."
Jones on Wednesday during a telephone interview with the Los Angeles Blade described the effort to attack her because she is a lesbian is "shameful."
"It just shows you how little they actually have to run on," added Jones.
Jones is running to represent Texas' 23rd congressional district, which stretches from portions of El Paso County in the west to parts of San Antonio in the east. The district includes 40 percent of the entire U.S.-Mexico border.  
Jones in 2018 lost to Republican Congressman Will Hurd by 926 votes. She will face off against Republican Tony Gonzales in the general election to succeed Hurd, who is not seeking re-election. Jones would be the first openly LGBTQ person to represent Texas in Congress if she wins.
Jones' campaign has urged Gonzales to condemn the NRCC attacks.
Gonzales in a tweet said he "didn't care about the sexual orientation of the person fighting next to me" when he served in Iraq and Afghanistan.
When I served in Iraq and Afghanistan I didn't care about the sexual orientation of the person fighting next to me. What I do care about is Gina Jones' support for closing our military bases. Don't let her distract you. #TX23 #TeamTony https://t.co/yxVd7MMWp9

— Tony Gonzales (@TonyGonzales4TX) August 25, 2020
Jones was an Air Force intelligence office during the Iraq war. She also served under "Don't Ask, Don't Tell."
Jones' campaign in a press release noted Gonzales recently accused Jones of having a "transgender agenda."
"I learned a long time ago … you cannot teach courage, you cannot teach class," Jones told the Blade in response to the NRCC attacks and Gonzales' comments. "They can run their gutter campaign. I'll keep talking about the issues that matter most to this district as so many vulnerable communities are trying to get through this pandemic and economic crisis."