LGBTQ activists participate in March on Washington commemoration
HRC President Alphonso David among speakers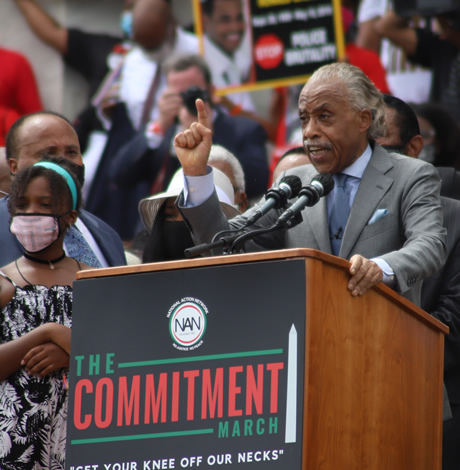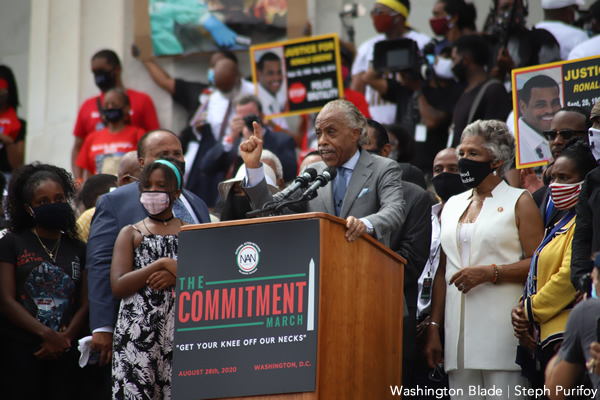 LGBTQ activists joined tens of thousands of protesters at the Lincoln Memorial on Friday to demand the end of systemic racism and police brutality in one of the largest Black Lives Matter marches of the year. 
The National Action Network organized the rally; which featured high-profile speakers like Rev. Al Sharpton, Martin Luther King III, and family members of victims of police brutality.
Titled the Commitment March on Washington, the event also served to honor the 57th anniversary of the first March on Washington where Martin Luther King, Jr., gave his "I Have a Dream" speech on the steps of the Lincoln Memorial.
The march comes at the end of a summer marked by instances of police brutality in multiple cities across the country. The murder of George Floyd at the hands of a then-Minneapolis police officer in May rekindled the very movement which brought Martin Luther King Jr. to D.C. 57 years ago to demand racial justice and equality.
Qween Jean, a costume designer and founder of Black Trans Liberation, a New York-based advocacy organization, said she and her friends woke at the crack of dawn to make sure they could represent the LGBTQ community in the demonstration. She carried a large trans flag up to the steps of the Lincoln Memorial, waving it before the sea of protesters.
"Our purpose is to give trans voices and trans people access to love," said Jean in an interview. "We as a community need to recognize their power and strength so we have to affirm our family. Trans people, trans women, Black trans people can exist in any space. We are divinely made and created so yes, we will be seen. I will make sure that my generation and the next generation do not need to feel small, they do not need to be silent, they do not have to dim their light so others can shine."
Starting at 7 a.m., thousands of protesters gathered in lines which snaked for nearly a mile around the National Mall. They were waiting to have their temperature taken before entering the rally, which was one of the many safety measures the organizers put in place. Plastic gloves were distributed along with hand sanitizer at multiple stations around the National Mall.
The National Action Network originally estimated the crowd would swell to 100,000 but this number was lowered to 50,000 after concerns were raised about protesters coming to D.C. from other states.
Dmitri Stoyanoff, 39, said he came out to the protest with several others from Portland, Ore., to join the demonstrations. He strode through the marchers with Pride flags waving from his backpack. Stoyanoff said he contributed to the day's events by working to register marchers to vote.
He wanted to support the BLM protesters because they inspired him to come out as queer in June, he said.
"After marching for a couple weeks and listening to all these young, beautiful, Black voices talking about how this was the first time in their whole lives that they felt proud of being black, I realized that I needed to love myself too," Stoyanoff said. "Black Lives Matter is for every American. Every gender, sexual orientation, race they're fighting for all of us if people would care to listen."
The protest concluded with a march scheduled to head to the MLK memorial but soon after exiting the Mall, protesters splintered to several different spots in the city. Some went to the memorial while others split to Black Lives Matter Plaza.
For Human Rights Campaign President Alphonso David, the Black Lives Matter and LGBTQ civil rights movements are the same movement. As a Black gay man, David said he is oppressed for both parts of his identity.
"The Black Lives Matter movement, the LGBTQ rights movement, the Latinx movement, we're all fighting for liberation. We're all fighting so that we can live in this country and achieve liberation and equality," he told the Los Angeles Blade. "I cannot be free as a gay man if I am not free as a Black man. The LGBTQ civil rights movement is a part of the BLM movement. As Black people, as POC, we shouldn't be forced to choose between our sexual orientation, our gender identity, and our race."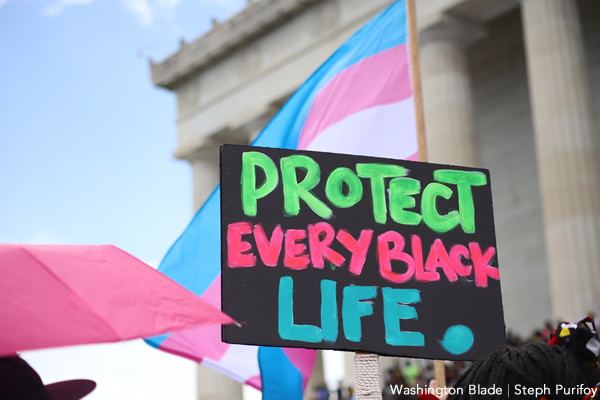 Another Trans person confirmed murdered this year- USAF vet & Mother
Her friends will always remember her infectious personality & her unmistakable laugh. She loved others passionately and fiercely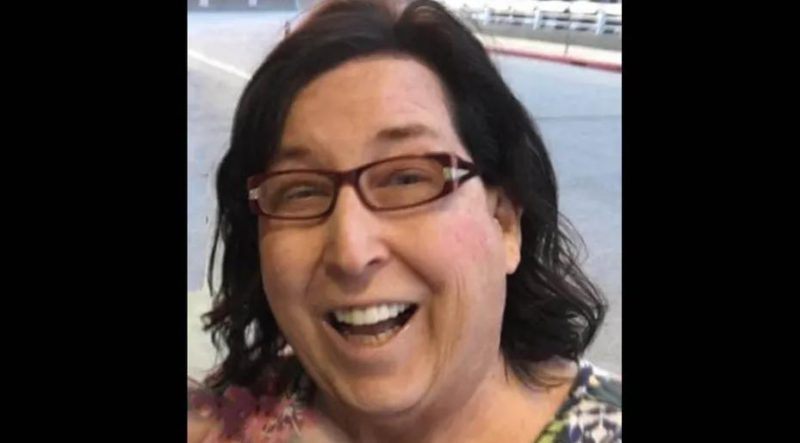 MEADE COUNTY, Ky. – Another Trans person has been confirmed murdered this year bringing the deadly total to 49 deaths of transgender and gender non-conforming people in 2021 according to a tally kept by the Human Rights Campaign.
Cris Blehar, a 65-year-old white transgender woman, mother, and U.S. Air Force veteran, was discovered stabbed and shot to death by Meade County sheriff's deputies who had responded to her rural home on Woodland Road in the Flaherty area. Deputies had been dispatched to perform a welfare check from an unidentified person concerned about Blehar.
The Elizabethtown, Kentucky, News-Enterprise newspaper reported that the Kentucky State Police had made an arrest in the case only a few hours after Blehar's body was found of Vine Grove resident Tyler J. Petty, 18.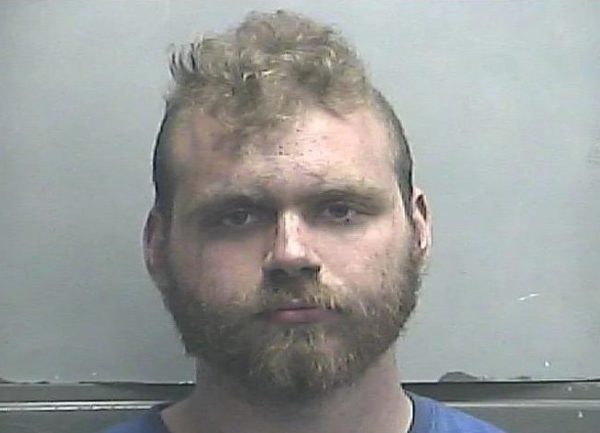 "There was no relationship between the victim and the suspect. We believe he worked for her," said Kentucky State Police Trooper Nicholas Hale in an email to the News-Enterprise. Petty was arrested and brought to KSP Post 4 and was interviewed about the case. Police say he admitted to killing Blehar. A trial date has been set for June 2022.
The murder in this rural area about an hour Southwest of Louisville on May 19, 2021, was brought to the attention of the Human Rights Campaign this week when Blehar's cousin Mark Stephens contacted HRC to ensure that she was "remembered, honored, and counted" as a member of the transgender community. 
In a statement to HRC, Mark Stephens said;
"If there is one thing to know about Cris, it was that she fought fiercely to define her life as SHE wanted. Whether it was her military service, her 20+ year career in the airline industry, or her post retirement decision to buy a farm & start a family of her own. She lived life to the fullest and wanted everyone around her to live their best life as well. Growing up 'different' in Kentucky is certainly no easy task, something we shared in addition to being cousins, and she tackled it with the passion and zeal that only she could have. Her friends will always remember her infectious personality & her unmistakable laugh. She loved others passionately and fiercely, none more than her own son, Maverick."
Blehar's son Maverick Thompson paid tribute to her, writing:
"Cris was an amazing mother and a wonderful person. She had so much love and brought a smile to many. She had a hilarious sense of humor that will live on through those that knew her. She will be sorely missed!"
According to her obituary, Blehar was a former law enforcement officer in the U.S. Air Force and retired from United/Continental Airlines. She also worked as an Uber driver and loved animals and bowling.
HRC has officially recorded 49 deaths of transgender and gender non-conforming people in 2021, more than in any year since we began tracking this violence in 2013.
Victory Fund honors Maine House speaker in D.C.
Ryan Fecteau is gay Catholic University alum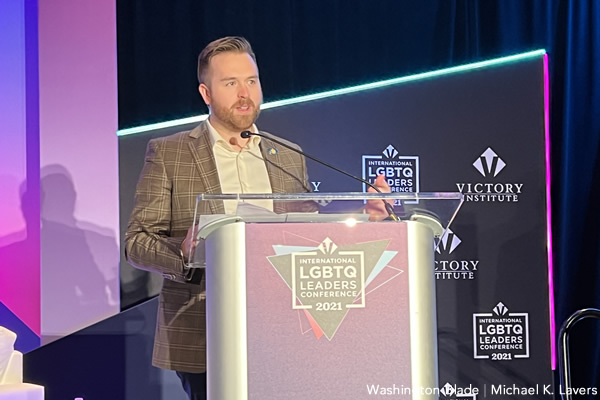 WASHINGTON — The Victory Fund on Saturday honored Maine House Speaker Ryan Fecteau on the last day of its International LGBTQ Leaders Conference in D.C.
Fecteau — an openly gay Catholic University of America alum — won a seat in the Maine House of Representatives in 2014. He became the chamber's speaker in 2018.
"Hate and intolerance will not derail us," said Fecteau after Florida state Rep. Carlos Guillermo Smith presented him with the Tammy Baldwin Breakthrough Award, which is named after U.S. Sen. Tammy Baldwin (D-Wis.). "Our community will not be intimidated."
The Victory Fund on Friday honored Guatemalan Congressman Aldo Dávila, a gay man who is living with HIV.
Georgia Tech settles lawsuit in case of LGBTQ+ student killed by its cops
William and Lynne Schultz alleged that one of the responding campus police officers was inadequately and improperly trained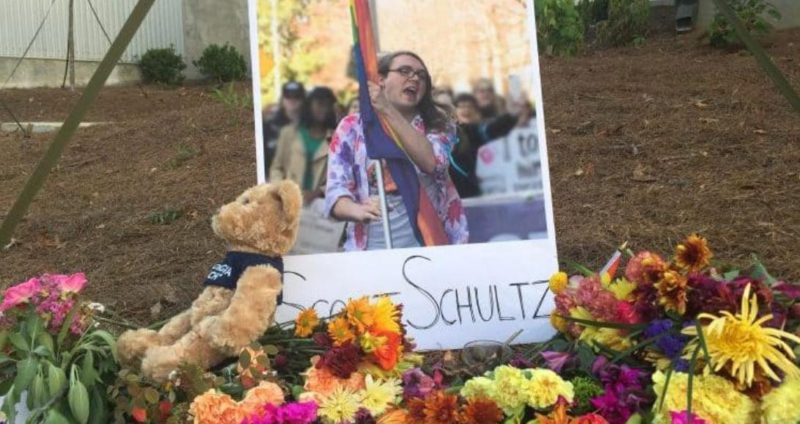 ATLANTA – The family of a non-binary LGBTQ+ student leader shot to death in 2017 by university police officers during a call over a mental health breakdown crisis situation, has agreed to a settlement in a wrongful death lawsuit that the family had filed against Georgia Tech.
The family of 21-year-old Scout Schultz, who was intersex, non-binary and bisexual, a fourth-year student and head of Georgia Tech's LGBTQ+ Pride Alliance, settled this week after the university agreed to pay the family a $1 million settlement in their case.
The lawsuit, filed in September of 2019 by the parents of the slain student, William and Lynne Schultz in the U.S. District Court for the Northern District of Georgia, alleged that one of the responding campus police officers was inadequately and improperly trained.
In the suit, the Schultze's alleged that Tech campus police officer Tyler Beck, 23, "had received no training in crisis intervention." The suit goes on to say that the other responding officers "remained calm and followed standard de-escalation techniques without initiating physical force directed" at Schultz, but Beck "did not de-escalate and instead used deadly physical force."
Schultz called 911 on Sept. 16, 2017. Campus police responded and found Schultz in a residential area of campus holding what appeared to be a knife. Schultz approached the officers in what later characterized in the official report of the incident as a 'menacing manner.' One officer told Schultz that "nobody wants to hurt you" and another told the distraught student to "relax."
But as Schultz continued to advance, one of the officers, Beck, shot Schultz once in the heart and they died about 30 minutes later at Grady Memorial Hospital.
During a subsequent investigation by the Georgia Bureau of Investigation found three suicide notes and Schultz's parents confirmed he suffered from depression and tried to kill himself two years earlier the Associated Press reported.
The Schultz's claimed that the university, the Georgia Bureau of Investigation, the City of Atlanta and Fulton County prosecutors had kept details of the case from the family, Attorney Chris Stewart, who represents Schultz's parents said in a press conference when the lawsuit was first announced.
"Schultz's death was the result of Georgia Tech's and the state of Georgia's failure over time to properly train their personnel to act in such a way as to prevent the exclusion of persons such as Schultz from the safety to which all students were entitled on the campus of Georgia Tech," the lawsuit stated. The Schultze's filed the lawsuit against the school, Beck and the Board of Regents of the University System of Georgia.
The Atlanta Journal-Constitution later reported that now former Fulton County District Attorney Paul Howard said Beck won't face criminal charges in Schultz's death. Howard said two use-of-force experts concluded the shooting was justified.
According to Project Q Atlanta, the university has assigned $1 million to mental health and wellness initiatives for LGBTQ+ students, has awarded Schultz's degree posthumously to their family, and now requires all Georgia Tech campus police officers to carry tasers as well as guns and complete 40 hours of crisis intervention training.