LGBTQ activists participate in March on Washington commemoration
HRC President Alphonso David among speakers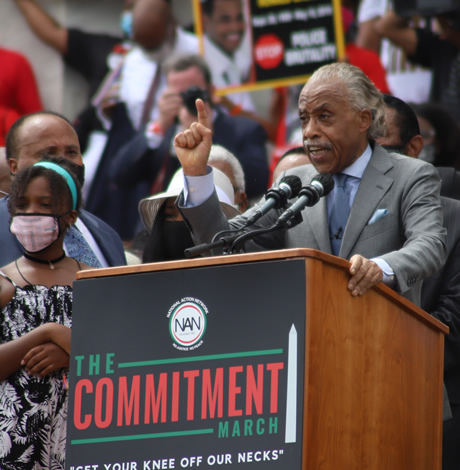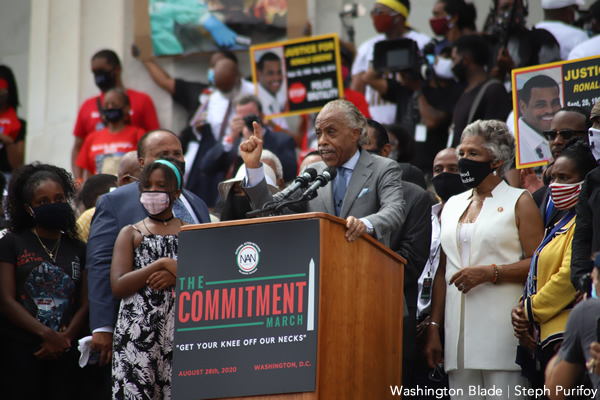 LGBTQ activists joined tens of thousands of protesters at the Lincoln Memorial on Friday to demand the end of systemic racism and police brutality in one of the largest Black Lives Matter marches of the year. 
The National Action Network organized the rally; which featured high-profile speakers like Rev. Al Sharpton, Martin Luther King III, and family members of victims of police brutality.
Titled the Commitment March on Washington, the event also served to honor the 57th anniversary of the first March on Washington where Martin Luther King, Jr., gave his "I Have a Dream" speech on the steps of the Lincoln Memorial.
The march comes at the end of a summer marked by instances of police brutality in multiple cities across the country. The murder of George Floyd at the hands of a then-Minneapolis police officer in May rekindled the very movement which brought Martin Luther King Jr. to D.C. 57 years ago to demand racial justice and equality.
Qween Jean, a costume designer and founder of Black Trans Liberation, a New York-based advocacy organization, said she and her friends woke at the crack of dawn to make sure they could represent the LGBTQ community in the demonstration. She carried a large trans flag up to the steps of the Lincoln Memorial, waving it before the sea of protesters.
"Our purpose is to give trans voices and trans people access to love," said Jean in an interview. "We as a community need to recognize their power and strength so we have to affirm our family. Trans people, trans women, Black trans people can exist in any space. We are divinely made and created so yes, we will be seen. I will make sure that my generation and the next generation do not need to feel small, they do not need to be silent, they do not have to dim their light so others can shine."
Starting at 7 a.m., thousands of protesters gathered in lines which snaked for nearly a mile around the National Mall. They were waiting to have their temperature taken before entering the rally, which was one of the many safety measures the organizers put in place. Plastic gloves were distributed along with hand sanitizer at multiple stations around the National Mall.
The National Action Network originally estimated the crowd would swell to 100,000 but this number was lowered to 50,000 after concerns were raised about protesters coming to D.C. from other states.
Dmitri Stoyanoff, 39, said he came out to the protest with several others from Portland, Ore., to join the demonstrations. He strode through the marchers with Pride flags waving from his backpack. Stoyanoff said he contributed to the day's events by working to register marchers to vote.
He wanted to support the BLM protesters because they inspired him to come out as queer in June, he said.
"After marching for a couple weeks and listening to all these young, beautiful, Black voices talking about how this was the first time in their whole lives that they felt proud of being black, I realized that I needed to love myself too," Stoyanoff said. "Black Lives Matter is for every American. Every gender, sexual orientation, race they're fighting for all of us if people would care to listen."
The protest concluded with a march scheduled to head to the MLK memorial but soon after exiting the Mall, protesters splintered to several different spots in the city. Some went to the memorial while others split to Black Lives Matter Plaza.
For Human Rights Campaign President Alphonso David, the Black Lives Matter and LGBTQ civil rights movements are the same movement. As a Black gay man, David said he is oppressed for both parts of his identity.
"The Black Lives Matter movement, the LGBTQ rights movement, the Latinx movement, we're all fighting for liberation. We're all fighting so that we can live in this country and achieve liberation and equality," he told the Los Angeles Blade. "I cannot be free as a gay man if I am not free as a Black man. The LGBTQ civil rights movement is a part of the BLM movement. As Black people, as POC, we shouldn't be forced to choose between our sexual orientation, our gender identity, and our race."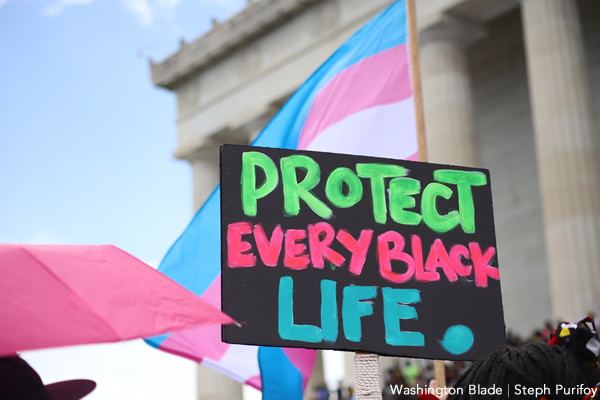 Florida female school athletes asked about menstrual cycles
"Questions about menstruation absolutely will be used to out transgender athletes and force compliance with the state law banning them"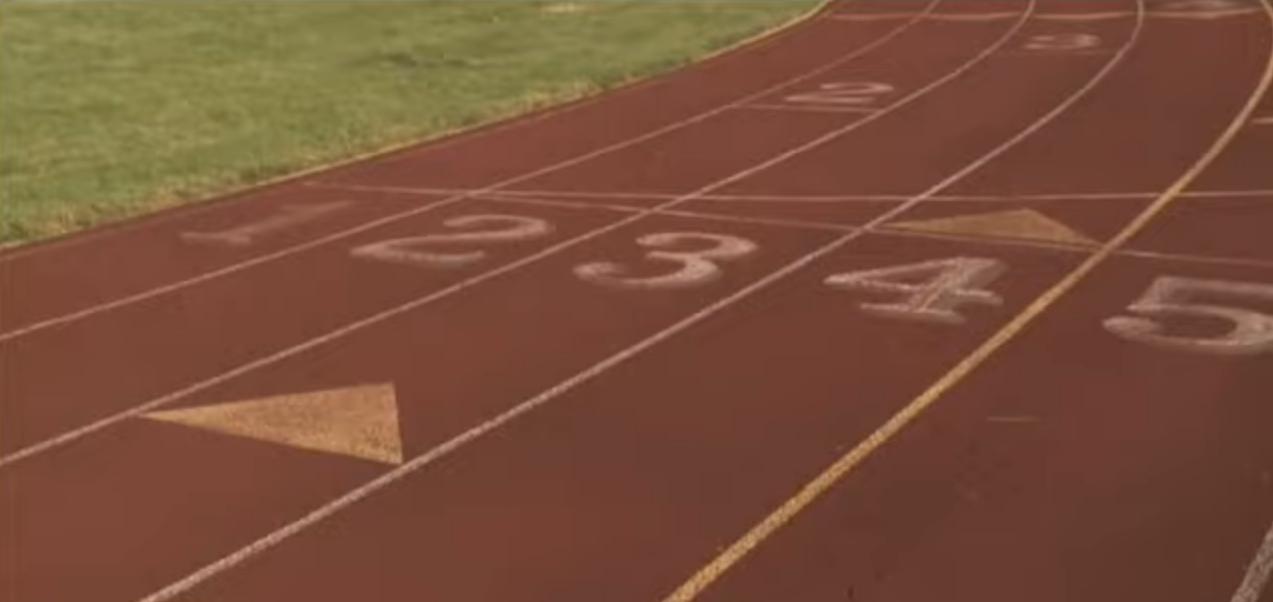 TALLAHASSEE, Fla. – For decades, female student athletes in Florida have been asked questions about their menstrual cycles on annual physical evaluation forms. But, as some districts move to the paper document online, activists warn the questions could harm both transgender and pregnant people in the state.
The form, which all athletes are required to fill out with a physician and turn in to their school's athletic director, asks students to report things like seizures, fainting spells and allergies. In an optional category, female athletes are also asked about their periods.
The questions include:
When was your first menstrual period?
When was your most recent menstrual period?
How much time do you usually have from the start of one period to the start of another?
How many periods have you had in the last year?
What was the longest time between periods in the last year?
Though the Florida High School Athletic Association has asked these questions for two decades, a Tuesday article from the Palm Beach Post prompted shock and outrage from LGBTQ and reproductive rights advocates, as well as parents and doctors.
The newspaper reported that some districts in Florida, including Palm Beach, began moving the form to a digital platform kept by a third party. That – coupled with a political climate where Republican lawmakers are attempting to ban transgender people from sports and abortion is no longer a Constitution right – has people in and out of the state concerned.
The forms, according to the Palm Beach Post, are subject to subpoena – whether paper or digital. The data is being held by Aktivate, a software company founded by former AOL CEO and News Corp. executive Jon Miller, which has said all student information will be kept confidential.
Pediatricians in the Palm Beach district said the only page of the form that schools should receive is the final one – where a doctor clears an athlete to participate. In Florida, all the medical data is turned over.
"I don't see why [school districts] need that access to that type of information," Dr. Michael Haller, a pediatric endocrinologist based in Gainesville, Fla., told the outlet, adding: "It sure as hell will give me pause to fill it out with my kid."
On Twitter, transgender activist Alejandra Caraballo, also a clinical instructor at Harvard Law School's Cyberlaw Clinic, warned it "has gravely serious implications about medical privacy and the ability for the state of Florida to track student's menstrual cycles to detect potential abortions." She also said that the "questions about menstruation absolutely will be used to out transgender athletes and force compliance with the state law banning them."
"The company [Aktivate] can hand over this medical information under current law to school officials. This means that coaches, principals, and teachers can track their student's menstrual cycles," Caraballo tweeted. "Absolutely sickening."
Florida passed a law to ban transgender athletes. They are now enforcing it by requiring female athletes to track their menstrual cycles and report it to the school and a 3rd party company called Aktivate.

This is downright dystopian.https://t.co/fPDOsf2IhT pic.twitter.com/D6j4Kzb7cR

— Alejandra Caraballo (@Esqueer_) October 4, 2022
In Florida, a person can still have an abortion until 15 weeks of pregnancy. The law includes exceptions: to save the pregnant woman's life and prevent serious injury or a fatal abnormality in the fetus. It has no exception for rape or incest. 
In 2021, Florida Gov. Ron DeSantis signed a law blocking transgender females from participating in school sports matching their gender identity.
'Nonpartisan' Minnesota group launches 'parental rights' effort
The group rallied in front of the Minnesota state capitol caring signs with crossed out images of Pride flags and "CRT"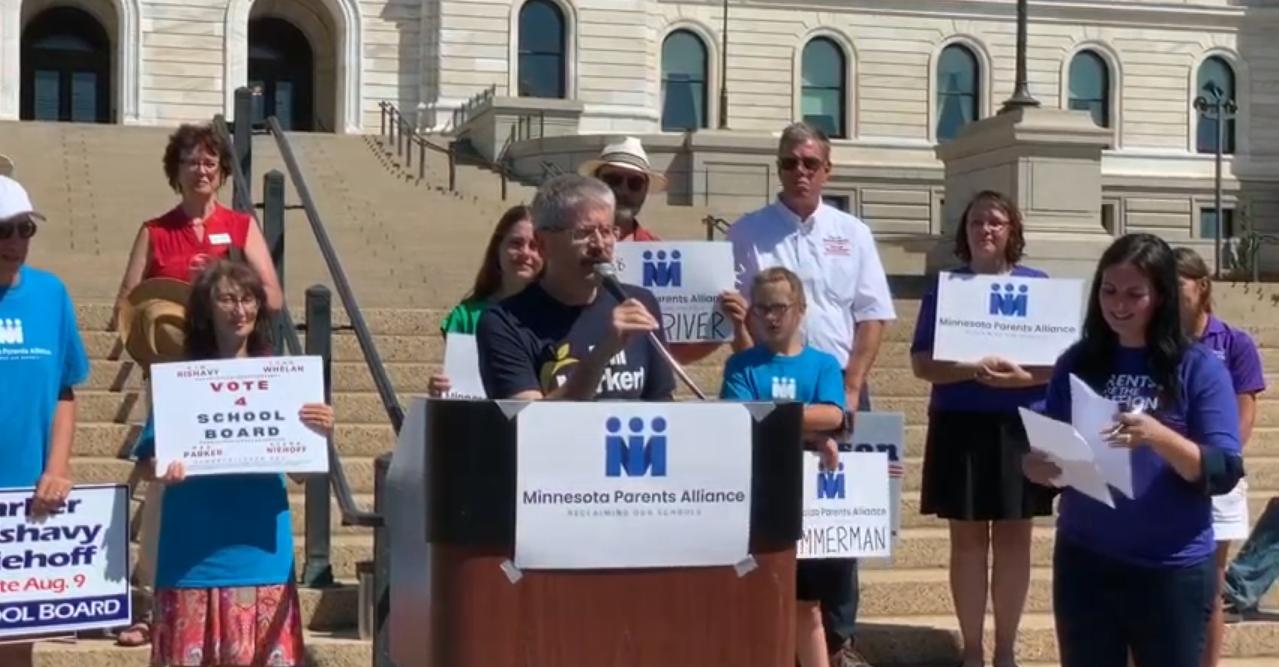 MINNEAPOLIS – A new group in Minnesota, the Minnesota Parents Alliance, claiming to be nonpartisan has launched an effort to gain "parental rights" on state school boards, partnering with anti-LGBTQ organizations and endorsing candidates who denounce Pride flags and critical race theory.
The group, which was launched in February, says it's a "statewide, non-partisan, parent-focused organization" that vows to ensure "every parent who wants to get involved in their child's education has every resource they need to do so successfully." According to the group's website, its goal is to "[educate] and [empower] Minnesota parents to effectively engage in their school community as strong advocates for academic achievement, equality, and parental rights."
"The parent movement is alive and well in Minnesota," the Minnesota Parents Alliance tweeted ahead of its launch in February. "We've got work to do in '22."
However, the Minnesota Parents Alliance lists several Conservative groups under its "helpful organizations" tab, including the Child Protection League – which the Southern Poverty Law Center lists as an anti-LGBTQ hate group. The Child Protection League generated extensive media coverage earlier this year after the Becker School District Board signed off on a plan to allow the organization to present the "other side" of the LGBTQ rights debate.
In August, according to MPR News, supporters of the group rallied in front of the Minnesota state capitol, some caring signs with crossed out images of Pride flags and "CRT" – referring to critical race theory, a graduate-level academic academic framework centering on the idea of systemic racism in the nation's institutions. Critical race theory has become a buzzword in Conservative circles, encompassing any teaching of race and American history in schools.
Once a political after-thought, school boards in recent years have become a battleground over critical race theory, transgender inclusion and LGBTQ-themed books considered to be "inappropriate," or even "pornographic."
The organization has backed over 100 candidates for Minnesota school board in its "voter guide," which states that the group "identifies and endorses school board candidates across the state who are aligned with our mission of prioritizing academic achievement, equality and parental rights in their school district."
The Los Angeles Blade reviewed the list of candidates, finding a lack of racial diversity. According to headshots on the group's website – though several candidates are without identifying photos – the group has largely backed white candidates. Over one-fifth of the state's population is represented by racial or ethnic minority groups, according to the latest U.S. Census data.
The Minnesota Parents Alliance has not responded to multiple interview requests from the Blade.
At the Aug. 4 rally, the group's founder, Cristine Trooien, said her organization has been contacted by Democratic voters wanting to partner with the group. "[They say], 'I am a left-leaning voter, I have always voted for Democratic candidates and what is going on in our schools right now is just unacceptable,'" she said, per MPR News.
"I think we saw last year a lot of inflammatory things happening at school board meetings and that's not getting us anywhere," Trooien said. "Dedicated school board members? That's going to get us somewhere."
Mother of Trans student in Vermont says daughter was bullied 
The conflict contains all the elements of a classic culture-war story, and national right-wing outlets have glommed on to it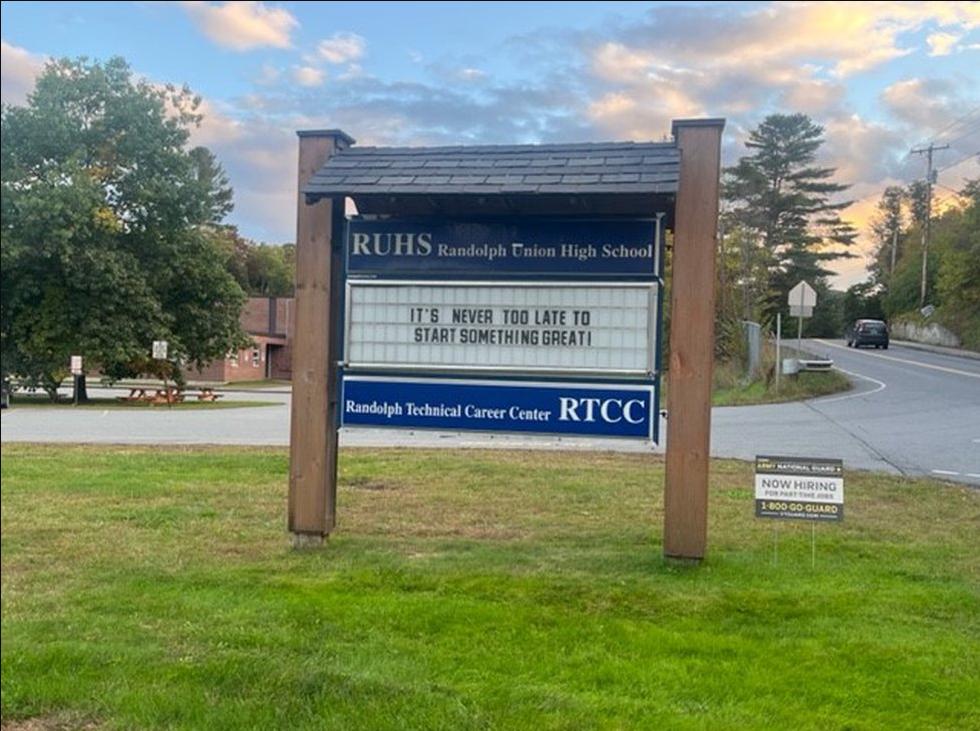 By Alison Novak | RANDOLPH, Vt. – On September 28, a mother in Randolph received a message from a friend with a link to a story on WCAX-TV's website.
The local news station reported that the Randolph Union High School girls' volleyball team had been banned from its locker room while school officials investigated a conflict involving an unnamed transgender athlete on the team. The friend asked the mother whether the piece was about her daughter, an openly transgender first-year student at the school. (The mother asked not to be named because of privacy and safety concerns.)
The mother viewed the video and immediately realized it was about a recent incident involving her daughter. The news report featured an interview with just one person — a girl on the team who said that a transgender teammate made an "inappropriate comment" while other girls were getting changed for practice. The girl told the WCAX reporter that "biological boys" should never be allowed in a girls' locker room and that other teammates and parents had similar concerns.
The story cited a Vermont Agency of Education memo, titled "Continuing Best Practices for Schools Regarding Transgender and Gender Nonconforming Students," that says a student should not be made to use a locker room that conflicts with their gender identity.
The news report made the Randolph mother feel sick, she said, because it flew in the face of what her daughter told her had actually happened: that other players had harassed her. But in the days that followed, right-wing news outlets including Fox News, the New York Post, and OutKick parroted the WCAX report and turned it into viral clickbait.
Now, the transgender student is being openly bullied in school, the mother said, while the school district was forced to disable its website over the weekend after it was hacked and inundated with "hate speech, symbols and photographs targeting transgender individuals," according to Orange Southwest Superintendent Layne Millington.
On Monday, the Randolph mother gave her account of what happened to Seven Days.
One week before the WCAX report aired, she said, her daughter was changing in the girls' locker room before volleyball practice when three teammates started yelling at her to get out and to stop looking at them.Her daughter hadn't encountered that kind of open negativity about being transgender since moving to Randolph in eighth grade, the mother said, so the aggressive comments came as a surprise. The girl had also previously changed in the same room as her teammates.
"She never really felt unwelcome or like she didn't belong," her mother said.
After being yelled at, the girl went into a locker room bathroom stall to change. She wasn't sure if she was supposed to put on her team jersey, so she popped her head around the corner at one point to check with her teammates. The girls started yelling at her again.
When the transgender student walked into the gym after getting changed, she encountered the volleyball coach, who told the girl that she had overheard what had happened and was planning to report the incident to the school administration.
Two days later, an administrator called the mother to tell her that three people reported that her daughter had been bullied and harassed. As a result, the school was launching an investigation. The administrator also told the mother that the girls' volleyball team could not be unsupervised in the locker room until the investigation was completed.
Superintendent Millington, who said he was unable to comment about the details of the investigation because of federal law protecting student information, confirmed part of the mother's account in an email to Seven Days. The locker room was shut down "to ensure student safety while the investigation is conducted, and the shutdown applies equally to the entire team," Millington wrote.

Administrators initially thought they would be able to keep the locker room open by finding people to supervise students, Millington said, but adults were reluctant to do so because of "false and escalating rhetoric on social media."
After the mother saw the WCAX report last week, she stayed up all night, crafting a long email to the station's news director, Roger Garrity, telling him that the outlet's reporting was "aggressive, inaccurate, one-sided, and just altogether ugly."
In an emailed reply the mother shared with Seven Days, Garrity wrote that the story was attempting to "explore whether the laws and policies meant to protect transgenderedstudents fail to offer resolution to what some people see as an inherent conflict: having children born of different sexes undressing in the same room." He also apologized for the distress the issue was causing the mother and her daughter.
The next day, the mother got a call from the high school. Another student had showed her daughter the WCAX video, prompting her to go straight to the principal's office. Her mother went to to pick up her daughter, whom she described as "devastated" and "heartbroken."
Throughout the saga, school administrators, teachers and counselors have been extremely supportive of her daughter, the mother said. However, she's received unwelcome messages from community members on Facebook. In one, a man who identified himself as the father of the student interviewed on WCAX, wrote: "the truth is your son watched my daughter and multiple other girls change in the locker room. While he got a free show they got violated. you think this is fine and dandy, I wonder how you would feel if I watched you undress?"
The conflict contains all the elements of a classic culture-war story, and national right-wing outlets have glommed on to it. On Saturday, Fox News ran a story saying that volleyball players were banned from using the locker room "after some members objected to a biological male changing with them," while the New York Post wrote that the players had gotten into "a dust up with a transgender athlete."
Both media outlets noted that the Vermont Agency of Education has a policy that allows a transgender student to use the locker room that aligns with their gender identity.The Daily Signal, a news outlet run by the conservative Heritage Foundation, also published a lengthy article on Sunday, with more allegations attributed to unnamed members of the girls' volleyball team. (The transgender girl's mother denied the allegations.)
And Northfield Police Chief John Helfant, a Randolph parent, published a commentary on the right-wing website Vermont Daily Chronicle on Monday, asserting that "for a male student to view, watch a female student change her bra or underwear in a women's locker room or bathroom" is a violation of the Vermont law against voyeurism.
The conflict drew the attention of transgender former Olympian Caitlin Jenner, who tweeted "Shame on Vermont!" for allowing "biological boys with penises changing next to our daughters in locker rooms, and then have our daughters scolded by the school." She also went on the morning TV show "Fox & Friends" to discuss the controversy. Well-known evangelist Franklin Graham, meanwhile, wrote to his 10 million followers on Facebook that "this story from Vermont just leaves you shaking your head."
In his role as executive director of Outright Vermont, Dana Kaplan consults frequently with administrators, educators, LGBTQ+ youth and their families about issues such as this one.
"In 2022, it's not that unfamiliar that this kind of thing is happening, especially amidst the current hostile climate," Kaplan said. "Ultimately, kids are trying to be kids. They're trying to go to school. They're trying to play sports. They're trying to go to the bathroom. They're trying to get changed.
"They're going about their lives, and it's the discomfort of outer circles of people — oftentimes politically motivated — that ultimately gets in the way and turns this into something … much bigger than any young person should have to navigate in their day-to-day life."
The situation has certainly snowballed in Randolph. On Monday, the mother was called to pick up her daughter from school midway through the day because she was being called a "pervert" and "freak" in the lunchroom and hallways, she said. The mother said that her daughter was planning to stay home on Tuesday to reset and then return on Wednesday.
She said her daughter is torn because by not going to school, she feels like she is letting down other transgender and queer students — but she also knows she needs to take care of herself.The mother is hoping that national organizations such the American Civil Liberties Union and the Trevor Project take notice of her daughter's story. She also wants WCAX to take more responsibility for its reporting.
"I feel like they have a moral and ethical duty to acknowledge the harm that they did and rectify it by doing some kind of educational piece on what transgenderism is," the mother said.
In a statement to Seven Days on Monday night, WCAX news director Garrity wrote that the purpose of last week's news report "was to examine a dispute over locker room usage and what state education policy has to say about it." He said he believed the story accomplished that.
"We are aware that this is an extremely sensitive topic that can evoke strong emotions," Garrity continued. "As journalists, we can't shy away from those conversations, but hope that our reporting will inform viewers and lead to better understanding."
The transgender student has also written to Garrity to let him know how she feels.
"I am here to inform you that what was written about me is not truthful, I had never made inappropriate comments in the girls locker room nor outside of it. That is a lie," she wrote in an email shared with Seven Days. "News is meant to inform but all you have done is enable lies that not only hurt me, but hurt the transgender youth that are within Randolph and Vermont."
********************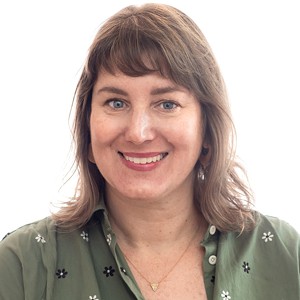 Alison is the former managing editor at Kids VT, Seven Days' parenting publication and writes about education for Seven Days.
You can email Alison at: [email protected]
********************
The preceding article was previously published by Seven Days, an independent weekly newspaper covering Vermont news and is republished by permission.
Seven Days is an independent weekly newspaper covering Vermont news, politics, food, arts and culture. New issues are published each Wednesday and distributed free at 1,000 locations in Northern and Central Vermont and Plattsburgh, N.Y. The Seven Days website, sevendaysvt.com, includes breaking news reports, videos, up-to-date event listings and job postings.
Sign up for Seven Days' email newsletters or follow on Facebook or Twitter.