Estevan Montemayor reflects on his tenure as President of CSW/LA Pride
Former official talks COVID, souring of relationship with WeHo
By almost every measure, Estevan Jose Montemayor accomplished a great deal during his two and a half year tenure as president of Christopher Street West/LA Pride.

He hired the organization's first full-time executive director, Madonna Cacciatore, and was able to add experienced staffing for fundraising and operations. That team attracted record breaking corporate donations in 2019. He expanded the board with a mind toward all aspects of diversity, changes he feels led to 2019 enjoying the largest windfall of financial success in the event's history. Montemayor and Cacciatore together worked to expand the offerings of the festival and parade, adding a large, free component to the festival with "Pride on the Boulevard." They launched a major bid to bring World Pride to Los Angeles in 2025. LA Pride was broadcast for the first time on a major local TV station, ABC 7, a program so successful that it led to a multiyear TV contract deal for CSW/LA Pride, a deal that went forward successfully in 2020 as a televised Virtual Pride Special. And, of course, there's more. Much more.

The now former president of Christopher Street West/LA Pride spoke to the Blade this week by phone after he departed the organization. Estevan Montemayor currently serves as the deputy chief of staff for Los Angeles Councilmember David Ryu, who represents Council District 4.

Montemayor stepped down Tuesday, Sept. 1. His successor is Sharon Franklin-Brown who is currently serving as the Los Angeles LGBT Center's director of human resources. Brown took the reins as CSW/ LA Pride Board president on Sept. 2. She is the first Black trans woman to be elected to the top leadership position at LA Pride and the first in the nation to lead a major Pride organization.

CSW/LA Pride, like every event, faced enormous hurdles in 2020 — a massive 50th year celebration had been planned, but was canceled due to COVID-19 restrictions that canceled all in-person live events nationwide. 

It also faced challenges in an effort to show solidarity with the emerging Black Lives Matter movement, ultimately ceding those efforts to All Black Lives Matter, an effort led by an advisory board of Black LGBTQI+ activists and community leaders. More than 100,000 citizens joined the All Black Lives Matter march, winding from Hollywood Boulevard to Santa Monica Boulevard and San Vicente.

After the June 14 All Black Lives Matter march, West Hollywood Councilmembers John Duran and John D'Amico surprised many when they openly discussed the possibility of soliciting other event organizers to bid against Christopher Street West, despite their having been organizers for nearly half a century.

CSW/LA Pride stunned the community when it responded with a letter to the City of West Hollywood that the organization would relocate the event to an unspecified location in Los Angeles. "As our non-profit organization continues to evolve and grow, we want to inform you of our intention to move the LA Pride Parade and Festival out of West Hollywood in 2021."

West Hollywood City Council in turn declared it would likely hold a new event, West Hollywood Pride.

Speaking with the Los Angeles Blade for an exit interview, Montemayor noted; "Well, first of all, I'm really excited about Sharon Brown becoming the next president. I have nothing but great things to say about her. She is the right type of leader for this moment. And anyone who knows Sharon knows she is an exceptional leader. She'll lead with compassion, empathy, and grace. I have no doubt she's going to be great at the job," he said.

Asked if the events playing out the way they did affected his decision on his departure he told the Blade, "I always had a plan to step down after the 50th anniversary, but the 50th anniversary was a little different than we all expected because of COVID-19."

"My goal was to leave after the 50th anniversary. I had thought about staying another year because of our World Pride bid, which would have been next year. But I communicated at our 2019 summer board retreat that it was my plan to leave after the 50th anniversary. I thought that would be a great capstone to my time with CSW," he added.

Montemayor reflected on the job noting, "It's both an exciting and tiring job. This is a volunteer gig that is truly a full-time job. All the people before me and all those involved now are volunteers. When it comes to the board presidency and the board at large, these are incredible people who have full-time jobs and dedicate an enormous amount of time to our community."

Asked if the stress and strife filled final months of his tenure had seriously negatively impacted his life he responded: "Yes, here's what I would say about that – I was exhausted. There have always been ups and downs with this organization. We would spend 20, 30, 40 hours a week doing the work and it was exhausting. To get a little bit personal, March was a very difficult time because I was sick with COVID-19 for a little over a month, staying at home, and not working in my full-time job in the City of Los Angeles took an emotional toll on me as well. It was very difficult."

As the coronavirus pandemic worsened and the CSW/LA Pride board came to realize that the 50th anniversary celebrations weren't going to occur as previously planned, the stay-at-home restrictions also increased his stress.

"It was very difficult. And to be very honest, I had to deal with a lot of depression and anxiety. That's something that I have dealt with for many years. But like a lot of people, being locked down, then getting sick, not being able to see my loved ones, and not being able to work…it really made it worse. I took a lot of time during the summer to deal with my depression and anxiety. It's not something I'm ashamed of, it's something we should all speak more openly about especially in our community."

Montemayor came under intense criticism after some Black Lives Matter activists felt LA Pride was attempting to appropriate the movement. When asked how LA Pride can better manage situations like their failure to gain support during intersectional moments, he stresses, "CSW must listen before it acts. Having an honorable intention isn't good enough. The organization needs to reflect on what went wrong and ensure it never happens again."

Asked about the decision by CSW's board to leave the City of West Hollywood, Montemayor said that he understood that decision was going to present a significant challenge for his successor and the board, but feels confident that going forward, things would work.

"The relationship between CSW and the City of West Hollywood had soured long before I and my colleagues joined the board. The relationship had been tense for a long time. I knew that walking in. I thought I could help bridge the gap that existed between CSW and the city because I knew and worked with a lot of decision makers in my capacity as a public safety commissioner and in my capacity in the City of Los Angeles. I truly thought I could make things better."

Perhaps complicating his relationship as board president, as he was taking the reins of LA Pride Montemayor protested then-Mayor John Duran's alleged inappropriate sexual behaviors that had been widely reported, demanding Duran be removed as mayor of the City of West Hollywood. Montemayor even led a protest during one WeHo City Council meeting and spoke before the Council, urging his removal. Asked if he felt those actions exacerbated the existing tensions between CSW and WeHo he answered, "No, I don't. Frankly I'm shocked that more people haven't spoken out against his actions. The issues that surfaced with the Gay Men's Chorus were disturbing but sadly just another example of John's inappropriate behavior. We can't forget that the City Council formally censured him due to the allegations of sexual misconduct. At the end of the day John Duran is responsible for his own words and actions and the voters will have the opportunity to hold him accountable in November."

He then went on to note that a WeHo City government committee (at the time John Heilman and John D'Amico) that had been designed to work alongside CSW had not met for a considerable length of time prior to the decision to move out of WeHo.

"I believe the city has wanted to produce their own Pride for years, and that is their right. However, they never honestly communicated that desire. My personal philosophy is that when you are in a toxic relationship sometimes the best thing to do is to get out."

Montemayor said that even with the impact economically on the City of West Hollywood, it was time to broaden the scope and direction of LA Pride.

"I can't speak on behalf of the board of directors anymore. But I will say that I have personally discussed how we make this event and organization more inclusive. And that does include looking and working geographically around Los Angeles County. This is LA Pride, not West Hollywood Pride."

"And so it is our job to embrace that and to be all encompassing of the diversity of Los Angeles County not just during Pride Month, but all year round."

He continued: "West Hollywood no doubt is an incredible city that has a lot of value in regards to the LGBT community and Pride. And I'm certain that they are going to do some sort of Pride programming. But I encourage them to also learn from the lessons of the past and to also create a Pride that isn't programmed by a few elected officials but instead by the community they represent."

For his part, Montemayor feels he left LA Pride in good working order.

"Despite COVID-19," he said, "CSW is stronger than ever before. I can say with full confidence that I left CSW better than I found it. Most of all, I believe Sharon Brown is the right leader at the right time to help move the organization forward. Are there challenges? Of course. My hope is the entire board will rise to the challenge and support Sharon in those efforts.
But, he stresses, "ultimately only time will tell."
2021 Palm Springs Pride was much more than a Pride celebration
Everything Pride — literally everything — the pandemic had robbed from us was on full display-the first full-scale in person Pride since 2020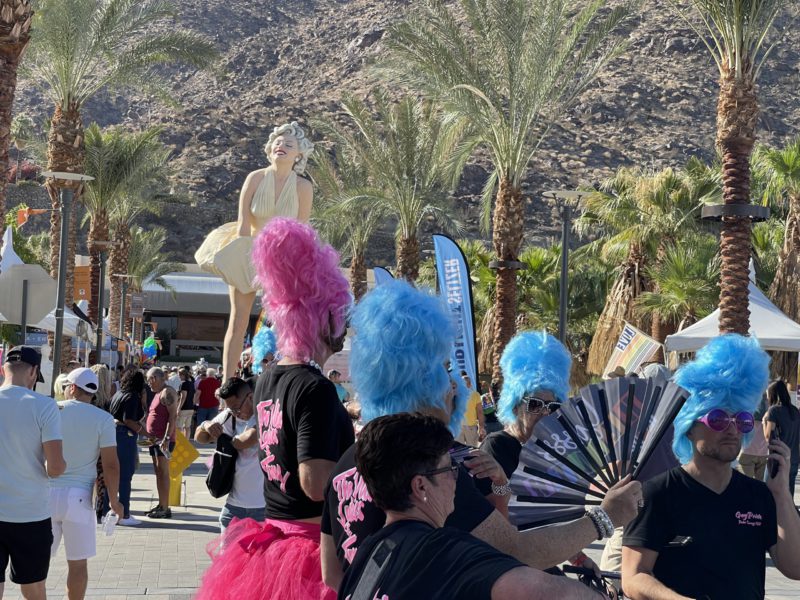 PALM SPRINGS – Even the Palm Trees were sashaying this weekend as the 35th Greater Palm Springs Pride Festival freed the city from the doldrums of a pandemic that, while not exactly over, certainly felt that way, at least for a weekend.
Everything Pride and everything Palm Springs — literally everything — the pandemic had robbed from us was on full display, yet with an added zest: It was the first full-scale Pride celebration in California since January 2020 and people were ready to celebrate. Last year's event was held virtually on Facebook.
Thousands upon thousands of mostly maskless people of every stripe swarmed the city over the three days from one end to the other, something that seemed unimaginable even just a few weeks ago.
87 year old Dan Bertin wiped a tear from his eye when the Los Angeles Blade asked him why he had decided to attend Palm Springs Pride. "I got off the phone this morning with my son in London, he's gay like me," he laughed, "and he told me his husband and my newborn grandson will arrive on a flight from Paris on Friday next week. I am so happy, I just had to celebrate."
Lydia, the mother of 9 year old Stanton says her son insisted they attend the Festival on Sunday. Mom told the Blade, "at this point he says he is gay so I thought he should see this." Stanton, who was wearing a mask since he is not vaccinated, said he knew he wasn't alone but he had no idea there were so many people like him. Pointing to other kid passersby he said, "Look, they are just like me." His mom corrected him. "Don't make assumptions about people, Stanton." He laughed and ran into the bounce house Festival organizers had set up for kids and his mom followed. "I couldn't sit this one out so we drove up from the border today. I'm so proud to be his mom." Stanton, she said, was born Stacy.
Tammy Green said the event was her first public event since Covid. "I am so damned tired of all this isolating I could scream. I'm fully vaccinated and ready for some lovin' so if you know any hot dykes you can hook me up with I also waxed just for Pride baby!"
Joel Stern and his husband Randall flew in from Seattle: "We love Palm Springs and we love Pride so when we found cheap airfares on Alaska from Seattle to Palm Springs on Pride week, we jumped," said Joel. "Yes, this bitch forget to book a hotel room," snapped Randall. "So I made him splurge on $1200 a night AirBnB and we have a mansion with a pool and are headed back now!"
John W, a homeless and differently abled Transman who has one arm, said he lives in Palm Springs. He got misty-eyed petting Cody, the dog owned by Arturo Jimenez and his partner, LA Blade publisher Troy Masters, saying "I can't have a dog but I love them. I have too many PTSD's and can barely take care of myself. But today, at Pride, surrounded by people willing to talk to me, I feel free and even the sudden loud noises aren't triggering me."
Scott E. from New York says met a "Daddy" on Grinder who invited him to Palm Spring Pride after a round of x-rated pics. "Honey, I booked that ticket and here I am, but he was a no show. It's fine," he said as he grinned and gestured at a man of a certain age, "I'm sure I'm gonna be fine."
Evan Caplan, who visited Palm Springs Pride from Washington, D.C., said "Palm Springs Pride was an opportunity to get away from everything in DC and enjoy the weather, the festivities, and the opportunity to meet all sorts of different people. It was a magical escape to party on the streets and feel welcome by everyone in the city. It was also a reaffirmation of the spirit of the gay community coming together after a challenging and difficult year," he added.
Tracy S. flew in from Nashville. The 32 year old Public Relations agent said he came out during the Pandemic and was too shy to attend Nashville's Pride event, so he jumped on a Southwest flight "that cost nearly nothing" for his first trip to the desert or to SoCal. "I'm not sure I'll ever be the same," he said.
Robin Tyler, the LA based 79 year old Lesbian activist and comedian, took to the mainstage of the event on Friday night and brought the house down. Her favorite joke of the evening: "I met a man in Palm Springs who said he was from Texas. Texas, where men ARE men, and women are nothing. There the right wing courts believe that life begins at conception, and ends at birth!"
On Sunday, the parade kicked off at Palm Canyon Drive, slowly making its way to the entrance to the Pride Festival at Amado Road where thousands of smiling people, some still waving flags and their signage from the parade, drag queens decked out galore, young and old, Daddy's and pups, lined the parade route. Dozens of floats, jumping to the blaring music with writhing go-go boys and some more sedate offerings passed by as merchants hawked their wares.
Mary Rostow and her wife June watched the parade pass by waving at old friends.
"I am seeing people I haven't seen in years and it makes my heart sing," Mary said. "We haven't got that many Prides left and it really means a lot to me that they pulled this together. June, who was wearing a mask that said "Vaxed" said "We really have a lot to celebrate"
Members of the Trans Chorus of Los Angeles (America's first chorus consisting of Transgender, Non-Binary, Intersex, Gender-Non-Conforming and Gender-Fluid individuals) performed "More Friends Than You Know," a stirring song about diversity and acceptance and empowerment after marching in the parade.
Alan Uphold, a former board member of the Chorus who recently relocated to Palm Springs from Los Angeles with his husband Jeff Olde, was moved to tears by their performance, saide the song "gets me every time."
Many other local businesses and organizations also had a presence in the parade; a group with Planned Parenthood received loud cheers as they marched by, while Wang's in the Desert, a popular Palm Springs Pan Asian Cuisine restaurant, mounted a red-and-yellow dragon's head on the back of a truck. Men in leather hawked drink specials outside downtown bars, and hundreds watched the event while eating on restaurant patios.
Milling about the nearly 200 booths, the glow on people's faces told the real story.
"We have 4 bags of souvenirs, including the Los Angeles Blade," said Drexel Simpson from Phoenix. "It's our first trip since Covid and there's simply no way to tell you how liberating it is to hang out with people, no masks on, hugging old friends, kissing them like old times and just getting back to normal. It's like the Covid Liberation Pride. And I hope the world follows."
Monét X Change joins Kiva to Celebrate Pride
Kiva, the sought-after cannabis brand, is following through once again with their second annual partnership with world famous drag superstar Monét X Change.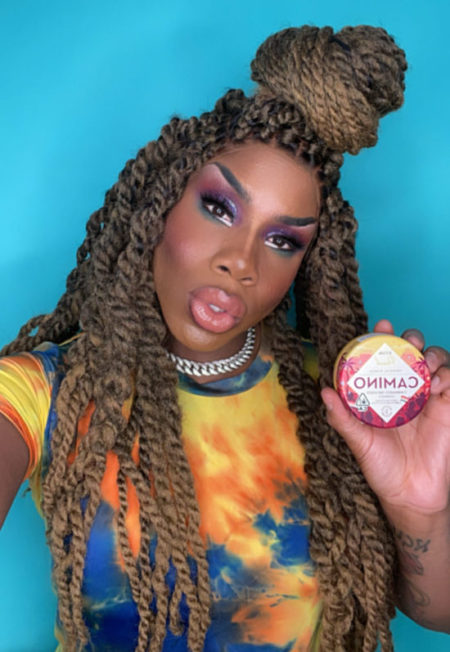 LOS ANGELES – 'Tis the season of rainbow sponsorships. Pride partnerships between companies of all sizes and queer celebrities of all caches abound. In the whirl of Pride collabs, it's important to know which companies are for real.
Kiva, the sought-after cannabis brand, is following through once again with their second annual partnership with world famous drag superstar Monét X Change. Monét went Live on Kiva's Instagram Thursday evening, hosting a candid conversation with viewers on Pride, cannabis and how the two are intertwined.
On her Instagram Live, Monét started off the bat by calling out other companies who "slap on a rainbow" and call it a day. Kiva is not one of those companies. This Pride month, Kiva has made donations to GLAAD and has pledged to continue their involvement and support of the LGBT+ community year-round, something with Monét cited on Live as especially noteworthy.
GLAAD is an internationally recognized LGBT+ organization that works ubiquitously in the worlds of entertainment, news, and digital media to accelerate acceptance and celebrate LGBTQ+ stories.
Monét X Change gained fame on the 10th season of RuPaul's Drag Race, where she won Miss Congeniality. She went on to win (in a tie) the fourth season of RuPaul's Drag Race All Stars. Working her way to the top of the industry, she is now regarded as one of the most popular and successful queens to come out of the show, frequently partnering with her pal from New York, Season 8 winner Bob the Drag Queen.
You can now find Monét everywhere in almost every facet of the entertainment world. Most recently, Monét released "Love Like This" – a beachy bop with a fresh queer Caribbean sound.
Joining Monét's Kiva live stream was a colorful bunch of up and coming New York queens, including the in-demand Jacklynn Hyde, her leggy New York sister Tina Twirler and the crown-snatching Sabbyiana.
Back by popular demand, Kiva is relaunching the much asked for Tropical Punch Camino Gummies. These fruity little edibles are a Pride spin-off of Kiva's popular line of Camino gummies. A light, refreshing edible with 5mg THC per dose perfect for Pride month.
LA Pride breaks silence announces 'Thrive with Pride'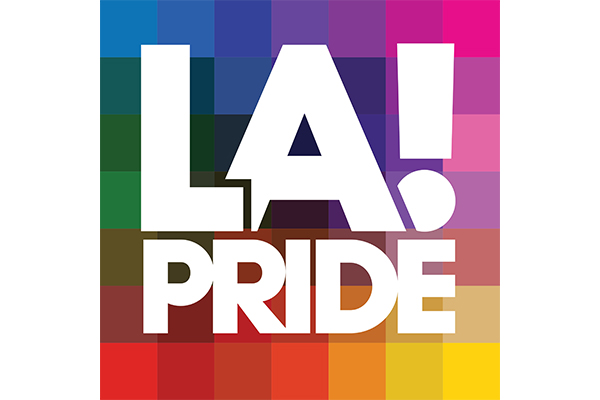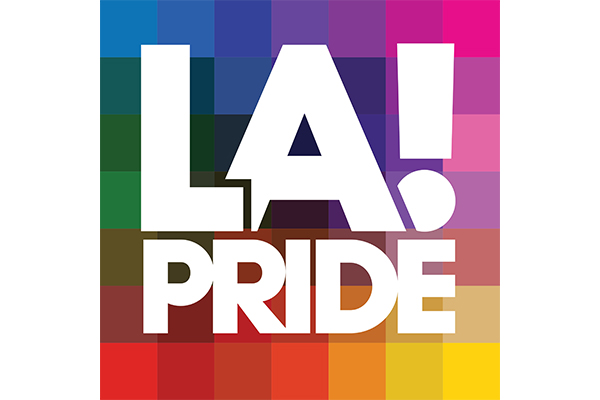 LOS ANGELES – After weeks of 'stay tuned' on its website and no real engagement with the media or the LGBTQ community, Christopher Street West Association Inc. the nonprofit organization that produces the annual LA Pride celebration announced its planned June programming for LA Pride 2021 on Thursday.
Pride 2021 activations are themed around the daily reminder to Thrive with Pride.
LA Pride weekend will kick-off on Thursday night, June 10th with a concert exclusively presented by and live streamed on TikTok featuring hyper-pop diva Charli XCX and a showcase of up and coming LGBTQ+ performers across genres. In-person concert opportunities are not available at this time. Fans and followers can follow @tiktokforgood and @lapride on TikTok for updates and advanced promotions.
Further, a televised special titled "Thrive with Pride Celebration" is set for Saturday, June 12th airing 9:00pm-10:00pm PDT on ABC 7 Los Angeles, the most-watched station in Southern California, will feature special guests, performances and LA Pride honorees.
"To thrive means to flourish and progress despite the circumstances. Pride this year is a moment for you to stop and breathe," said Sharon-Franklin Brown, CSW board president. "It's a moment to remember you're not just surviving one of the hardest years in recent memory, but growing into your truth. This is why we were so intentional in our planning. We want to bring a moment of celebration, a moment to highlight the community, and an opportunity to give back. If we as a community can come together, even for a moment, to realize we've broken down some barriers put on us, it'll strengthen our resolve to continue tearing more down for those to come after us."
"After an unprecedented year of challenge and struggle, I am so pleased that this year's pride festivities embrace the spirit of the first pride parade and our activist roots," said Los Angeles City Councilmember Mitch O'Farrell. "By bringing together LGBTQ+ communities from every corner of our City, we will uplift all voices and elevate the important work of the icons of the LGBTQ movement who sacrificed everything in their young lives at the time so we can all celebrate together in 2021. With a mix of virtual and potential in-person events, this year's festivities will keep our community safe and connected while providing every Angeleno an opportunity to embrace giving and volunteerism."
In recognition of the incredibly difficult work Los Angeles social justice and non-profit organizations have put into achieving equity, actionable change and stability, LA Pride will launch a 30-day give back campaign to support these efforts. Pride Makes a Difference will highlight opportunities for Angelenos to sign up to either volunteer, or donate goods and/or money to local organizations in Los Angeles County. Pride Makes a Difference is a new program in conjunction with Big Sunday. As part of these new efforts, drop off locations will be set up all throughout Los Angeles. A list of selected local organizations and drop off sites will be available soon to choose from, as well as the sign-up details and commitment.
"Our utmost priority in whatever we're doing to celebrate Pride this year ensures safety and follows CDC-approved pandemic guidelines," continued Brown. "That's why we're announcing this programming first. Any potential in-person celebratory activations will be announced at a later date in the coming weeks. The more we put safety first, the more likely we're able to plan big physical events in the future, including Pride 2022, where we can celebrate who we are, where we came from, and where we need to go."