Estevan Montemayor reflects on his tenure as President of CSW/LA Pride
Former official talks COVID, souring of relationship with WeHo
By almost every measure, Estevan Jose Montemayor accomplished a great deal during his two and a half year tenure as president of Christopher Street West/LA Pride.

He hired the organization's first full-time executive director, Madonna Cacciatore, and was able to add experienced staffing for fundraising and operations. That team attracted record breaking corporate donations in 2019. He expanded the board with a mind toward all aspects of diversity, changes he feels led to 2019 enjoying the largest windfall of financial success in the event's history. Montemayor and Cacciatore together worked to expand the offerings of the festival and parade, adding a large, free component to the festival with "Pride on the Boulevard." They launched a major bid to bring World Pride to Los Angeles in 2025. LA Pride was broadcast for the first time on a major local TV station, ABC 7, a program so successful that it led to a multiyear TV contract deal for CSW/LA Pride, a deal that went forward successfully in 2020 as a televised Virtual Pride Special. And, of course, there's more. Much more.

The now former president of Christopher Street West/LA Pride spoke to the Blade this week by phone after he departed the organization. Estevan Montemayor currently serves as the deputy chief of staff for Los Angeles Councilmember David Ryu, who represents Council District 4.

Montemayor stepped down Tuesday, Sept. 1. His successor is Sharon Franklin-Brown who is currently serving as the Los Angeles LGBT Center's director of human resources. Brown took the reins as CSW/ LA Pride Board president on Sept. 2. She is the first Black trans woman to be elected to the top leadership position at LA Pride and the first in the nation to lead a major Pride organization.

CSW/LA Pride, like every event, faced enormous hurdles in 2020 — a massive 50th year celebration had been planned, but was canceled due to COVID-19 restrictions that canceled all in-person live events nationwide. 

It also faced challenges in an effort to show solidarity with the emerging Black Lives Matter movement, ultimately ceding those efforts to All Black Lives Matter, an effort led by an advisory board of Black LGBTQI+ activists and community leaders. More than 100,000 citizens joined the All Black Lives Matter march, winding from Hollywood Boulevard to Santa Monica Boulevard and San Vicente.

After the June 14 All Black Lives Matter march, West Hollywood Councilmembers John Duran and John D'Amico surprised many when they openly discussed the possibility of soliciting other event organizers to bid against Christopher Street West, despite their having been organizers for nearly half a century.

CSW/LA Pride stunned the community when it responded with a letter to the City of West Hollywood that the organization would relocate the event to an unspecified location in Los Angeles. "As our non-profit organization continues to evolve and grow, we want to inform you of our intention to move the LA Pride Parade and Festival out of West Hollywood in 2021."

West Hollywood City Council in turn declared it would likely hold a new event, West Hollywood Pride.

Speaking with the Los Angeles Blade for an exit interview, Montemayor noted; "Well, first of all, I'm really excited about Sharon Brown becoming the next president. I have nothing but great things to say about her. She is the right type of leader for this moment. And anyone who knows Sharon knows she is an exceptional leader. She'll lead with compassion, empathy, and grace. I have no doubt she's going to be great at the job," he said.

Asked if the events playing out the way they did affected his decision on his departure he told the Blade, "I always had a plan to step down after the 50th anniversary, but the 50th anniversary was a little different than we all expected because of COVID-19."

"My goal was to leave after the 50th anniversary. I had thought about staying another year because of our World Pride bid, which would have been next year. But I communicated at our 2019 summer board retreat that it was my plan to leave after the 50th anniversary. I thought that would be a great capstone to my time with CSW," he added.

Montemayor reflected on the job noting, "It's both an exciting and tiring job. This is a volunteer gig that is truly a full-time job. All the people before me and all those involved now are volunteers. When it comes to the board presidency and the board at large, these are incredible people who have full-time jobs and dedicate an enormous amount of time to our community."

Asked if the stress and strife filled final months of his tenure had seriously negatively impacted his life he responded: "Yes, here's what I would say about that – I was exhausted. There have always been ups and downs with this organization. We would spend 20, 30, 40 hours a week doing the work and it was exhausting. To get a little bit personal, March was a very difficult time because I was sick with COVID-19 for a little over a month, staying at home, and not working in my full-time job in the City of Los Angeles took an emotional toll on me as well. It was very difficult."

As the coronavirus pandemic worsened and the CSW/LA Pride board came to realize that the 50th anniversary celebrations weren't going to occur as previously planned, the stay-at-home restrictions also increased his stress.

"It was very difficult. And to be very honest, I had to deal with a lot of depression and anxiety. That's something that I have dealt with for many years. But like a lot of people, being locked down, then getting sick, not being able to see my loved ones, and not being able to work…it really made it worse. I took a lot of time during the summer to deal with my depression and anxiety. It's not something I'm ashamed of, it's something we should all speak more openly about especially in our community."

Montemayor came under intense criticism after some Black Lives Matter activists felt LA Pride was attempting to appropriate the movement. When asked how LA Pride can better manage situations like their failure to gain support during intersectional moments, he stresses, "CSW must listen before it acts. Having an honorable intention isn't good enough. The organization needs to reflect on what went wrong and ensure it never happens again."

Asked about the decision by CSW's board to leave the City of West Hollywood, Montemayor said that he understood that decision was going to present a significant challenge for his successor and the board, but feels confident that going forward, things would work.

"The relationship between CSW and the City of West Hollywood had soured long before I and my colleagues joined the board. The relationship had been tense for a long time. I knew that walking in. I thought I could help bridge the gap that existed between CSW and the city because I knew and worked with a lot of decision makers in my capacity as a public safety commissioner and in my capacity in the City of Los Angeles. I truly thought I could make things better."

Perhaps complicating his relationship as board president, as he was taking the reins of LA Pride Montemayor protested then-Mayor John Duran's alleged inappropriate sexual behaviors that had been widely reported, demanding Duran be removed as mayor of the City of West Hollywood. Montemayor even led a protest during one WeHo City Council meeting and spoke before the Council, urging his removal. Asked if he felt those actions exacerbated the existing tensions between CSW and WeHo he answered, "No, I don't. Frankly I'm shocked that more people haven't spoken out against his actions. The issues that surfaced with the Gay Men's Chorus were disturbing but sadly just another example of John's inappropriate behavior. We can't forget that the City Council formally censured him due to the allegations of sexual misconduct. At the end of the day John Duran is responsible for his own words and actions and the voters will have the opportunity to hold him accountable in November."

He then went on to note that a WeHo City government committee (at the time John Heilman and John D'Amico) that had been designed to work alongside CSW had not met for a considerable length of time prior to the decision to move out of WeHo.

"I believe the city has wanted to produce their own Pride for years, and that is their right. However, they never honestly communicated that desire. My personal philosophy is that when you are in a toxic relationship sometimes the best thing to do is to get out."

Montemayor said that even with the impact economically on the City of West Hollywood, it was time to broaden the scope and direction of LA Pride.

"I can't speak on behalf of the board of directors anymore. But I will say that I have personally discussed how we make this event and organization more inclusive. And that does include looking and working geographically around Los Angeles County. This is LA Pride, not West Hollywood Pride."

"And so it is our job to embrace that and to be all encompassing of the diversity of Los Angeles County not just during Pride Month, but all year round."

He continued: "West Hollywood no doubt is an incredible city that has a lot of value in regards to the LGBT community and Pride. And I'm certain that they are going to do some sort of Pride programming. But I encourage them to also learn from the lessons of the past and to also create a Pride that isn't programmed by a few elected officials but instead by the community they represent."

For his part, Montemayor feels he left LA Pride in good working order.

"Despite COVID-19," he said, "CSW is stronger than ever before. I can say with full confidence that I left CSW better than I found it. Most of all, I believe Sharon Brown is the right leader at the right time to help move the organization forward. Are there challenges? Of course. My hope is the entire board will rise to the challenge and support Sharon in those efforts.
But, he stresses, "ultimately only time will tell."
Long Beach Pride parade & festival July 8th-10th
The theme is 'Many voices-one spirit, marking three decades of the annual third largest Pride in California celebrating the LGBTQ+ community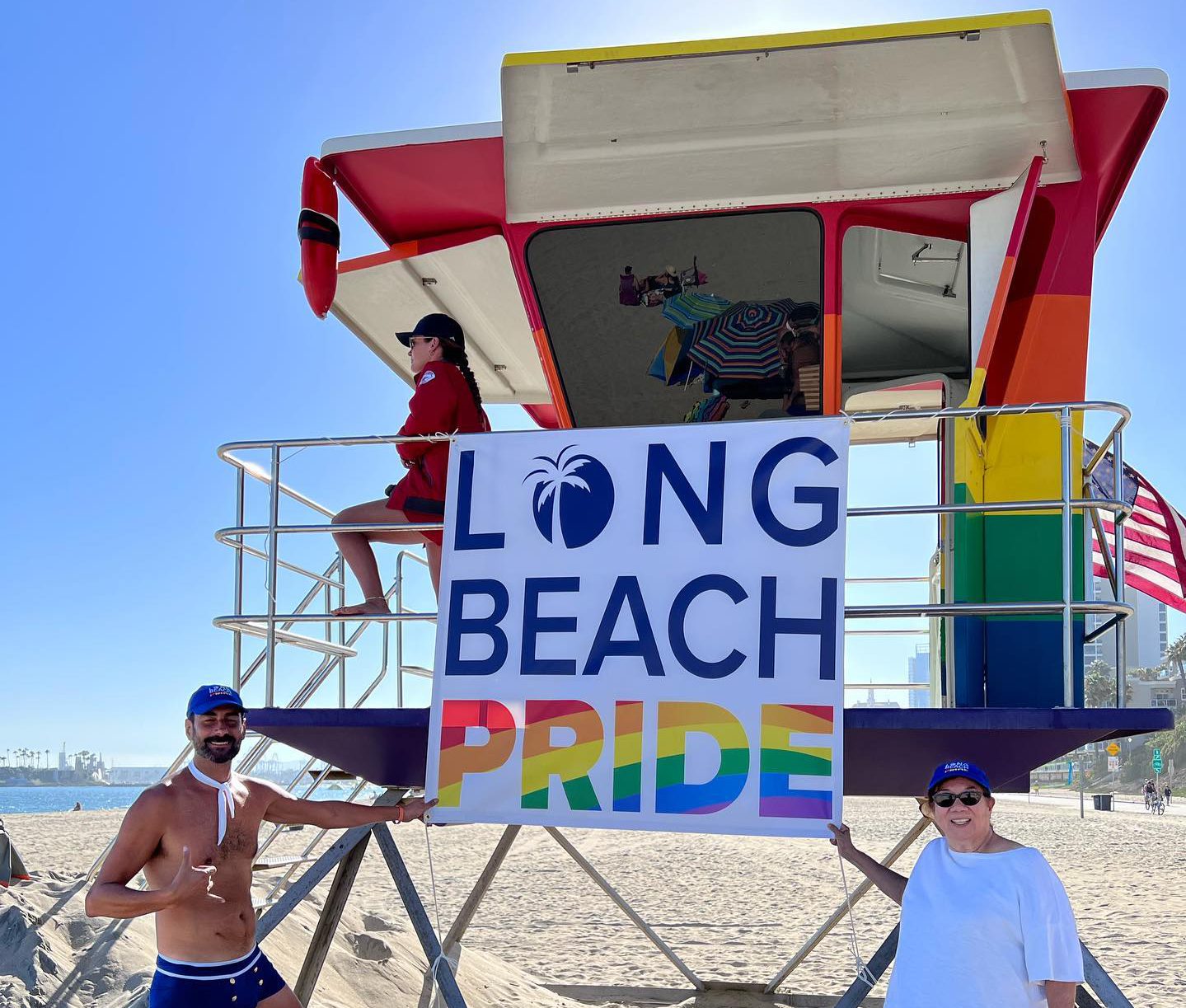 LONG BEACH – This weekend marks the in-person return of Long Beach Pride after the coronavirus pandemic had halted previous celebrations. The celebration's theme this year is "Many voices-one spirit," marking three decades that the annual three-day festival, parade and teen pride- the third largest Pride festival and parade in California, celebrates the LGBTQ+ community.
This year, in addition to the stages and musical entertainment, organizers will be creating multiple activations and attractions encompassing the diversity and interests of Long Beach's LGBTQ+ community.
Elsa Martinez, the president of the Board of Long Beach Pride was a guest on KTLA's Morning News Thursday to discuss the upcoming weekend festival which kicks off Friday.
For more information visit https://longbeachpride.com/
Hundreds attend 4th annual South LA Pride celebration
Hosted by Los Angeles City Councilmembers Marqueece Harris-Dawson & Herb Wesson, this year's family-friendly celebration was a "Pride Picnic"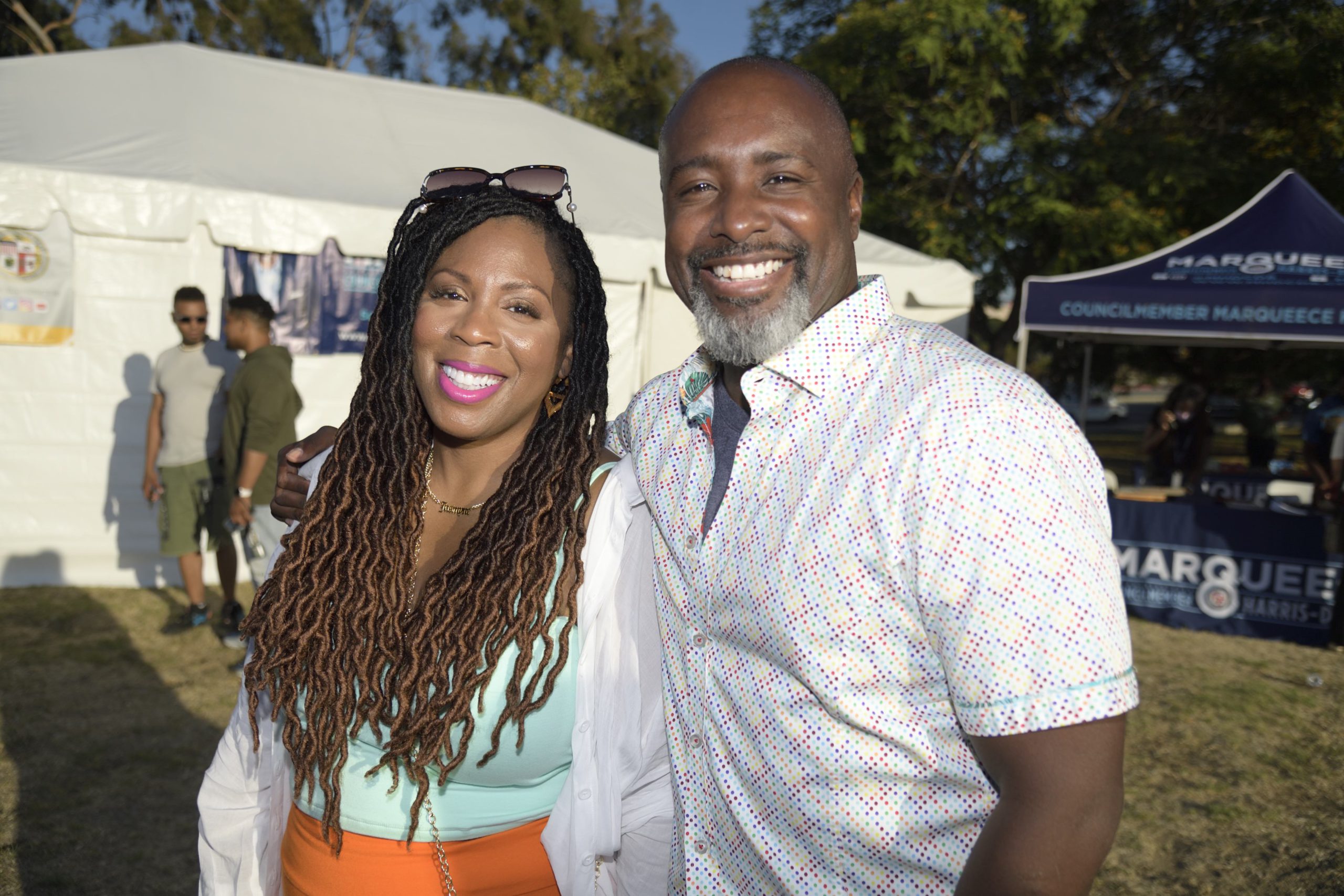 LOS ANGELES – Hundreds attended the 4th annual South LA Pride celebration on Jul. 1 at Norman O. Houston Park in Baldwin Hills.  Hosted by Los Angeles City Councilmembers Marqueece Harris-Dawson and Herb Wesson, this year's family-friendly celebration was a "Pride Picnic" meant to bring together South LA's LGBTQ community and their allies for a culturally relevant pride celebration.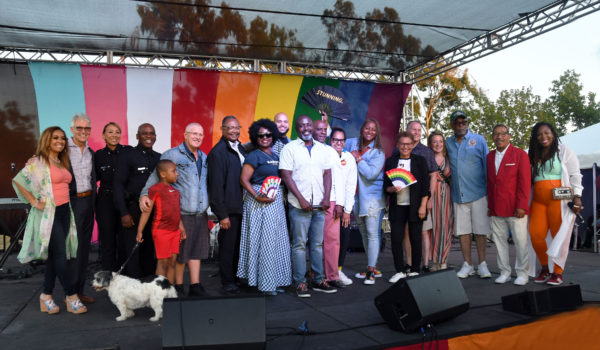 In addition to Harris-Dawson and Wesson, this year saw the most Black elected officials ever at a pride celebration in Los Angeles including Congresswoman Karen Bass, Supervisor Holly Mitchell, Senator Sydney Kamlager, and more.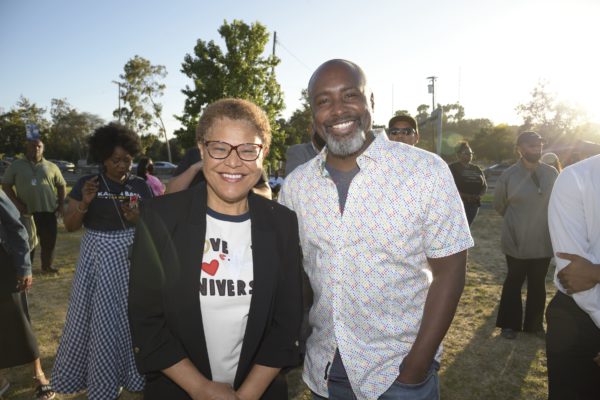 Journalist and advocate Jasmyne Cannick chaired the planning committee which included a host of community organizations.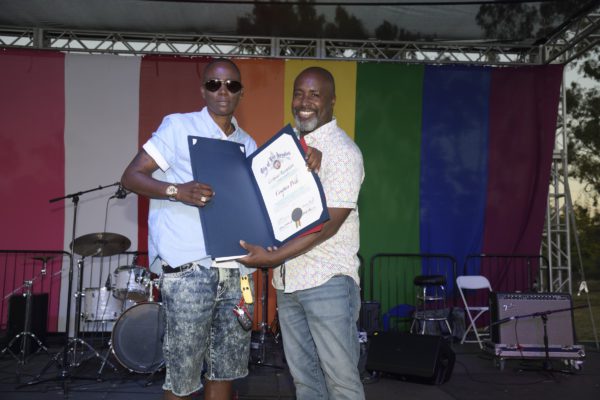 The 2022 South LA Pride Community Picnic was sponsored in part by Community Coalition, Providence, FOX, AEG, and the LA Civil + Human Rights and Equity Department.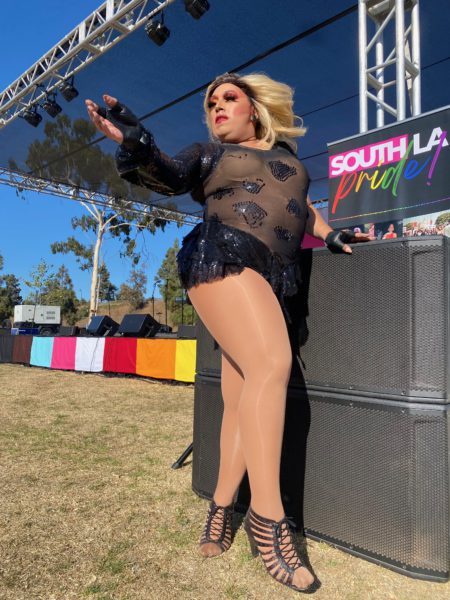 For more information, please visit southlapride.com.
EN VIDEO: Marchas del orgullo LGBTQ+ en Colombia
Se realizaron celebraciones en Bogotá, Medellín y Pereira