October 5, 2020 at 12:19 pm PDT | by Brody Levesque
Gov. Newson nominates 1st openly gay Black man to California State Supreme Court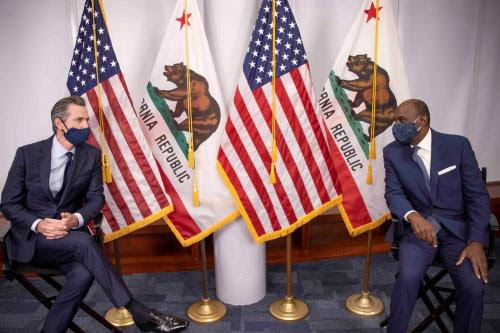 SACRAMENTO – California Governor Gavin Newsom announced in a press conference on Monday that he has nominated Martin Jenkins, 66, an openly out Black former prosecutor and judge to the open seat on the state's highest court.
"I am truly humbled and honored to be asked by the Governor to continue serving the people of California on the Supreme Court," Jenkins said. "If confirmed, I will serve with the highest ethical standards that have guided me throughout my career, informed by the law and what I understand to be fair and just."
Jenkins currently serves as Newsom's Judicial Appointments secretary. He would become the first openly gay man on the California Supreme Court, and only the third Black man ever to serve on the state's highest court. It has been 29 years since an African American man has served on the California Supreme Court.
"Justice Jenkins is widely respected among lawyers and jurists, active in his Oakland community and his faith, and is a decent man to his core," Newsom said. "As a critical member of my senior leadership team, I've seen firsthand that Justice Jenkins possesses brilliance and humility in equal measure. The people of California could not ask for a better jurist or kinder person to take on this important responsibility."
In his role as Newsom's Judicial Appointments Secretary, Jenkins spearheaded transparency efforts by making public the Regional Judicial Selection Advisory Committees, so that for the first time in California history, the individuals who provide feedback on judicial candidates for nomination and appointment will be known to the public.
According to a media statement from the governor's office, Jenkins has worked closely with these committees to appoint 45 jurists, 'helping promote the diversity of the California judiciary for years to come.'
Prior to his role in the Newsom Administration, he served as an Associate Justice on the California Court of Appeal, First Appellate District from 2008 to 2019. He was appointed by President Bill Clinton to the U.S. District Court for the Northern District of California in 1997 and served on the bench until 2008.
In addition to his recent judicial service, Jenkins served as a judge on the Alameda County Superior Court from 1992 to 1997 and on the Oakland Municipal Court from 1989 to 1992. From 1986 to 1989, he was a trial attorney with the Pacific Bell Legal Department of San Francisco and from 1983 to 1986, he worked in the U.S. Department of Justice as a trial attorney litigating civil rights cases. From 1980 to 1983, he worked as a prosecutor for the Alameda County District Attorney's Office. He earned a Juris Doctor degree from the University of San Francisco School of Law.
"Justice Jenkins subscribes to the reality that we are merely stewards of our positions of leadership and it is incumbent upon us to do what we can to prepare the next generation to succeed us," said Senior U.S. District Judge of the U.S. District Court, Northern District of California Saundra Brown Armstrong.
"With each of his successes, he has worked to create in his wake an easier path forward for others. I view Justice Jenkins as a 'thinking judge.' He presides and decides in an open-minded, even-tempered, courteous, patient and compassionate manner. Importantly, Justice Jenkins never loses sight of the fact that, behind every case file, stand people who will be impacted by his decision. He is a courageous jurist who is not haunted or immobilized by the fear of being wrong, nor is he struck with a sense of his own immutable correctness. What's important to Justice Jenkins is achieving results that are just, and that, from my perspective, is the quality of an excellent judge," Judge Brown added.
Senator Scott Wiener (D-San Francisco) and Assemblymember Todd Gloria (D-San Diego) — Chair and Vice Chair of the California Legislative LGBTQ Caucus applauded Governor Newsom's appointment of the first LGTBQ justice to sit on the California Supreme Court.
In an emailed statement to the Blade the lawmakers wrote:
"We commend Governor Newsom for once again making history by appointing the first ever LGBTQ Justice to the California Supreme Court. The LGBTQ community is dramatically under-represented in the judiciary, and particularly so at the appellate level. This appointment is a major step toward a judiciary that represents the entire community. Justice Jenkins is superbly qualified to serve on the Court.
His distinguished legal career, particularly as a Justice on the California Court of Appeal and a United States District Judge, will serve him and all of us well. Moreover, as a Black gay man, Justice Jenkins brings an important perspective to the Court during a period of time when our society is moving through a long-overdue reckoning on race. We applaud Governor Newsom for this strong pick."
"Governor Newsom's appointment of California's first openly gay supreme court justice is a monumental step forward for the LGBTQ+ community and for our entire state," said Equality California Executive Director Rick Chavez Zbur.
"Not only is Justice Jenkins exceptionally qualified and an outstanding choice for California's highest court, but he embodies the values of our great state. Governor Newsom is setting a national example as he works to ensure California's government reflects the diversity of the people they serve."
Jenkins, a registered Democrat, will fill the vacancy created by the retirement of Associate Justice Ming W. Chin. The Governor's nomination must be submitted to the State Bar's Commission on Judicial Nominees Evaluation and confirmed by the Commission on Judicial Appointments.
The Commission on Judicial Appointments consists of California Supreme Court Chief Justice Tani Cantil-Sakauye, the state's Attorney General Xavier Becerra and senior Presiding Justice of the state Court of Appeal, the honorable J. Anthony Kline.