October 5, 2020 at 7:50 pm PDT | by Brody Levesque
Trump returns to the White House & immediately removes mask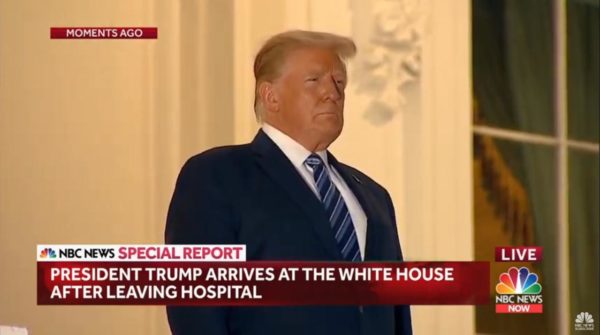 WASHINGTON – President Donald Trump returned to the White House Monday evening after spending three days of intensive treatment for coronavirus at the Walter Reed National Military Medical Center in Bethesda, Maryland. After walking off Marine One, the presidential helicopter, which had landed on the South Lawn, the president walked up the stairs leading to the South Portico where he turned to face a small assembled group of staffers and immediately removed his mask.
As he stood there, the president appeared to be in considerable pain and looked as though he was having some difficulty breathing. He then turned away from the cameras and walked into the adjacent first floor Blue Room. However, he did not put his mask back on.
Earlier in the day Trump signaling his intent to leave the hospital had tweeted:
"I will be leaving the great Walter Reed Medical Center today at 6:30 P.M. Feeling really good! Don't be afraid of Covid. Don't let it dominate your life. We have developed, under the Trump Administration, some really great drugs & knowledge. I feel better than I did 20 years ago!"
The circumstances surrounding the president's stay at Walter Reed since he first tweeted in the early morning hours last Friday that both he and First Lady Melania Trump had tested positive for COVID-19, has generated controversy as the accounts of his health relayed by his doctor and senior administration officials to reporters and the public have been mixed and confusing.
The Physician to the President, U.S. Navy Commander Sean Conley told reporters in a press briefing earlier on Monday, that the president was healthy enough to leave the hospital. While citing Trump's current vitals and clinical evaluations, Conley acknowledged that the president, who is 74, obese and medically at risk for severe complications from the virus, was not out of danger from the virus.
"Though he may not be entirely out of the woods yet, the team and I agree that all our evaluations, and most importantly, his clinical status, support the president's safe return home, where he'll be surrounded by world-class medical care 24-7," Conley said.
Conley over the weekend had acknowledged that the president had displayed symptoms including fatigue and a fever and had also required supplemental oxygen on Friday as well as Saturday.
"If we can get through to Monday with him remaining the same or improving better yet, then we will all take that final deep sigh of relief," Conley told reporters Sunday.
On Sunday Trump had left the hospital temporarily in an enclosed black presidential SUV to greet well-wishers arrayed along Wisconsin Avenue in front of Walter Reed, an action that astonished and dismayed medical observers and angered others at the risk the president placed his Secret Service protective detail of agents in by potentially exposing them to the virus.
"He's not even pretending to care now," an agent who requested anonymity told The Washington Post.
"That should never have happened," another unidentified agent, who works in both the presidential and first family detail, told CNN. "The frustration with how we're treated when it comes to decisions on this illness goes back before this though. We're not disposable."
"Every single person in the vehicle during that completely unnecessary Presidential 'drive-by' just now has to be quarantined for 14 days," Dr. James Phillips had tweeted Sunday. "They might get sick. They may die. For political theater- commanded by Trump to put their lives at risk for theater. This is insanity," Phillips added.
Dr. Phillips who is the head of Disaster and Operational Medicine in the Emergency Medicine Department of the George Washington University School of Medicine and an attending physician at Walter Reed also pointed out in his twitter thread that the Secret Service's SUV is hermetically sealed to protect against chemical attacks. "The risk of COVID-19 transmission inside is as high as it gets," other than during medical procedures, he wrote.
There have also been more infections in the White House staff announced Monday. In addition to the Senior Counselor to the President, Hope Hicks, who had tested positive last week, White House Press Secretary Kayleigh McEnany announced on Twitter that she tested positive this morning.
"After testing negatively consistently, including every day since Thursday, I tested positive for COVID-19 on Monday morning while experiencing no symptoms," McEnany said. "With my recent positive test, I will begin the quarantine process and will continue working on behalf of the American people."
The White House also confirmed that two deputies in the White House press office had also tested positive.