Thousands denied cure for blindness due to ban on tissue donation from gay men
FDA declines request by ophthalmologists to revise 1994 policy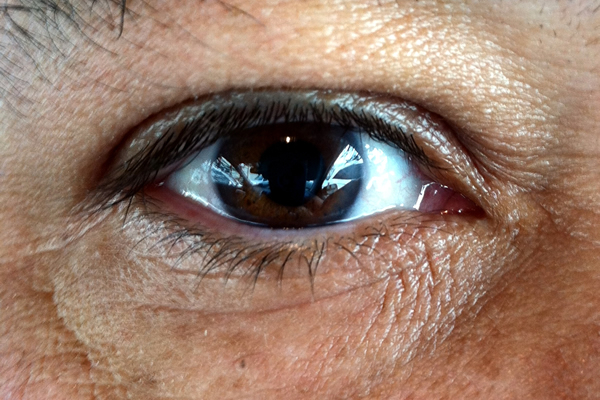 WASHINGTON – A first-of-its-kind medical journal study published on Sept. 24 shows that as many as 3,217 intended donations of corneas from the eyes of gay and bisexual men in 2018 that could have restored the vision of blind people through cornea transplant surgery were disqualified under an "outdated" U.S. Food and Drug Administration policy aimed at preventing HIV infection.
The study released by JAMA Ophthalmology, an American Medical Association journal, says the little-known FDA policy prohibits the donation of corneas from men who have had sex with men in the past five years from the time of the planned donation. It points out that the policy has not been revised since the FDA adopted it in 1994 despite major scientific advancements in the detection of HIV in human tissue within eight to 10 days after infection.
"With millions of people across the world in need of corneal transplants, these discarded corneas from gay and bisexual men could be used to address the shortage and safely restore vision to thousands of patients with corneal blindness or visual impairment," said Dr. Michael A. Puente, assistant professor of ophthalmology at the University of Colorado School of Medicine and lead author of the study.
"With modern virologic testing and a better understanding of the low risk of HIV transmission through corneal transplants, this five-year deferral policy for gay men is not supported by current science," Puente, an eye surgeon, said in a statement. "We ask federal regulators to reconsider these outdated policies which are depriving patients of the possibility of sight restoration," he said.
Medical literature on cornea donations and corneal transplant surgery states that similar to heart transplants, corneas can only be donated by people who have died, many of whom have left an advance directive to become an organ or tissue donor.
The statement accompanying the study says all corneal donors in the United States are required to undergo three separate HIV tests. Puente told the Washington Blade the HIV tests can be performed shortly before a terminally ill person dies or shortly after death as long as at least one of the tests is performed within seven days of the time the cornea is donated.
Up until 2015, the FDA adhered to a lifetime ban on men who have sex with men, referred to as MSM, from donating blood. The FDA announced that year that a review it conducted concluded that a lifetime ban was no longer scientifically justified and recommended that MSM considering donating blood be sexually abstinent for one year. In April of this year the FDA lowered the period of abstinence for MSM blood donors to three months.
"If it's safe for gay men to donate their blood after three months of abstinence, I can think of no scientific reason to continue to require gay men to be abstinent for five years to donate their eyes," Puente said. "This policy can be changed without increasing the risk of HIV transmission, and I would urge authorities to act as soon as possible to help patients who are waiting for sight-restoring surgery."
The medical journal article says to the knowledge of the teams of researchers who conducted the study, "no case of HIV transmission from a corneal transplant has been reported anywhere in the world." The article notes that in cases where a corneal donor was discovered to be HIV positive after a transplant surgery had taken place, none of the recipients contracted HIV.
"One reason for the low transmissibility of HIV via corneal transplant is thought to be the cornea's avascularity, which prevents the cornea from being a major reservoir of the virus," according to the article. "Studies analyzing the corneas of HIV-infected patients have consistently found that that HIV is not present in most of the corneas of HIV-positive patients," it reports.
The statement accompanying the study says the U.S. and Canada are "outliers" in policies restricting corneal donations for MSM. It notes that Canada currently requires MSM to have been abstinent for one year prior to a corneal donation.
"Many countries, including Spain, Italy, Mexico, Chile, and Argentina, allow gay and bisexual men to donate their eye tissue just as easily as heterosexual donors," the statement says. "Other countries have deferral periods far shorter than five years," says the statement. "For example, the United Kingdom allows corneal donation by gay and bisexual men after only three months of abstinence, while the Netherlands and France only require gay and bisexual corneal donors to be abstinent for four months."
Puente told the Blade he learned that members of Congress urged the FDA to modify its MSM cornea donation policy in 2013 and the Eye Bank Association of America in 2017 also called for a change in the policy, but the FDA chose to leave the 1994 policy in place.
Monique Richards, a spokesperson for the FDA, told the Blade in an email in response to a Blade inquiry about the MSM corneal donor policy, that the current policy is based on recommendations by the U.S. Centers for Disease Control and Prevention's 1994 guidelines published in its journal Morbidity and Mortality Weekly Report.
"Research has shown that a history of male-to-male sexual contact was associated with a 62-fold increased risk for being HIV positive, whereas the increase in risk for a history of multiple sexual partners of the opposite sex was 2.3 fold," Richards said.
She added that the Centers for Disease Control and Prevention points out that about two-thirds of all new HIV infections in the United states occur in MSM, who make up only 2 percent of the total U.S. population.
"The FDA will continue to review its [tissue] donor deferral policies to ensure they reflect the most up-to-date scientific knowledge," Richards said. "This process must be data-driven, so the time frame for future changes is not something we can predict."
The JAMA Ophthalmology article can be accessed here.
Vigil held after Wilton Manors Pride parade accident
Fort Lauderdale mayor expressed 'regret' over initial terrorism claim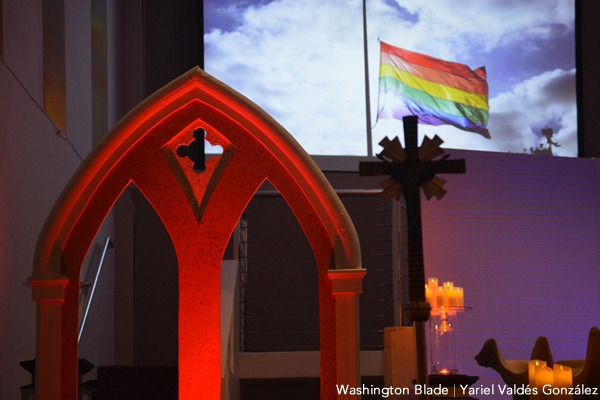 FORT LAUDERDALE, Fla. — More than 100 people on Sunday attended a prayer vigil in the wake of an accident at a Wilton Manors Pride parade that left one person dead and another injured.
The vigil took place at the Sunshine Cathedral in Fort Lauderdale.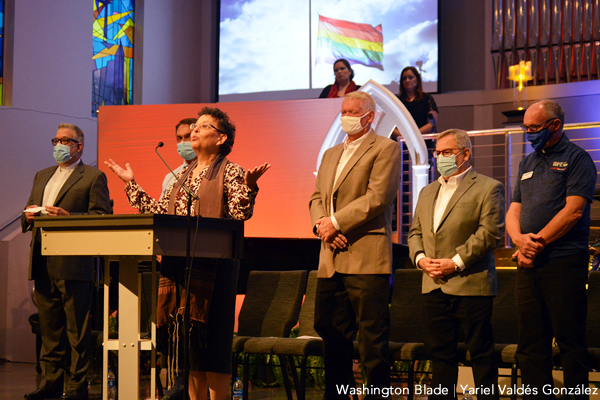 A 77-year-old man who was driving a pickup truck struck two men near the Stonewall Pride Parade's staging area shortly before 7 p.m. on Saturday. One of the victims died a short time later at a Fort Lauderdale hospital.
The pickup truck narrowly missed U.S. Rep. Debbie Wasserman Schultz (D-Fla.), who was in a convertible participating in the parade, and Florida Congressman Ted Deutch.
The driver of the pickup truck and the two men he hit are members of the Fort Lauderdale Gay Men's Chorus. The Fort Lauderdale Police Department on Sunday described the incident as a "fatal traffic crash" and not a terrorism incident as Fort Lauderdale Mayor Dean Trantalis initially claimed.
"As we were about to begin the parade, this pickup truck, this jacked up white pickup truck, dashed across, breaking through the line, hitting people, all of us that were there could not believe our eyes," said Trantalis as he spoke at the vigil.
Trantalis noted the pickup truck nearly hit Wasserman Schultz. He also referenced the arrest of a 20-year-old supporter of former President Trump earlier in the week after he allegedly vandalized a Pride flag mural that had been painted in an intersection in Delray Beach, which is roughly 30 miles north of Fort Lauderdale.
"I immediately knew that something terrible was happening," said Trantalis, referring to the Stonewall Pride Parade accident. "My visceral reaction was that we were being attacked. Why not? Why not feel that way?"
"I guess I should watch to make sure there are no reporters standing by when I have those feelings, but that was my first reaction and I regret the fact that I said it was a terrorist attack because we found out that it was not, but I don't regret my feelings," he added. "But I don't regret that I felt terrorized by someone who plowed through the crowd inches away from the congresswoman and the congressman, myself and others."
Trantalis also told vigil attendees that "I guess we forgive" the pickup truck driver.
"But I regret that his consequences resulted in the death of an individual who was innocent and who was there to have a good time, like the rest of us, and I regret there is a man who is in serious condition … fighting for his life and there," added Trantalis.
Veterans Affairs to provide gender-confirmation surgery reversing 2013 ban
McDonough said that he pledged to overcome a "dark history" of discrimination and expand access to care for transgender veterans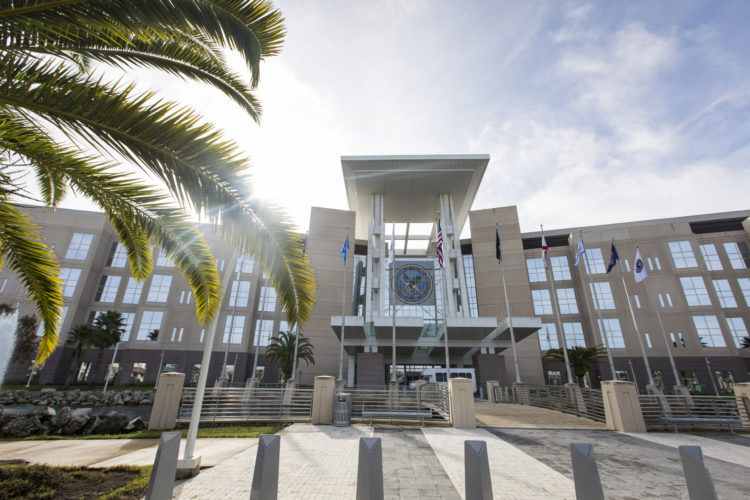 ORLANDO – U.S. Department of Veterans Affairs Secretary Denis McDonough announced his Department is moving to provide gender-confirmation surgery through its health care coverage reversing a 2013 ban on those surgical procedures.
Speaking at a Pride Month event at the Orlando VA Healthcare System Saturday, McDonough said that he pledged to overcome a "dark history" of discrimination and take steps to expand access to care for transgender veterans.
With this commitment McDonough said he seeks to allow "transgender vets to go through the full gender confirmation process with VA by their side," McDonough said. "We're making these changes not only because they are the right thing to do, but because they can save lives," he added.
The process to roll-back the restrictions may take upwards of two years. The federal rulemaking process, expected to begin this summer, will include a period for public comment, spokesman Terrence Hayes told The Washington Post on Saturday.
"This time will allow VA to develop capacity to meet the surgical needs that transgender veterans have called for and deserved for a long time," McDonough said in his remarks. "and I am proud to begin the process of delivering it," he added.
On February 8, 2013, the VA issued a directive that stated that the VA Healthcare System does not provide sex reassignment surgery. This directive sought to clarify a previous VA directive issued June 9, 2011, "Providing Healthcare for Transgender and Intersex Veterans," which established the provision of hormone therapy, gender-related mental health counseling, and other transition-related services through the VA, as well as a mandate that the VA health system provides care "without discrimination and in a manner … consistent with the Veteran's self-identified gender."
"This directive, however, does not include coverage of surgical procedures although the VA does provide transgender veterans with pre- and postoperative care."
The outcome was that the directive(s) effectively prevented transgender veterans from a surgery considered medically necessary by the World Professional Association for Transgender Health.
38 CFR § 17.38 Medical benefits package, is the specific federal code that makes provisions for veterans healthcare, which Section (b) clearly defines as; "Care referred to in the "medical benefits package" will be provided to individuals only if it is determined by appropriate health care professionals that the care is needed to promote, preserve, or restore the health of the individual and is in accord with generally accepted standards of medical practice."
However, 38 CFR § 17.38 does limit care for transgender veteran's stating: "(c) In addition to the care specifically excluded from the "medical benefits package" under paragraphs (a) and (b) of this section, the "medical benefits package" does not include the following: […] '(4) Gender alterations.'"
McDonough noted that changes "will require changing VA's regulations and establishing policy that will ensure the equitable treatment and safety" of all transgender veterans.
"There are several steps to take, which will take time. But we are moving ahead, methodically, because we want this important change in policy to be implemented in a manner that has been thoroughly considered to ensure that the services made available to veterans meet VA's rigorous standards for quality health care."
In a study related to the 2011 and 2013 directives, the VA noted that research showed that the transgender population in general experiences severe physical and mental health disparities, compared to the cisgender population, including high rates of HIV, suicidality, depression, anxiety, and mental health-related hospitalization.
Studies have found that these disparities are even more glaring among transgender veterans. In a survey of transgender veterans and transgender active-duty service members, transgender veterans reported several mental health diagnoses, including depression (65%), anxiety (41%), PTSD (31%), and substance abuse (16%).  In a study examining VHA patient records from 2000 to 2011 (before the 2011 VHA directive), the rate of suicide-related events among veterans with a gender identity disorder (GID) diagnoses was found to be 20 times higher than that of the general VHA patient population.
McDonough acknowledged the VA research pointing out that in addition to psychological distress, trans veterans also may experience prejudice and stigma. About 80 percent of trans veterans have encountered a hurtful or rejecting experience in the military because of their gender identity.
"LGBTQ+ veterans experience mental illness and suicidal thoughts at far higher rates than those outside their community," McDonough said. "But they are significantly less likely to seek routine care, largely because they fear discrimination.
"At VA, we're doing everything in our power to show veterans of all sexual orientations and gender identities that they can talk openly, honestly and comfortably with their health care providers about any issues they may be experiencing," he added.
All VA facilities have had a local LGBTQ Veteran Care Coordinator responsible for helping those veterans connect to available services since 2016.
"We're making these changes not only because they are the right thing to do but because they can save lives," McDonough said. He added that the VA would also change the name of the Veterans Health Administration's LGBT health program to the LGBTQ+ Health Program to reflect greater inclusiveness.
Much of the push for better access to healthcare and for recognition of the trans community is a result of the polices of President Joe Biden, who reversed the ban on Trans military enacted under former President Trump, expanding protections for transgender students and revived anti-bias safeguards in health care for transgender Americans.
U. S. House Veterans' Affairs Committee Chairman Mark Takano, D-CA, who is openly gay, issued a statement applauding McDonough's actions.
"Veterans in need of gender confirmation surgery should not have to seek healthcare outside of the VA health system or navigate complicated processes to get the care they need," Takano said. "VA must be inclusive of all veterans who have served, regardless of their identity."
The Chairman of the Senate Veterans' Affairs Committee, Jon Tester, D-MT also approved of the expansion of health care offerings for trans veterans.
"Every service member and veteran deserves equal access to quality care from VA, and this includes our LGBTQ+ veterans," Tester said in a statement. "We must reaffirm our commitment to making VA a more welcoming place for everyone who fought to protect our freedoms."
Gina Duncan, director of transgender equality for the statewide LGBTQ civil rights organization Equality Florida, told the Orlando Sentinel that her agency was "thrilled to have allies at the highest level of government" and noted the contrast with recent moves by the Florida Legislature and Gov. Ron DeSantis to limit transgender youth participation in school sports.
"In a moment of fierce state and local backlash against the transgender community, this move by the Biden Administration is a reminder that elections matter," Duncan said. "Support for transgender veterans and the lifesaving healthcare they need to live authentically is a critical component to fulfilling our nation's promise of caring for those who've served."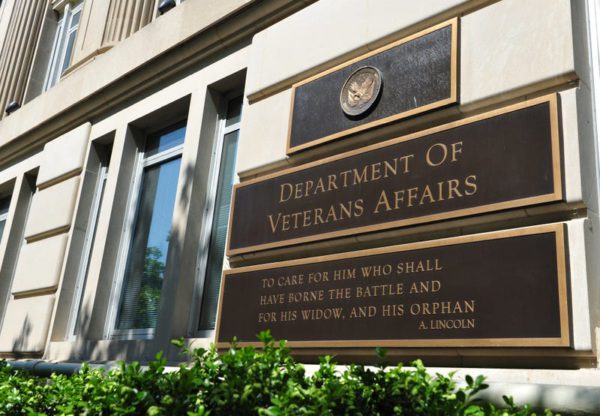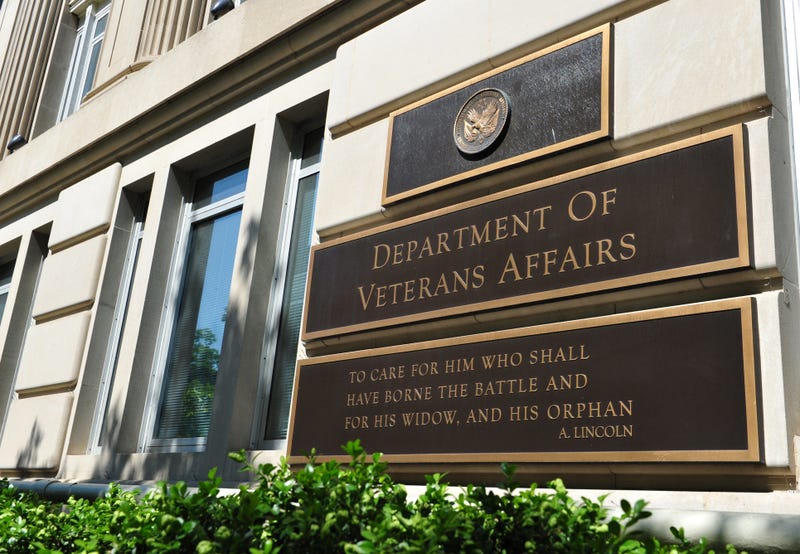 Police describe Wilton Manors Pride incident as 'fatal traffic crash'
Pickup truck driver identified as 77-year-old man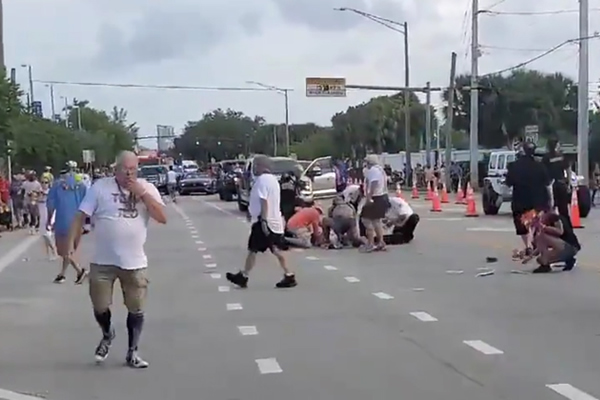 WILTON MANORS, Fla. — The Fort Lauderdale Police Department on Sunday released additional information about an incident at a Wilton Manors Pride parade that left one person dead and another injured.
A press release notes a 77-year-old man who was "a participant who had ailments preventing him from walking the duration of the parade and was selected to drive as the lead vehicle" was behind the wheel of a 2011 white Dodge Ram pickup truck that struck the two people near the Stonewall Pride Parade's staging area shortly before 7 p.m. on Saturday.
"As the vehicle began to move forward in anticipation for the start of the parade, the vehicle accelerated unexpectedly, striking two pedestrians," reads the press release. "After striking the pedestrians, the driver continued across all lanes of traffic, ultimately crashing into the fence of a business on the west side of the street."
"The driver remained on scene and has been cooperative with investigators for the duration of the investigation," further notes the press release. "A DUI investigation of the driver was conducted on scene and showed no signs of impairment."
The press release confirms the driver and the two people he hit are members of the Fort Lauderdale Gay Men's Chorus.
Fort Lauderdale Fire Rescue transported both victims to Broward Health Medical Center "with serious injuries." The press release notes one of the victims died shortly after he arrived at the hospital.
The Fort Lauderdale Police Department, which is leading the investigation, has not publicly identified the victims and the driver, but the press release describes the incident as a "fatal traffic crash." The press release notes the second victim remains hospitalized at Broward Health Medical Center, but "is expected to survive."
"While no arrests have been made, the Fort Lauderdale Police Department continues to investigate this incident and will not be releasing the names of the involved parties due to the status of the investigation," says the press release. "The Fort Lauderdale Police Department asks anyone who may have witnessed this incident, who has not already spoken to investigators, to contact Traffic Homicide Investigator Paul Williams at (954) 828-5755."
The pickup truck narrowly avoided U.S. Rep. Debbie Wasserman Schultz (D-Fla.), who was in a convertible participating in the parade. Florida Congressman Ted Deutch was also nearby.
"Our thoughts and prayers are with those affected by the tragic accident that occurred when the Stonewall Pride Parade was just getting started," said Fort Lauderdale Gay Men's Chorus President Justin Knight in a statement he issued after the incident. "Our fellow chorus members were those injured and the driver was also part of the chorus family."
"To my knowledge, this was not an attack on the LGBTQ community," added Knight. "We anticipate more details to follow and ask for the community's love and support."
Fort Lauderdale mayor initially described incident as anti-LGBTQ 'terrorist attack'
Fort Lauderdale Mayor Dean Trantalis initially described the incident as "a terrorist attack against the LGBT community," without any official confirmation. Detective Ali Adamson of the Fort Lauderdale Police Department on Saturday confirmed to reporters that investigators are "working with" the Federal Bureau of Investigation, but stressed the "investigation is active and we are considering and evaluating all possibilities."
"Last evening, at the start of what was to be a celebration of pride for the LGBT community and commemoration of our hard-won victories for equality, our community faced the worst of tragedies. The grief of our LGBT community — and greater Fort Lauderdale as a whole — is palpable," said Trantalis on Sunday in a statement he posted to his Facebook page.
"I was an eyewitness to the horrifying events. It terrorized me and all around me. I reported what I saw to law enforcement and had strong concerns about what transpired — concerns for the safety of my community. I feared it could be intentional based on what I saw from mere feet away," he added.
Trantalis added "law enforcement took what appeared obvious to me and others nearby and investigated further — as is their job."
"As the facts continue to be pieced together, a picture is emerging of an accident in which a truck careened out of control," he said. "As a result, one man died, two others were injured and the lives of two members of Congress were at risk. My heart breaks for all impacted by this tragedy."