October 9, 2020 at 9:35 am PDT | by Rob Watson
Make Black and Brown Queer Votes Matter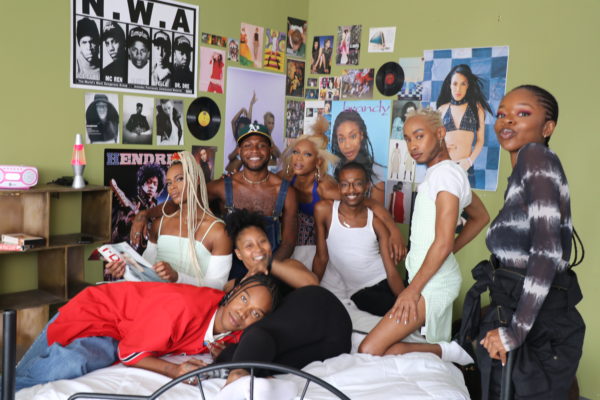 HOLLYWOOD – Who and what you are in the United States can determine your voting method. Is it a coincidence that one of those methods, voting by mail, is under attack by the privileged and the powerful?
A large political movement, driven by the President himself, appears hell bent on discouraging reasonable COVID-19 safe voting practices. Since the Trump-favoring demographic block is the block that ignores COVID-19 caution and favors in person poll voting, this rhetoric makes sense (Except for pesky details such as that Trump himself will be voting by mail). They get to vote as they please, as fool hardy as it may be, and those who do not wish to vote that way, are either suppressed, dissuaded to not vote, or both.
A large segment of those who do not wish to vote in person are black or brown.
For racial minorities, the desire to vote by mail, rather than in person, is to have access, since many of their polling places are closed. Voting by mail is also to be more sheltered from the threat of COVID-19. For minorities, this is a legitimate concern. "Research increasingly shows that racial and ethnic minorities are disproportionately affected by coronavirus disease 2019 (COVID-19) in the United States. According to recent data from the Centers for Disease Control and Prevention (CDC), non-Hispanic American Indian or Alaska Native people had an age-adjusted COVID-19 hospitalization rate about 5.3 times that of non-Hispanic white people. COVID-19 hospitalization rates among non-Hispanic Black people and Hispanic or Latino people were both about 4.7 times the rate of non-Hispanic white people," states William F. Marshall, III M.D of the Mayo Clinic.
"These factors — underlying health conditions, dense living conditions, employment in the service industry or as an essential worker, access to health care and racism — contribute to the impact of COVID-19 on people of color." 
Denying these Americans safe alternatives to voting in person is yet another exercise in systematic racism. As we near the election, it appears that for most, the ability to vote by mail WILL be not just a legitimate option, but potentially, their only option.
That is not to say that some of the concerns of the anti-mail voting campaign should be ignored. Hans von Sapolsky of the Heritage Foundation presented these observations on Fox News: "Mail-in ballots also have a higher rejection rate than votes cast in person. In the Paterson case, election officials apparently rejected 1 in 5 ballots for everything from signatures on the ballots not matching the signatures of voters on file, to ballots not complying with the technical rules that apply to absentee ballots…These kinds of technical problems—when a voter doesn't provide all of the information required with an absentee ballot—occur because there is no election official in people's homes to answer their questions. At polling places, by contrast, election officials can try to remedy any problems a voter encounter."
Robert F. Kennedy Human Rights has moves to rectify that—they will be, in fact, putting a virtual "election official" in every mail-in voter's home that wants it. They will do so via their newest, and brightest, PSA video on how the vote-by-mailer can make his or her ballot count. Per the organization's own disclaimer, the video was "made for and by the young, queer, and bipoc communities, many of whom will be voting absentee for the first time in November, it explains how to avoid the common mistakes that could cause your mail-in ballot to be disqualified."
The video was created by a talented young filmmaker named Kadar Small, who stated, "When I was first contacted by RFK Human Rights to create a PSA about registering to vote and meeting election deadlines, I knew it was important for me to not only create something 'aesthetically pleasing' but to be able to identify myself and my community within the video. We purposely cast all Black and queer individuals knowing my community has been so deeply affected by the last presidential election and will be heavily impacted by this year's as well. If we want to see change in November, it's our job to hold one another accountable and actually take the proper steps towards progress by voting and making our voices heard."
The video covers key pointers such as signing the outside properly and with your full name, and to mark the ballot cleanly by coloring in the circles and not just putting in a mark or an "x". For members of the BIPOC community who need to see themselves to relate—the video is presented by someone who looks exactly like them.
I had the opportunity to interview Small, and the on camera talent for the video, a lovely transgender actress named Barbie, for the podcast RATED LGBT RADIO. I asked Small what was at stake for the BIPOC community this election. He told me, "In my opinion, so much is at stake given the violence against the black queer community. Trump has done so little to protect the black trans community, or black men. This did not just happen, the quarantine just made it more visible. My parents told me of it happening when I was a kid. In the last election, I was just old enough to vote, but so many others did not take it seriously and did not vote, we did not see what was at stake. Now we do, with police brutality and white supremacy, all those issues—It is making us say—no, we need to make a proper change."
"This experience opened my eyes as to how important voting should be to everyone," stated video spokesperson Barbie. "It does make me feel a bit foolish that I did not know its impact before. What smacked me in the face was Trump's being elected at all. It was outlandish, and taboo. I was stunned when it happened. I felt like we were doomed. When I see all that he is doing this election… it is literally a gag. Literally a gag. Trump does not care who I am, does not like me at all. I need to do what I can to shape America."
Her message to anyone not inclined to vote this election: "That cannot be an option."
Kadar Small concurred, "To not vote is ignorant. It means you are OK with everything that is transpiring, and you are OK with it continuing. We must take control, and the first step of taking back control is to vote. Trump policies with COVID 19 are putting Black communities more at risk than others.
I asked what message Small wanted to send Donald Trump, who seeks to turn any protest on Black Lives Matter into an issue of "law and order."
Small had no message for Trump at all. There is no hope of being heard. At this point, all that is necessary is— to have Trump leave office.
"He knows he is killing black people. He does not care."
Vote.