LGBTQ asylum seekers from Central America still seek refuge in U.S.
Human Rights Watch criticizes Trump administration rhetoric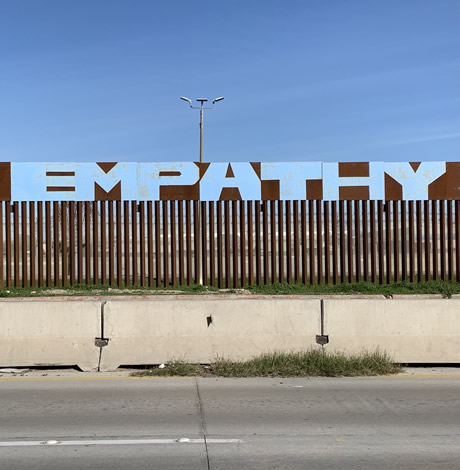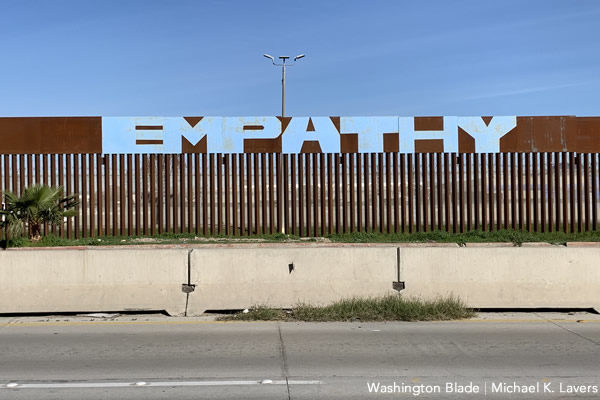 TIJUANA, Mexico – Advocates this week said the Trump administration's hardline immigration policies have not stopped LGBTQ people in Central America's Northern Triangle from traveling to the U.S. to seek asylum.
"It's not a deterrent in the sense of 'Oh, I'm not going to do this right now. I'll go next year,'" said Emem Maurus, an attorney with the Transgender Law Center who is based in the Mexican border city of Tijuana, on Wednesday during a virtual press conference that Human Rights Watch organized.
"It is certainly having a practical impact, I do want to say that," added Maurus. "These policies are causing people to be hurt, they are causing people to die, truly. They are causing a lot of harm and in that sense, they are practically impeding asylum, but I don't know that it's causing people to be like, 'Oh, I'll wait until next spring' necessarily."
Guatemala, Honduras and El Salvador comprise the Northern Triangle. Human Rights Watch on Wednesday released a report that highlights persecution in the region based on sexual orientation and gender identity and Trump administration policies that have put LGBTQ asylum seekers from Guatemala, Honduras and El Salvador at even more risk.
The report notes the U.S. in March "entirely closed its southern border to asylum seekers, leaving them to suffer persecution in their home countries or in Mexico."
"The COVID-19 pandemic served as the pretext for the closure, but for years, the Trump administration had adopted increasingly severe measures aimed at preventing asylum seekers from ever reaching the United States and expelling them quickly if they did cross the border," reads the report.
Estuardo Cifuentes, a gay man from Guatemala, is among those who the U.S. has forced to await the outcome of their asylum cases in Mexico under the "return to Mexico" policy. Cifuentes, who asked for asylum in the U.S. at the end of July 2019, runs a project in the Mexican border city of Matamoros that helps LGBTQ asylum seekers as he awaits the final outcome of his case.
"I went back to Matamoros without knowing anything, without knowing anything about the process," Cifuentes told the Los Angeles Blade during a recent Zoom interview.
Maurus on Wednesday noted Guatemala in 2019 signed a "safe third country" agreement with the Trump administration that requires migrants who pass through Guatemala on their way to the U.S. to first ask for asylum in the country. [email protected] Coalition Executive Director Bamby Salcedo during the press conference also highlighted the inadequate health care and other mistreatment that LGBTQ asylum seekers face while in U.S. Immigration and Customs Enforcement custody.
Roxsana Hernández, a transgender woman from Honduras with HIV, died in ICE custody in New Mexico on May 25, 2018. Johana "Joa" Medina Leon, a trans woman from El Salvador with HIV, died on June 1, 2019, at a Texas hospital three days after ICE released her from their custody.
Three police officers in El Salvador in July were sentenced to 20 years in prison for the 2019 murder of Camila Díaz Córdova, a trans woman who asked for asylum in the U.S. two years before her death. Díaz's friend, Virginia Gómez, earlier this year during an interview with the Blade in El Salvador confirmed a judge denied Díaz's asylum claim and the U.S. deported her back to the Central American country on Nov. 7, 2017.
Bianka Rodríguez, executive director of COMCAVIS Trans, a trans Salvadoran advocacy group, also participated in Wednesday's Human Rights Watch press conference.
"As long as this kind of violence and discrimination do persist, LGBT people from the Northern Triangle will continue to travel north to the United States to attempt to seek asylum and what the Trump administration has done in the last two years—which is to make asylum so restrictive that there's barely an asylum system left to speak of—is unconscionable and it puts LGBT people at great harm," said Human Rights Watch Senior LGBT Rights Researcher Neela Ghoshal. "These policies should be reversed."
Maurus during the press conference acknowledged "it was not people's first choice to leave."
"They had discrimination and abuse throughout much of their live and their first choice is not to leave their home, their family, their community, their friends. It is something happens that truly forces them—I leave or I will die," they said. "It's a last choice and it's the only choice and to that extent it isn't a choice. I do think people are concerned … about detention, who are concerned about what's going to happen in Mexico."
"People know, it doesn't come as a surprise, that right now the policies are awful, but I think for many they need to leave," added Maurus.
Ghoshal also specifically criticized the Trump administration's rhetoric around the migrant caravans that in recent years have traveled from Central America to the U.S.-Mexico border.
"We were disturbed to hear President Trump use very dehumanizing language to describe the people who were in these caravans, in particular dismissing them all as criminals and of course, we know that for many of the members of the caravans—including LGBT people within them—they were survivors of crimes and they were people who were trying to escape lifetimes of marginalization and dehumanization and they needed the opportunity to arrive at the U.S. border, seek asylum and be heard and protected," said Ghoshal.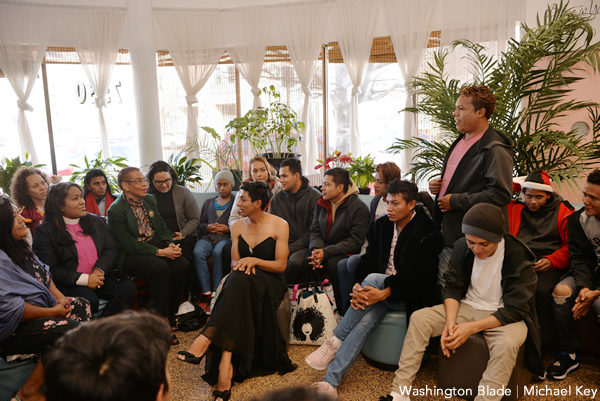 U.S. Army considering letting LGBTQ+ troops transfer out of hostile states
This policy tweak to the existing Army regulations pertaining to compassionate reassignment would clarify the current standard rules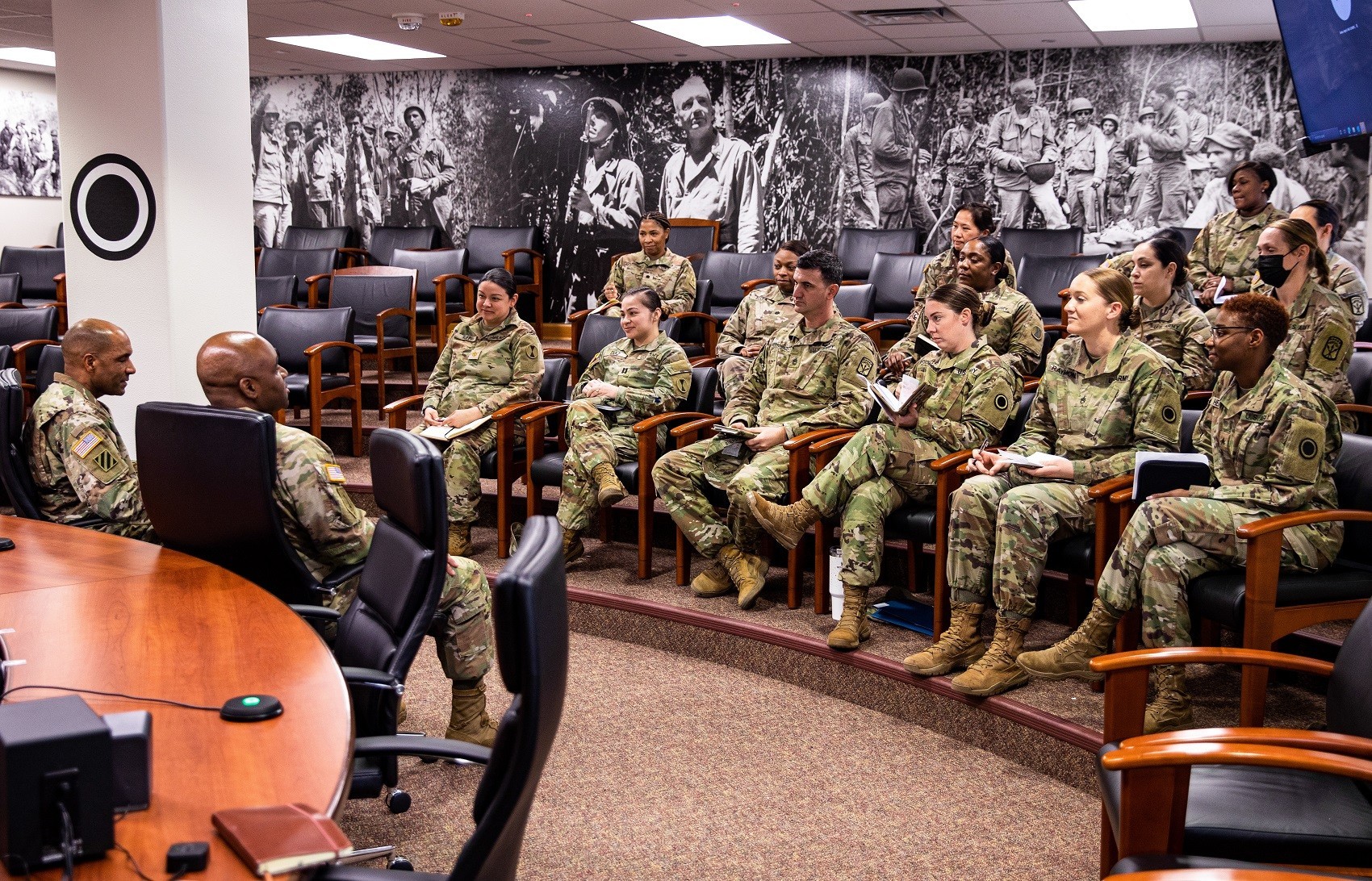 ARLINGTON, Va. – A draft policy is circulating among top officials of the U.S. Army that would allow soldiers to be able to request a transfer if they feel state or local laws discriminate against them based on gender, sex, religion, race or pregnancy.
Journalist Steve Beynon writing for Military.com reported last week the guidance, which would update a vague service policy to add specific language on discrimination, is far from final and would need approval from Army Secretary Christine Wormuth. But if enacted, it could be one of the most progressive policies for the Army amid a growing wave of local anti-LGBTQ+ and restrictive contraception laws in conservative-leaning states, where the Army has a majority of its bases and major commands.
"Some states are becoming untenable to live in; there's a rise in hate crimes and rise in LGBT discrimination," Lindsay Church, executive director of Minority Veterans of America, an advocacy group, told Military.com. "In order to serve this country, people need to be able to do their job and know their families are safe. All of these states get billions for bases but barely tolerate a lot of the service members."
This policy tweak to the existing Army regulations pertaining to compassionate reassignment would clarify the current standard rules, which are oft times fairly vague.
A source in the Army told Beynon the new guidance has not yet been fully worked out through the policy planning process or briefed to senior leaders including the Army Secretary or the Office of the Secretary of Defense Lloyd Austin.
"The Army does not comment on leaked, draft documents," Angel Tomko, a service spokesperson, told Military.com in an emailed statement. "AR 600-100 and 600-200 establish the criteria for which soldiers may request for a compassionate reassignment. The chain of command is responsible for ensuring Soldiers and Families' needs are supported and maintain a high quality of life."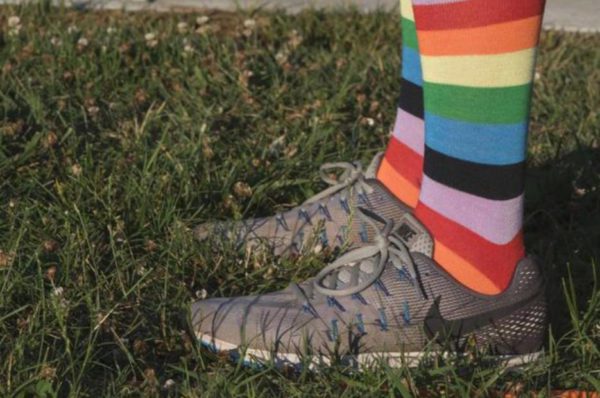 The Crystal City Virginia based RAND Corporation had published a study on Sexual Orientation, Transgender Identity, and Health Among U.S. Active-Duty Service Members in 2015 that listed approximate numbers of LGBTQ+ troops are 6% gay or bisexual and 1% is transgender or nonbinary.
A senior analyst for RAND told the Blade on background those numbers are likely much lower than in actuality as 2015 was less than 4 years after the repeal of 'Don't Ask-Don't Tell' and prior to the Trump enacted Trans service ban in 2017 which was then repealed by the Biden Administration which has had a chilling effect on open service. Another factor is that the current 18-24 year old troops colloquially referred to as 'Gen Z' are much more inclined to embrace an LGBTQ+ identity and that would cause the numbers to be higher than reported.
Also factored in is uncertainty in the tweaking of policy in light of the recent leak of the draft U.S. Supreme Court decision that would effectively repeal Roe v Wade.
According to Military.com it's unclear whether the Army's inclusion of pregnancy on the list would protect reproductive care for soldiers if Roe v. Wade is overturned. That language could be intended to protect pregnant service members or their families from employment or other discrimination, but could also be a means for some to argue for transfers based on broader reproductive rights.
One advocacy group pointed out that the current wave of anti-LGBTQ+ legislation will negatively impact the moral of service members:
"What we're seeing across the board is a small group of elected officials who are trying to politicize and weaponize LGBTQ identities in despicable ways. They're not only doing that to our youth, but the collateral damage is hurting our service members," Jacob Thomas, communications director for Common Defense, a progressive advocacy organization, told Military.com. "[Troops] can't be forced to live in places where they aren't seen as fully human."
Right-wing extremist provocateur threatens to 'hunt' LGBT supporters
He has a history of right-wing extremist short videos including a harassment campaign against an Arizona wig shop that serves cancer patients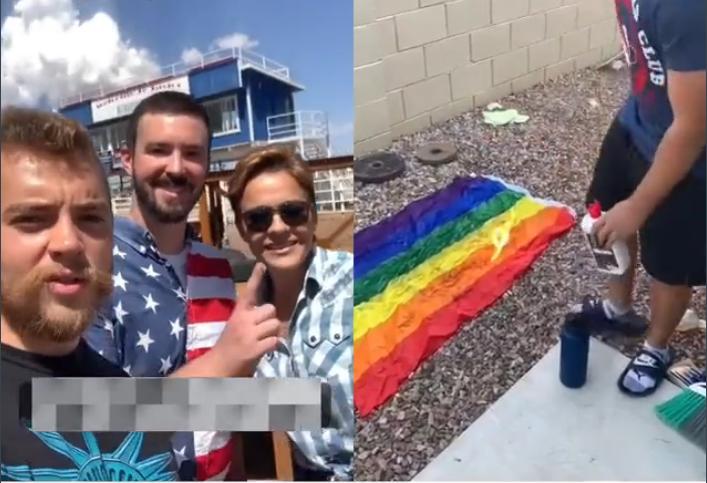 PHOENIX – A twenty-four year old right-wing extremist based in the metropolitan Phoenix, Arizona area, Ethan Schmidt, posted a short video of himself accompanied by Kyle Clifton who describes himself as "authoritarian Christian nationalist," driving in an undisclosed area announcing that he and Clifton will be "hunting 'LGBT supporters" and people in area Target retail stores.
The video captured by Twitter account Patriot Takes, which describes itself as a group of Dedicated researchers monitoring and exposing right-wing extremism and other threats to democracy, first posted the video clip Saturday.
Ethan Schmidt, a right wing provocateur who has made videos with Kari Lake, Wendy Rogers, and Paul Gosar, warned Target he will "hunt LGBT supporters" in their stores and across Phoenix in June, stating they "are not safe" and they "can't hide." pic.twitter.com/O3ReHVN3qY

— PatriotTakes 🇺🇸 (@patriottakes) May 21, 2022
Schmidt has a history of making right-wing extremist short videos including a harassment campaign against an Arizona wig shop that serves cancer patients.
Sunny's Hair and Wigs, specialize in making wigs for women who have lost hair while getting treated for cancer and the store had implemented coronavirus pandemic protections including strict mask guidelines to ensure safety of their clients who are particularly vulnerable to infection.
Lisa Memberr, the owner of the shop had explained to local media outlets: "My customer base is very diverse," and she added, "Not only do I have Caucasians, I have Afro-Americans, I have Asians, I have Latin Americans."
Schmidt, who has ban banned by nearly all social media platforms including Twitter for spreading false and misleading COVID-19 pandemic information had been visiting numerous retail stores in the Phoenix area including Sunny's Hair and Wigs targeting those businesses that still require customers to wear mask. He invariably creates videos of his encounters which he uploads to right-wing social media and web sites that he hasn't been banned from.
In addition to his anti-mask campaign he has made videos with extremist conservative lawmakers including one with Arizona U.S. Republican Representative Paul Gosar telling antivaxxers "to stay the course."
Rep. Paul Gosar with Ethan Schmidt telling antivaxxers "to stay the course."

This is the new Republican Party. pic.twitter.com/Z0ogrq8nO4

— PatriotTakes 🇺🇸 (@patriottakes) May 21, 2022
He also filmed a short with Arizona State Senator Wendy Rogers who has established herself firmly as an anti-vax, anti-LGBTQ, right wing extremist.
Arizona State Senator Wendy Rogers made a video promoting Ethan Schmidt, who is now stating he will "hunt LGBT supporters" at Target and across Phoenix. pic.twitter.com/1CBmJGHYvN

— PatriotTakes 🇺🇸 (@patriottakes) May 21, 2022
Clifton is a leader of the America First Union, an openly white nationalist, antisemitic, "conservative youth" organization. He also promotes former President Donald Trump's big lie about the 2020 Presidential election being stolen by Democrats and President Joe Biden. Clifton also participated in the Arizona audit of the 2020 vote in Maricopa County, which state Sen. Rogers, had raised the visibility of her own political profile by insisting that Arizona's vote was stolen.
A semi-copy of the"American Populist Union" has been organizing under the name America First Union. The local chapter is led by the openly antisemitic Kyle Clifton of Peoria, AZ who describes himself as an "authoritarian Christian nationalist."https://t.co/OlyhxhK9kh

— AZ Right Wing Watch (@az_rww) October 8, 2021
Kyle Clifton is also obsessed with The Anti-Defamation League (see image above). He recently thought he went and filmed a rant in front of the Phoenix ADL headquarters, not realizing it has been long abandoned. pic.twitter.com/BjOxsme8fQ

— AZ Right Wing Watch (@az_rww) October 8, 2021
Last Fall Schmidt posed with Trump endorsed Republican candidate for Arizona Governor Kari Lake as he burned a LGBTQ+ Pride flag.
Kari Lake posed for an "Antimaskers Club" video with bigot Ethan Schmidt who burns rainbow flags.

This is who Trump endorsed. pic.twitter.com/mnTFqdjaAZ

— Resist Programming 🛰 (@RzstProgramming) September 28, 2021
Assemblymember Santiago: Up food access to undocumented Californians
A study from the Food4All Coalition, in partnership with UCLA research, 45% of undocumented Californians face food insecurity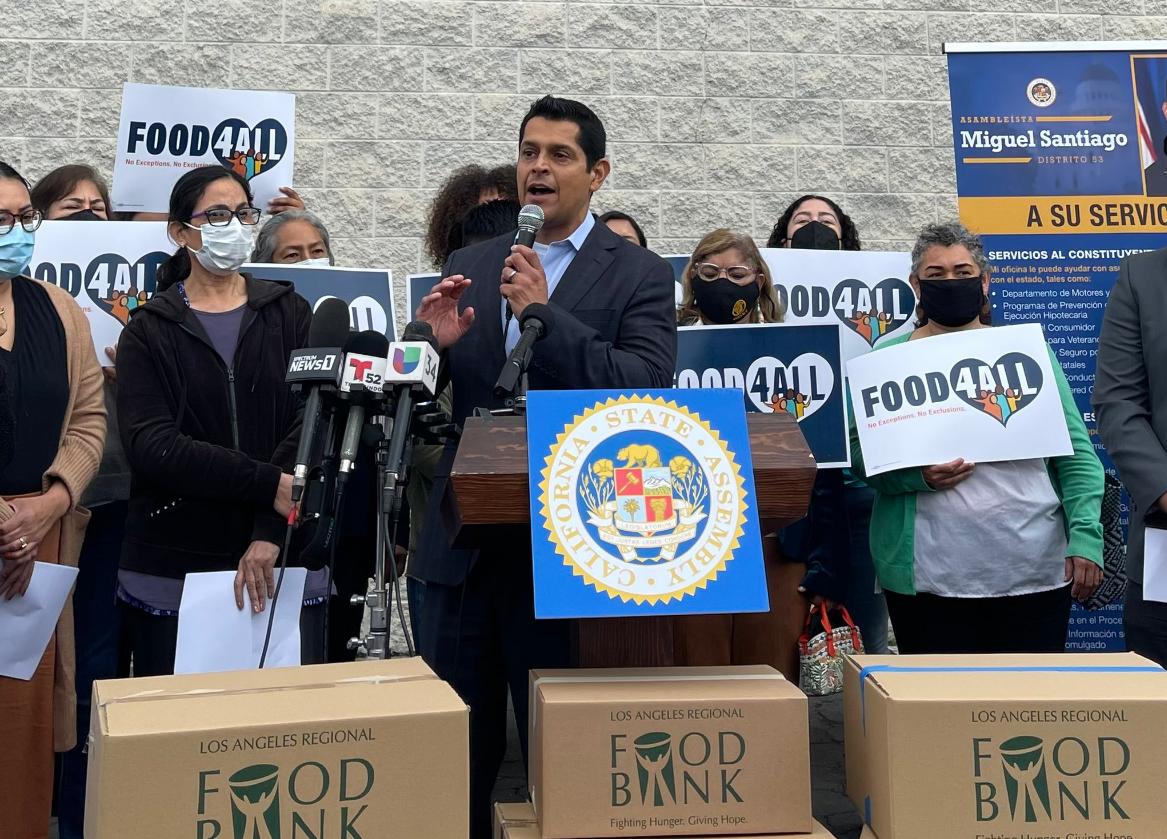 LOS ANGELES – The sharply rising costs of food, housing, gasoline, coupled with the inflation rate hovering at 8.3% has many Californian scrambling to supplement their access to food. The cost for food alone in the Southern California region has risen 1% from February 2022 to March 2022, and food prices were 8.8% higher than in March 2021.
Governor Gavin Newsom had previously announced in January that he intended to extend CalFresh public food assistance programs in the budget to include undocumented immigrants ages 55 and over, a move advocates including state Assemblymember Miguel Santiago, who represents the 53rd District covering parts of downtown L.A. applauded as a first step in curbing food insecurity for millions of low-income Californians.
At the beginning of the month in Newsom's revised budget the governor removed exclusions to the California Food Assistance Program for Californians 55 and older, regardless of immigration status.
Santiago, joined by the Food4All Coalition, the LA Regional Food Bank, the California Immigrant Policy Center, Gender Justice LA, and Nourish California gathered for a ' Food4All" rally Friday in Los Angeles to ensure that all ages are to be included in Newsom's revised proposal.
"If you qualify for CalFresh program, you should have the ability to obtain the dollars to be able to feed your kids," said Santiago.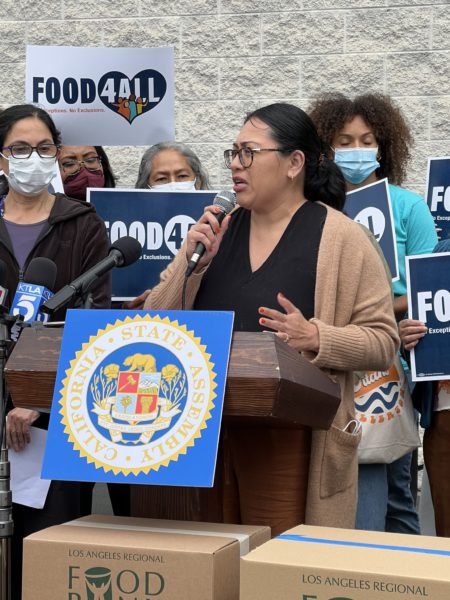 Betzabel Estudillo, a senior advocate with Nourish California told the rally attendees; "This campaign has been years in the making. We appreciate the governor's proposal, but the need is greater. Nearly half of undocumented Californians face food insecurity. It's even worse for children – 2 out of every 3 are going hungry."
Currently, all undocumented people are ineligible for CalFresh benefits. Only certain low-income immigrants that have lived in the U.S. for at least five years, including those admitted for humanitarian reasons and those with permanent residence, may be eligible for the benefits. Immigrants who receive disability-related assistance or benefits and children under 18 years old with permanent residency are also eligible, regardless of their entry date.
Newsom's proposals would revise those CalFresh benefits restrictions.
According to a study from the Food4All Coalition, in partnership with UCLA Center for Health Policy Research, 45% of undocumented Californians face food insecurity.
"We're pushing for a budget that includes over $500 million to be able to feed those who are the hungriest in the state of California," said Santiago.
Newsom has until the end of June to finalize the budget.
With rising food costs, we're having a rally so all Californians, regardless of immigration, can access food!

Great joining @LAFoodBank, @Nourish_CA, @GJLAScoop, @CALimmigrant and the Food4All Coalition! pic.twitter.com/RVaarljKET

— Miguel Santiago (@SantiagoAD53) May 20, 2022