October 16, 2020 at 7:43 pm PDT | by Brody Levesque
State officials back off legal threats over State GOP's illegal ballot boxes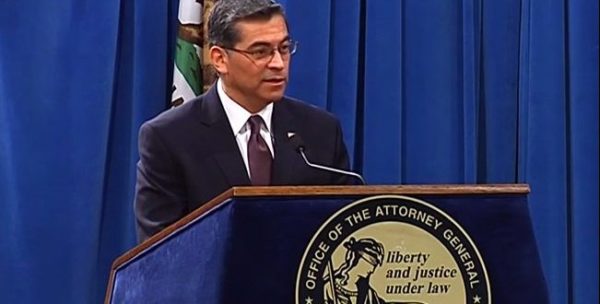 SACRAMENTO – California Attorney General Xavier Becerra and Secretary of State Alex Padilla in a joint appearance during a press conference Friday appeared to back off further legal actions against the California Republican Party over their use of unauthorized ballot drop boxes. Earlier in the week on Monday the secretary of state and attorney general had sent a joint cease and desist order to the state Republican Party along with letters to state GOP offices in Orange, Los Angeles, Fresno and other jurisdictions where the unauthorized boxes had appeared. Many of those boxes had been labeled "official."
This past Sunday the Blade had reported on one of the boxes which had been placed outside a church in North Los Angeles county, Freedom's Way Baptist Church, known for its anti-LGBTQ and anti-women's reproductive rights viewpoints and its disparaging social media commentary on the Black Lives Matters Movement. The church after notification from the L.A. County Recorder/Registrar's office that its box was illegal had removed it. The church did not respond to the Blade's request for comment.
Becerra and Padilla told reporters during Friday's briefing that neither of their offices were contemplating further action saying that the State Republican party had agreed to modify their self-described ballot harvesting efforts. Padilla noted that the state GOP had agreed to "no longer deploy these unstaffed, unsecured and unofficial ballot drop boxes."
In a tweet made during the press conference by Republican party spokesperson, Hector Bajaras claimed the GOP had made no concessions to the attorney general or secretary of state and denied doing anything wrong in the first place.
"The California Republican Party made no concession to the Attorney General or the Secretary of State. In fact, in two phones calls with 9 Attorney General lawyers, they never requested the California Republican Party to do anything except provide information…

— CAGOP (@CAGOP) October 16, 2020
Reports in the media over the California GOP's use of unauthorized ballot boxes drew national scrutiny as both parties battle for not only the White House but critical Senate and House seats in hotly contested races.
President Trump has campaigned against mail-in ballots falsely arguing that the system for voting by mail was rife with fraud. The official records by elections officials across the United States has disproved the president's claims instead establishing the facts that in states which use a mail-in system there is higher voter engagement and no significant discernible cases of fraud or tampering.
Earlier in the week the California GOP had said to multiple media outlets that the party would continue to accept mail ballots implementing safeguards to include having the boxes attended when the public has access to them and ensuring that ballots are secured and delivered to county elections offices within the required statutory 72 hour time frame. The party also stipulated that it would not label any of the boxes as official.
On the website for the L.A. County Recorder/Registrar's office are listed the location of the 400 county-owned secure ballot drop-off boxes.
Editor's Note:
California offers voter registration online, by mail, and in person. Online voter registration is available at RegisterToVote.ca.gov. You can also request and complete a paper voter registration form and mail or hand deliver it to your county elections official to register to vote.
Registration deadlines; Online: Oct. 19 By mail: Postmarked by Oct. 19 In person: Nov. 3
Absentee ballot deadlines Request: Oct. 27 Return by mail: Postmarked by Nov. 3 Return in person: Nov. 3 by 8:00 p.m.