October 21, 2020 at 2:50 pm PDT | by Susan Hornik
Pets and the Pandemic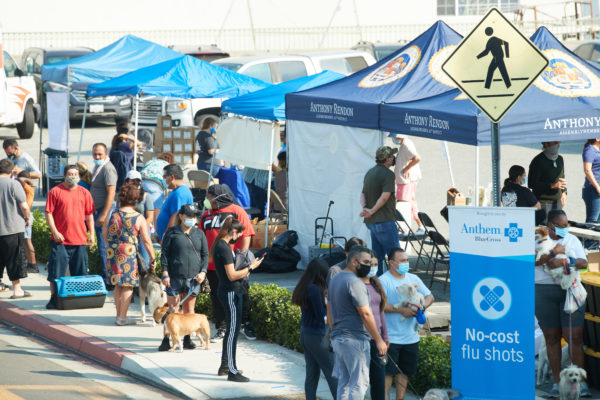 As the largest funder of pet surrender prevention in Los Angeles, Michelson Found Animals has been committed to helping people with their four legged friends. Since the onset of COVID-19, the nonprofit organization has provided support to over 7500 pets.
"We love working with dozens of local organizations to build programs that serve underfunded communities and pets at the highest risk," said Brett Yates, executive director. "We believe that everyone should have the right to the joy of pets in their lives, regardless of socioeconomic status. Pets bring companionship, love and hope that we all need, especially right now."
Last weekend, Michelson held their Pet Wellness Day in Maywood, where a number of attendees received an assortment of dog food, microchipping, vaccinations, grooming, flea treatments and pet tags. The event was part of the Foundation's Better Neighbor Project, an initiative to support underserved communities and their pets.
"In these unprecedented times, so many people are struggling to make ends meet – food insecurity is a real problem, and that extends to pets, acknowledged Yates. "That's why we've partnered with Assembly Speaker Anthony Rendon, the Cesar Millan Foundation, and the YMCA to host this Pet Pantry and Wellness Pup-Up."
Participant John Angela was thrilled that his two pups could get their nails trimmed and monthly flea treatment. "Everything is so expensive these days. Events like these really help those who are struggling to make ends meet. I am really glad I am here with my family."
Yates notes that Michelson will continue working with local and state government officials to fix the system to support families with pets.
"We are also working with landlords to increase the availability of affordable, pet-friendly rental housing. In addition, we are developing new programs to help women and people of color find careers and launch new businesses in the pet care industry."