October 21, 2020 at 12:36 pm PDT | by Noah Christiansen
Ryu stresses commitment to LGBTQ issues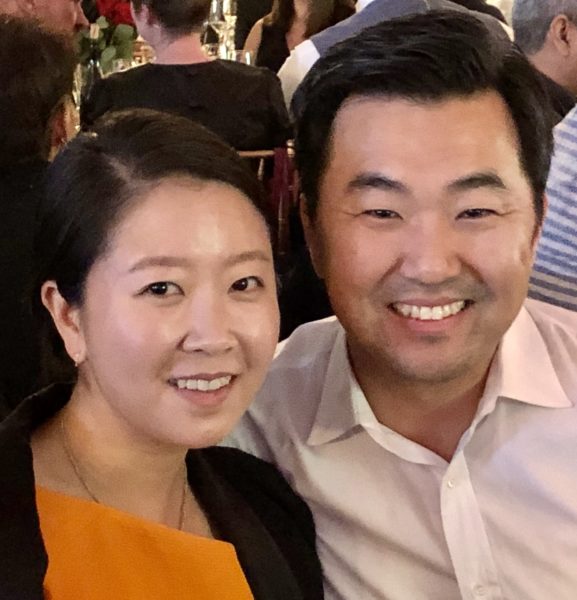 LOS ANGELES – The election battle between incumbent Los Angeles City Council member David Ryu and his opponent is highly contentious and has even hit the national radar, which is unusual for local elections.
Ryu, a Democrat who represents LA City District 4, is up against opponent Nithya Raman also a Democrat, who has positioned herself as a more progressive version of Ryu. What has struck politico observers is that Ryu garnered endorsements not only from U.S. House Speaker Nancy Pelosi, but also from former Secretary of State and 2016 democratic presidential nominee Hillary Clinton. Raman, on the other hand, was endorsed by Bernie Sanders.
Ryu was interviewed by the Blade and asked about how it feels to be endorsed by Hillary Clinton, Ryu said, "It's out of this world…Normally, city council races are more focused on local politics… I think [Hillary Clinton] sees me as the candidate who's able to participate in the healing process. We have to win the presidency. After my election, the healing has to begin immediately. There's too many issues at stake."
Ryu pointed out that there are many issues at stake from COVID-19 to race relations in America and not just on the national level but local as well.. Because of all of these issues, Ryu hoped to win his primary, so he could focus more on the general election, but Raman challenged him.
"I really was hoping to win in the primaries cause I wanted to divert all of my energy, all of my resources, all of my fundraising capacity to not only take back the white house, but fighting for these seats, pivotal seats that we fought so hard for over the years," he said.
Ryu is facing Raman on November 3 because of the unique way that elections work in California which utilizes a top-two primary system, (In a top-two primary system, all candidates are listed on the same ballot. The top two vote-getters, regardless of their partisan affiliations, advance to the general election.)
Ryu's reflection on his record specifically in the area of homelessness, which is one of the issued that he isolates as being very important, he told the Blade;
"Before I even ran for office, homelessness is a passion issue of mine. I have been working on homeless services for, now, about 17 years," Ryu said.
"In the past two years, I've built… 8 projects, totaling 300 beds in Council District 4. We have an additional 5-6 projects… built by next year," Ryu said, "I have another one opening at the end of this year… We will have the largest percentage of beds for our homeless population."
Even though homelessness seems like a single issue, Ryu went on to talk about why it overlaps with other issues, LGBTQ+ issues being one of them.
He spoke about LGBTQ youth in particular and how they are affected by homelessness by citing the well documented statistics; "7% of America's youth are LGBTQ, 40% of America's homeless youth are LGBTQ youth."
Ryu recently also won the private endorsement of Lori L. Jean, the CEO of the LGBT Center of Los Angeles who noted in her endorsement;
"David Ryu doesn't just show up for the marches and the Pride events. He fights to recognize and serve every member of our LGBTQ+ community, especially the most vulnerable. It was his legislation that brought hate crime data on transgender Angelenos and other groups to light, bringing citywide attention to the staggering rate of violence against trans individuals, and trans women of color in particular. His efforts helped spur new hate crime prevention legislation, and he launched the city's first-ever hate crime security fund to protect community spaces like the Los Angeles LGBT Center."
Recently, this past summer Christopher Street West/LA Pride announced that it had relocated its events from the City of West Hollywood to Los Angeles proper. When asked about the change in venues Ryu joked that he would still attend- "Even more so because now it's in LA." He went on to say, "Especially as an Asian American it's even more necessary to celebrate in my community because of the anti-LGBTQ sentiment. And it's not just Asian."
He went on to acknowledge that because he understands well that LGBTQ+ people are disproportionately affected by societal issues (such as through homelessness), supporting the community was of paramount concern to him.
Even though Ryu is a perfect candidate for some within liberal circles, he is still facing some opposition from the people who support Nithya Raman. Raman positions herself as "the more progressive version of Ryu." Ryu's response to this is two-fold, the first being that it's not about us as individuals solving the problem alone, and the second being that it's about action – not the notion of progressiveness.
"I think my opponent means well and I think she comes from a good place and bottom line is all these issues we are facing today i.e. homelessness, racial equity, hate crimes, housing, climate change requires all of us to come together to solve.," he said. "There's no one person that can solve all of this on their own. There's no one solution. It's about bringing everybody together… It's not about who's more progressive, who tweets more, or who talks more – it's about action."
The Blade asked Ryu as to what about him and Raman are the same – and different. According to Ryu, "The similarity is that we both come from a progressive place… As time passes her platforms are becoming very similar, if not almost identical to mine… After this election is over, I need her help… Had I known she was interested in these issues, had she approached me on these issues… I would've gladly embraced her."
On a closing note on the importance of voting and why this election is particularly key he told the Blade: "This is your future. This is your community's future. This is your city's future… Cast your vote because your life literally depends on it."