October 21, 2020 at 2:50 pm PDT | by Scott Wiener
State Sen. Wiener on voting in 2020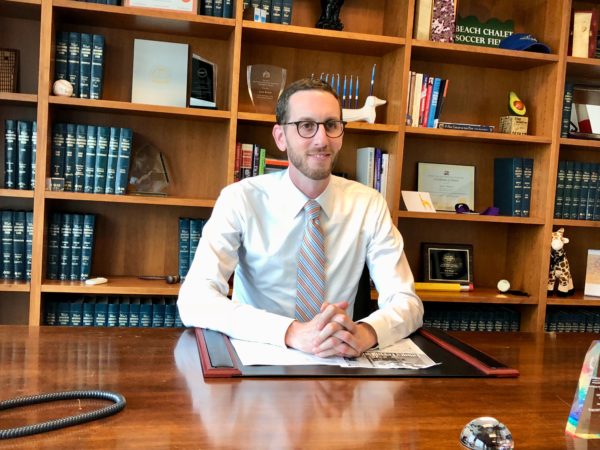 The 2020 election is a critical one, and it's already happening. With ballots sent to every registered voter in California, people across the state are already voting. Turnout is expected to be bigger than usual this year. These votes – your votes – will determine the future of our state.
There is much at stake both on a national scale and here in our local community. As we are voting in the midst of COVID-19 and a federal battle over US Postal Service service cuts, voting itself has seemed more fraught this year than ever. This is quite possibly the most important election of our lifetimes, and your vote matters. You can track your ballot to make sure your ballot has been received and will be counted. [Link]
There are many reasons your vote is so important this year. There are also many reasons why as members of the LGBTQ community, it's critical we exercise our voices through our ballots.
As we mourn the passing of legendary Supreme Court Justice Ruth Bader Ginsburg, we must also recommit in our fight to an open and accessible democracy for all. Republicans are trying to jam through the confirmation of the anti-LGTBQ, anti-choice Judge, Amy Coney Barrett, to the Supreme Court.
This would be an unmitigated disaster. If confirmed, her presence on the highest court in the land could mean a serious rolling back of rights for LGBTQ people and other marginalized groups. Importantly, our trans siblings are among the most vulnerable and need to be protected against anti-LGBTQ policies.
Of all the many reasons to vote for Democrats up and down the ballot, we need to flip Congress (which means flipping the Senate), and get Donald Trump out of office. We must ensure the Supreme Court does not fully become a body that can overturn critical LGBTQ protections and other important protections for marginalized groups.
Additionally, as strange as it is to say: COVID-19 is on the ballot this year. A vote for Joe Biden and Kamala Harris is a vote for a thorough, science-based response to the coronavirus – which has upended our lives in every single way possible. We need real leaders who will guide us with a steady hand, and who will trust expertise from our top medical professionals. We can't expect a president who throws a superspreader event at the White House, getting himself and a bunch of his inner circle sick, who called COVID-19 a "gift from God," to actually help us out of this mess.
Not to mention, this has been a devastating year not only health-wise, but also for our economy. LGBTQ people are more likely to work in sectors impacted by COVID-19, and we need to put people in charge who understand the importance of helping folks get back on their feet in this time. Americans should not be left unemployed, struggling to feed themselves or their families, or homeless – and certainly not during a pandemic.
And of course, we need to act fast on climate change, as the window to stop its catastrophic impacts is closing. We've seen that firsthand in California, with a terrible wildfire season, smoky air, and orange skies. I can't emphasize enough how important it is to vote for people who support real climate action, like limiting and eventually phasing out our use of oil, investing in public transit and clean energy, and building housing near jobs and transit.
Locally, as California voters, there are many other important issues to consider this election cycle.
On our ballot, there are many propositions that deserve your support. I encourage you to vote yes to fund schools and communities (Proposition 15), reinstate affirmative action (Proposition 16), allow parolees the right to vote (Proposition 17), and end our bail bond system (Proposition 25). These important progressive changes are just a few that are up for a vote this fall.
And of course, there are some controversial measures that I'll be voting against, like Proposition 22, which rolls back worker protections and healthcare for front-line, gig economy workers (many of whom identify as LGBTQ). I'm also voting no on Proposition 20, which would further entrench our system of mass incarceration by lengthening the list of violent felonies for which early parole is not allowed. At a time in which we need to unequivocally state that Black Lives Matter, and in which it's become increasingly clear we need to incarcerate people less, not more, we should not be increasing prison sentences and jail time.
This is a critical election that will determine the fate of our country and our state. We must vote like our lives depend on it – because this year, they truly do.