October 21, 2020 at 7:39 pm PDT | by Brody Levesque
The virtual campaign storm- LGBTQ youth driving #GOTV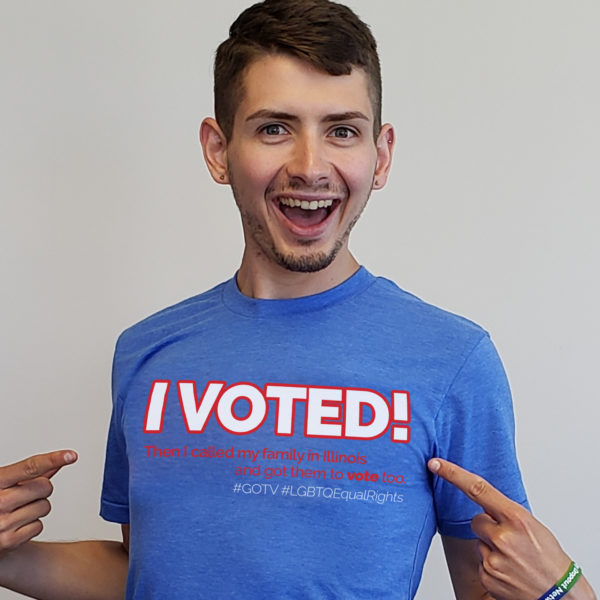 LOS ANGELES – California has seen a record breaking return of mail-in ballots this election cycle and with only 13 days left to the elections, consulting firm Political Data's ballot tracker showed that 4 million of the state's voters have already submitted their ballots. Political observers and elections officials credit a large portion of this record-shattering rate of return to the coronavirus pandemic.
However, many politicos also factor in a deeply unpopular president and his party which have mishandled the COVID19 crisis, seemingly aligned with the white supremacist movement, denigrated the Black Lives Matters movement, labeling its accompanying protests as domestic terrorism, and have become tone-deaf to the greater needs of country's middle class and young people particularly.
For LGBTQ people added in is the ramming through of a nominee for the U.S. Supreme Court, a conservative appellate court judge with only two years of actual court experience and an established public record of opposition to same-sex marriage, women's reproductive rights and choices, and a definite anti-trans stance. The war on transgender rights has been waged since Donald Trump took office ranging from the ban of Trans military service to rolling back federal protections in healthcare.
The Blade spoke with several young LGBTQ Angelenos to get an overview of their concerns and what has motivated them through the 2020 election cycle, propelling them to actively engage in social media campaigning for the Democratic ticket of former Vice-President Joe Biden and California U.S. Senator Kamala Harris.
Venice resident Curtis Galloway, 26, a portfolio manager for a boutique Beverly Hills real estate property firm is also the founder of the LA based non-profit; Conversion Therapy Dropout Network. Galloway is a survivor of the debunked pseudo-science reparative therapy that was foisted on him by his conservative Christian family. For him, this election is deeply personal as many of Trump's supporters are the same type of Evangelical Christians who tout the debunked therapy and also support Trump's anti-LGBTQ actions.
"Trump has to go. He is evil, they are evil, it's the hypocrisy and its the white supremacy it's all of it," Galloway said. "My vote- what I am pushing for most is to get Trump the f*** out." [Of office]
Galloway also expressed anger at the way Trump has turned the United States into a quasi-police state with 'secret police' attacking Black Lives Matters protesters and then what he sees as the racist actions by the Trump administration on the Southern Border.
Not content with solely registering his voice with his ballot in California, Galloway took to his social media accounts on as well as chats, texts, instant messages, and phone calls to help drive the 'Blue Wave' back in his native Illinois and in the greater St. Louis metroplex he called home before moving to LA a few years ago.
Down-ballot races are crucial too he noted and he has lobbied hard with friends and family to assist. One target beyond the Republicans in the local races back in the Midwest Galloway says is also the current Senate Majority Leader, Mitch McConnell. He expressed disgust over what he sees as amounting to yet another theft of a Supreme Court seat made worse by Trump's nominee, Amy Coney Barrett's abysmal anti-LGTBQ, anti-choice record.
The Blade also spoke with young queer Latinx activist Edgardo Lopez Hernandez. In addition to motivating young LGBTQ LatinX to unite together to go out and vote in California, he spends considerable time on his social media reach to his relatives across the United States and friends urging them to vote.
"I urge people my age, younger, and older to be proud of being a Latino living in the US. Be proud and be loud. Go out and vote for what matters most to you. Your rights and pursuit of liberty and happiness. Together, we can build a better future."
A majority of the engagement from young LGBTQ voters stems from Facebook, Instagram, Twitter, and to a lesser degree YouTube. However, on the platforms of Tik-Tok and Discourse increasing numbers of LGBTQ young people are also reaching out to one another across the nation.
According to Vox magazine's Recode, "[…] Biden is at a digital disadvantage compared to the Trump campaign, which is bolstered by networks of influential conservative personalities who stand ready to amplify its messaging — misinformation and all."
The magazine also noted that Trump has more than 30 million followers on Facebook and 85 million on Twitter, while Biden has just under 3 million on Facebook and just over 9 million on Twitter.
The Biden-Harris campaign outreach extends beyond the large platforms Recode noted. "In September, the campaign debuted Biden-Harris campaign signs in Animal Crossing, the popular social video game that became wildly popular at the start of the pandemic. Some celebrities, like Andy Cohen and Dulé Hill, are fundraising for the campaign on Cameo, the video app, which allows them to post fan-requested video messages in exchange for donations."
Regardless of the social media platform outreach by the Biden-Harris campaign there is a sense of urgency to push Trump out of the White House at a grass-roots level. Those efforts are enhanced by influencers and celebrity endorsements such as Taylor Swift, who two weeks ago posted, ""Gonna be watching and supporting @kamalaharris by yelling at the tv a lot," on her social media accounts.
Galloway, Hernandez, and the other young Angelenos the Blade queried all stressed that because of the racism, the hatred, the lying, the hypocrisy, and the fact that Trump has so badly mishandled the COVID19 crisis, they will continue their efforts through their social media to get people to vote safely by mail or social distanced wearing masks, 'there is too much at stake' they both agreed.
As of Monday, more than than 29 million Americans had voted early either in person or by mail according to the United States Election Project. Conversely, in the 2016 elections cycle only 6 million voters had cast their ballots early.