October 27, 2020 at 9:25 pm PDT | by Brody Levesque
Dodgers win World Series beating Tampa Bay 3-1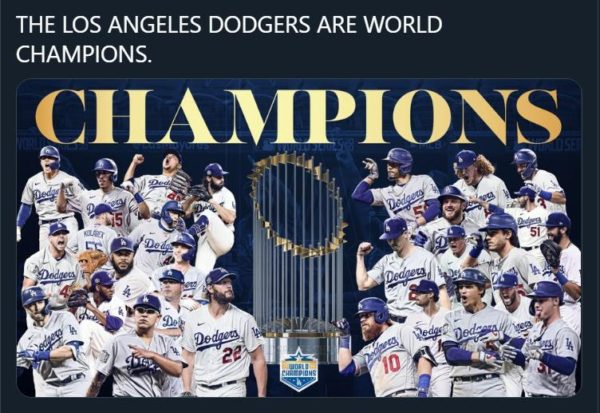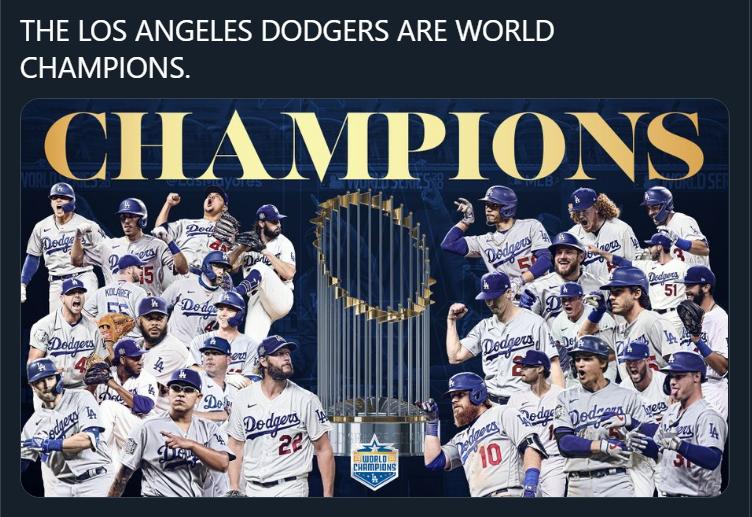 ARLINGTON, Texas – The Los Angeles Dodgers Tuesday bested the Tampa Bay Rays, 3-1, in Game 6 of the World Series title match at the Globe Life Field in Arlington, taking home Major League Baseball's Commissioner's Trophy.
It's a bittersweet moment for the club as the Dodgers haven't brought a title home to Los Angeles in 32 years since 1988. The winning game-play of the club was assisted by strong pitching and clutch hitting from former MVP Mookie Betts.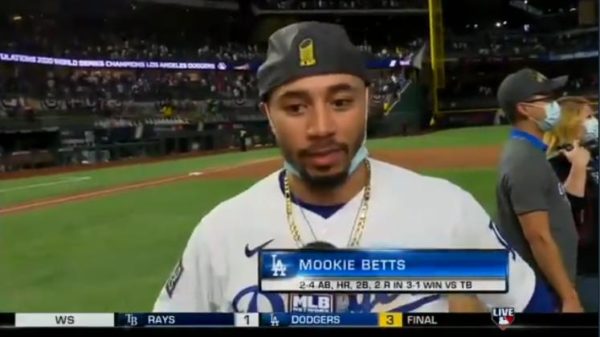 It was a tough season for the Dodgers, which had been abbreviated by the coronavirus pandemic, yet the club shockingly delivered the best MLB record by a franchise over the course of a 60-game regular season
Dodgers infielder Justin Turner was removed from Game 6 after testing positive for COVID-19. Turner was subbed during the ninth inning of the World Series-clinching Game 6 due to a positive COVID-19 test, according to FOX Sports's Kevin Burkhardt.
UPDATED WEDNESDAY OCT 28:
The Los Angeles Times reports that Major League Baseball says it will investigate Dodgers third baseman Justin Turner for returning to the field to celebrate the team's World Series victory after testing positive for the coronavirus.
In a statement, MLB said Turner "emphatically refused to comply" when league security raised the matter to him.
An initial round of postgame tests turned up no additional positives among Dodgers and Tampa Bay Rays players. More testing is scheduled for Wednesday afternoon.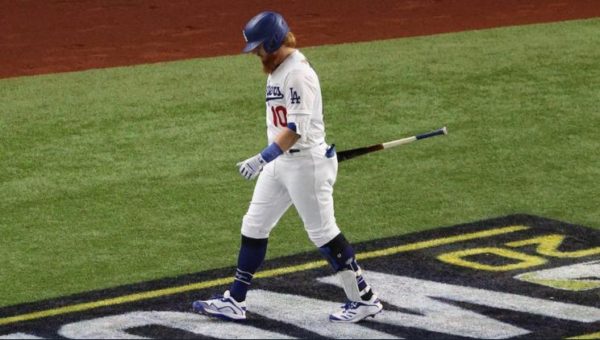 The club defeated the Milwaukee Brewers, San Diego Padres and Atlanta Braves in the postseason to reach the World Series. After Tampa Bay tied the series on the final play of Game 4, the Dodgers went on to win next two games in the best-of-seven series to capture the championship.
This win also marks the first time since 1988 that LA's two most storied sports teams, the Los Angeles Lakers and the Dodgers have won championships in the same year.