November 17, 2020 at 9:43 pm PST | by Aydian Dowling
Transgender Awareness Week is about reminding all Trans-Allies there's so much more work to do.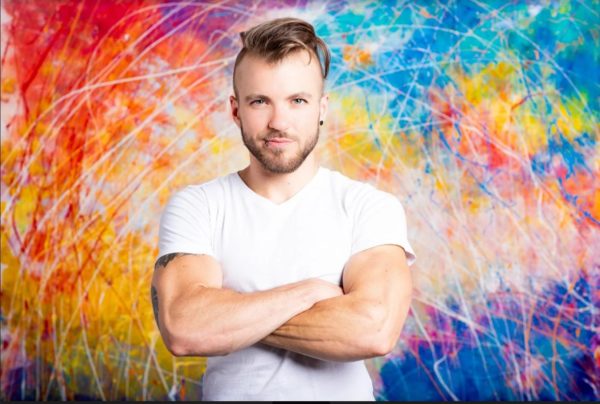 Transgender Awareness Week wasn't even a reality just a few years ago, let alone when I discovered my true identity as a Transgender Man in 2009. For me, President Obama was a light at the end of a messy fight for marriage equality and I felt proud that he was the first vote I ever got to cast.
You can imagine my dismay back in 2016 when President Trump was elected, it felt like we as a community got the wind knocked out of us. It was back into the darkness. The first time I heard the word Transgender come out of a President's mouth, was the first time anyone else heard it too. In 2015 President Obama acknowledged the Transgender community for the first time ever, and it was powerful. I felt it, the community felt it, and the world felt it.
2015 is the same year Laverne Cox hit the cover of TIME magazine making history as the first Transgender Woman and person to ever land the cover of TIME. This was the same year Men's Health Magazine featured me on their cover, I was the first Transgender man to be on the cover of a mainstream men's magazine. It was as TIME called, a tipping point for the Transgender community. Things were moving in a positive direction.
The only time I've heard the word Transgender in the last 4 years was when the gap of inequality was attempted to be made even larger for Trans folks. The Trump administration took away our right to serve our country and with a sense of urgency and rush as if we are in some way ill-equipped for the jobs we have done well for years before Trump came along.
They also put in an attempt to write Transgender people out of the sex discrimination protections in healthcare. Transgender people are the most underserved and most vulnerable of communities when it comes to healthcare and access to care.
Getting a new President was a key to survival for Transgender people. It doesn't fix really anything right now- But the future is a place we can think about again. Hearing our POTUS elect Joe Biden use the word Transgender in his acceptance speech may have been missed by the rest of the world- but for the Transgender community it rang loudly.
For a community that was constantly attacked under the Trump administration, Joe Biden intentionally including us in his speech was meaningful. People Tweeted what it meant for them and for me, it reminded me of a time when I felt safer as a trans person. It wasn't a big, huge shout out to Transgender people or anything. It wasn't a promise that there will be protections made for us in healthcare, or housing, or even to allow us to join the military openly and safely. But it still meant something to us to be acknowledged.
It's amazing how powerful being seen is. Just to be seen as you are. As you know you are and as you say you are. If LGBTQ+ youth are 50% less likely to commit suicide because an adult supports them, then what's to say for LGBTQ+ adults? What happens when the President of the United States of America supports the (LGBQ)Transgender community? It's meaningful.
I never put my Transgender flag away during the Trump Administration, but for some reason I just felt lighter that Saturday night. I felt a shift on the Saturday after Election Day. I read somewhere "The whole world took a breath." I think I took three. The POTUS Elect's address is important to the Transgender community. A President who speaks not about us but to us feels like a promise for a new future.
Transgender Awareness Week is about reminding all Trans-Allies there is so much more work to do. And I truly believe with the future ahead of us- we can keep fighting and see that light once again.
Aydian Dowling is a nationally recognized Trans activist, educator, mentor and an Instagram/social media influencer. Starting with his breakthrough cover feature in Men's Health magazine, multiple appearances on The Ellen DeGeneres Show, and a nonprofit helping over eight thousand people, Aydian is a household name in the transgender community.