December 13, 2020 at 4:46 pm PST | by John Paul King
Square Halo sings out about Lyme disease, Christmas, and pansexuality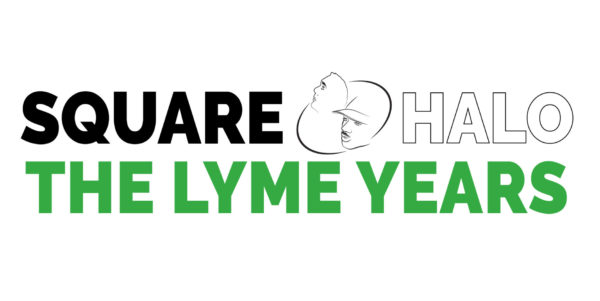 It's not often that you hear of a musical group that grows out of a science-based lobbying organization. Actually, let's face it, you never hear of that – or at least, not until now.
Anglo-American trio Square Halo – which consists of Demetrios Loukas, Treyvonce Ambers-Moore and Omar Shelesh – might well be staking its claim as the first band to have sprung from such unlikely beginnings; not only that, but they are also likely the first to release a debut album that's devoted to raising awareness about Lyme Disease.
That album – entitled "The Lyme Years" – is still forthcoming, with a release date planned for some time in early 2021, but the band has been dropping tracks via its YouTube Channel for the last year. The most recent crop includes not just a song about Lyme Disease, but a timely Christmas tune about celebrating in isolation and a track in support of pansexuality and same-sex relationships.
While Square Halo's origin story is definitely unique, it's not as strange as it might seem – but it does require some explanation.
The band owes its existence to Loukas, who leads a science-based lobby group called the FIGHT LYME NOW campaign (alongside British research scientist Dr. Chris Newton, German Lyme disease specialist Dr. Armin Schwarzbach, and British GPs Dr. Michael Wetzler and Dr. Beryl Beynon). The now 49-year old became involved with the campaign after his own frustrating experiences in dealing with the UK's National Health Service after contracting Lyme in 2005. After serious health problems arose from an initial failure to detect the disease (including ongoing cardiac arrhythmia and serious abdominal surgery), he finally got a correct clinical diagnosis from an NHS cardiologist; but since NHS testing protocols still failed to detect the infection, Loukas was forced obtain separate blood tests from a lab in Germany, which affirmed the diagnosis of Lyme.
Even armed with that independent confirmation, however, Loukas was up against an NHS bureaucracy that refused to cover the crucial drug treatments he needed to combat the disease, rejecting the German lab results despite the fact that the initial diagnosis had come from one of its own doctors. He ultimately had to pay, out of pocket, for the private administration of intravenous Ceftriaxone, among other oral antibiotics and medications, necessary to halt the infection and save his life.
During his struggles with Lyme, Loukas says he was "consumed by an inexplicable depression." Despite having always been musical, he found he had "lost all interest in music-making and singing."
"However," he tells us, "my Clinical Psychologist encouraged me to continue singing and songwriting because she believed it would lift my mood and she was right."
This musical therapy eventually yielded an entire collection of songs that would later form the basis for "The Lyme Years," but Square Halo began in 2015 when Loukas approached Minneapolis-based musician Ambers-Moore, whom he discovered on YouTube, for help in creating a song to help the FIGHT LYME NOW campaign raise awareness of the disease.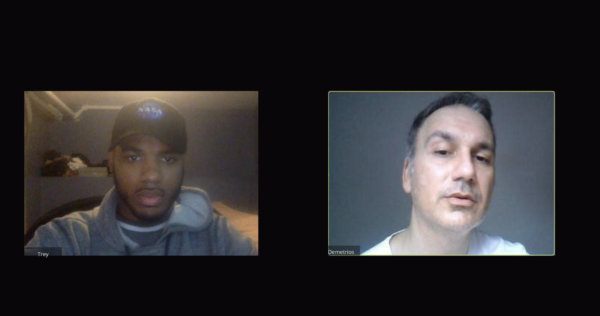 "At the time, Trey was in his second year of his Music Production degree at the McNally Smith College of Music in Minnesota," says Loukas. "Following the completion of our Lyme disease awareness song 'Never Give Up' featuring St. Paul-in-Minneapolis-resident rapper Malik Curtis (AKA Juice Lord), Trey agreed to help me realise 'The Lyme Years' […] The album, which was produced remotely, ended up taking us 5 years to complete. We also had input from my long-time songwriting partner Omar [Shelesh], who, despite moving from London to Tokyo, continued to support us via Skype and e-mail."
It seems fitting, somehow, that an album coming in the midst of a global pandemic should be largely created through virtual collaboration.
Despite the circumstances of its origin and the seriousness of the cause it promotes, "The Lyme Years" is not a downer of an album.

Says Ambers-Moore, "Within 'The Lyme Years' project, Demetrios lyrically details loneliness, traumas, and the reality of not knowing if tomorrow is guaranteed. Although this disease is the cause of great suffering for many people around the world, interestingly, Demetrios has somehow flipped his mental personal experience with the disease by writing songs of hope, such as 'Cherish', 'I Come Alive,' and 'Ain't for the Money!,' which encourage an optimistic approach to life. My hope is that our songs will positively impact everyone including those who also suffer from the disease."
And what of the FIGHT LYME NOW campaign's efforts to implement change within the NHS system around Lyme disease?

According to Loukas:
"In 2015, at the request of the then Justice Minister, The FIGHT LYME NOW Campaign met with Public Health England (PHE) […] During this meeting, it was disclosed to us that the current diagnostic blood tests used by the NHS to detect Lyme disease are not totally reliable.
"Yet 4 years on, nothing has changed for British Lyme disease sufferers, and potentially infected adults and children continue to be denied treatment because the current diagnostic tests used by the NHS (which are at best 50-60% sensitive) fail to detect their infection. Furthermore, people already infected who test negative on the NHS are either misdiagnosed and inappropriately treated or completely dismissed, which is unacceptable."
And while Square Halo's efforts against the NHS are important, the musicians stress that spreading the word about Lyme Disease is something that has benefits far beyond the borders of the UK.
"I believe it's important to raise awareness of this disease because it has very serious symptoms and it's not yet widely known by the general public," Ambers-Moore tells us. "With increased publication, we can attempt to lower the amount of Lyme disease cases worldwide through informing people of its whereabouts.  Music is great way to raise awareness, especially among young people because of its appeal and influence. We hope that our Lyme disease awareness song 'Never Give Up' (featuring Malik Curtis) succeeds communicating the seriousness of Lyme disease to our youth."
You can watch the lyric video for "Never Give Up" below – along with lyric videos for "Love is Enough (on Christmas day)" [feat. TreyV, Adam Law & Kaz] and "Hand Up" (the group's shout-out to the LGBT community in support of pansexuality and same-sex relationships).