Biden EO rekindles fight over Trans Athletes
The issue of transgender athletes has come to the forefront of the culture wars again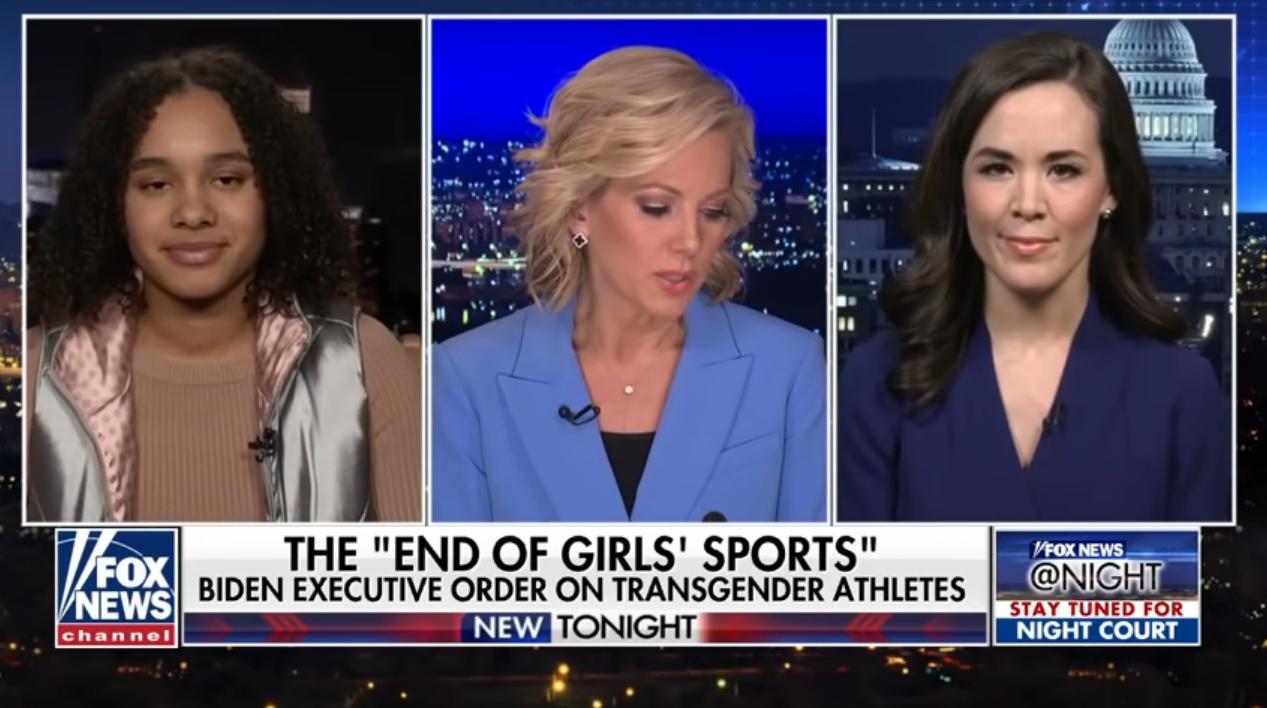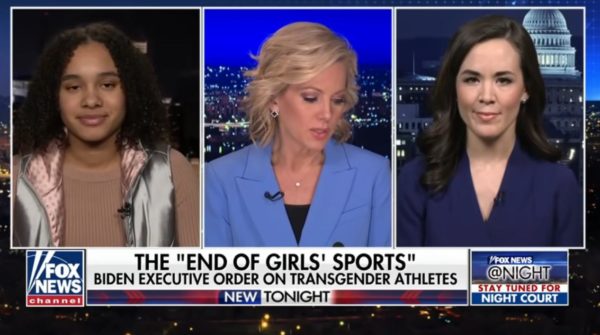 The issue of transgender athletes has come to the forefront of the culture wars again, as it does whenever the right needs a wedge issue. In this case, it is because president Biden signed an executive order affirming that the Administration will comply with the rulings in Bostock, Zarda, and Harris, and treat discrimination against LGBT people as a form or sex discrimination.
Sex discrimination is illegal under the Civil Rights Act of 1964, and other federal laws such as Title IX, which prohibits sex-based discrimination in any school or academic institution that receives federal money.
Simultaneously, about a third of U.S. states have banned, or have bills in progress to ban, transgender athletes at all levels, including in colleges and universities. Conservative news outlets have made this their number-one culture war issue since January.
Fox News ran 19 segments in one week on transgender athletes, most of which falsely claim that the Biden Executive Order was entirely about transgender athletes. They claim that allowing trans athletes to compete will not only deprive "real" women of opportunities but destroy women's sports in general. The irony here is that most conservative, Christian schools opt out of Title IX compliance and receive federal money anyway.
What is missing from all of this is any sort acknowledgement of how existing policies allowing transgender athletes to compete have fared. This includes the National Collegiate Athletics Association (NCAA), International Olympic Committee (IOC), and professional sporting bodies such as the IAAF. What each of these organizations has in place generally resembles the NCAA and IOC policies.
Roughly speaking, transgender women are required to undergo a minimum of one year of surgical or hormonal testosterone suppression, and transgender men must compete as men as soon as they start taking testosterone.
These policies have been in place for years, with some modifications. The IOC had its first policy in 2004 and removed surgical requirements in 2015. The IAAF followed suit in 2005. The NCAA has had a policy for the inclusion of transgender athletes since 2011, which never had a requirement for "bottom" surgery.
Currently, there is no push by these bodies to eliminate transgender athletes. Most of the internal debate revolves around whether the upper limit for testosterone should be 3 nmol/L (normal upper limit for cisgender women) or 5 (upper limit in the presence of medical issues such as PCOS). Transgender women who are taking drugs to suppress testosterone can generally get their levels below this threshold, though the lack of FDA-approved drug options for US athletes is an issue.
Since the inception of these policies, there have been very few transgender athletes of note at the NCAA or IOC level. Cece Telfer won a pair of Division II national track events in 2019 but did so with a time that would not have even qualified her for the Division I finals (she would have placed 17th in the preliminaries).
Telfer is the most successful trans athlete so far, out of the approximately 200,000 women who compete every year. There have been no transgender Olympians to date, out of roughly 5,000 every summer games and 1,200 at the winter events, though there may be one or two in 2021.
At the professional level, which is beyond the scope of Title IX, we observe similar results. There is no rule against transgender people in the WNBA, but there has never been a transgender woman in the NBA either. There has been a transgender woman on a FIFA team (American Samoa), a team that also happened to be remembered as one of the worst in the history of sport.
The best measure of whether or not transgender athletes are having a significant impact on women's sports is not whether any succeed, but whether we observe them succeeding at a rate disproportionate to their population. When standards like the NCAA's and the IOC's are applied, there have actually been fewer transgender athletes than a random draw of the population would predict, indicating that the standards have generally been sufficient.
The real issue is testosterone. There are few transgender people, and athletes, to begin with. For trans youth who have not gone through puberty, or have been on blockers, this isn't an issue. It's not a major issue at low levels of sport like Freshman, junior varsity, or intramurals where very little is on the line.
The trouble lies in varsity level in high school sports, where students are competing for scholarships with significant monetary value. The issue is not so much with students who meet NCAA or IOC guidelines, but for those who have not had a full year on blockers, cannot access them, or will not.
There is a scientific consensus among sporting bodies that much-higher testosterone levels confer an advantage. However, these organizations allow transgender women to compete because there is also agreement that blocking testosterone for a year or more removes most of this advantage and is sufficient to protect the sport. A decade of allowing transgender people to compete under these rules has not resulted in the end of NCAA women's athletics, as trans opponents have long predicted, any more than letting lesbians and gays get married ended that institution.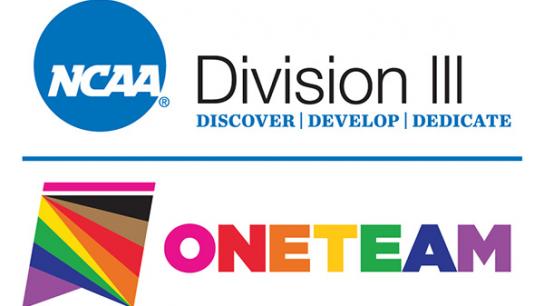 Simply forcing transgender athletes to compete in divisions based on their assigned sex at birth, as is required by several conservative states, is unworkable. It results in absurd situations where trans men who are taking testosterone, like Mack Beggs in Texas, are only allowed to compete in the women's division, and have a competitive advantage.
Conversely, forcing a transgender girl who has never gone through the wrong puberty to compete against the boys is physiologically no different than forcing a cisgender girl to do the same.
Requiring transgender people to "get their own league" isn't feasible either: most schools don't have any transgender athletes, much less enough to field a team. Forcing a student to run around an empty track by themselves singles them out as transgender, and subjects them to the abuse and ridicule that this entails.
This "solution" would also likely fall afoul of civil rights laws requiring the least intrusive means to achieve a goal when it affects a suspect class, especially when some transgender students more than meet NCAA protocols.
Transgender students often find meaning, purpose, camaraderie, and value in athletics. Very little in life favors them. Efforts to limit their participation would fall disproportionately on people of color, who already lack access to social goods and means to affordable higher education. At the same time, some high school varsity trans girl athletes may have an advantage that is considered unfair by most world sporting bodies and scientists who study the issue.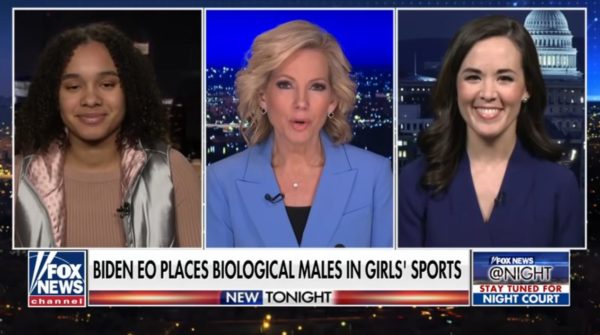 The total number of students who fall into this category is very small, but the issue is creating oversized problems for the administration.Right wing politicians and anti-LGBT groups have seized upon this one small piece of the Biden executive order to launch countless media and political attacks. Recent press briefings suggest they're hitting home.
The Biden Department of Education should develop and issue policy guidance for high school varsity athletics that recommends standards similar to the NCAA's where appropriate, while simultaneously ensuring and maximizing access, opportunity, and inclusion of athletes potentially affected by this policy.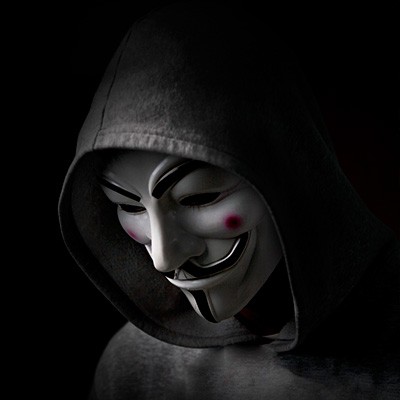 The preceding op-ed was written by a leading Trans-activist who wished to remain anonymous.
The views and opinions expressed in this article are those of the author and do not necessarily reflect the official policy, opinions or position of the Los Angeles Blade.
The movement to protect LGBTQ civil rights encourages us to be bold
Equal rights for LGBTQ Americans feels more attainable than ever; we cannot afford to drop the baton right before the finish line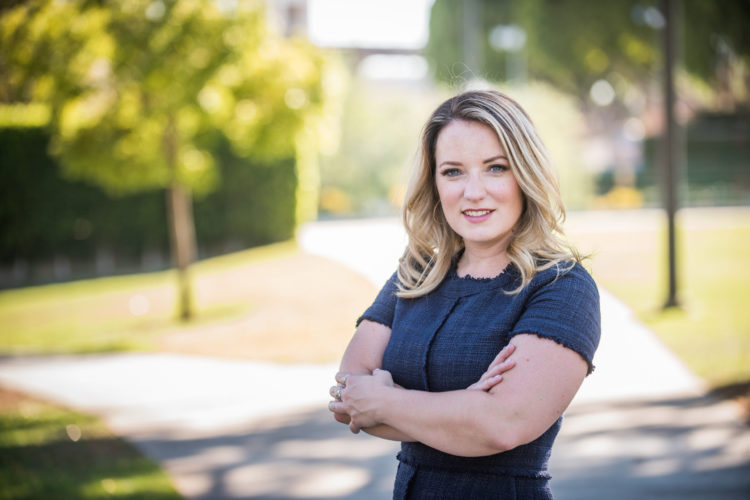 By Lindsey Horvath | As the Mayor of West Hollywood, my roots as a leader have been shaped by the courage and activism of the LGBTQ community. The simple idea that we should be able to love who we love and live authentically without discrimination or fear has energized a beautiful, thriving movement that is transforming our county and our country for the better. 
I think a lot about Harvey Milk, who rebelled against the "conspiracy of silence" and inspired generations of LGBTQ public servants to speak out and be themselves. The idea of creating change by reclaiming who we authentically are instead of trying to fit into an oppressive mold to inspire change is incredibly powerful.
From trailblazers like Marsha P. Johnson, Sylvia Rivera, Bayard Rustin, and Morris Kight to the ever-inspiring leaders of today, the movement to promote and protect LGBTQ civil rights encourages us all to be bold and realize the power of our example.
As our generation of activists and allies steps up to lead, what kind of example do we want to set? At this turning point, are we going to think small? Are we going to let fear and "the way we've always done it" get in the way of real progress for the people who need it most? Are we going to let prejudice and division get in the way of our true potential?
Or will we be like the champions for change who got us here, fearless and relentless in our pursuit of full equality? If we look to our past, our mandate is to be nothing short of revolutionary.
Equal rights for LGBTQ Americans feels more attainable than ever; we cannot afford to drop the baton right before the finish line. We must codify penalties for discriminating against someone for their gender identity or sexual orientation. Creating safe spaces — in our homes, our workplaces, and our communities — is essential for us to be fully free. Housing, healthcare, and community services are critical components of building full and healthy lives. We need to ensure that everyone has access to the care, protections, and support they need to live as themselves.
As your next County Supervisor, I will work with you to use the power of our example to eliminate sexual orientation and gender bias. No one should have to live in fear because of who they love or how they choose to identify.
With more than 10 million people, L.A. County is the most populous county in the United States. Our example is powerful. Together, we can build a future in L.A. County and our country where every person is able to live and thrive, loudly and proudly.
Lindsey Horvath is the Mayor of West Hollywood. She has served as a Board member of the Victory Fund and a founding Board member of the NOH8 Campaign. In 2009, she represented the City of West Hollywood in the National Equality March in Washington DC. She has also advocated for LGBTQ older adults through her work on the Board of Services & Advocacy for GLBT Elders (SAGE).
After returning to YouTube, Crowder goes on hateful tirade against Pride
Crowder engaged in a homophobic tirade, claiming that being gay could make mental health issues, promiscuity, and AIDS "more likely."

By Jason Campbell | WASHINGTON – On June 3, Louder with Crowder returned to YouTube after the channel's second suspension. After the show stopped livestreaming on YouTube and continued to stream behind the BlazeTV paywall, Crowder engaged in a homophobic tirade, claiming that being gay could make mental health issues, promiscuity, and AIDS "more likely." He also ludicrously asserted that "all major historical gay figures" had AIDS.
STEVEN CROWDER (HOST): Here's the thing: I don't have a problem — if people want to be gay, sure, fine, whatever. I don't care. And if you want to say you have a month, OK, fine —
DAVE LANDAU (CO-HOST): I have a lot of former friends that are gay.
CROWDER: I don't care. If you want to start having sex on floats, OK, that's an issue. That's an issue. That's what happens in San Francisco or the Folsom Street Fair. But these are the people who are put out there as ambassadors. And now that becomes a problem because now it's a conversation of sexualizing children. Now, if we just look at it — look, with kids, you're going to say, "OK, you're born gay. You're born straight." Fine, let's just go with that. But you overwhelmingly celebrate gay. If it's just something that's a part of you, it either shouldn't be celebrated or certainly you wouldn't celebrate the one of the two versions that results in HIV, more likely; AIDS, more likely; promiscuity, more likely; mental health issues, more likely, but lower domestic abuse with gay people, higher with lesbians.
My point is if you're just going to celebrate, hey, the preference of friction, why wouldn't you celebrate the one that makes for the most productive environment for children and has worked for perpetuating the human species since ever. That's all I'm saying. I just don't think you need — you're like — you're just like telling kids, "Hey, hey, isn't it great? They're gay." What does that mean? It means they have sex in a way that doesn't work.
GERALD MORGAN JR. (CO-HOST): That has no productive value.
CROWDER: OK, fine. I don't care. But I don't know how this requires a month and people who died get a day. That's all.
…
CROWDER: Honestly, let's look at all major historical gay figures. You look at Milk.
…
You look at Harvey Milk. You look at people, you look at [UNINTELLIGIBLE] — these are people with AIDS. These are people — look, I think that if we want people to be happy you say, "Well, that shouldn't be an example. Pick the domesticated Dave Rubin and make him your ambassador." I just like — in other — like look at the — I'm just saying you're not pointing to get examples because it's not about what usually — what we used to want to do with children was encourage them, right? Guide them toward the kind of behavior that would create the most content, fulfilled, and productive members of society. Now it's about making sure that they have the greatest awareness of the most marginalized victims. That's why they're not picking the Buzz Aldrin of the gay community. I'm just saying. I don't even know who he is. Maybe it's Buzz Aldrin."
YouTube has a hate speech policy which states that the platform will remove any content promoting hatred against individuals and groups for attributes including sexual orientation and gender identity and expression. It specifies that content is in violation of this policy if it claims "that individuals or groups are physically or mentally inferior, deficient, or diseased based on any of the attributes noted above." In November 2020, YouTube removed two anti-trans videos from the right-wing propaganda network PragerU for violating this policy as they compared being trans to having a mental illness.
YouTube formally rebuked Crowder in March for violating its policy on misinformation and demeaning content. That same month, YouTube removed a video because it spread misinformation regarding COVID-19. In May, YouTube once again struck Crowder's channel for violating the platform's harassment, threats, and cyberbullying policy. During the particular episode that garnered the channel its second strike, Crowder and his co-hosts had mocked Ohio police shooting victim Ma'Khia Bryant's weight.
Crowder's show has consistently trafficked in racist, sexist, bigoted, and bullying content. He has also consistently promoted conspiracy theories and misinformation. By allowing Crowder to return to the platform with his long record of violating its content policies, YouTube is acting against the interests of those groups it claims to protect.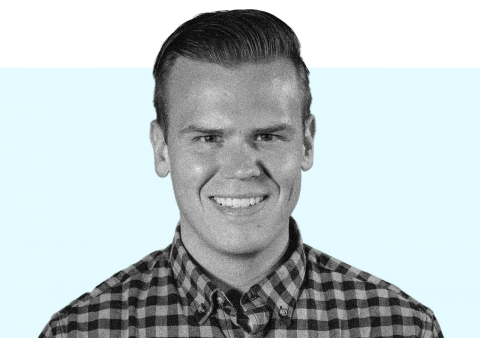 Jason Campbell is a researcher at Media Matters for America based in Washington D.C.
The preceding article was ordinally published by Media Matters for America and is republished by permission.
The Daily Wire's Matt Walsh makes extreme attacks on trans kids
Seemingly violating hate speech policies on YouTube, Facebook, and Twitter, Walsh says medical care for trans kids is "molestation and rape"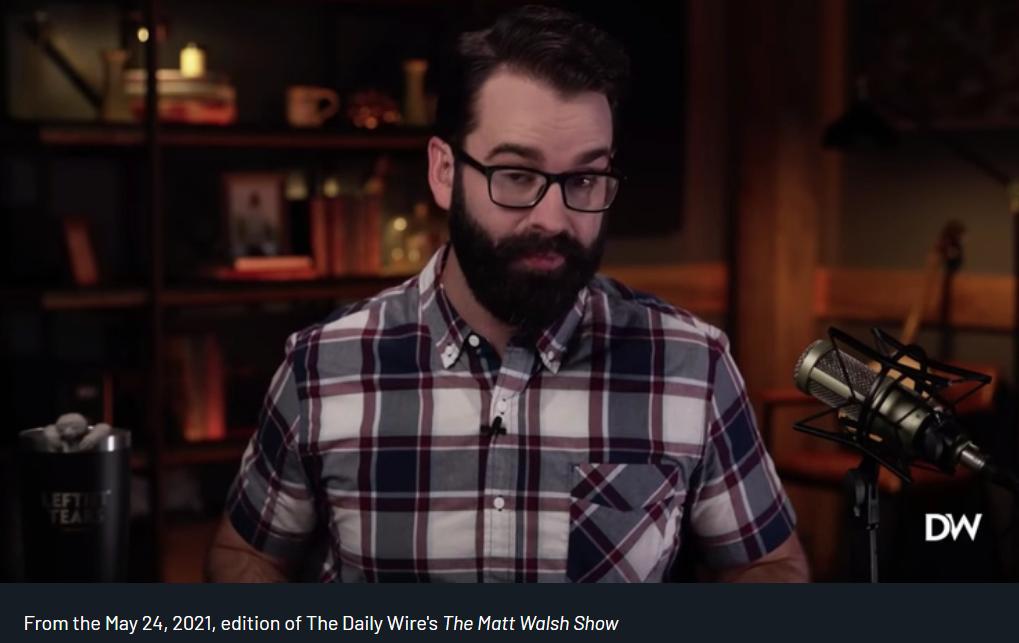 By Brianna January | WASHINGTON – During the May 24 edition of The Daily Wire podcast The Matt Walsh Show, host Matt Walsh compared best practice medical care for trans youth to "molestation and rape" and repeatedly slandered the doctors who provide such necessary care. Walsh shared the episode to YouTube, Facebook, and Twitter, despite those platforms' hate speech policies that claim to prohibit such content.
In reality, best practice health care for trans youth is widely supported by medical professionals and yields long-term mental health benefits. Furthermore, young trans and gender-diverse children are not undergoing treatments or surgery until they are older — rather, as social work professor Katherine Kuvalanka told The Washington Post, "the only interventions for young children is affirmation and acceptance for who they are."
Moreover, research shows that affirming families and communities can be lifesaving for young trans people. According to Reuters, a 2016 study in the journal LGBT Health found: "For transgender or gender non-conforming individuals, as rejection from family members increases, so does their likelihood of suicide attempts or substance abuse."
During a nearly 20-minute monologue on his podcast, Walsh called such necessary care "mutilation," said that advocates of best practice care for trans kids are trying to "undermine the legal, scientific, and philosophical case against pedophilia," and claimed that a "child who is put on hormones and who has their body being mutilated is being sexually violated in a way that is just as depraved or damaging as molestation or rape." He also repeatedly cited anti-trans author Abigail Shrier's flawed theories on "social contagion" of transgender identity in adolescents (she has also compared being trans to having anorexia and joining a cult).
Walsh also attacked doctors who serve trans youth, calling them "evil — we're talking about Nazi scientist-evil" and "pedophiles," and he said performing affirming procedures has "plastic surgeons basically acting like Leatherface from The Texas Chainsaw Massacre." The podcast's episode is even titled "The Evil Quacks Mutilating Our Children."
Instead of supporting best practice medical care, Walsh seemingly advocated for the discredited and harmful practice of conversion therapy for trans kids, saying that "the goal of therapy should be quite literally the exact opposite" of affirming a child's gender identity. 
Walsh's podcast was shared on Facebook, YouTube, and Twitter, seemingly in violation of their hate speech policies
Facebook's community standards define hate speech "as a direct attack against people on the basis of what we call protected characteristics," including gender identity and expression. The platform prohibits "dehumanizing speech or imagery in the form of comparisons, generalizations, or unqualified behavioral statements," including baselessly describing people as a "sexual predator" or as "violent and sexual criminals." Additionally, Facebook banned posts that "advertise or promote" conversion therapy in 2020.
Similarly, YouTube's hate speech policy states that the platform will "remove content promoting violence or hatred against individuals or groups" based on attributes including sexual orientation, gender identity and expression, and sex or gender. It also bans "conspiracy theories saying individuals or groups are evil, corrupt, or malicious based on any of the attributes noted above." YouTube cites examples of content that violates the policy, including videos that "allege the superiority of a group over those with any of the attributes noted above to justify violence, discrimination, segregation, or exclusion." Notably, the platform has removed videos in the past for comparing being trans to having mental illness.
Likewise, Twitter's hateful conduct policy states that users "may not promote violence against or directly attack or threaten other people on the basis of … sexual orientation, gender, [or] gender identity." The company also claims to be "committed to combating abuse motivated by hatred, prejudice or intolerance, particularly abuse that seeks to silence the voices of those who have been historically marginalized," including "women, people of color, lesbian, gay, bisexual, transgender, queer, intersex, asexual individuals, marginalized and historically underrepresented communities."
Despite these policies against hate speech targeting trans people, Walsh shared the May 24 episode of his podcast on all three platforms. He shared and pinned it to his Facebook page, part of the Daily Wire's network of several anti-LGBTQ pundits with large Facebook platforms which is often used to misinform about trans people; uploaded it to YouTube, where it has earned almost 52,000 views in under 24 hours; and shared and pinned it on his Twitter account.
If Facebook, YouTube, and Twitter are serious about their claims to care about their LGTBQ users, they should not tolerate Matt Walsh and the Daily Wire network's continued use of their platforms to attack trans people and lie about them.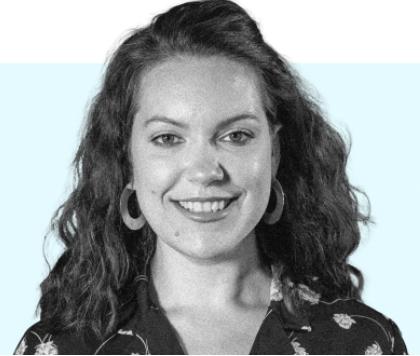 Brianna January is a researcher for the LGBTQ program at Media Matters. Brianna holds a Masters in Public Policy from the University of Maryland School of Public Policy and has a background in LGBTQ human rights and advocacy.
The preceding piece was originally published by Media Matters for America and is republished with permission.