February 22, 2021 at 6:42 pm PST | by John Paul King
'It's A Sin' captures joy and heartbreak in eighties-era AIDS saga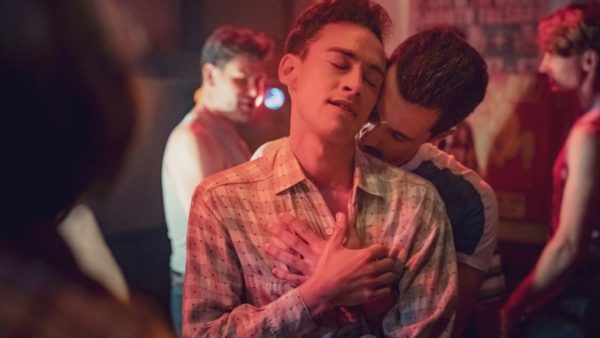 "It's A Sin," the UK miniseries that debuted in America on HBO Max February 18, began its long gestation in the mind of out screenwriter Russell T. Davies back in 1995, even before he wrote his first high-profile gay TV drama, "Queer as Folk."
Following a group of young gay men (and their straight female BFF) through the early days of the AIDS epidemic in London, the series draws heavily on Davies' own memories of the eighties, and of friends he knew during the era, with an eye toward delivering an authentic presentation of gay experience while providing a wide-angle view of the disease's impact as it took its toll across various sectors of British society.
Touted as the first British television drama to deal seriously with the AIDS epidemic, its debut in England proved an unequivocal success – a surprise considering it was rejected by the nation's BBC One and ITV networks for its subject matter before it was finally taken on for development by Channel 4. Even more gratifying, its airing resulted in a boost to HIV awareness in Britain, resulting in an uptick of almost 400% in testing.
Written and directed by out gay men and featuring out gay actors in all its gay roles (including cameos by two out "big names," Neil Patrick Harris and Stephen Fry), the series has won well-deserved praise for its success in capturing both the exuberance and the heartbreak of gay life in 1980s London, and for Davies' success in weaving together so many threads and characters without sacrificing the depth and emotional layering of his story.
An outstanding ensemble cast, led by Years and Years lead singer Olly Alexander and aided by veteran director Peter Hoar, delivers universally excellent performances, taking viewers through the emotional roller coaster of its narrative with the authenticity that can only come from deep commitment and investment to their roles.
It's no spoiler to say that things get pretty grim, but Davies script doesn't allow it to become unrelentingly mournful; instead, he makes sure that the good stuff about being young, gay, and out – the fun, the friendship, and yes, the joy – are never far out of focus. When "It's A Sin" reaches its conclusion, despite the multiple tragedies it makes us endure alongside its characters, the impression it leaves feels more like a celebration than a lament.
Unsurprisingly, as with any show covering a subject that casts such a shadow over an entire generation, there have been objections. Some who were on the front lines of activism during the epidemic have criticized the series for vagueness and inaccuracy on the historical context surrounding the battle against the disease, and of course there are many people – queer and straight alike – who feel that LGBTQ experience has been depicted as tragic for long enough in our cultural narratives and that creators should strive instead for more positive, aspirational stories.
An issue that has raised predictable controversy with straight audiences (and due to concerns about representation, with some non-straight ones as well) is the show's depiction of gay sex.
While some have been shocked by its explicit-if-not-graphic sex scenes (filmed with the extensive involvement of intimacy coordinators to make them as authentic as possible), others have taken exception to the fact that the people in them are simply having too much fun. After all, in a show about a sexually-transmitted disease that has killed millions to date, is it really appropriate to make sex look so enjoyable?
The answer, according to Hoar, is a resounding "yes."
The director, whose credits include the cult hit "Dr. Who" and both "Daredevil" and "The Umbrella Academy" for Netflix, told DigitalSpy, "I'm not going to worry about how people feel about it because this is our sex, and this is the way it is," says "And how can you show the story of men having a life they loved, and dying from it, if you don't show that sex?
"We have to see how much fun it is."
Those gleefully authentic scenes go a long way toward refuting and rejecting the shame that has long been so tenaciously attached to gay sex. Besides sending a refreshingly contemporary message of sex positivity, they also serve as a defiant counterpoint to the repressive homophobia and bigotry that haunts so many of the show's other scenes – and that cuts right to the heart of what Russell Davies is ultimately trying to get across in "It's A Sin."
In its final minutes, the series includes a stirring monologue in which Jill (Lydia West), who has served as the emotional glue at the center of the story as well as for her circle of friends, confronts the mother of one of her fallen comrades with the hard truth that it was her own the shame she instilled in her son over his own very nature, that ultimately led to his death. This is not a new argument – the idea that internalized homophobia was a factor that helped to fuel transmission has been expressed many times before.
But "It's A Sin" does more than just tell us that. It shows us, in myriad ways we don't necessarily connect until they culminate in that climactic speech, how the effects of all that hate become entwined into the personas of its people and manifest in their choices and behavior.
We see gay men who deny their sexuality even while having furtive sex with other men, who endure sexual harassment from closeted bosses for fear of being exposed, who resign themselves to the vitriolic hate hurled upon them by random strangers on the street; we see gay men lose their jobs with no explanation, rejected and bullied by their own families, and locked away as outcasts or prisoners simply for being sick; most to the point, we see gay men so used to being demonized that they greet a killer disease with disbelief and denial, who end up becoming infected and then go on to infect others, simply because they are more afraid of being found out than they are of dying.
So, when Jill offers that searing indictment at the end, she is not just spouting social theory. She is testifying as a witness to the things we have seen for ourselves. And while it might be oversimplifying matters to explain such a complex bundle of issues with a single unifying thread, no matter how profound, it might just as easily be overcomplicating them not to acknowledge a patently obvious connection.
Whether or not "It's A Sin" makes a convincing case for its equation is up to the individual viewer, of course, but what is hard for anyone to deny is the show's success at creating an infectious and emotionally satisfying saga that manages to both engage and uplift us while still honoring the weight of its subject matter. Intended as neither a documentary nor an activist's-eye view of social injustice, it is instead popular entertainment at its best – the kind that seeks to enlighten and inform with just as much passion as it puts into its sex scenes.