Rachel Levine fends off anti-trans questioning in historic confirmation hearing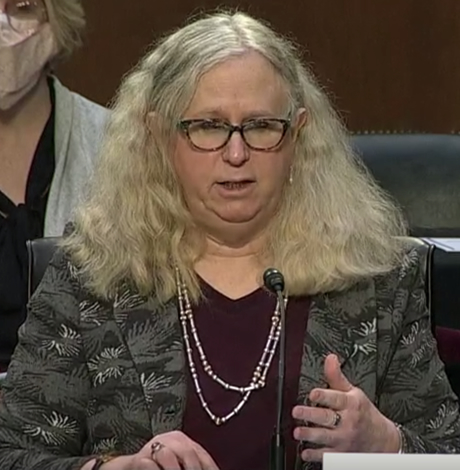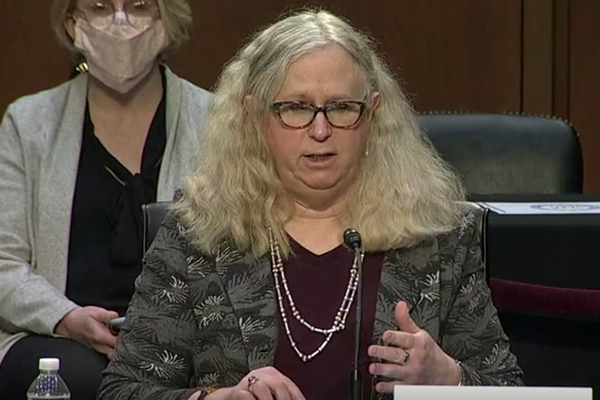 WASHINGTON – Rachel Levine's testimony in the U.S. Senate on Thursday marked the historic first time an openly transgender person had taken part in a confirmation hearing for a presidential appointment, but also featured attacks against transgender youth and implicit animosity to her gender identity.
Sen. Rand Paul (R-Ky.), drawing on right-wing animus toward Levine filling social media, made his views toward a transgender nominee clear by simply stating the phrase "genital mutilation" with an inflection at the start of his questioning.
"American culture is down normalizing the idea that minors can be enormous to prevent their biological development and their secondary sexual characteristics," Paul lamented.
Questioning Levine about youth undergoing gender transition, Paul condemned changing social norms and the idea minors should take hormones "to prevent their biological development and their secondary sexual characteristics."
Levine, however, remained poised and politely informed Paul transgender medical issues are "complex," and said she would look forward, if confirmed, to coming to his office to work with him and discuss the issues.
"Transgender medicine is a very complex, and nuanced field," Levine said. "And if confirmed to the as assistant Secretary of Health, I would certainly be pleased to come to your office and talk with you and your staff about the standards of care and the complexity of this field."
But Paul wouldn't let up, accusing Levine of having "evaded the question," and criticized for in a previous statement in which she, according to Paul, said she's "willing to accelerate the protocols for street kids." Conjuring tales of a teenager who transitioned, then detransitioned, and other youths "making decisions to amputate their breasts, or to amputate their genitalia," asked Levine if minors "should be involved" in making these decisions.
Levine, however, stood firm and repeated her previous response about transgender medical issues being complex.
Paul, a physician himself, called for entering into the record Levine didn't answer the question, then continued with addition diatribe about transgender youth.
"We should be outraged that someone's talking to a three year old about changing their sex," Paul concluded.
Coming to Levine's defense was Sen. Patty Murray, (D-WA) chair of the Senate Committee on Health, Education, Labor & Pensions, who admonished Paul to treat nominees before the committee with respect.
"It is really critical to me that our nominees be treated with respect and that our questions focus on their qualifications and the work ahead of us, rather than ideological and harmful misrepresentations like those who heard from Sen. Paul earlier," Levine said.
Ruben Gonzales, executive director of LGBTQ Victory Institute, also condemned Paul's hostility to Levine on transgender youth in a statement, saying the questioning demonstrates he "does not deserve to hold public office."
"His remarks echo the talking points of the same organizations who said gay men deserved AIDS and that LGBTQ people should be criminalized," Gonzalez added. "He explicitly attacked vulnerable trans youth for his own perceived political gain and it was a disgrace. Dr. Levine is an extremely qualified nominee whose experience can help America effectively tackle this pandemic, but he took this opportunity to give voice to hate groups instead."
Aside from Paul, the questioning from senators — Democrat or Republican — stayed away from transgender issues and sought clarification on how her work as Pennsylvania secretary of state would translate to the role she's seeking as assistant secretary for health.
Levine, in her opening statement (which was halted momentarily by microphone difficulties). sought to demonstrate her qualification for the role with examples of her long medical pedigree, such as being a professor of pediatrics and psychiatry at the Penn State College of Medicine.
"Throughout my medical career I've been particularly invested in health issues that are at the intersection of physical and behavioral health and I brought that expertise to public health and addressing substance use disorders," Levine said.
Sen. Murray paid heed in her opening statement to the historic nature of Levine's confirmation hearing.
"I've always said our government should represent the people it serves and the nomination of Dr. Levine, who would make history as the highest ranking openly transgender official in the U.S. government, brings us a step closer and making sure that that happens."
Murray also praised Levine's background as Pennsylvania secretary of health, saying she "established herself as a trusted voice to the people of Pennsylvania." Among Levine's accomplishments Murray cited was establishing guidelines for opioid prescriptions, education for medical students, treatment for opioid overdoses, combatting eating disorders, increase as well as health equity for the LGBTQ community.
The assistant secretary of health oversees the department's key public health offices, a number of presidential and secretarial advisory committees, 10 regional health offices across the nation, and the Office of the Surgeon General and the U.S. Public Health Service Commissioned Corps.
Joining Levine as a fellow nominee during the confirmation hearing was fellow nominee Vivek Murphy, whom President Biden has nominated for U.S. surgeon general after having served in the role during the Obama administration.
Raising LGBTQ issues in a positive way was Sen. Tammy Baldwin (D-Wis.), the first out lesbian elected to the U.S. Senate, who asked Levine about improving LGBTQ health equity. In response, Levine said data collection is key, noting under her watch Pennsylvania became the first state to collect data on whether coronavirus patients identify as LGBTQ.
"It is critically important that we include questions about sexual orientation and gender identity identity in our data collection," Levine said. "That would include many studies done by health and human services in the CDC. And I think that as we get more data than we understand more about these health disparities and then we can develop the appropriate policies in order to address them."
Other Republicans during Levine's confirmation hearing didn't bring up anything about her being transgender, but one chose as a battleground her response to coronavirus as Pennsylvania secretary of health.
Sen. Richard Burr (R-N.C.), top Republican on the committee, faulted Levine for testing strategy, vaccine rollout and nursing home death he said occurred under her watch or shortly thereafter in Pennsylvania.
"Along with testing challenges last spring, your state failed to adequately protect nursing home residents from the virus, and is making unacceptable mistakes in the vaccine distribution process," Burr said. "Pennsylvania ranks is one of the most dangerous states for long-term care residents battling COVID-19."
Asked by Burr how Levine can give assurances she won't repeat problem he cited in Pennsylvania, Levine stood firm and suggested those issues were result of a lack of guidance from the Trump administration.
"We had challenges with testing, we had challenges with contact tracing, etc.," Levine said. "We have a lack of personal protective equipment, and as most other states do that were impacted in the spring. I think that the nation's response has improved significantly and under President Biden's leadership and his strategic plan and task force."
Sen. Roger Marshall (R-Kansas) took issue with her approach to the coronavirus in terms of treating rural and urban counties, saying treating them the same "didn't quite make sense." However, Levine defended her approach, highlighting the reopening of businesses with a red, yellow and green coded system depending on the persistence of coronavirus in a different counties.
Sen. Bob Casey (D-Pa.), introducing Levine at the confirmation hearing, had a different take on her approach to the coronavirus, praising her for the response and pointing out she was confirmed three times by a Republican-controlled state Senate in Pennsylvania.
"When COVID-19 came to our state, Dr. Levine's leadership was marked by clear science-based, communication, and her daily briefings, her early action or collaborative style and her calm, were recognized by the medical community, as well as leaders on both sides of the aisle," Casey said.
Sen. Susan Collins (R-Maine) was measured in questioning, asking Levine at first a pediatrics question to follow up on an earlier meeting between the two, then about evidence Pennsylvania may have kept hidden nursing home deaths to coronavirus. In a Senate with a 50-50 split, Collins' vote may be key for Levine to obtain confirmation.
In response, Levine said she appreciated the meeting with Collins, answered the question about pediatrics, stood by the handling of nursing homes. Levine added, "there is a lag time from the time that a tragic death would occur to the time that it hits our electronic death reporting system."
Annise Parker, president of the LGBTQ Victory Institute, said in a statement Levine deserves "swift confirmation" and any opposition to her is not based on her qualifications.
"Any senator who votes against Dr. Levine is motivated not by an honest review of her qualifications or concern for the nation's health, but instead by cynical partisan politics or outright bigotry," Parker said. "Dr. Levine will transform perceptions of trans Americans as Assistant Secretary, but more importantly, her leadership will help keep our nation on the path to recovery."
LA County Parks Winter Wonderland returns
Snow Days, Sled Rides, Toy Giveaways, Craft Villages, Teen Zone and More!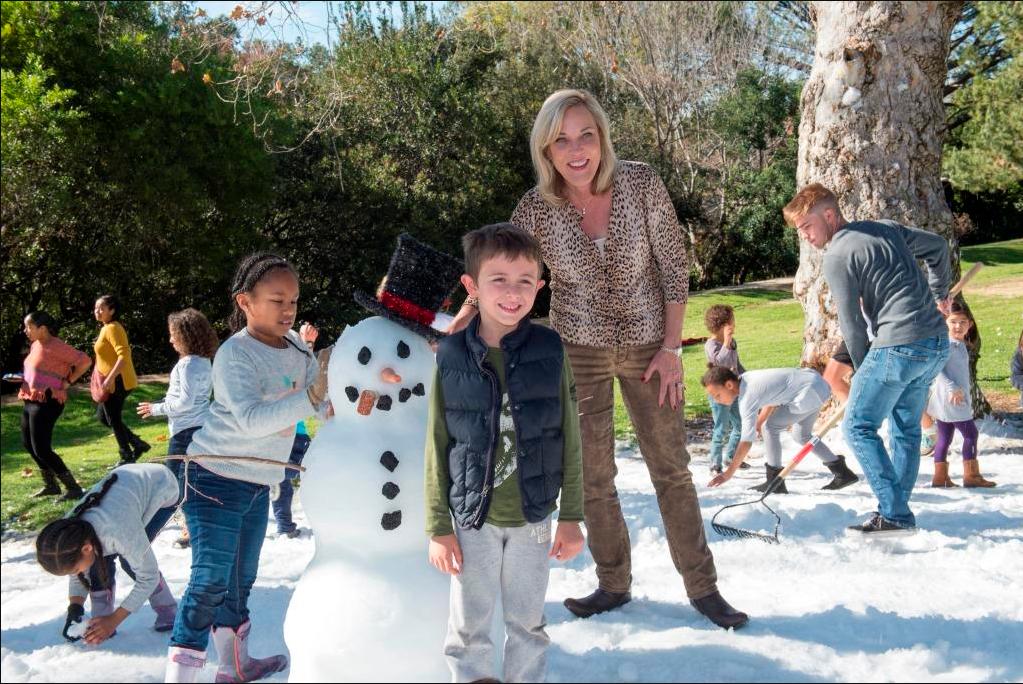 LOS ANGELES – It's Park Time L.A. County! Parks After Dark returns with an enchanting Winter Wonderland experience that will bring holiday cheer and 40 to 80 tons of snow to 34 L.A. County Parks in the month of December.
This holiday action packed celebration is for the entire family and is bigger and better than ever before, with more snow, more toys, more craft activities and more fun! All for free!
Parks After Dark Snow Patrol teams, staffed by passionate and dedicated Parks & Recreation personnel, are ready to transform local parks into wintry paradises complete with sled runs, photo opportunities, snack stations, holiday treats and a craft village where children can decorate their own holiday stocking! Families should plan to arrive early at their local park for a toy giveaway for ages 0-17, while supplies last.
New this year to the Winter Wonderland experience is a Teen Zone where young adults can enjoy their own space to hang out with their friends, create and design art, listen to music, silkscreen holiday shirts and make their own personalized Santa hat!
Also beginning this year, selected parks will double their fun with Mega Snow days, which will bring up to 80 tons of snow to Earvin "Magic" Johnson Park, Val Verde Park, Belvedere Park, El Cariso Park, Loma Alta Park, Ted Watkins Park, Roosevelt Park and Valleydale Park.
The L.A. County Parks Winter Wonderland is possible thanks to the generosity of Los Angeles Department of Social Services, Los Angeles County Department of Parks and Recreation, and the L.A. County Probation Department.
"Parks After Dark brings family, friends, neighbors and community together in their local park," County of Los Angeles Department of Parks and Recreation (DPR) Director Norma Edith García-González said. "The Winter Wonderland experience will provide youth and families a memorable snow day experience and much more to celebrate the joy of the holiday season. I am grateful to DPR Staff for all their work to bring 40 to 80 tons of snow to 34 parks this holiday season!"
Parks After Dark, launched in 2010, has proven to be a successful prevention and intervention program that provides multiple benefits to vulnerable communities, decreasing violence and crime, and increasing social cohesion and community well-being. In 2018, Parks After Dark was recognized by the National Recreation and Park Association, which presented L.A. County Parks and Recreation with is Best in Innovation award.
For more information on Parks After Dark Winter Wonderland, visit https://parks.lacounty.gov/winterpad
Locations, dates, and times for Parks After Dark Winter Wonderland are listed below:
Friday, Dec. 2
Col. Leon H. Washington Park – 8908 S. Maie Ave., Los Angeles (4-8 p.m.)
Mary M. Bethune Park – 1244 E. 61st St., Los Angeles – (4-8 p.m.)
Charter Oak Park – 20261 E. Covina Blvd., Covina – (4-8 p.m.)
Pamela County Park – 2236 Goodall Ave., Duarte – (4-8 p.m.)
Saturday, Dec. 3
Eugene A. Obregon Park – 4021 E. First St., Los Angeles – (12-4 p.m.)
City Terrace Park – 1126 N. Hazard Ave., East Los Angeles – (4-8 p.m.)
Earvin "Magic" Johnson Park – 905 E. El Segundo Blvd., Los Angeles (12-4 p.m.) (Mega Snow)
George Washington Carver Park – 1400 E. 118th St., Los Angeles – (4-8 p.m.)
Val Verde Community Regional Park – 30300 W. Arlington Rd., Val Verde
(12-4 p.m.) (Mega Snow)
Belvedere Community Regional Park – 4914 E. Cesar Chavez Ave., Los Angeles
(4-8 p.m.) (Mega Snow)
Friday, Dec. 9
Adventure Park – 10130 S. Gunn Ave., Whittier – (4-8 p.m.)
Sorenson Park – 11419 Rose Hedge Dr., Whittier – (4-8 p.m.)
Saybrook Park – 6250 E. Northside Dr., East Los Angeles – (4-8 p.m.)
Jesse Owens Community Regional Park – 9651 S. Western Ave., Los Angeles –
(4-8 p.m.)
Saturday, Dec. 10
El Cariso Community Regional Park – 13100 Hubbard St., Sylmar – (12-4 p.m.) (Mega Snow)
Loma Alta Park – 3330 N. Lincoln Ave., Altadena – (4-8 p.m.)
Helen Keller Park – 12521 S. Vermont Ave., Los Angeles – (12-4 p.m.)
Athens Park – 12603 S. Broadway, Los Angeles – (4-8 p.m.)
San Angelo Park – 245 S. San Angelo Ave., La Puente – (12-4 p.m.)
Bassett Park – 510 N. Vineland Ave., La Puente – (4-8 p.m.)
East Rancho Dominguez Park – 15116 S. Atlantic Ave., Compton – (12-4 p.m.)
Ted Watkins Memorial Park – 1335 E. 103rd St., Los Angeles – (4-8 p.m.)
(Mega Snow)
George Lane Park – 5520 W Ave L-8, Quartz Hill (4-8 p.m.)
Friday, Dec. 16
Ruben F. Salazar Park – 3864 Whittier Blvd., Los Angeles (4-8 p.m.)
William Steinmetz Park – 1545 S, Stimson Ave., Hacienda Heights – (4-8 p.m.)
Amigo Park – 5700 S. Juarez Ave., Whittier – (4-8 p.m.)
Amelia Mayberry Park – 13201 E. Meyer Rd., Whittier – (4-8 p.m.)
Saturday, Dec. 17
Stephen Sorenson Park – 16801 E. Avenue P, Lake Los Angeles (12-4 p.m.)
(Mega Snow)
Jackie Robinson Park – 8773 E. Avenue R, Littlerock – (4-8 p.m.)
Mona Park – 2291 E. 121st St., Compton (12-4 p.m.
Franklin D. Roosevelt Park – 7600 Graham Ave., Los Angeles – (4-8 p.m.)
(Mega Snow)
Rimgrove Park – 747 N. Rimgrove Dr., La Puente – (12-4 p.m.)
Allen J. Martin Park – 14830 E. Giordano St., La Puente – (4-8 p.m.)
Valleydale Park – 5525 N. Lark Ellen Ave., Azusa – (4-8 p.m.) (Mega Snow)