Wounded dogwalker issues statement, LAPD- no suspects in Lady Gaga dog kidnapping
The dogwalker gravely wounded in the violent robbery of Gaga's two French Bulldogs has issued a bedside statement .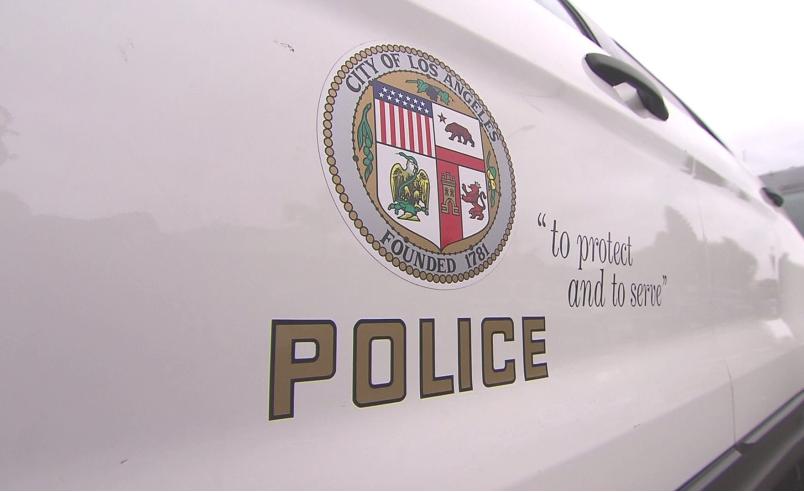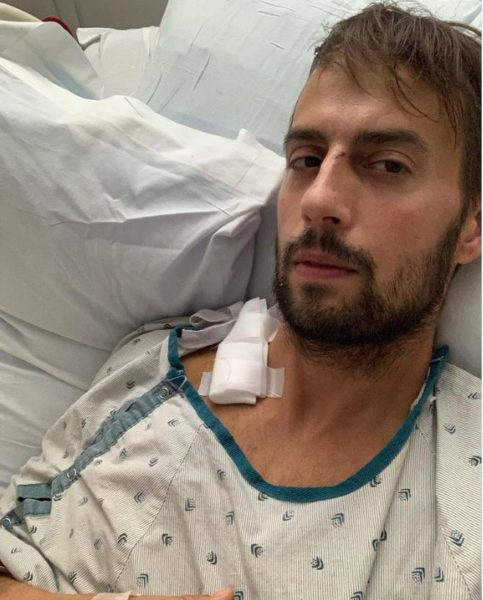 LOS ANGELES – The dogwalker who was gravely wounded in the violent robbery of Lady Gaga's two French Bulldogs last week has issued a bedside statement from multiple Instagram accounts Monday. Thirty-year-old Ryan Fischer posted two photographs and wrote a lengthy post noting that he was "still in recovery from a very close call with death," and then expressed gratitude for all of the support he has received.
In his posts, he called out his family — including his mother and brother, who he noted flew to Los Angeles to be with him, Lady Gaga, his client and friend whose dogs were taken, along with a host of others.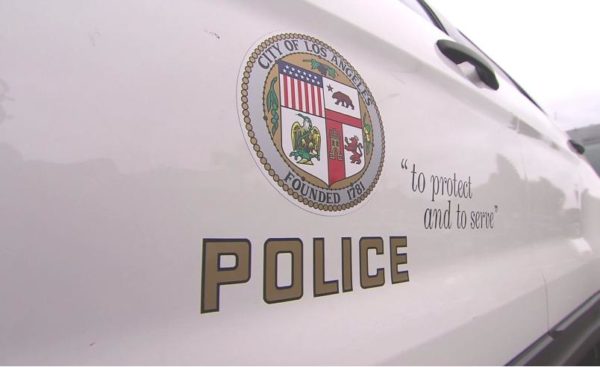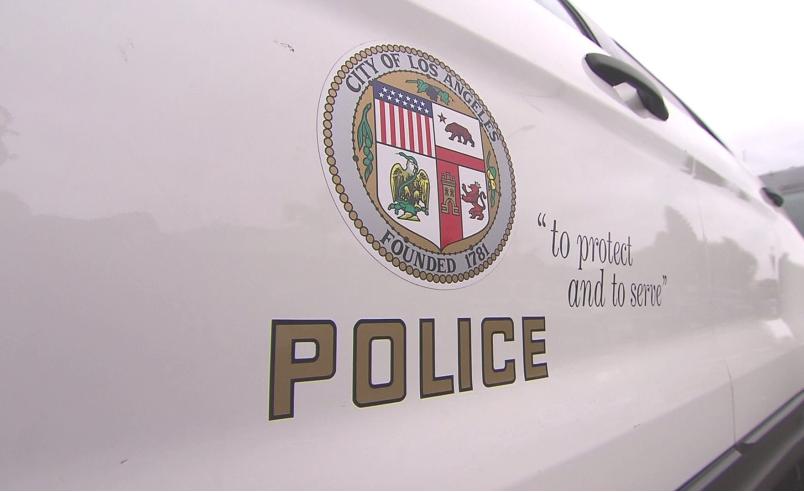 A spokesperson for the Los Angeles Police Department told the Blade Monday that detectives still have no suspects in the crime.
Law enforcement sources, who spoke on the condition of anonymity, told the LA Times and other media outlets that investigators are still canvassing the area near the crime scene to obtain security video and are reviewing license plates of cars in the area at the time of the robbery. Detectives believe kidnapping the dogs was the motive but are not sure if the assailants knew the dogs belonged to the singer.
'Leave Our Kids Alone' group protest, LAPD make arrests
A separate group gathered to rally in support of LGBTQ+ youth, ultimately leading to an unlawful assembly declaration & at least two arrests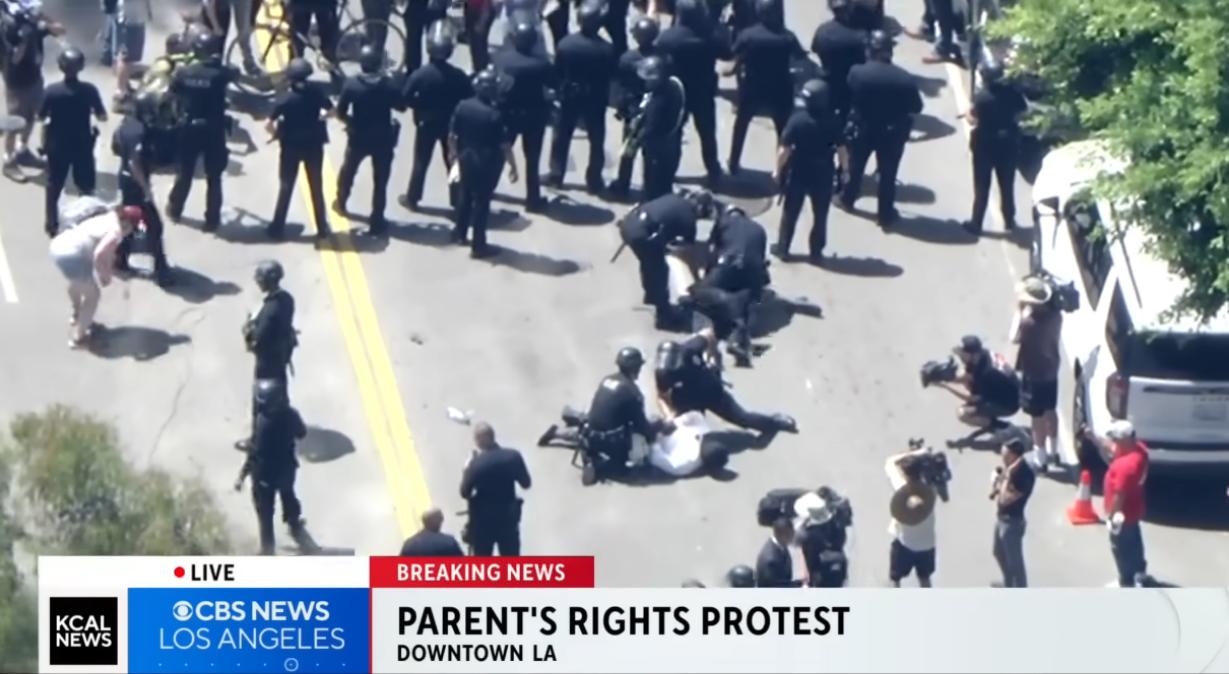 LOS ANGELES – Approximately 200 people from the loosely organized social media based group 'Leave Our Kids Alone' (LOKA) marched through downtown Los Angeles today in support of parental rights and notification policies in schools.
A separate group gathered to rally in support of LGBTQ+ youth, ultimately leading to an unlawful assembly declaration and at least two arrests as the Los Angeles Police Department deployed about 40 officers and supervisors to keep the groups apart.
On the LOKA group Instagram and Facebook posts, organizers called for the Tuesday rally at 10:00 AM writing: "Calling all California parents to stand United and rally for our kids. Whether it's the school boards or Sacramento in their attempts to indoctrinate kids and separate them from families – parents have had enough."
The group on its social media posts claim they are supporting parental rights and opposing "indoctrination," "sexualization" or "grooming" of children in schools.
KCAL CBS-Los Angeles reported the LOKA group assembled outside Los Angeles City Hall, then marched to Los Angeles Unified School District headquarters, where some participants sat in the intersection. Some people in the Leave Our Kids Alone group waved American flags while others carried signs with slogans such as "Parental Rights Matter" and "Parental rights are non-negotiable," and many wore shirts saying "Leave our kids alone." One held a sign reading "Teach the Bible, not porn."
The protest was in support of forcing the LAUSD Board to adopt policies that would 'Out' trans children and also minimize the so-called influences regarding LGBTQ+ students.
On X/Twitter members of the group live-streamed the march and protest:
Los Angeles CA – Leave Our Kids Alone #saveourkids #leaveourkidsalone

We are live on YouTube and rumble. pic.twitter.com/ytOtQ20kOM

— Oreo Express Normal/Not Mentally Ill (@OreoExpress) August 22, 2023
The counter-rally was organized by Ground Game LA and Queer Nation Los Angeles, plus another Queer affirming group which are opposed to parental-notification policies, noting such policy requirements can put LGBTQ+ students at risk if their families are not accepting of their gender identity.
KCAL also reported that members of the smaller counter protest, some of whom waved Pride flags, prompting LAPD officers to set up skirmish lines to keep the groups separated. According to reports from the scene, police attempted to push the counter-protesters back, but two people allegedly resisted and were taken into custody.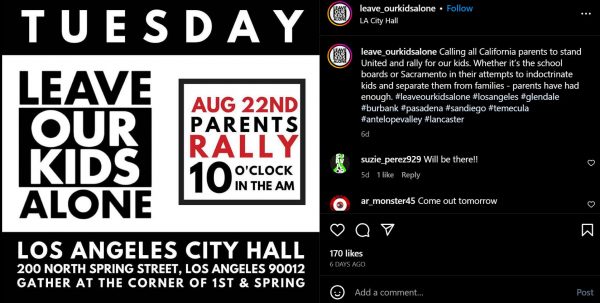 The LOKA group first rose to prominence after a group of parents took to social media and distributed flyers to protest a scheduled June 2 LGBTQ+ Pride event at Saticoy Elementary School on 7850 Ethel Avenue in North Hollywood.
Then on June 6, the group and others clashed with Glendale Police and LGBTQ+ supporters outside a meeting of the Glendale Unified School Board over LGBTQ+ studies and the GUSD polices on addressing LGBTQ+ related issues.
News footage from CBS Los Angeles KCAL showed approximately fifty Glendale police officers attempting to keep the two groups separated and then fists were thrown as both sides engaged in physical assaults. A Glendale police spokesperson confirmed that some arrests had been made but wouldn't comment further.
The group has also been present at school board meetings in Temecula, Murietta Valley, Orange County and Chino protesting for polices that would forcibly 'Out' LGBTQ+ kids and also remove LGBTQ+ materials, books, and Pride flags from classrooms.
California Attorney General Rob Bonta announced  earlier this month that his office is opening a civil rights investigation into potential legal violations by the Chino Valley Unified School District (CVUSD), which adopted a policy that forces schools to "out" students whose gender identities may be changing.
The Murrieta Valley Unified School District Board (MVUSD), had approved a policy mirroring one recently adopted by the Chino Valley Unified School District (CVUSD), that forces school faculty and staff to "out" students to parents whose gender identities may be changing.
Bonta in an emailed statement to the Blade said: "I am deeply disturbed to learn another school district has put at risk the safety and privacy of transgender and gender nonconforming students by adopting a forced outing policy. My office remains committed to ensuring school policies do not target or seek to discriminate against California's most vulnerable communities. California will not stand for violations of our students' civil rights."
Related:
Parent's rights group and counter protesters clash Downtown LA: