March 2, 2021 at 1:12 am PST | by Scott Stiffler
Reading the Queens
In the heady days before COVID-19 precautions shuttered the clubs and bars that were home away from home for many of us, drag queens counted on those man caves for the lion's share of their income—and we relied on them as healing truth-tellers, whose acid-tongued observations made "reading for filth" among the most crowd-pleasing arrows in their queeny quivers.
But when these wise men in wigs have their own troubles to bear, who among us will walk a mile in their heels, and point them to the light? No! Don't go to the light! Who reads the reader?
Broadcasting from his home base on the east coast with a message as custom-made as the best-fitting wig you've ever worn comes Roy Tomko, whose IGTV show—"Reading the Queen"—is not another Tik Tok drag show. There are no lipsynchs or death drops. But there are drag queens, and there is death. More precisely, life after death, as Tomko uses his gifts as a psychic and spirit medium, to, as the title implies, read his drag queen guests.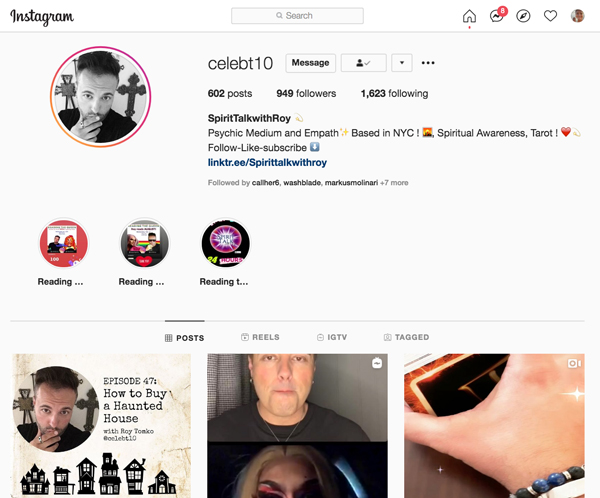 Having made its debut in late November 2020, "Reading the Queen" is a product of our pandemic era. Although Tomko had been aware of his heightened perceptions from childhood, it was not, his website notes, "until recent major shifts in the world (COVID-19) that inspired Roy to focus his gift to help others."
And if you're going to help others, why not start with giving a little leg up to our drag artists, who've spent the past year devoid of their usual platforms for expression? For those familiar with the reality TV formula that "Reading the Queen" uses as a structural template (think "Long Island Medium"), Tomko's focus on drag talent puts a refreshingly candid, anything goes spin on the proceedings—as does his own identity as a gay man whose unabashedly "sensitive" nature amplifies the self-confidence necessary to put his queens at ease. The resulting banter between out, gay host and out-there guest anchors the show in Must-See territory, with occasional OMG moments where the reality of accepting all of this as reality gets, well, frickin' real.
That said, detractors and debunkers determined to deny anything happening here other than intuition and wishful thinking will find no shortage of straws to grasp at—but as the metaphor implies, even when bundled, straws have a way of slipping through the firmest of fists.
That's the Blade's way of saying believe it or not. We watched quite few installments of "Reading the Queen," and the only thing we can say for sure is that drag queens have unusually well-calibrated bullshit detectors that we've yet to see go off during or after a reading.
In fact, raves via many a queen's social media are plentiful. Rhea Litre, after her reading, said to the Los Angeles Blade, "OMG. My eyes have been completely opened. I used to be so afraid of the spiritual world, but that was just because I was afraid of it. I think once you remove fear from a situation, you can understand it a bit more. At least that's what happened to me! Roy is a true professional and I absolutely adore him."
Asked about any paranormal fallout, Litre noted no incidents of significance after the fact, but did tell us the experience confirmed her intuition upon moving to Las Vegas, and talk of her late grandfather during the reading with Roy has colored her perception of their relationship.
"I felt such weird energy around when I moved my granddad's stuff into my house," recalled Litre. "I think he just wanted me to know he was there. Ever since the reading, I feel his spirit but it's nice. I wear his necklace everyday. I feel closer to my granddad more than ever."
The Blade recently spoke with Tomko about the unique alchemy of "Reading the Queen," but started with a discussion about coming out, coming into his own.
Blade: Not to sound crass right out of the gate, but what are you, Roy Tomko? I mean, how do you define your own abilities, in terms of using them to help others?
Roy Tomko: I identify as a psychic [spirit] medium. I believe that most mediums are psychics, but a lot of psychics are not always mediums. A medium is someone who can connect with a loved one that has crossed over to the other side. So when you do a mediumship reading, you are communicating with a loved one that has passed, and providing a healing message of love from the spirit to their sitter.
A psychic reading is when someone is coming to you for guidance, for predictions, to kind of see what might be going on in their life: Can you feel into a situation that's happening? Could you give me a prediction, could you o see where an outcome might be? And a lot of times, I don't go more than a six-month prediction time zone, because we all have our own free will, and the free will, of course, guides [and can change] the path of that individual.
Blade: Are there any similarities between coming out as an LGBTQ+ and coming out as a person with special abilities, aka gifts?
Tomko: I never hid who I was, as far as my sexuality. I embraced it, and was very fortunate to have very loving parents who empowered me, who stood behind me, and propelled me—and I'm 100 percent grateful to have that upbringing… The thing was, I just felt I could not come out twice within the same time frame, with two different things. So I was very, very selective with who I told about my gifts. When I finally did come out and start to tell people, I will be honest with you: I think people accepted my being gay [more easily] than my being a psychic medium. And the reason for that is because, I feel, people have their own religious belief. People don't always see this as a very open or welcoming experience. People are also very afraid of the unknown, or afraid that someone might find something out about you that no one else would know, because of your ability. That's when they get frightened and back away; So I did lose [friends] when the initial rollout happened.
Blade: That's unfortunate, that people think, "Oh, here comes Roy down the hall. He's gonna know what I did last night by the time he gets here." Is that the case, or are we just projecting?
Tomko: I don't have it on all the time. No psychic medium should walk around, open, 24/7, reading every Peter, Paul, and Mary.
I ask permission at the beginning of a reading. I say, "Do you allow me to connect with you?" When I get permission, that is when we go ahead with the reading.
Blade: When we initially spoke, you recalled how the idea for "Reading the Queen" came during a group viewing of "RuPaul's Drag Race" during which you all wondered what it would be like if you did a reading with RuPaul. The idea stuck, and you consulted your spirit guides, then woke up the next morning and…
Tomko: And I was like, "Oh, my God. I'm gonna reach out to a couple of people and see what happens. So Call Her Six, I love her aesthetic, everything about her, and I felt a connection with her. I sent her a message on Instagram. She responded. She was like, "Let's hop on a call, let's do it and [after the reading] she said to me, "Honey, I'm the start but let me tell you, that ball's gonna go rolling and you're going to be on fire—and it's just progressed [from there, the first reading, November 2020].
Blade: Besides the fact that they are biologically programmed to give good interviews, what makes the drag queen angle of your show unique?
Tomko: They are more free-spirited. It allows for a more fun, unconventional way of reading… When you blend these two worlds together, the spirit world and the LGBTQ+ community, it's just a beautiful thing, and I'm just very touched by it. I'd like to do more work with the LGBTQ+ community, where I can provide more healing… But at the end of the day, these guests of mine, these drag queens, are just normal individuals. You take the makeup off, and it's just another person sitting in front of you who's looking for a message."
If you are interested in booking a private reading, visit a few of these links for more information.
Instagram: @celebt10
"Reading the Queen" episodes on YouTube:
Sasha Colby:
Candy Buttons:
Androgyny:
Holly Dae: