Biden delivers primetime speech on pandemic- White House says 1st stimulus checks this weekend
All adult Americans will be eligible to get a vaccine no later than May 1.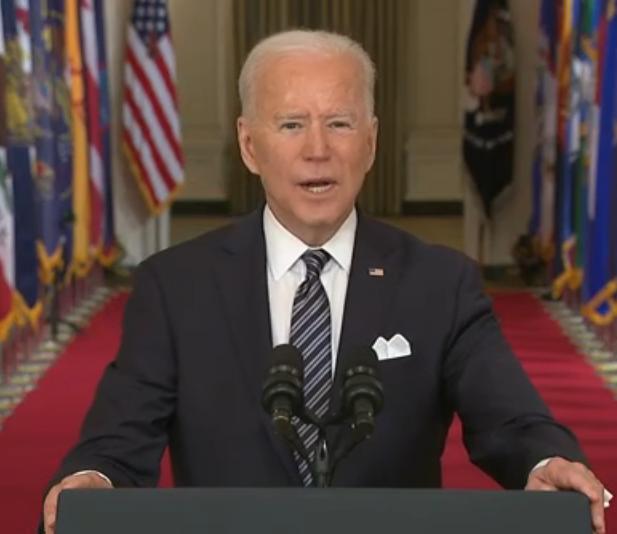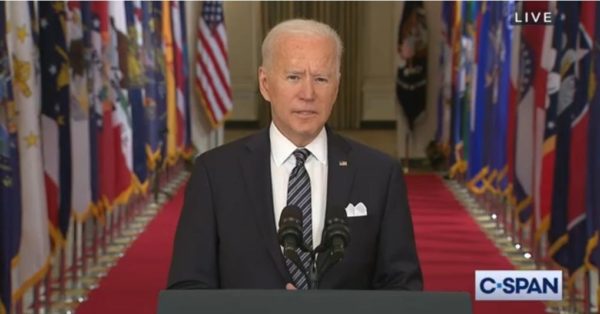 WASHINGTON – In his first primetime address to the nation since taking office in January, President Joe Biden reflected on the one year mark of the coronavirus pandemic that has taken the lives of 527,726 Americans.
Speaking from the entrance to the East Room of the White House after a solo walk up through the Great Cross Hall, the president began his remarks, acknowledging the collective grief, suffering, and sacrifice of families, first responders, and individuals.
"As I've told you before, I carry a card in my pocket with the number of Americans who have died from COVID to date. It's on the back of my schedule. As of now, the total deaths in America: 527,726. That's more deaths than in World War One, World War Two, the Vietnam War, and 9/11 combined, Biden said.

They were husbands, wives, sons and daughters, grandparents, friends, neighbors — young and old. They leave behind loved ones unable to truly grieve or to heal, even to have a funeral.

But I'm also thinking about everyone else who lost this past year to natural causes, by cruel fate of accident, or other diseases. They, too, died alone. They, too, leave loved ones behind who are hurting badly."
The president addressed the vaccine roll-out by the four pharmaceutical giants announcing that in addition the recent purchase of another 100 million doses of the Johnson & Johnson one dose vaccine, "now because of all the work we've done, we'll have enough vaccine supply for all adults in America by the end of May. That's months ahead of schedule."
Biden said that he would direct all states, tribes, and territories to make all adults — people 18 and over — eligible to be vaccinated no later than May 1.

"Let me say that again: All adult Americans will be eligible to get a vaccine no later than May 1. That's much earlier than expected," the president said then added; "Let me be clear: That doesn't mean everyone's going to have that shot immediately, but it means you'll be able to get in line beginning May 1. Every adult will be eligible to get their shot.
The president also urged Americans to listen to Dr. Anthony Fauci, the director of the U.S. National Institute of Allergy and Infectious Diseases and Biden's chief medical advisor on the dual subjects of vaccine safety as well as the guidelines for continuing to follow safety protocols.
"Talk to your family, your friends, your neighbors — the people you know best who've gotten the vaccine," Biden said.

"We need everyone to get vaccinated. We need everyone to keep washing their hands, stay socially distanced, and keep wearing the masks as recommended by the CDC," he added.
As the American nation marks one year into the coronavirus pandemic, where more than 18 million people are still receiving some form of unemployment benefits, White House press secretary Jen Psaki announced at the news briefing after President Biden signed the American Rescue Plan into law that the next batch of stimulus checks will be deposited into some bank accounts this weekend.
"People can expect to start seeing direct deposits hit their bank accounts as early as this weekend," Psaki said.
She added that the checks are "the first wave" and will continue to flow over "the next several weeks."
NBC News reported Thursday afternoon the majority of recipients will get a direct payment of up to $1,400. Married couples who make under $150,000 will receive $2,800. Higher earners will see payments phase out and then cut off above certain incomes. Parents who meet income eligibility requirements will get $1,400 per dependent.
Some families who meet income requirements with two parents and two kids could see a payment for $5,600 in their bank account by Sunday.
The first to receive their economic impact payment will be people who have direct deposit information on file with the IRS, typically done when taxes are filed.
LA County Parks Winter Wonderland returns
Snow Days, Sled Rides, Toy Giveaways, Craft Villages, Teen Zone and More!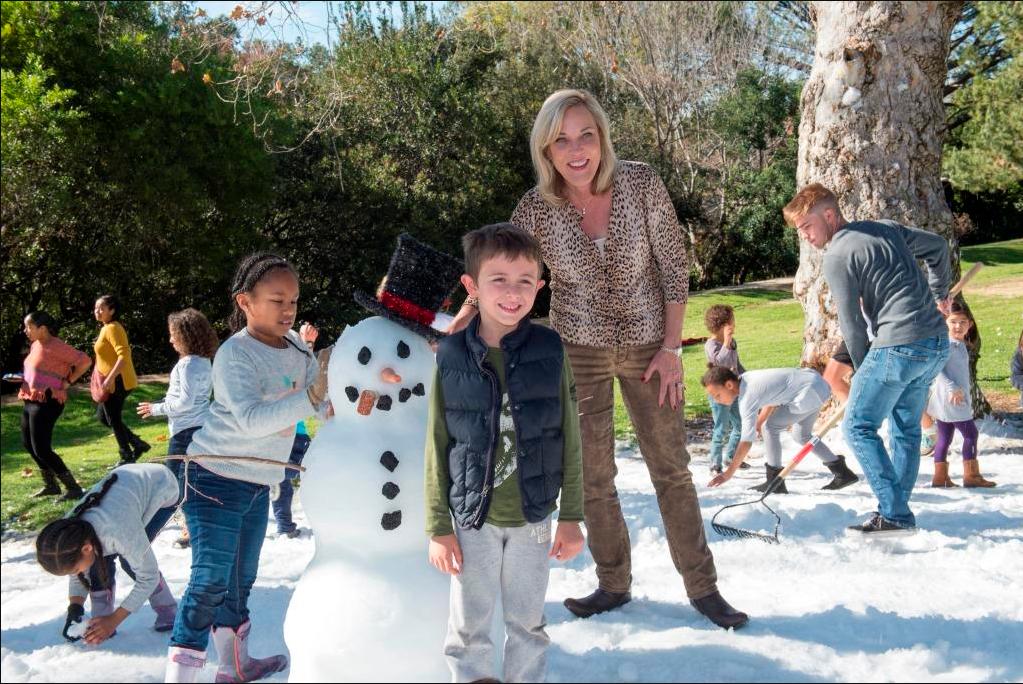 LOS ANGELES – It's Park Time L.A. County! Parks After Dark returns with an enchanting Winter Wonderland experience that will bring holiday cheer and 40 to 80 tons of snow to 34 L.A. County Parks in the month of December.
This holiday action packed celebration is for the entire family and is bigger and better than ever before, with more snow, more toys, more craft activities and more fun! All for free!
Parks After Dark Snow Patrol teams, staffed by passionate and dedicated Parks & Recreation personnel, are ready to transform local parks into wintry paradises complete with sled runs, photo opportunities, snack stations, holiday treats and a craft village where children can decorate their own holiday stocking! Families should plan to arrive early at their local park for a toy giveaway for ages 0-17, while supplies last.
New this year to the Winter Wonderland experience is a Teen Zone where young adults can enjoy their own space to hang out with their friends, create and design art, listen to music, silkscreen holiday shirts and make their own personalized Santa hat!
Also beginning this year, selected parks will double their fun with Mega Snow days, which will bring up to 80 tons of snow to Earvin "Magic" Johnson Park, Val Verde Park, Belvedere Park, El Cariso Park, Loma Alta Park, Ted Watkins Park, Roosevelt Park and Valleydale Park.
The L.A. County Parks Winter Wonderland is possible thanks to the generosity of Los Angeles Department of Social Services, Los Angeles County Department of Parks and Recreation, and the L.A. County Probation Department.
"Parks After Dark brings family, friends, neighbors and community together in their local park," County of Los Angeles Department of Parks and Recreation (DPR) Director Norma Edith García-González said. "The Winter Wonderland experience will provide youth and families a memorable snow day experience and much more to celebrate the joy of the holiday season. I am grateful to DPR Staff for all their work to bring 40 to 80 tons of snow to 34 parks this holiday season!"
Parks After Dark, launched in 2010, has proven to be a successful prevention and intervention program that provides multiple benefits to vulnerable communities, decreasing violence and crime, and increasing social cohesion and community well-being. In 2018, Parks After Dark was recognized by the National Recreation and Park Association, which presented L.A. County Parks and Recreation with is Best in Innovation award.
For more information on Parks After Dark Winter Wonderland, visit https://parks.lacounty.gov/winterpad
Locations, dates, and times for Parks After Dark Winter Wonderland are listed below:
Friday, Dec. 2
Col. Leon H. Washington Park – 8908 S. Maie Ave., Los Angeles (4-8 p.m.)
Mary M. Bethune Park – 1244 E. 61st St., Los Angeles – (4-8 p.m.)
Charter Oak Park – 20261 E. Covina Blvd., Covina – (4-8 p.m.)
Pamela County Park – 2236 Goodall Ave., Duarte – (4-8 p.m.)
Saturday, Dec. 3
Eugene A. Obregon Park – 4021 E. First St., Los Angeles – (12-4 p.m.)
City Terrace Park – 1126 N. Hazard Ave., East Los Angeles – (4-8 p.m.)
Earvin "Magic" Johnson Park – 905 E. El Segundo Blvd., Los Angeles (12-4 p.m.) (Mega Snow)
George Washington Carver Park – 1400 E. 118th St., Los Angeles – (4-8 p.m.)
Val Verde Community Regional Park – 30300 W. Arlington Rd., Val Verde
(12-4 p.m.) (Mega Snow)
Belvedere Community Regional Park – 4914 E. Cesar Chavez Ave., Los Angeles
(4-8 p.m.) (Mega Snow)
Friday, Dec. 9
Adventure Park – 10130 S. Gunn Ave., Whittier – (4-8 p.m.)
Sorenson Park – 11419 Rose Hedge Dr., Whittier – (4-8 p.m.)
Saybrook Park – 6250 E. Northside Dr., East Los Angeles – (4-8 p.m.)
Jesse Owens Community Regional Park – 9651 S. Western Ave., Los Angeles –
(4-8 p.m.)
Saturday, Dec. 10
El Cariso Community Regional Park – 13100 Hubbard St., Sylmar – (12-4 p.m.) (Mega Snow)
Loma Alta Park – 3330 N. Lincoln Ave., Altadena – (4-8 p.m.)
Helen Keller Park – 12521 S. Vermont Ave., Los Angeles – (12-4 p.m.)
Athens Park – 12603 S. Broadway, Los Angeles – (4-8 p.m.)
San Angelo Park – 245 S. San Angelo Ave., La Puente – (12-4 p.m.)
Bassett Park – 510 N. Vineland Ave., La Puente – (4-8 p.m.)
East Rancho Dominguez Park – 15116 S. Atlantic Ave., Compton – (12-4 p.m.)
Ted Watkins Memorial Park – 1335 E. 103rd St., Los Angeles – (4-8 p.m.)
(Mega Snow)
George Lane Park – 5520 W Ave L-8, Quartz Hill (4-8 p.m.)
Friday, Dec. 16
Ruben F. Salazar Park – 3864 Whittier Blvd., Los Angeles (4-8 p.m.)
William Steinmetz Park – 1545 S, Stimson Ave., Hacienda Heights – (4-8 p.m.)
Amigo Park – 5700 S. Juarez Ave., Whittier – (4-8 p.m.)
Amelia Mayberry Park – 13201 E. Meyer Rd., Whittier – (4-8 p.m.)
Saturday, Dec. 17
Stephen Sorenson Park – 16801 E. Avenue P, Lake Los Angeles (12-4 p.m.)
(Mega Snow)
Jackie Robinson Park – 8773 E. Avenue R, Littlerock – (4-8 p.m.)
Mona Park – 2291 E. 121st St., Compton (12-4 p.m.
Franklin D. Roosevelt Park – 7600 Graham Ave., Los Angeles – (4-8 p.m.)
(Mega Snow)
Rimgrove Park – 747 N. Rimgrove Dr., La Puente – (12-4 p.m.)
Allen J. Martin Park – 14830 E. Giordano St., La Puente – (4-8 p.m.)
Valleydale Park – 5525 N. Lark Ellen Ave., Azusa – (4-8 p.m.) (Mega Snow)