March 12, 2021 at 9:30 am PST | by Brody Levesque
Karen Ocamb leaves LGBTQ press for Public Justice advocacy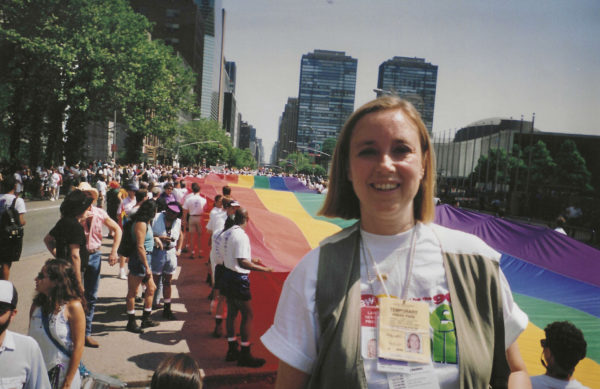 WEST HOLLYWOOD – After three decades of reporting about the LGBTQ community, veteran journalist Karen Ocamb announced Tuesday, March 9, that she is joining Public Justice, a national nonprofit progressive legal advocacy organization that has been fighting for civil rights, environmental protection and consumer and workers' rights for more than 35 years.
Public Justice is now expanding the depth and breath of its impact litigation to specifically include fighting injustices hindering full LGBTQ equality.
"I'm very excited to explicitly serve the cause of justice in this next stage of my life," Ocamb, who starts her new job at the end of March, tells the Los Angeles Blade. "My favorite quote from Dr. Martin Luther King Jr. is: 'The arc of the moral universe is long, but it bends towards justice.' It's promise of hope for progress has always buoyed me when I have feared for this country. I never thought it could apply to me personally, as an individual, as well."
After spending the 1960s as a student against the war in Vietnam, fighting for civil rights and exploring the counter-cultural movement, Ocamb joined CBS News in New York and learned to be a journalist under the mentorship of such icons as Walter Cronkite, Dan Rather and Bob Schiefer. Her final job for the network was producing the 1984 Olympic coverage for CBS News affiliates at TV City in Los Angeles.
Free to pursue her social justice passions and discuss her opinions, Ocamb volunteered on the ballot campaign for West Hollywood cityhood. It was during this time that her friends started dying of AIDS. By the late 1980s, serving as a quasi-healthcare worker was not enough and Ocamb returned to journalism, this time freelancing for Frontiers News Magazine and other gay press publications.
The AIDS crisis was her entry into the movement for LGBTQ liberation and equality. She has worked in LGBTQ and independent media since then, culminating in her position as news editor and reporter for the Los Angeles Blade.
Ocamb says she was recruited to the Media Relations position by Steve Ralls, with whom she worked when he served as communications director for the Servicemembers Legal Defense Network (SLDN) and Immigration Equality.
"I was shocked when Steve reached out to me. Usually, reporters are remembered for the stories or products they produce, not the relationships with their counterparts. I think it's so cool that Steve not only remembered me but suggested that I could assist these progressive attorneys in highlighting intersectionality and helping too-often forgotten people and communities better understand how Public Justice cases will help them," says Ocamb.
"Public Justice's litigation and advocacy impacts a diverse array of communities, and we increasingly see our work as being at the intersection with other movements for justice," Steve Ralls, Director of External Affairs for Public Justice, tells the LA Blade. "Our Title IX litigation and advocacy, for example, also helps to advance LGBTQ equality, especially for transgender students.
The Public Justice Food Project, which advocates for a more sustainable and just food system, partners with rural community advocates to battle the scourge of industrial agriculture. And our advocacy on behalf of workers, including and especially essential frontline workers, helps to build and maximize the political and organizing power of Black, Indigenous, people of color and immigrant communities. And of course, there is significant overlap and meaningful engagement within and across each of those constituencies, too."
As Public Justice's case docket expands, the organization recognizes that their engagement with allied communities must also deepen and expand in meaningful ways, as well.
"Karen's incredible career and her connections at the intersection of so many vibrant movements made her the perfect choice for helping Public Justice introduce our work within the communities we are serving, and hope to serve, and to use the media to help advance our shared goals," Ralls says. "When I began working on the campaign to repeal 'Don't Ask, Don't Tell,' Gallup reported that 48% of Americans favored lifting the ban. By the time the law was gone, that number had grown to 89%.
That change in public opinion and subsequent change in the law was, in part, due to the power of storytelling. Few people in our community know how to shape and tell the stories of those battling injustice more eloquently or powerfully than Karen. We're extraordinarily excited to add her talents to the Public Justice team."
With the volatile and changing nature of media in today's environment, there's a possibility that Ocamb may not disappear completely from the LGBTQ press. "I still have to learn the ropes of my new job," says Ocamb. "But given the economic difficulties faced by minority media in producing stories impacting their communities, perhaps I can write about the work these incredible progressive Public Justice lawyers are doing and provide that content to regional outlets as a free public service. I hope to come up with creative thinking to keep bending that arc towards justice for all."