March 24, 2021 at 11:09 pm PDT | by Noah Christiansen
Fear and loathing in LAX, being Trans and flying not a good thing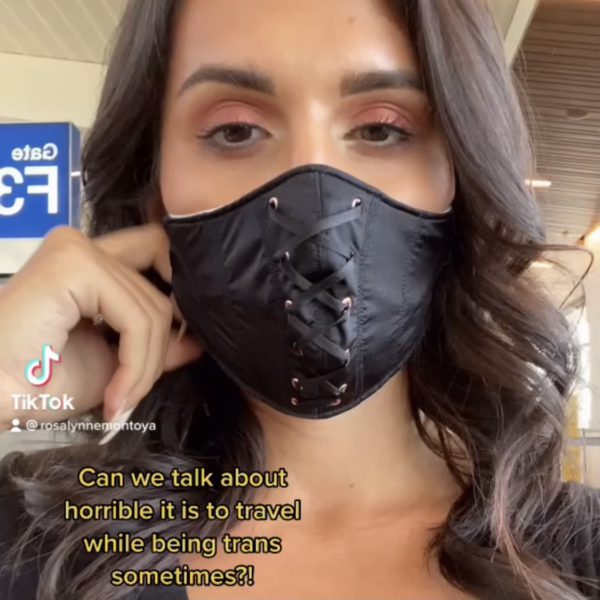 LOS ANGELES – When most people go to an airport, they dread having enduring the obligatory process of being screened for security purposes by the Department of Homeland Security's Transportation Security Administration (TSA). The lines are long, the process takes forever, and you have to remove your shoes. But, for transgender individuals, those concerns pale in comparison to what their process is like.
Rosalynne (Rose) Montoya is a Hispanic, bisexual, non-binary transgender woman who uses she/her and they/them pronouns and she decided to share her recent experience with the TSA – on her 'TikTok' account.
Montoya describes her most recent experience at the airport where she had to go through multiple scanners at the TSA due to her being a trans woman.
In an interview by phone Wednesday, the Blade asked how often she gets stopped by the TSA when she travels by air, which is frequently. "99% of the time. I can only count on one hand where I wasn't flagged, questioned, harassed, made fun of, ridiculed, groped, or touched," she said.
In her TikTok video, Montoya discusses the scanner, noting that the machine has a "cis-male scanner option" and a "cis-female scanner option" that checks for potential hazardous items beneath clothes.
According to her, at issue with these scanners is that none of these machines are designed to accommodate the trans community as well "intersex bodies, bodies with disabilities, people who are larger bodies, people with extra skin, etc."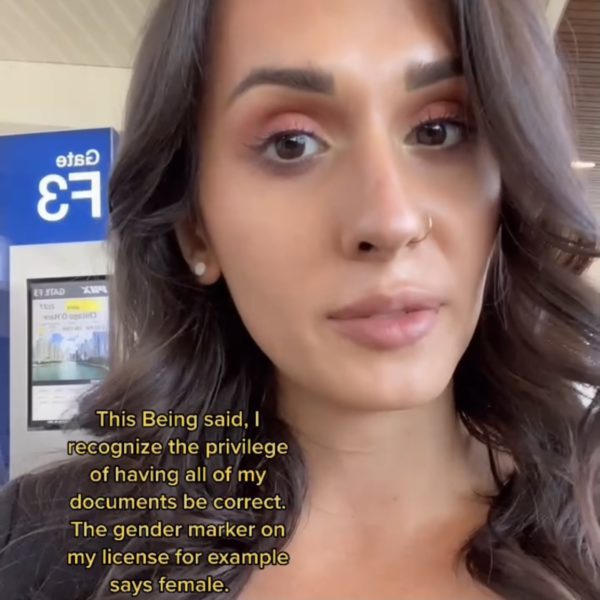 TSA agents ended up stopping Montoya due to the fact that there was 'something in her pants' when she went through the scanner.
"I outed myself and said that I was trans," she said. The agent then replied, "Oh you're trans, I'll just scan you as a man." Because she presents as cis passing woman, she doesn't usually have encounters like these outside of her air travel.
Montoya acknowledged there are some options she and other trans women can take to make their experience with the TSA better, but it doesn't make the situation better.
"Unless I tuck with tape, very uncomfortably, I can [go through the TSA]… I don't like tucking, but it does make me feel safer when I fly." She added that for those that don't know, "tucking is a term often used in the trans community to indicate literal tucking of one's body parts between the legs."
Montoya recalled a previous incident with the TSA, noting that the female TSA agent didn't know what to do and telling her, "I don't think I should do this, do you want a man to do this?"
She replied with a resounding "No", which then led a private screening. "She drew attention to my body and what was in between my legs," Montoya said "It was like this terrifying thing for her!"
Situations like these can be terrifying for trans people because they have to out themselves. "I have been sexually assaulted, groped, and grabbed inappropriately by a TSA agent," she told the Blade.
Astonishingly, she told the Blade, her 'TikTok' TSA experience video went viral online with over 18 million views, over 3 million likes, and 16 thousand shares.
Montoya works as a model, actor, makeup artist, and social media content creator. Her goal is to spread love and education about her trans community as she shares her story.
Though this situation seems bleak for trans people, she shared with the Blade, "I want to say to all of the trans people reading/watching my story that you are beautiful and you are worthy. You are deserving of the same common decency, respect, human rights as every other individual… You deserve to fly, travel, and feel safe wherever you are… We need the Equality Act to pass – we're not going anywhere."
The TSA as a result of the tremendous amount of publicity reached out to rectify the situation with Montoya last Friday and also to hear her out on the issues of Trans air travel hazards.