April 6, 2021 at 10:54 am PDT | by Special to the LA Blade
Expanding the frontier of Trans inclusion: Fraternities and Sororities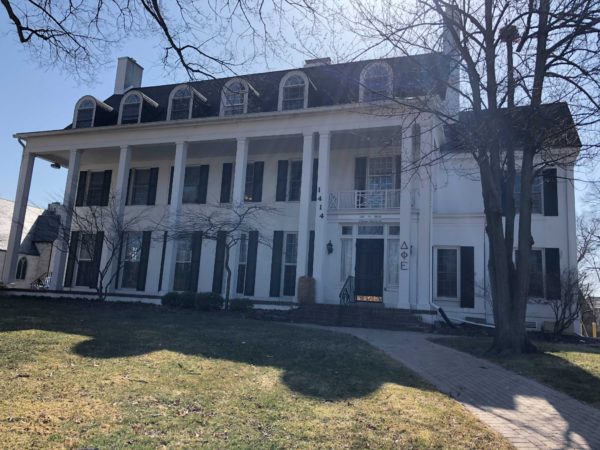 By Dan Perez-Sornia | Growing up during the throws of California Ballot Proposition 8, the state constitutional amendment that eliminated the rights of same-sex couples to marry and was later overturned, I was taught to internalize parts of my identity, and was introduced to the closet at the age of 10. When I eventually left my native Bay Area for college, I chose to attend Humboldt State University, one of the furthest schools from home I could attend while still maintaining in-state tuition. My goal at my new home was simple: Be myself unapologetically, and recreate myself; to stop doing things that made me hate who I was, and become new.
To become free.
This experience is very common for LGBTQ+ youth. Fortunately, in recent decades, college campuses have become a place for us to express ourselves and bear our identities to the world, away from repressive home lives, school bullies, and ignorant bigotry. However, while many universities have made strides to become safer spaces for LGBQ+ students, the trans student population has been largely neglected. As universities look for ways to create an inclusive and equitable environment through programs and events, often ignored are traditional bastions of exclusion: fraternities and sororities.
As a Humboldt alum and now a university student affairs practitioner there, as well as a proud member of Delta Phi Epsilon international sorority, I am one of the many examples of people who can thrive when trans inclusion is made a priority.
As a junior university student having openly identified as non-binary, I began to look into joining fraternity and sorority life, much like my closest friends. After searching for acceptance within these traditionally gendered organizations, I soon found my home with my sisters in Delta Phi Epsilon (DPhiE). Unlike most sororities, DPhiE holds a trans and non-binary inclusion policy as part of its membership eligibility requirements. Backed by its founding principles of justice, sisterhood, and love, the sorority has made strides to truly go beyond espousing its values, to enacting them in practice.
During my recruitment process, DPhiE leadership made a conscious effort to ensure I felt welcomed. They prepared members to be cognizant of my pronouns when they became aware of my involvement, and never once during my involvement with the sorority have I had to formally "come out" to anyone. This level of commitment to inclusion holds immense promise to incoming trans students who potentially have never experienced sisterhood or are in search of their own chosen family.
Luckily for these incoming students, DPhiE's forward thinking has traveled far to the attention of the National Panhellenic Conference (NPC), the umbrella organization of 26 national sororities. The NPC is charged with enhancing the sorority experience. In 2020, the NPC voted to adopt the Panhellenic Recruitment Eligibility Policy, which set the definition of "woman" for the purposes of panhellenic recruitment as "an individual who consistently lives and self-identifies as a woman" explicitly opening eligibility to trans women, but leaving out non-binary individuals from membership consideration. DPhiE explicitly allowed trans women and non-binary individuals prior to NPC's 2020 policy, broadly sharing its decision to increase inclusion on campuses across North America.
In an exciting new development, NPC's 26 member sororities will have the opportunity to vote on an even more inclusive policy amendment during NPC's Annual Membership Meeting on Saturday, April 10, to allow member sororities to define "woman" as they see fit, opening up the possibility for non-binary individuals on college campuses across the continent to become part of the fraternal community.
For many, the thought of "redefining woman" is controversial — and understandably so. Women's issues and rights must always remain at the forefront of these organizations. I do not see this change as a redefinition of women, but rather as a redefinition of what we interpret as "sisterhood." When asking to define sisterhood, many will describe acts of grace, empathy, love and solidarity; traits that non-binary individuals can and do relate to. Understanding this nuance, DPHiE has extended its invitation to membership to all who are dedicated to the empowerment of women, hearkening back to the sorority's status as the first non-sectarian social sorority to open membership to individuals of all races and religions.
I applaud the National Panhellenic Conference's introduction of an important and timely change in its recruitment eligibility policy, and encourage all members of the National Panhellenic Conference to ensure the sovereign right of each individual member organization to update their membership eligibility as they see fit. As an increasing number of individuals are publicly identifying as trans and gender non-conforming, it is imperative that we openly discuss whether non-binary students are just as worthy to be their true, authentic selves.
Dan Perez-Sornia is a 2020 graduate of Humboldt State University. Dan was one of the first non-binary members of Delta Phi Epsilon sorority at Humboldt State.