Florida House advances 'biological gender inspection' sports bill
The health care provider may verify the student's biological sex as part of a routine sports physical examination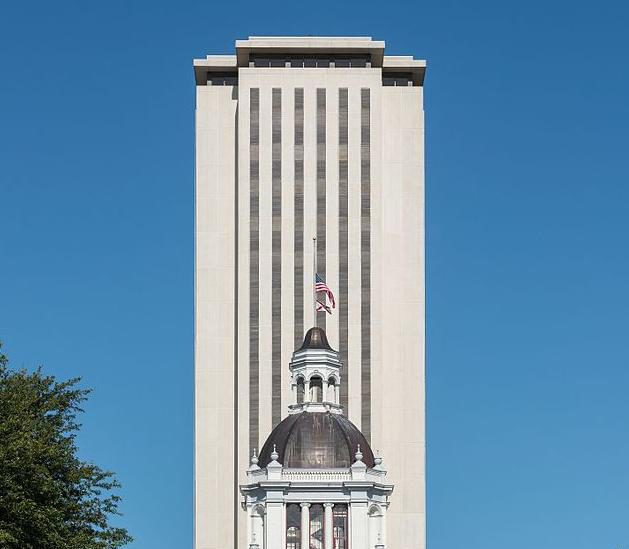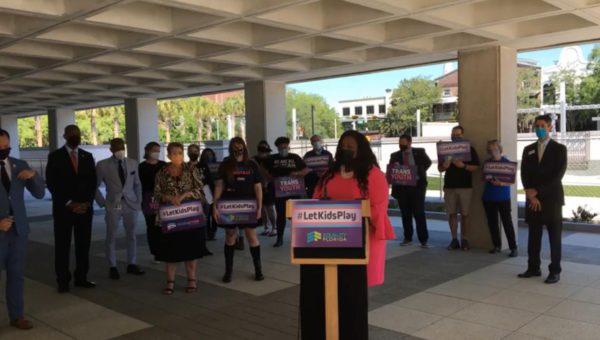 TALLAHASSE, FL. – The Florida House of Representatives on Wednesday passed House Bill 1475 on a 77-40 vote after considerable acrimonious debate. The measure would ban transgender girls from competing in all primary, middle, high school and college sports in the state. One Democrat lawmaker supported the measure and none of the Republican caucus voted against it.
With passage of the bill, Florida joins a national effort on the part of Republicans in at least 30 state houses to ban transgender female athletes from girls' and women's sports.
HB 1475 was authored by Rep. Kaylee Tuck, R-Lake Placid, and would enact a blanket ban on transgender female athletes competing in scholastic girls' and women's sports in Florida. However, Transgender males would still be allowed to compete in high school and collegiate boys and men's sports.
The bill specifies that participation would be contingent on determining a students' "biological sex," which is a term that refers to the sex assigned at birth and which has been a term that is categorized as transphobic and non-accepting/affirming by LGBTQ advocacy groups.
"All eyes are on the Florida Senate to stop this cruel legislation and protect the transgender youth this bill vilifies," said Jon Harris Maurer, Public Policy Director for Equality Florida in a statement released prior to the House vote.
"If this bill passes, it would be the first anti-LGBTQ bill to pass the Florida Legislature in 23 years and could send shockwaves through an economic recovery dependent on conventions, events, sports, and tourism. We know this is a nationally-coordinated attack fueled by far right anti-LGBTQ organizations, and the Florida House has taken the bait. The Florida Senate must hear the voices of transgender kids and reject this state-sanctioned discrimination."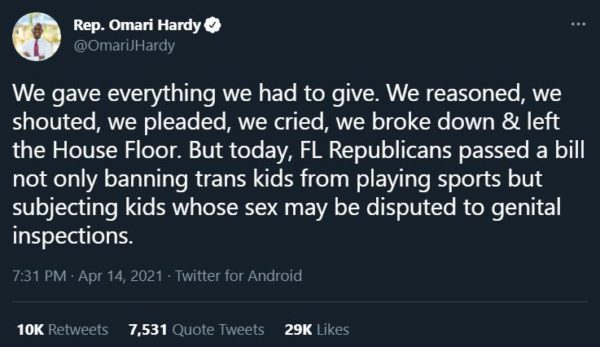 According to the bill's language, any disputes regarding a student's sex arising would be resolved with a "health examination and consent form" verifying the student's biological sex.
"The health care provider may verify the student's biological sex as part of a routine sports physical examination by relying only on one or more of the following: 1. The student's reproductive anatomy; 2. The student's genetic makeup; or 3. The student's normal endogenously produced testosterone levels."
The Tampa Bay Times reported that the bill, is modeled after an Idaho law that was temporarily struck down by a federal judge last year. The law would allow a school or competitor to lodge a complaint about an athlete competing in a girls' or woman's sport.
If the party complaining suspects the athlete was not assigned the female gender at birth, the athlete in question will have to prove their birth gender — via a genetic test, a test of their testosterone levels or an examination of their reproductive anatomy by a medical professional — in order to compete.
It's unclear how precisely the complaint process would work. The bill leaves it up to the the State Board of Education to create precise rules.
In a phone interview with the Blade Thursday, a spokesperson for Equality Florida, Brandon J. Wolf pointed out that cruelest aspect of the bill is that terrorizes trans youth athletes. He noted that a separate Senate bill that would also impede trans youth participation in athletics, SB 2012 would require that even "a 12-year-old trans female youth would be forced to adhere to Olympic standards for testosterone levels."
Wolf said that both bills were simply "cruel and grotesque" and warned that there's a definite racist element as Black Trans girls will end up bearing the brunt of these trans-adverse laws if passed.
Despite fierce bipartisan opposition from lawmakers across the country, professional and collegiate sporting organizations including the Miami HEAT and Misfits Gaming Group, world-renowned athletes, faith leaders, legal scholars, medical professionals, over 65 major corporations, and the very experts that bill sponsors cite as justification, the ban now heads to the Senate where its companion (SB 2012) has one remaining committee stop.
According to Wolf the next stop for HB 1475 in the Senate means that it could then be reconciled with the Senate bill and a combined version passed or taken to the Senate floor as a separate bill for a reading and a vote.
There was no response Thursday to the Blade's request for comment by Florida's Republican Governor Ron DeSantis.
Yesterday, the Florida House passed the anti-trans legislation. I made a vow to fight for our most vulnerable and I made it known during my speech. You can watch the full speech below:https://t.co/N5sr3XCiZA

— Michele Rayner-Goolsby (@micheleforfl) April 15, 2021
LA County Parks Winter Wonderland returns
Snow Days, Sled Rides, Toy Giveaways, Craft Villages, Teen Zone and More!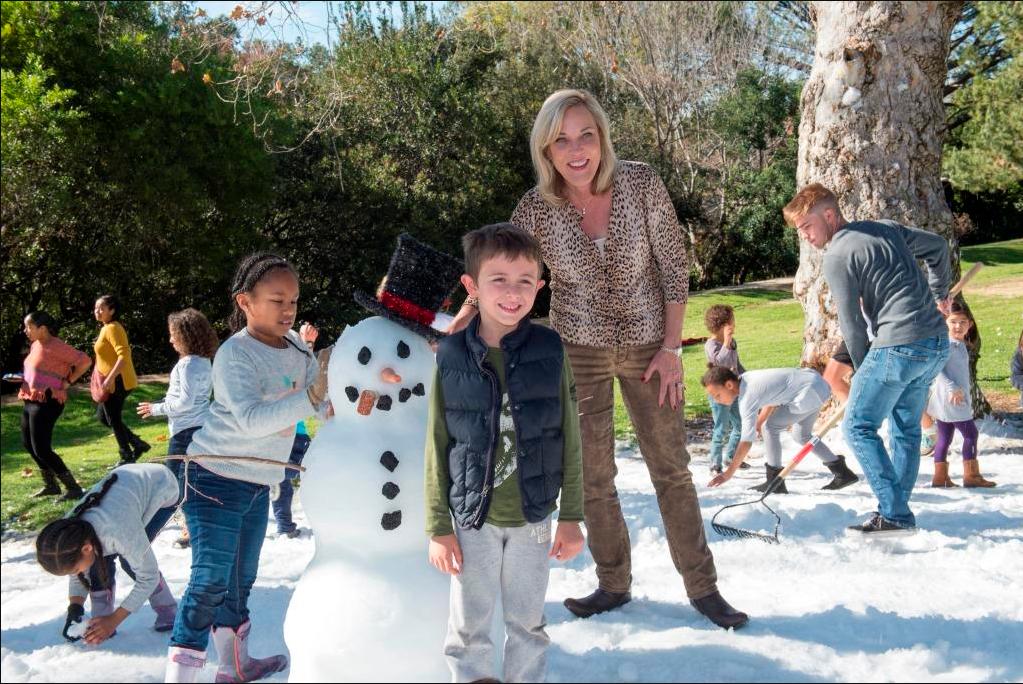 LOS ANGELES – It's Park Time L.A. County! Parks After Dark returns with an enchanting Winter Wonderland experience that will bring holiday cheer and 40 to 80 tons of snow to 34 L.A. County Parks in the month of December.
This holiday action packed celebration is for the entire family and is bigger and better than ever before, with more snow, more toys, more craft activities and more fun! All for free!
Parks After Dark Snow Patrol teams, staffed by passionate and dedicated Parks & Recreation personnel, are ready to transform local parks into wintry paradises complete with sled runs, photo opportunities, snack stations, holiday treats and a craft village where children can decorate their own holiday stocking! Families should plan to arrive early at their local park for a toy giveaway for ages 0-17, while supplies last.
New this year to the Winter Wonderland experience is a Teen Zone where young adults can enjoy their own space to hang out with their friends, create and design art, listen to music, silkscreen holiday shirts and make their own personalized Santa hat!
Also beginning this year, selected parks will double their fun with Mega Snow days, which will bring up to 80 tons of snow to Earvin "Magic" Johnson Park, Val Verde Park, Belvedere Park, El Cariso Park, Loma Alta Park, Ted Watkins Park, Roosevelt Park and Valleydale Park.
The L.A. County Parks Winter Wonderland is possible thanks to the generosity of Los Angeles Department of Social Services, Los Angeles County Department of Parks and Recreation, and the L.A. County Probation Department.
"Parks After Dark brings family, friends, neighbors and community together in their local park," County of Los Angeles Department of Parks and Recreation (DPR) Director Norma Edith García-González said. "The Winter Wonderland experience will provide youth and families a memorable snow day experience and much more to celebrate the joy of the holiday season. I am grateful to DPR Staff for all their work to bring 40 to 80 tons of snow to 34 parks this holiday season!"
Parks After Dark, launched in 2010, has proven to be a successful prevention and intervention program that provides multiple benefits to vulnerable communities, decreasing violence and crime, and increasing social cohesion and community well-being. In 2018, Parks After Dark was recognized by the National Recreation and Park Association, which presented L.A. County Parks and Recreation with is Best in Innovation award.
For more information on Parks After Dark Winter Wonderland, visit https://parks.lacounty.gov/winterpad
Locations, dates, and times for Parks After Dark Winter Wonderland are listed below:
Friday, Dec. 2
Col. Leon H. Washington Park – 8908 S. Maie Ave., Los Angeles (4-8 p.m.)
Mary M. Bethune Park – 1244 E. 61st St., Los Angeles – (4-8 p.m.)
Charter Oak Park – 20261 E. Covina Blvd., Covina – (4-8 p.m.)
Pamela County Park – 2236 Goodall Ave., Duarte – (4-8 p.m.)
Saturday, Dec. 3
Eugene A. Obregon Park – 4021 E. First St., Los Angeles – (12-4 p.m.)
City Terrace Park – 1126 N. Hazard Ave., East Los Angeles – (4-8 p.m.)
Earvin "Magic" Johnson Park – 905 E. El Segundo Blvd., Los Angeles (12-4 p.m.) (Mega Snow)
George Washington Carver Park – 1400 E. 118th St., Los Angeles – (4-8 p.m.)
Val Verde Community Regional Park – 30300 W. Arlington Rd., Val Verde
(12-4 p.m.) (Mega Snow)
Belvedere Community Regional Park – 4914 E. Cesar Chavez Ave., Los Angeles
(4-8 p.m.) (Mega Snow)
Friday, Dec. 9
Adventure Park – 10130 S. Gunn Ave., Whittier – (4-8 p.m.)
Sorenson Park – 11419 Rose Hedge Dr., Whittier – (4-8 p.m.)
Saybrook Park – 6250 E. Northside Dr., East Los Angeles – (4-8 p.m.)
Jesse Owens Community Regional Park – 9651 S. Western Ave., Los Angeles –
(4-8 p.m.)
Saturday, Dec. 10
El Cariso Community Regional Park – 13100 Hubbard St., Sylmar – (12-4 p.m.) (Mega Snow)
Loma Alta Park – 3330 N. Lincoln Ave., Altadena – (4-8 p.m.)
Helen Keller Park – 12521 S. Vermont Ave., Los Angeles – (12-4 p.m.)
Athens Park – 12603 S. Broadway, Los Angeles – (4-8 p.m.)
San Angelo Park – 245 S. San Angelo Ave., La Puente – (12-4 p.m.)
Bassett Park – 510 N. Vineland Ave., La Puente – (4-8 p.m.)
East Rancho Dominguez Park – 15116 S. Atlantic Ave., Compton – (12-4 p.m.)
Ted Watkins Memorial Park – 1335 E. 103rd St., Los Angeles – (4-8 p.m.)
(Mega Snow)
George Lane Park – 5520 W Ave L-8, Quartz Hill (4-8 p.m.)
Friday, Dec. 16
Ruben F. Salazar Park – 3864 Whittier Blvd., Los Angeles (4-8 p.m.)
William Steinmetz Park – 1545 S, Stimson Ave., Hacienda Heights – (4-8 p.m.)
Amigo Park – 5700 S. Juarez Ave., Whittier – (4-8 p.m.)
Amelia Mayberry Park – 13201 E. Meyer Rd., Whittier – (4-8 p.m.)
Saturday, Dec. 17
Stephen Sorenson Park – 16801 E. Avenue P, Lake Los Angeles (12-4 p.m.)
(Mega Snow)
Jackie Robinson Park – 8773 E. Avenue R, Littlerock – (4-8 p.m.)
Mona Park – 2291 E. 121st St., Compton (12-4 p.m.
Franklin D. Roosevelt Park – 7600 Graham Ave., Los Angeles – (4-8 p.m.)
(Mega Snow)
Rimgrove Park – 747 N. Rimgrove Dr., La Puente – (12-4 p.m.)
Allen J. Martin Park – 14830 E. Giordano St., La Puente – (4-8 p.m.)
Valleydale Park – 5525 N. Lark Ellen Ave., Azusa – (4-8 p.m.) (Mega Snow)