Gay Guatemala congressman survives robbery attempt
Bodyguard shot one of the assailants who approached vehicle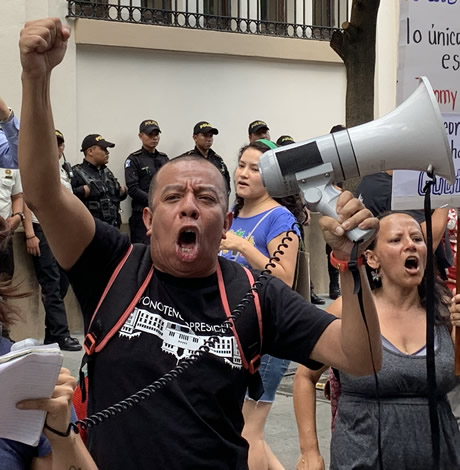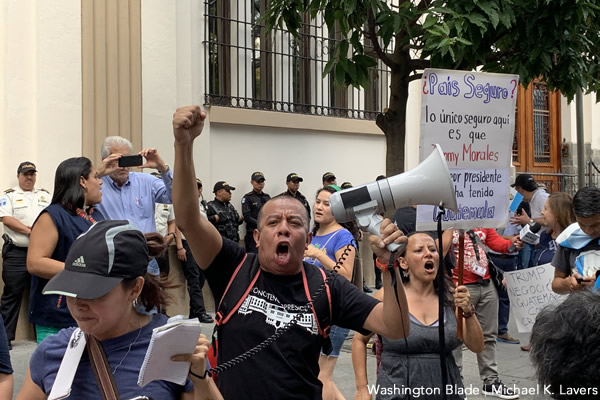 GUATEMALA CITY — A gay congressman from Guatemala on April 19 survived a robbery attempt.
Aldo Dávila sent the Blade a surveillance video that shows three men approaching his vehicle while it was stopped at a traffic light near Guatemala's National Library in Guatemala City.
The three men appeared to have weapons when they approached the vehicle.
One of Dávila's bodyguards who was driving the vehicle shot one of the men. The two other men ran away shortly before passersby and police officers gathered.
Dávila was not injured.
"I am thankful for life," he said in a video he posted to his Facebook page after the attempted robbery.
Dávila — a member of the Winaq movement, a leftist party founded by Rigoberta Menchú, an indigenous human rights activist and Nobel Peace Prize winner — in 2019 became the first openly gay man elected to Guatemala's congress. Dávila had previously been the executive director of Asociación Gente Positiva, a Guatemala City-based HIV/AIDS service organization.
Violence based on sexual orientation remains commonplace in Guatemala. It nevertheless remains unclear whether the men targeted Dávila — a vocal critic of President Alejandro Giammattei, his government and political corruption in the country — because he is gay.
Dávila told the Associated Press he "constantly receives threats because of my work, but nothing more than that." Dávila also said he now travels with several police officers.
"I will continue working, I will continue speaking out and I will continue speaking for people who have been historically excluded," he said in his Facebook video.
Dávila told the Blade the Guatemalan Public Ministry is responsible for any investigation into the incident.
"They would be the ones who would have to determine if there will be an investigation or not," he said. "There should be one in theory, but the Public Ministry in Guatemala is not the best, or the most trustworthy (institution.)"
Reminder: 101 closed through DTLA until 10pm Sunday
The closure began at 10 p.m. Saturday and will be completed by 10 p.m. Sunday, the Los Angeles Bureau of Engineering announced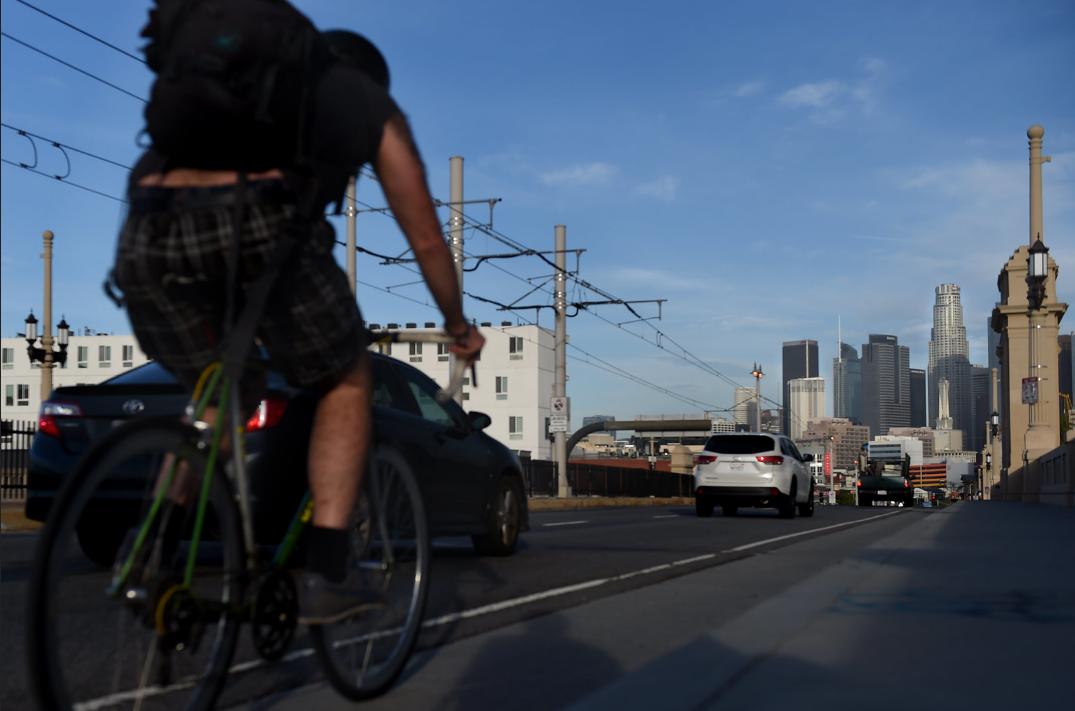 LOS ANGELES – (KTLA) Motorists are being reminded that the stretch of 101 through the downtown area of Los Angeles is shut down for road restoration and reconstruction work.
KTLA reported the closure began at 10 p.m. Saturday and will be completed by 10 p.m. Sunday, the Los Angeles Bureau of Engineering announced.
The 24-hour closure between State Route 60 and the 10 Freeway interchange is needed for the Sixth Street Viaduct Replacement Project, which aims to replace the original, seismically-deficient structure built in 1932, authorities said.
During the closure, the California Department of Transportation will also be doing slab replacement work along the same stretch of the 101 Freeway.
The closure will center around the east side of the viaduct construction site in Boyle Heights. While the stretch is closed, drivers headed west on State Route 60 from the Pomona area will not be able to access the 101, officials said.
Off-ramps and on-ramps in the area will also be closed during as road work gets underway.
Drivers who reach the closure will see signs directing them to a detour.
The new $588 million viaduct is expected to be completed in Summer of 2022, stretching between Boyle Heights and the Arts District.
Officials say it is the largest bridge project in the history of Los Angeles.
U.S. Army considering letting LGBTQ+ troops transfer out of hostile states
This policy tweak to the existing Army regulations pertaining to compassionate reassignment would clarify the current standard rules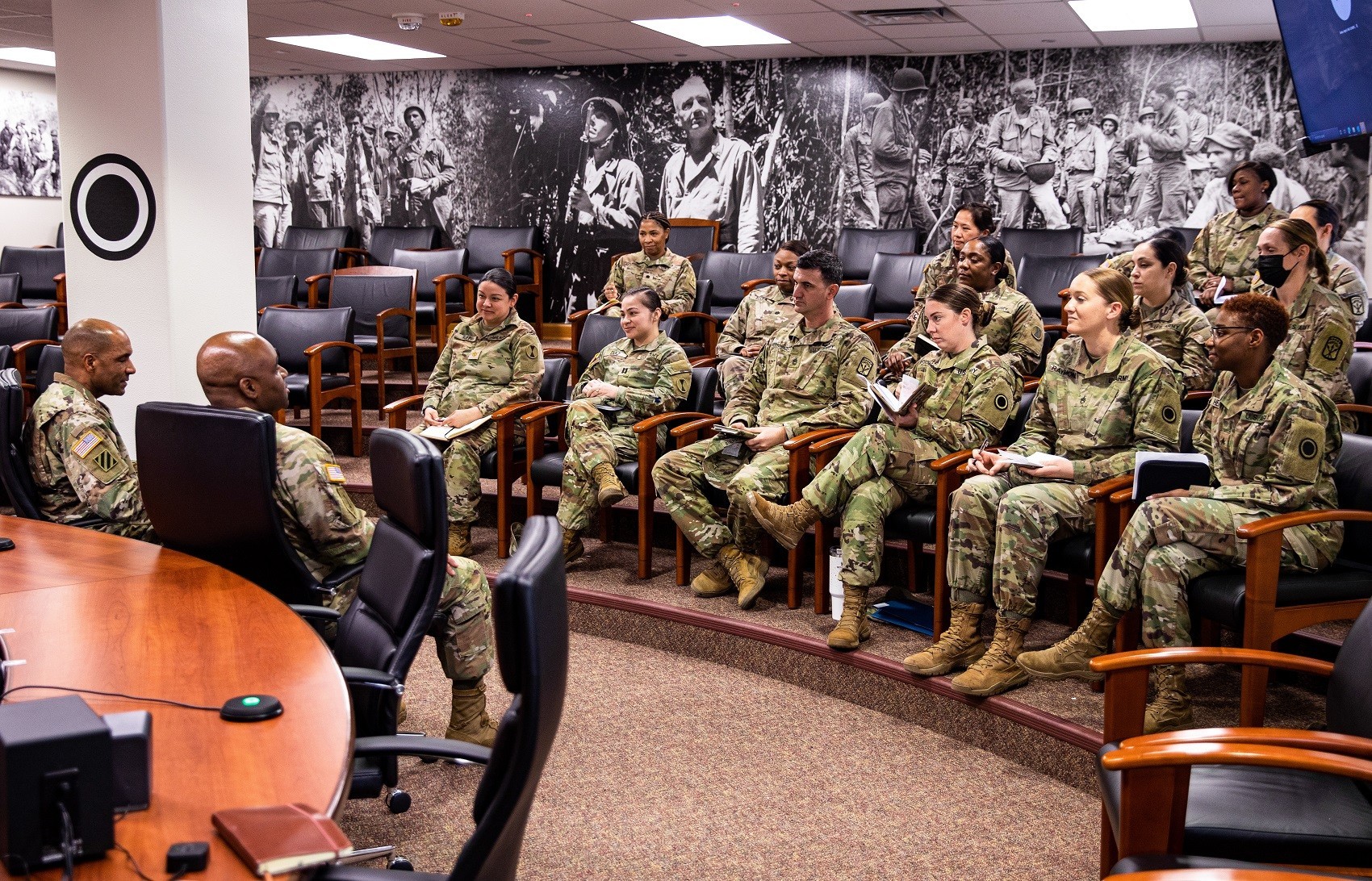 ARLINGTON, Va. – A draft policy is circulating among top officials of the U.S. Army that would allow soldiers to be able to request a transfer if they feel state or local laws discriminate against them based on gender, sex, religion, race or pregnancy.
Journalist Steve Beynon writing for Military.com reported last week the guidance, which would update a vague service policy to add specific language on discrimination, is far from final and would need approval from Army Secretary Christine Wormuth. But if enacted, it could be one of the most progressive policies for the Army amid a growing wave of local anti-LGBTQ+ and restrictive contraception laws in conservative-leaning states, where the Army has a majority of its bases and major commands.
"Some states are becoming untenable to live in; there's a rise in hate crimes and rise in LGBT discrimination," Lindsay Church, executive director of Minority Veterans of America, an advocacy group, told Military.com. "In order to serve this country, people need to be able to do their job and know their families are safe. All of these states get billions for bases but barely tolerate a lot of the service members."
This policy tweak to the existing Army regulations pertaining to compassionate reassignment would clarify the current standard rules, which are oft times fairly vague.
A source in the Army told Beynon the new guidance has not yet been fully worked out through the policy planning process or briefed to senior leaders including the Army Secretary or the Office of the Secretary of Defense Lloyd Austin.
"The Army does not comment on leaked, draft documents," Angel Tomko, a service spokesperson, told Military.com in an emailed statement. "AR 600-100 and 600-200 establish the criteria for which soldiers may request for a compassionate reassignment. The chain of command is responsible for ensuring Soldiers and Families' needs are supported and maintain a high quality of life."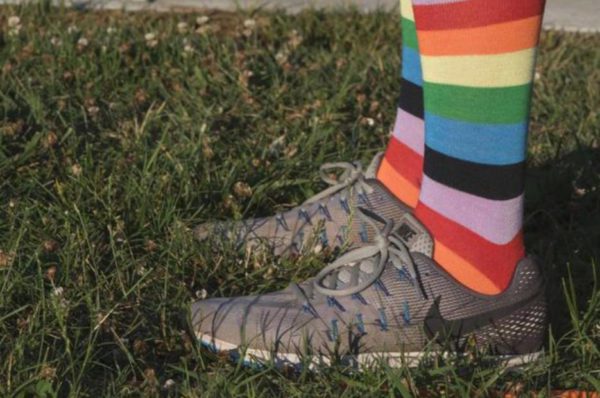 The Crystal City Virginia based RAND Corporation had published a study on Sexual Orientation, Transgender Identity, and Health Among U.S. Active-Duty Service Members in 2015 that listed approximate numbers of LGBTQ+ troops are 6% gay or bisexual and 1% is transgender or nonbinary.
A senior analyst for RAND told the Blade on background those numbers are likely much lower than in actuality as 2015 was less than 4 years after the repeal of 'Don't Ask-Don't Tell' and prior to the Trump enacted Trans service ban in 2017 which was then repealed by the Biden Administration which has had a chilling effect on open service. Another factor is that the current 18-24 year old troops colloquially referred to as 'Gen Z' are much more inclined to embrace an LGBTQ+ identity and that would cause the numbers to be higher than reported.
Also factored in is uncertainty in the tweaking of policy in light of the recent leak of the draft U.S. Supreme Court decision that would effectively repeal Roe v Wade.
According to Military.com it's unclear whether the Army's inclusion of pregnancy on the list would protect reproductive care for soldiers if Roe v. Wade is overturned. That language could be intended to protect pregnant service members or their families from employment or other discrimination, but could also be a means for some to argue for transfers based on broader reproductive rights.
One advocacy group pointed out that the current wave of anti-LGBTQ+ legislation will negatively impact the moral of service members:
"What we're seeing across the board is a small group of elected officials who are trying to politicize and weaponize LGBTQ identities in despicable ways. They're not only doing that to our youth, but the collateral damage is hurting our service members," Jacob Thomas, communications director for Common Defense, a progressive advocacy organization, told Military.com. "[Troops] can't be forced to live in places where they aren't seen as fully human."
Right-wing extremist provocateur threatens to 'hunt' LGBT supporters
He has a history of right-wing extremist short videos including a harassment campaign against an Arizona wig shop that serves cancer patients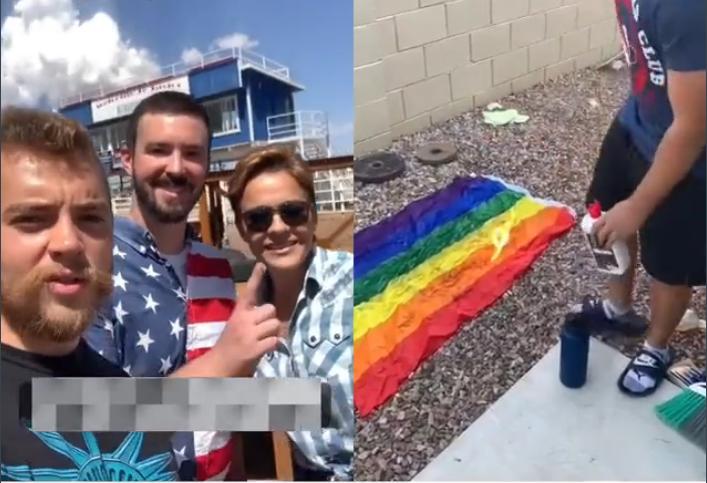 PHOENIX – A twenty-four year old right-wing extremist based in the metropolitan Phoenix, Arizona area, Ethan Schmidt, posted a short video of himself accompanied by Kyle Clifton who describes himself as "authoritarian Christian nationalist," driving in an undisclosed area announcing that he and Clifton will be "hunting 'LGBT supporters" and people in area Target retail stores.
The video captured by Twitter account Patriot Takes, which describes itself as a group of dedicated researchers monitoring and exposing right-wing extremism and other threats to democracy, first posted the video clip Saturday.
Ethan Schmidt, a right wing provocateur who has made videos with Kari Lake, Wendy Rogers, and Paul Gosar, warned Target he will "hunt LGBT supporters" in their stores and across Phoenix in June, stating they "are not safe" and they "can't hide." pic.twitter.com/O3ReHVN3qY

— PatriotTakes 🇺🇸 (@patriottakes) May 21, 2022
Schmidt has a history of making right-wing extremist short videos including a harassment campaign against an Arizona wig shop that serves cancer patients.
Sunny's Hair and Wigs, specialize in making wigs for women who have lost hair while getting treated for cancer and the store had implemented coronavirus pandemic protections including strict mask guidelines to ensure safety of their clients who are particularly vulnerable to infection.
Lisa Memberr, the owner of the shop had explained to local media outlets: "My customer base is very diverse," and she added, "Not only do I have Caucasians, I have Afro-Americans, I have Asians, I have Latin Americans."
Schmidt, who has ban banned by nearly all social media platforms including Twitter for spreading false and misleading COVID-19 pandemic information had been visiting numerous retail stores in the Phoenix area including Sunny's Hair and Wigs targeting those businesses that still require customers to wear mask. He invariably creates videos of his encounters which he uploads to right-wing social media and web sites that he hasn't been banned from.
In addition to his anti-mask campaign he has made videos with extremist conservative lawmakers including one with Arizona U.S. Republican Representative Paul Gosar telling antivaxxers "to stay the course."
Rep. Paul Gosar with Ethan Schmidt telling antivaxxers "to stay the course."

This is the new Republican Party. pic.twitter.com/Z0ogrq8nO4

— PatriotTakes 🇺🇸 (@patriottakes) May 21, 2022
He also filmed a short with Arizona State Senator Wendy Rogers who has established herself firmly as an anti-vax, anti-LGBTQ, right wing extremist.
Arizona State Senator Wendy Rogers made a video promoting Ethan Schmidt, who is now stating he will "hunt LGBT supporters" at Target and across Phoenix. pic.twitter.com/1CBmJGHYvN

— PatriotTakes 🇺🇸 (@patriottakes) May 21, 2022
Clifton is a leader of the America First Union, an openly white nationalist, antisemitic, "conservative youth" organization. He also promotes former President Donald Trump's big lie about the 2020 Presidential election being stolen by Democrats and President Joe Biden. Clifton also participated in the Arizona audit of the 2020 vote in Maricopa County, which state Sen. Rogers, had raised the visibility of her own political profile by insisting that Arizona's vote was stolen.
A semi-copy of the"American Populist Union" has been organizing under the name America First Union. The local chapter is led by the openly antisemitic Kyle Clifton of Peoria, AZ who describes himself as an "authoritarian Christian nationalist."https://t.co/OlyhxhK9kh

— AZ Right Wing Watch (@az_rww) October 8, 2021
Kyle Clifton is also obsessed with The Anti-Defamation League (see image above). He recently thought he went and filmed a rant in front of the Phoenix ADL headquarters, not realizing it has been long abandoned. pic.twitter.com/BjOxsme8fQ

— AZ Right Wing Watch (@az_rww) October 8, 2021
Last Fall Schmidt posed with Trump endorsed Republican candidate for Arizona Governor Kari Lake as he burned a LGBTQ+ Pride flag.
Kari Lake posed for an "Antimaskers Club" video with bigot Ethan Schmidt who burns rainbow flags.

This is who Trump endorsed. pic.twitter.com/mnTFqdjaAZ

— Resist Programming 🛰 (@RzstProgramming) September 28, 2021