23 year old university student becomes first non-binary mayor in Wales
"Coming out and living my true me is still the best decision I've ever made"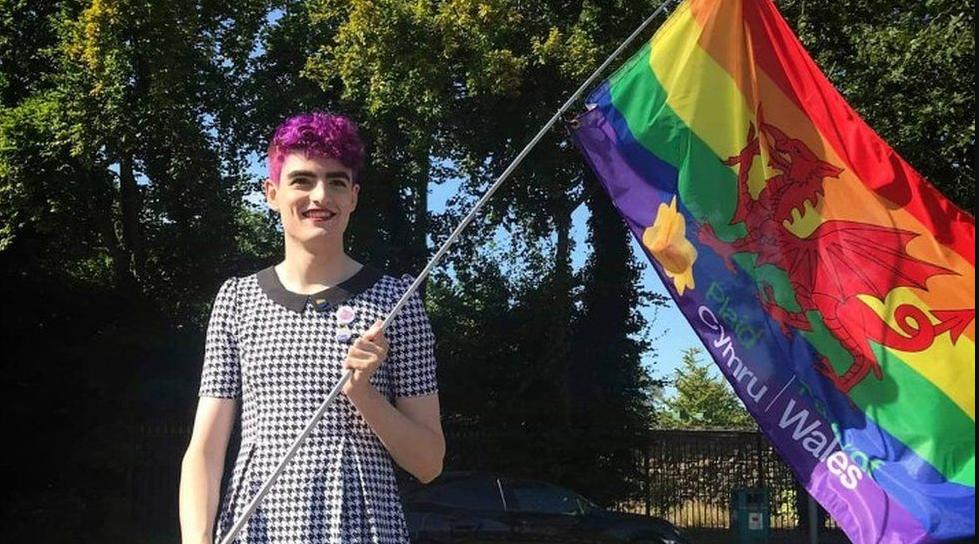 BANGOR, UK – This small city in Gwynedd in northwest Wales holds the distinction of being the oldest city in Wales. Now, it has earned itself a pair of new accolades, the first city in Wales to elect its youngest mayor and in fact to have the first elected non-binary gender queer mayor in the world.
Owen J Hurcum, a twenty-three year old university student, was chosen by their fellow councilors on the city's governing council to become the mayor. The post, which is mainly ceremonial, acts as a goodwill ambassador for city in Wales and the greater UK as well as overseas.
Hurcum, who identifies as genderqueer or agender, told BBC Radio Wales Wednesday it "wasn't a huge shock" when they were chosen to take up the reins, having served as a Bangor councilor for five years, including one term as the city's deputy mayor. But they said it was a shock when they were initially asked to put their name forward because fellow councilors felt they would be a good representative for the city.
When I came out two years ago I was so worried I'd be ostracized by my community or worse. Today my community elected me Mayor of our great City. The youngest ever Mayor in Wales. The first ever openly Non-Binary Mayor of any city anywhere. Beyond humbled, Diolch Bangor 🏳️‍🌈 pic.twitter.com/pGHiaQTVaO

— Mayor Owen J Hurcum 🏴󠁧󠁢󠁷󠁬󠁳󠁿🏳️‍⚧️🏳️‍🌈🇪🇺 (@OwenJHurcum) May 10, 2021
Their election to the office has created considerable controversy in some quarters with hateful vitriol being directed at both them and their fellow councilors. On Thursday the mayor tweeted;
"I would quickly like to point out that whilst I do indeed receive regular amounts of hate online, coming out and living my true me is still the best decision I've ever made and if you are thinking of doing it yourself, I promise there will be loved ones around to support you"
According to the BBC, they thanked fellow councilors for their support when facing online abuse. Noting that the city may be viewed as hardly the place one would expect to be a bastion of tolerance, they told the BBC;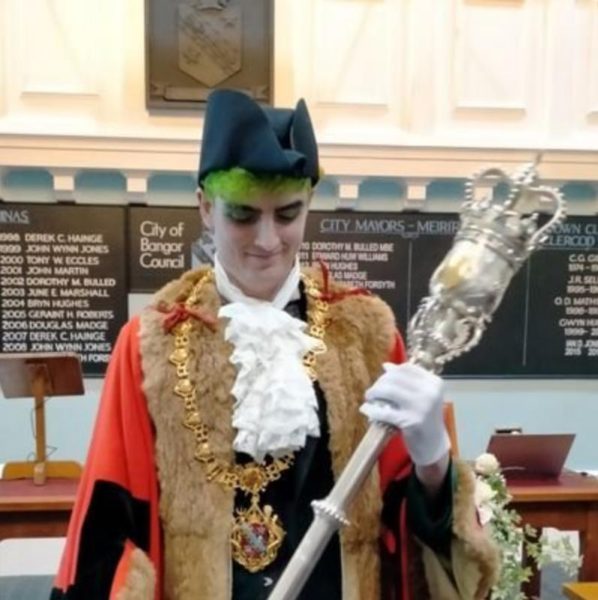 "There was a trepidation because, obviously, local government has this unfair reputation of possibly being old and backwards, and I was worried that those views may come from fellow councilors.
But I have had the exact opposite. Every single councilor has been extremely supportive, and the previous mayor has called me when he has seen that I have been getting hate online, and he has said he is there if I need him. It has been really nice."
Picture courtesy of Bangor Mayor Owen J. Hurcum
Trans mayor for a small city elected in majority-Muslim Bangladesh
Ritu is the first mayor in Bangladesh who is "third gender", the official designation for transgender people in the Muslim-majority country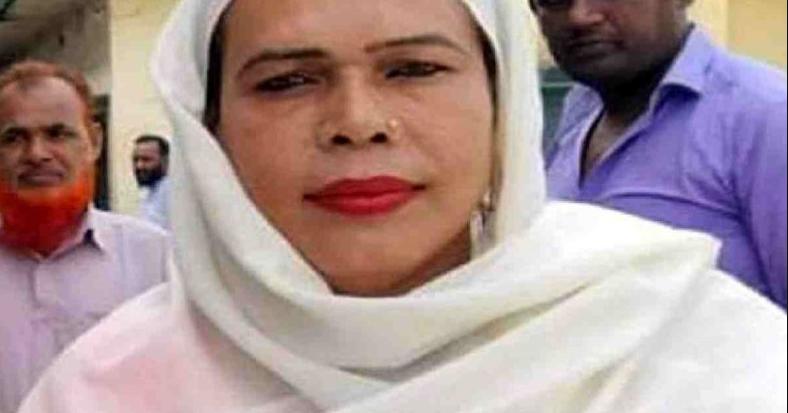 TRILOCHANPUR, Kaliganj upazila, Jhenaidah, Bangladesh – A 45-year-old Transgender independent candidate beat a political rival late last month becoming the first elected first Trans mayor in this majority-Muslim, South-Central Asian nation.
Nazrul Islam Ritu garnered 9,569 votes against the Awami League-backed candidate, Nazrul Islam Sana who received 4,517 votes. Speaking with a reporter from Al Jazeera, Ritu said her victory showed growing acceptance of the "Hijra" community, an umbrella term for those born male but do not refer to themselves as either a man or woman.
"The victory means they really love me and they have embraced me as their own," she added. "I will dedicate my life to public service."
This nation of around 164.7 million people has a Trans population estimated to be approximately 1.5 million or less, a significant majority who are forced to live by begging or working in the sex trade, often faced daily with threats of violence and anti-Trans discrimination.
Transgender men are often times more at risk than their female counterparts.
In October 2017 Human Rights Watch interviewed six transgender men living in different parts of Bangladesh. All of them spoke of bullying at school, barriers to employment, difficulty accessing health care, as well as harassment and verbal abuse in both public and private spaces.
On top of these difficulties, they feared for their safety amid a climate of impunity for attacks on minorities by religious extremists and feared that, if they were targeted, authorities would deny that they were targeted because of their gender identity rather than come forcefully to their defense.
Interviewees also highlighted the difficulties that arise because their gender identity does not match the gender listed on diplomas, passports, or other legal documents, including their ability to get jobs and to travel.
There has been some progress as the country's growing tolerance for the rights of sexual minorities has seen a raft of new laws under Prime Minister Sheikh Hasina.
In 2013, transgender people were officially identified as a separate gender and, in 2018, they were allowed to use "third gender" when registering to vote. In November of 2020, Bangladesh's first religious school for transgender people opened.
According to the BBC, more than 150 students will study Islamic and vocational subjects free of charge at the privately-funded seminary, or 'madrassa', in the country's capital city of Dhaka.
This past June, the country's government declared a tax rebate for companies hiring transgender people to boost the government's social inclusion efforts, Al Jazeera reported.
"I propose to enact special tax incentives with a view to providing employment and ensuring rise in living standards and social and economic integration of the members of the third gender," Finance Minister AHM Mustafa Kamal announced as he unveiled the national budget for the 2021-22 financial year.
Speaking to reporters after her election, Mayor Ritu said that one of her main goals of is to "eradicate corruption and uproot the drug menace" in her town of 40,000 people.
Victory Fund honors gay Guatemalan congressman
Aldo Dávila a vocal critic of country's government
WASHINGTON — The Victory Fund on Friday honored an openly gay Guatemalan congressman who has faced death threats because of his efforts to fight corruption in his country.
Dávila — a member of the Winaq movement, a leftist party founded by Rigoberta Menchú, an indigenous human rights activist and Nobel Peace Prize winner — in 2019 became the first openly gay man elected to Guatemala's congress. Dávila, who also lives with HIV, had previously been the executive director of Asociación Gente Positiva, a Guatemala City-based HIV/AIDS service organization.
Supporters of President Alejandro Giammattei have lodged several formal complaints against Dávila after he publicly criticized the government over corruption, its response to the pandemic and other issues.
Three men on April 19 approached Dávila's vehicle near Guatemala's National Library and tried to rob him. One of Dávila's bodyguards shot one of the men, but the two other assailants fled the scene before police officers and passersby arrived.
Dávila told the Los Angeles Blade in September during an interview at a Guatemala City hotel that he and his partner installed cameras in their apartment after someone killed their dog.
Two female police officers who arrived at the hotel with Dávila sat in the lobby while he spoke with the Blade. The government a few weeks later reduced his security detail.
"Guatemala is living through the worst democratic crisis in the last 40 years," said Dávila after he accepted the Victory Fund's Global Trailblazer Award at its 2021 International LGBTQ Leaders Conference that is taking place in-person at the JW Marriott in downtown D.C. "Guatemala right now is being paralyzed by corruption and impunity and my voice is uncomfortable because of this."
Dávila became emotional at the end of his remarks.
"I will keep fighting for our rights," he said.
Gay man elected to Honduran congress
Víctor Grajeda will serve as Congresswoman-elect Silvia Ayala's substitute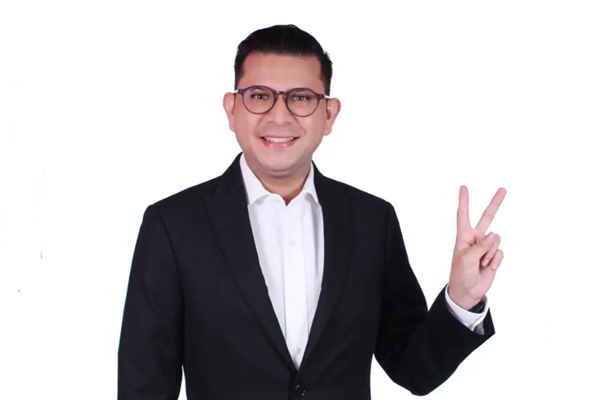 SAN PEDRO SULA, Honduras — An openly gay man in Honduras made history on Sunday when he won a seat in the country's Congress.
Grajeda will serve alongside Congresswoman-elect Silvia Ayala of the leftist Free Party (Partido Libre), who represents Cortés department in which the city of San Pedro Sula is located, as her substitute.
Reportar sin Miedo, the Los Angeles Blade's media partner in Honduras, and Agencia Presentes, reported Grajeda received more than 100,000 votes. Grajeda is one of five openly LGBTQ candidates who ran for Congress.
"I am looking to open spaces and eliminate discrimination based on sexual orientation or identity," said Grajeda.
Tegucigalpa Mayor Nasry Asfura, a member of outgoing President Juan Orlando Hernández's ruling National Party (Partido Nacional), on Tuesday conceded defeat to President-elect Xiomara Castro of the Free Party.
Castro's husband, former President Manuel Zelaya, was ousted from power in a 2009 coup.
Activists with whom the Blade has spoken say LGBTQ Hondurans continue to flee the country and migrate to the U.S. in order to escape rampant violence and discrimination and a lack of employment and educational opportunities. Castro, among other things, has publicly endorsed marriage rights for same-sex couples in Honduras.